Weekend Wrap-Up
Disney's Alice Destroys Box Office Expectations
By John Hamann
March 7, 2010
BoxOfficeProphets.com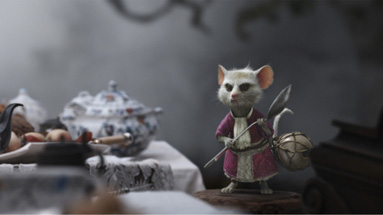 ---
It's the weekend we've all been waiting for. After 12 weekends of dominating the box office, Avatar is no longer the big force in movie theaters. It's been replaced by its 3-D sister, Alice in Wonderland, and what a wild frame it has had this weekend. Expectations were high for the Tim Burton/Johnny Depp flick, with estimates coming in between $65 and $75 million before the weekend began. Those analysts were choking on those estimates come Saturday morning, though, as Alice earned $41 million on Friday alone, and all bets were off for the rest of the weekend.

Much like the lead up to Avatar, the ballyhoo surrounding the Alice in Wonderland film event has been percolating for a long, long, time. Disney's marketing plan has been working towards this debut since July 2009, with an extremely strategic marketing plan building towards opening weekend. Awareness was high and Avatar was almost done – the stage was set for a huge start, and the film has now delivered. Alice opened at midnight on Thursday, and through Friday night, the Disney flick had already earned an amazing $41 million, blowing away expectations. Even if it tanked over the rest of the weekend, this Alice was set to earn an easy $100 million over its opening frame. 3-D has certainly changed movie going habits, as the January to March box office was set to have a new champion.

Alice in Wonderland earned a simply massive and completely unexpected $116.3 million from Friday-to-Sunday from 3,728 venues, almost embarrasing Avatar's $77 million opening weekend. It had a venue average of $31,196. The Tim Burton film set a record for March, roundly beating 300's $70.9 million opening from 2007. The opening frame is sixth biggest ever, squeezing between Shrek the Third's $121.6 million and Spider-Man's $114.8 million. Both of those films debuted in May, which is usually the month for big first weekends. March is simply not known for big openers – 300 was formerly the 39th biggest weekend, with the runner up in March being another 3-D entry, Monsters vs. Aliens, which opened to $59.3 million in March 2009 (I don't count Ice Age: The Meltdown, which opened on March 31, 2006 to $68 million). This opening take is a game changer - it provides further proof that it's not the release date. It's the film, with 3-D helping that along. Not to knock Avatar, but its opening weekend was somewhat standard for December, where Alice in Wonderland is different. Did Avatar help Alice break out? Certainly, but it didn't have Johnny Depp to draw those first weekend audiences.

Johnny Depp is becoming the biggest star since Harrison Ford. After three hugely successful Pirates of the Caribbean films and Charlie and the Chocolate Factory (over $3 billion in worldwide sales), Depp has now landed as the Mad Hatter in Alice in Wonderland, and is going to make another huge splash internationally. Alice gives Depp three films in the top ten biggest openers ever list (Dead Man's Chest - $135.6 million opening, At World's End - $114.7 million opening, and now Alice). It's the biggest opening ever for Tim Burton, easily beating Planet of the Apes, which reached $68.5 million in 2001. Still, Burton has always been on the high end of box office since his version of Batman debuted in 1989. An opening frame of $40.5 million doesn't sound like a lot, but in 1989 dollars, that went a long way. Burton further trumped that opening in 1992 with Batman Returns, which took in $45.7 million over its first weekend. Burton has also seen big weekends with Sleepy Hollow ($30 million in 1999), Charlie and the Chocolate Factory ($56.2 million in 2005), and the aforementioned Planet of the Apes.

Critical response wasn't as warm to Alice as it was to Avatar, but this is Tim Burton, not James Cameron, so we knew going in that not everyone was going to be happy. Alice in Wonderland garnered 182 reviews, and of those, 97 were positive, giving Alice a 53% fresh rating from general critics. Top critics were slightly higher at 61%. These scores are lower than usual for Burton, more Mars Attacks than Ed Wood, but I think there is at least a sliver of something to like for everyone. This is not your usual Alice in Wonderland, so we will likely not see the repeat business we saw with Avatar, but one never knows. According to the LA Times, Disney is going to need at least a multiplier of 3.0 to see some return on investment. The newspaper said last week that Alice cost $200 million to make, with likely another $100-150 million on that fantastic marketing campaign. How to Train Your Dragon opens in 3-D in only a few short weekends, so Alice needs to make hay while the sun shines.

Also beating estimates this weekend was Brooklyn's Finest, the only other new film in wide release this weekend. "Wide" may not be the most appropriate term for the crime drama, as Overture Films released it to only 1,936 venues in an interesting attempt at counter-programming. The film, which has a strong cast that includes Don Cheadle, Wesley Snipes, Ethan Hawke and Richard Gere, got off to a strong start, earning $13.5 million from that small venue count. That gives Brooklyn's Finest a solid venue average of $6,973, as it works against some poor critical notices that were somewhat unexpected for the Anton Fuqua (Training Day) film. Ninety reviews were counted at RottenTomatoes, of which only 31 were fresh, leaving Brooklyn with a fresh rating of only 34%. The good news for Overture is that this one cost only $25 million to make, so in this case, opening with only 10% of Alice in Wonderland's take isn't a bad thing.

After two weekends on top, Shutter Island gets shaken down to third this weekend, but the news is still good for the Marty Scorsese film. After dipping only 45% last weekend (a strong hold for a horror flick), Shutter Island holds similarly again this weekend. The Leo DiCaprio flick earned $13.3 million in its third frame, dipping only 41%. Often, when a film like Alice opens, it draws away from all of the holdovers, but because Shutter Island is an R rated film, it isn't impacted. The $80 million Paramount film has now outgrossed its budget domestically, as its total now sits at $95.8 million. It will cross the $100 million mark next weekend, and will become Scorsese's third film to cross the century mark.

Fourth goes to Cop Out, the Bruce Willis/Tracy Morgan comedy from director Kevin Smith. After opening to $18.2 million, audiences figured out that this one might not be so great. The weekend total in its second frame came in at $9.1 million, giving it a drop of 50%. Its Rotten Rating of 19% told us this was going to happen. Cop Out now sits with a gross of $32.4 million against a budget of only $30 million. It's hard to believe, but this is already Kevin Smith's biggest film, as it got by Zack and Miri Make A Porno ($31.5 million domestic total).

As expected, Avatar gets the big rub as it loses all of its IMAX screens this weekend, and many of its 3-D screens to Alice in Wonderland. The question heading into the weekend was how big would the Avatar drop be, and in its 12th weekend, Avatar earns $7.7 million, or a drop of 44%. Its previous biggest dip had come in weekend 10 when it dropped 31%. I don't think anyone at Fox is going to cry about the party being over. Avatar now has a running total of $720.2 million domestically, and $1.85 billion from foreign showings.

The Crazies, despite being a much better film than Cop Out, sees a bigger dip this weekend. The horror remake earned only $7 million in its second frame, and drops a tough 56% despite being 50 percentage points better than Cop Out at RottenTomatoes. This one, like Brooklyn's Finest, is from Overture Films, and is again modestly budgeted. The Crazies cost Overture only $20 million to make, so it should see a small profit for the studio. Currently, The Crazies has ravaged $27.4 million at the domestic box office.

Seventh goes to Percy Jackson and the Olympians: The Lightning Thief. Like Avatar, Percy Jackson was right in the firing line of Alice in Wonderland, this time due to demographics and not technology. Percy earned $5.1 million and dropped 47% compared to last weekend when it fell 37%. The Lightning Thief now has a domestic total of $78 million against a production budget of $95 million. This one is now approaching $200 million worldwide, so a sequel should be coming shortly.

That puts Valentine's Day into eighth spot (the lower the better). The poorly reviewed flick with a cast of thousands earned $4.3 million in its fourth frame, and dropped 53% compared to last weekend. Valentine's Day crossed the $100 million mark on Monday, which gives Julia Roberts ten movies to have earned that amount or more. V-Day has a running total now of $106.4 million, against a budget of only $50 million.

Crazy Heart takes ninth place, as it continues to ride Jeff Bridges' Oscar nomination to solid numbers at the box office. Bridges is the easy favorite to win tonight, and people are obviously talking about it since the movie increased 36% from last week to $3.4 million. The only film to really receive an Oscar bump this year, Crazy Heart has a current domestic total of $29.6 million.

Tenth goes to Dear John, as the Nicholas Sparks weeper manages to hold on. Dear John earned $2.9 million and dropped 41%. The $25 million Screen Gems entry has now earned $76.7 million.

Overall, the box office is way up, as Alice In Wonderland alone outgrossed last year's top 12, when Watchmen led with $55.2 million. A year ago, the top 12 took in $101.6 million. This year, the top 12 earned a massive $185.8 million. Next weekend, four new films hit screens: Green Zone, with Matt Damon and director Paul Greengrass; Our Family Wedding with Forest Whittaker; She's Out of My League with Jay Baruchel; and Remember Me with Robert Pattinson.