What's Next
By Michael Lynderey
March 1, 2010
BoxOfficeProphets.com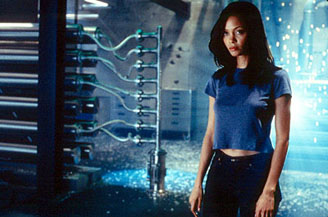 ---
Sequel bash

First, in a bit of bad news, it looks like Taylor Lautner's dropped out of two of those five movies I tallied up last time: Max Steel and Northern Lights. That still leaves three, and one can always hope (?) for more to be added. Next, as previously noted, the first half of February came loaded with an increasingly gargantuan number of reboot announcements. Not to be outdone, though, a much more pleasant film type - the sequel - looks to keep having its day in the sun, too, with a couple of entries getting more seriously underway lately:

Mission: Impossible IV (scheduled for May 27, 2011) - Yup, Tom Cruise will be back, though MI 3 director J.J. Abrams is only going to produce this one. Between this and July 2010's Knight & Day, Cruise is clearly angling to get back in the good graces of the Summer Movie Gods, but gee, the last Mission: Impossible ended on such a nice moment of closure, so do we really need this one?

New Year's Day - New Line announced this follow-up to Valentine's Day almost a week before that film's release. No director or cast yet, but it ought to be a hoot to watch name after name cast to appear in this one. Now, to better explain the plot here, I'll paraphrase a tagline from Friday the 13th, Part 2 (1981):

On Valentine's Day, 2010, some two dozen movie stars negotiated romantic trials and tribulations while engaging in comedic misadventures, all to the tune of a merry $100 million box office score.
Why should New Year's Eve, 2010, be any different?

Pirates of the Caribbean: On Stranger Tides (scheduled for May 20, 2011) - Wait a minute here, they're really making another one of these? Huh. Johnny Depp will be the only star reprising his role, with the regular dose of eccentric English-accented villainy to be delivered by Ian McShane this time around - playing real-life pirate Blackbeard, or perhaps Blackbeard's ghost (neither character should be confused with Bluebeard - you know, the guy who killed his wives; McShane could play him, too). Penelope Cruz is also on board as a perhaps less glowering female lead than her predecessor, Keira Knightley. Rob Marshall - he of Chicago and Nine fame - will helm. All requests to keep the runtime at a maximum of two hours this time have so far been declined. But I will keep pleading.

Riddick 3 - Because the $57 million that The Chronicles of Riddick took in weren't low enough. David Twohy will again write and direct, as he did for the first two films in the series, and Vin Diesel will return in what is being touted as a less action-oriented take on the Riddick character. Vin Diesel, by the way, seems to be plotting to finally make all those sequels he never did back in the early 2000s, with xXx 2 (for real, this time) and two more Fast and Furious movies also on his to-do list, although The Pacifier 2 now appears to be on the back-burner (hey, it can't all be good news).


Transformers 3 (scheduled for July 1, 2011) - Wait a minute here, they're really making anoth... Well, to be fair, this one doesn't really surprise me as much. That one-star rating from Roger Ebert aside, the show must go on here. And indeed it is, with location scouting actively underway and Shia LaBeouf, Megan Fox, and even Tyrese Gibson all evidently pegged to be back, although I think the franchise could use a little less talking robots and a little more Penelope Cruz.

Zoolander 2 - Ben Stiller will be back, with Jonah Hill potentially around as his nemesis. April Fool's!
Hey, what do you mean today's March first?!? That doesn't mean this project is really real, does it? Does it?

More tales from summer 2011

This is the time of year where the big summer 2011 movies really get underway. Aside from some of the titles mentioned above, there's the obligatory Harry Potter sequel, the already-filming Thor, and the probably-soon-to-be-filming Hangover 2, Green Lantern, and Captain America. Not to be outdone, Columbia has just scheduled their big-screen version of '80s stalwart TV show 21 Jump Street for August 5, 2011. This one will be directed by Chris Miller and Phil Lord, the helmers of CGI's Cloudy with a Chance of Meatballs, and will star the apparently inimitable Jonah Hill (and hopefully a few other actors, too, unannounced as of yet). Hill will also headline that remake of Adventures in Babysitting (1987), leaving one to marvel at the range of an actor who is able to take over from not only Johnny Depp, but Elisabeth Shue, too.

Elsewhere on the August '11 radar, Jamie Foxx and Martin Lawrence will team for Skank Robbers (scheduled for August 19th), in which they will both play female characters (well, duh). More need not be said about this film, except that it will probably make a whole lot of money, and that now is about the time when Jonah Hill playing Elisabeth Shue starts sounding like a pretty good deal.

Oscarwatch

I'm always on the hunt for announcements of films that seem like prime Oscar bait, and the most obvious such recent candidate is Water for Elephants, scheduled for filming in June and to-be-helmed by Francis Lawrence (previously known for flashier fare like Constantine and I Am Legend). How do we know Water for Elephant will be an Oscar movie? Let's see:

It's adapted from a popular book (and not one of those R.L. Stine-type books - but a real book, begorrah!)
It's a period piece, set in a circus during the Great Depression
It will feature an older version of the main character flashing back to his awards bait-ready life (Okay, this one is obviously the most telling Oscar sign out of all of these)
It will star Robert Pattinson, an actor who seems increasingly out of place in movies set after the invention of the television set
It will co-star Reese Witherspoon and that excellent Austrian character actor Christoph Waltz, who's taking over from Sean Penn in the role of a "paranoid schizophrenic animal trainer" (well, someone has to do it)

Waltz, by the way, is looking more and more like Inglourious Basterds' definitive breakout star, and the go-to man for European-accented villains (we could always use more of those). And while I hate to typecast anyone, that Captain America movie is going to need a Red Skull pretty soon, especially one with some experience playing, uh, paranoid schizophrenic animal trainers.