Friday Box Office Analysis
By Kim Hollis and David Mumpower
February 27, 2010
BoxOfficeProphets.com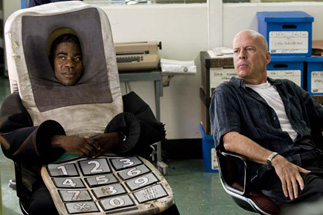 ---
Shutter Island continues to hold the top spot, but the two new openers for the weekend are still surprisingly strong.

Cop Out

Raise your hand if you thought Cop Out would become Kevin Smith's strongest opening weekend film ever. Yeah, we didn't really think so either (and we love Kevin Smith). The Bruce Willis/Tracy Morgan buddy cop comedy debuted on Friday with $6 million. There is likely to have been an early Friday rush to see the film, because Smith does have a host of fanboys. This means that a three-day total of $16.2 million is reasonable to expect, and would beat Jay and Silent Bob Strike Back, his previous biggest debut weekend, by about $5 million.

The Crazies

The horror film, a remake of a fairly obscure George Romero offering from 1973, had a solid Friday of $5.9 million. With good reviews and great marketing, it's caught the eye of both fans of the genre and people who might have been turned off of horror movies in recent years. Even so, gory zombie flicks can tend to be frontloaded, so a weekend total of $15 million is about the best it can hope for. Overture will be pleased, though, since the budget was only $12 million.

Notable Holdovers

Shutter Island is off 52% from last Friday, which probably isn't too awful since the movie is twisty and had an opening in excess of $40 million. It should even out a bit over the remainder of the weekend with a three-day total of $22.1 million. If Paramout was looking to push some dollars to 2010, their scheme seems to have been beneficial.