Weekend Forecast for February 26-28, 2010
By Reagen Sulewski
February 26, 2010
BoxOfficeProphets.com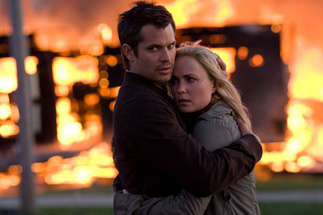 ---
What's been an uncommonly lucrative February ends on a slightly downward trend, with two new films that don't have the $40 million potential of the films of the last few weeks leading the way.

Although it's the less-widely distributed of the two new films this week, The Crazies is likely to be the more lucrative of the two. A remake of a less-well-known George Romero flick, it starts Timothy Olyphant as the sheriff of a small Midwestern town, whose townspeople start to fall under a sudden spell of homicidal madness. As the US military comes in to contain the apparent spreading affliction, Olyphant, his family and a few trusted allies have to evade not just their rapidly degenerating neighbors, but also their own government, and somehow stay sane themselves.

A zombie movie without the zombies, The Crazies looks to be a moody and atmospheric thriller, with at least some hope that there's a bit of a social context to it, rather than the recent trend in horror to be completely empty of anything except gore (not that gore is bad, just pointless gore). Uncommonly well reviewed for a horror film and with what looks like gorgeous cinematography, taking advantage of its small-town setting, The Crazies feels like it has some hit potential, though perhaps not to the level of one of the earlier Saw films. While horror fans often zig when they should zag, I feel that they'll embrace this concept (a bloody pitchfork is enough violence for you sickos, right?) to the tune of about $22 million.

The other wide release of this weekend Cop Out, feels like it's a Mad Lib of movie making gone wrong. A buddy-cop comedy starring Bruce Willis and Tracy Morgan and directed by Kevin Smith, it originally entered the world called A Couple of Dicks, but had to have its name changed in order to be able to be advertised on prime time TV. The name change, a rather literal reflection of the feeling about the title change, may just be the funniest thing about the film, unfortunately.

While Kevin Smith has his talents as a writer, especially if your tastes trend towards the verbosely profane, his skills as a director leave a lot to be desired. The fact that he's playing director-for-hire on this film is puzzling at best, in the way that hiring Michael Bay as a script doctor would inspire a collective "Huh?" from the cinema world. While he's certainly an actor's director and could have had some input into the script, Smith lending his touch to action scenes doesn't inspire confidence.

Willis, of course, has a good comic touch in action movies, but the pairing with Morgan seems about as wrong-headed as can be, or maybe what's off is the idea of pairing Morgan, a very individualistic and brash comedian, with anyone. In any case, all the big comic hit-lines are about as far away from funny as possible, and just make you feel sorry for the actors more than anything. Willis is three years removed from his last real hit, Live Free or Die Hard, and certainly isn't a stranger to complete flops, while Morgan gets his first real starring role in this film. Hopefully he wasn't banking too much on this one. Look for just $13 million this weekend for Cop Out.

Shutter Island will look to hang on to the top spot at the box office after perhaps overachieving slightly with a $41 million opening weekend. Martin Scorsese's moody supernatural mystery used Leonardo DiCaprio's apparent ample star-power to magnificent effect, and despite the move from fall to spring, kept the movie's 2011 Oscar chances alive, although that remains a longshot. Although word-of-mouth is decent, I suspect that there was a bit of a star-fueled opening weekend rush, and it'll fall a little more than might be expected. Still, give it a weekend of about $24 million.

After gaining one spot back last weekend in the charts to stay in the top three, Avatar may be able to hold that territory again. With Valentine's Day crashing to an even greater-than-expected degree and with Cop Out a potential bomb in the making, Avatar's consistency may not be able to be beat. In a less-exciting but more significant story, this is the weekend it'll become the first film to pass $700 million domestic, chugging along and picking up the last stragglers to see the film. It seems to be settling down towards an upper bound of about $750 million, and with Alice in Wonderland coming to take away its 3-D screens, that could be the end of this amazing film's run. For at least one more weekend though, it rules the 3-D roost and should bring in about $13 million.

While much of Valentine's Day's scary 70% drop in its second weekend was due to the plain old calendar configuration, even gimmick films don't drop that far without a reason. Without a set romantic day to hang its hat on, the film was exposed as really a substandard rom-com and audiences stayed away in droves, to borrow a term. Apparently having every star in Hollywood only goes so far. We won't see another drop of that magnitude this weekend, but a fall to around $7 million seems likely.

Family films weren't immune to the Valentine's Day/President's Day hangover, and Percy Jackson dropped over 50% from its opening weekend. It owed less of its success to February 14th than other films, so it also seems less likely to recover significantly, but still should see about $8.5 million of business this weekend.

The Wolfman couldn't sustain its surprise opening weekend into a second frame, falling almost 70%. Unlike Percy Jackson, it did owe a few million towards the unusually large Sunday, but also performed horribly on its own terms. A third weekend of $6 million awaits Universal's classic horror remake and a final total of around $70 million.