TiVoPlex
March 2 2010 through March 8 2010
By John Seal
March 1, 2010
BoxOfficeProphets.com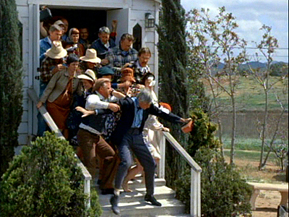 ---
From the obscure to the obscurest to the merely overlooked or underappreciated; they all have a home in the TiVoPlex! All times Pacific.

Tuesday 3/2/10

1:30 AM HBO Signature
Double Indemnity (1944 USA): You know what? That made-for-TV remake of Double Indemnity I 'recommended' a few months ago wasn't as bad as I thought it would be—but that said, it wasn't particularly memorable, either. Billy Wilder's adaptation of James Cain's famous novel is definitely memorable and one of the crown jewels of film noir, with Fred MacMurray and Barbara Stanwyck playing a couple of amateur grifters hatching an insurance plot they hope will set them up for life. Unfortunately for them, however, inquisitive investigator Edward G. Robinson is on their heels and ready to thwart their efforts. Forced to pull its punches and avoid the tragic ending of Cain's novel by the Production Code, Double Indemnity remains, nonetheless, one of director Billy Wilder's best—with recognition also due to Raymond Chandler, who co-wrote the screenplay with Wilder.

6:00 PM Sundance
Addicted to Plastic (2008 CAN): I want to say one word to you. Just one word. Plastic. First synthesized by an American scientist 101 years ago, it's now one of the most common substances on the planet, and this National Film Board of Canada documentary takes a look at how this eco-unfriendly invention earned its ubiquity. The film takes us to the beautiful refuse lagoons of the Pacific Ocean, where thousands of old water bottles huddle together for warmth, and also examines how plastic is now as much a part of the food chain as baseball, Mom, and apple pie. Especially that slice of apple pie you got at the supermarket that came individually packaged in a clear plastic container. Also airs 3/3 at 12:45 AM.

Wednesday 3/3/10

6:00 AM HD Net
Tarka the Otter (1979 GB): For years I thought 1969's Ring of Bright Water was the only otter movie ever made. My mother took me to see it at the ABC Cinema in Southport (Lancashire) and it was, to that point, the most devastating experience of my young life. This was no Winnie the Pooh and the Blustery Day, nor even Carry on Up the Khyber: this was tragedy writ large, at least for a sensitive seven-year old who thought otters were the cutest thing since sliced lardy cake. Tarka the Otter was produced ten years later, but by then this punk-rock smitten teenager was more interested in midnight showings of Dawn of the Dead than animal adventures. In fact, until quite recently, I assumed Ring and Tarka were the same film —I mean, really, how many otter films can one world handle? Well, at least two, apparently. Based on a story by the great English novelist Henry Williamson, this otter movie tells the tragic tale of another impossibly cute aquatic mammal who comes to a sticky end. I'm not ready to be traumatized again, but if you are, it should look amazing in HD.

Thursday 3/4/10

11:00 AM Fox Movie Channel
The True Story of Jesse James (1958 USA): Yeah, right. True, huh? I wouldn't count on that, but if you can overlook the false advertising, you still might enjoy this film. Directed by Nicholas Ray and based on a scenario by Nunnally Johnson, this iteration of the James legend features Robert Wagner as a James Dean-esque Jesse, herein portrayed as a troubled young adult trying to find his own identity in a sea of gray flannel chaps. The film's flashbacks and multiple perspective-take on the man and the myth lend it the feeling of an Old West Rashomon—this is, after all, no bottom of the bill programmer, but a big-budget Fox western from the man who brought us Rebel Without a Cause. Co-starring Jeffrey Hunter as brother Frank, as well as Agnes Moorehead, Hope Lange, John Carradine, and Alan Hale Jr., The True Made-Up Story of Jesse James makes its widescreen television debut this morning.

9:00 PM IFC
The Magdalene Sisters (2002 GB-IRE): Proving that women in organized religion are just as capable of abuse as men, The Magdalene Sisters shines a light on the plight of young women in an Irish asylum circa 1960. Based on well-documented events that took place in Ireland during the second half of the 20th century, this powerful film stars stage actress Geraldine McEwan as Sister Bridget, the sadistic head warder of the Magdalene Sisters Asylum. It's here that wayward girls - you know, the kind who get raped, knocked up out of wedlock, or merely attract undue male attention - were sent for rehabilitation, re-education, and nightmarish apprenticeships in the laundry business. The young actresses (Anne-Marie Duff, Nora-Jane Noone, Dorothy Duffy, and Eileen Walsh) are all excellent, but McEwan's performance as chief villainness is the one you'll remember afterwards.

11:00 PM HBO Signature
Diario de una Ninfomana (2008 FRA): Sounds like a spicy Jess Franco movie, yes? Well, not quite...but it does provide the viewer some of what the title suggests, if you get my drift. Valere (Belen Fabra) is a woman in her late 20s who's been coping with her ravenous appetites for over a decade, and current boy toy Alex (David Vert) is, frankly, worn out. Valere also uses Hassan (Pedro Gutierrez) to sate her carnal desires, but when she meets older man Jaime (Leonardo Sbaraglia) she's confronted with both love AND lust in one beefy masculine package. Will they settle down and make babies together? Not bloody likely—this is a European 'art movie', after all. Look for Geraldine Chaplin as Valere's Grandma.

Friday 3/5/10

3:00 AM Sundance
Amazing Journey: (2006 USA): Already the subject of one 'definitive' rockumentary (The Kids Are Alright), Shepherd's Bush rockers The Who are, against all odds, still a going concern a quarter century on—hence the apparent need for a new film to bring things up to date. Amazing Journey does that in fine fashion, and fills in more of the backstory as well. Featuring copious interview footage with surviving members Roger Daltrey and Pete Townshend, the film revisits such career highlights as the legendary Smothers Brothers' Comedy Hour appearance, whilst also detailing more recent adventures, from the 1979 Cincinnati concert stampede to Townshend's troubles with the law. There's also interesting stuff from old-time colleagues such as manager Chris Stamp and producer Glyn Johns, as well as disposable tributes from the ubiquitous Sting, Eddie Vedder, and Noel Gallagher. I'm happy to report, however, that whilst The Edge gets in his two cents worth, Bono is nowhere to be seen. Also airs at 10:30 AM.

10:15 PM Turner Classic Movies
Crash Landing (1958 USA): A day of airline disaster flicks concludes on TCM with this very rare feature from director Fred F. Sears, previously seen navigating the friendly skies with 1956's Earth vs. the Flying Saucers. Crash Landing stars Mr. Bette Davis, Gary Merrill, as Steve Williams, a pilot on a routine commercial flight from Lisbon to New York. Did I say routine? Only for the first half of the flight, as Steve's plane develops serious engine trouble over the Atlantic, and he has to prepare his passengers and crew for a, well, crash landing in the middle of the ocean. Meanwhile, wife Helen (Mrs. Ronald Reagan, Nancy Davis) paces worriedly at home, whilst son Barrie (Kim Charney) learns a valuable lesson in bike-riding. Trust me, it'll all make sense when you watch the film.

11:30 PM Turner Classic Movies
Big Bad Mama (1973 USA): This film's sequel, the cleverly titled Big Bad Mama II, has had frequent cable and satellite airings over the years, but this is the first time I can recall its progenitor appearing commercial-free. Angie Dickinson plays Wilma, a tough as nails broad who assumes command of the family bootlegging business when common-law hubby Barney (Noble Willingham) bites the dust. Ably assisted by daughters Polly (Robbie Lee) and Billie Jean (Susan Sennett), Wilma takes to the business like a duck to water—and decides to supplement her income with a little bank robbery and kidnapping on the side. Dickinson disrobes with reckless abandon in this Great Depression-set exploitation classic, which also features William Shatner, Dick Miller, Tom Skerritt, Royal Dano, and Paul Bartel. With a cast like that, this has to be TiVoPlex Movie of the Week!

Saturday 3/6/10

7:30 AM Turner Classic Movies
Live Wires (1946 USA): Many years ago, TCM used to regularly air Bowery Boys movies...or was it AMC? Whichever it was, these one-time small screen staples haven't had much exposure of late, but that seems about to change: the Boys are scheduled to appear on TCM each Saturday morning this month and perhaps beyond, which is great news for those of us who grew up watching the adventures of Slip, Satch, and the gang. The series is inaugurated this morning with Live Wires, the first and probably best of the almost fifty Bowery Boys flicks that rolled off the Monogram/Allied Artists assembly line. In addition to the usual gang of idiots (Huntz Hall, Leo Gorcey, Billy Benedict, et al), Live Wires also features Mike Mazurki and Pamela Blake, and was directed by hard-boiled specialist Phil Karlson. In other words, it's a real movie that actually tries to tell a story instead of simply recording an hour's worth of random Bowery Boys foolishness.

7:30 PM IFC
Love and a .45 (1991 USA): IFC has been showing a lot of these late '80s/early '90s neo-noirs of late, and though this isn't a particularly good one, it does feature a young Renee Zellweger in her first major role. She plays Starlene, fiancée and moll of small time hood Wattie (Gil Bellows), who robs convenience stores for a living whilst running with confirmed psycho Billie Mack (Rory Cochrane). If you've seen Carl Franklin's superior One False Move, you'll know what to expect, but Love and a .45 has the added attraction of Jeffrey Combs, here playing hit-man Dinosaur Bob.

Sunday 3/7/10

5:15 PM IFC
Anamorph (2007 USA): I've never seen this film, and I don't know what it's about, but c'mon...it's called Anamorph. Surely it involves life forms that can transform into super-beings, or something, right? Also airs at 11:45 PM.

9:10 PM Encore Westerns
More Dead than Alive (1969 USA): Fans of Vincent Price will want to check out this rather unusual western. Price plays Dan Ruffalo, a carny who hires serial killer Cain (Cheyenne's Clint Walker) to work in his sideshow as a sharp-shooter. Unfortunately, Cain has just been released from prison after serving an 18-year stretch and hasn't picked up a gun in decades...and to make matters worse, some of his old enemies are still gunning for him. It's definitely a bit different than your standard oater, and Price is excellent in one of his few late career non-horror roles.

Monday 3/8/10

7:00 AM Fox Movie Channel
The Street with No Name (1948 USA): This terrific police procedural stars Mark Stevens as Gene Cordell, an undercover G-man working to infiltrate and bring to justice a gang of bank robbers who murdered a security guard during one of their jobs. Easier said than done, of course—especially when the gang is owned and operated by Stiles, a psychopath played with gleeful relish by Richard Widmark. Whilst not quite on a par with Kiss of Death's Tommy Udo, Stiles is not a man you want to cross. Also on hand: Lloyd Nolan as Cordell's boss and Ed Begley as, naturally, a heavy.

6:00 PM Playboy
Mondo Topless (1966 USA): It's not often that The Playboy Channel earns a mention in the TiVoPlex, but the channel is offering its discriminating audience (and you) a selection of Russ Meyer films this month. First up is Mondo Topless, Meyer's contribution to the documentary genre and his follow up to the classic Faster, Pussycat! Kill! Kill! It's basically 60 minutes of large breasts attached to women with delightful names such as Abundavita, Babette Bardot, and Yvette Le Grand. No Candy Samples, though.