AFInity
By Kim Hollis
February 25, 2010
BoxOfficeProphets.com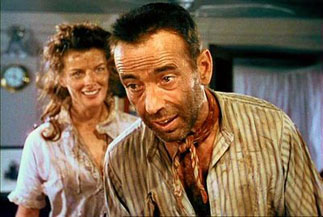 ---
We're a list society. From Casey Kasem and the American Top 40 to 1001 Books You Must Read Before You Die to BOP's very own Best Horror Films (one of our most popular features ever), people love to talk about lists. They love to debate the merits of the "winners" and bemoan the exclusions, and start the whole process again when a new list captures pop culture fancy.

Perhaps one of the best-known, most widely discussed lists is the American Film Institute's 100 Years... 100 Movies. A non-profit organization known for its efforts at film restoration and screen education, the AFI list of the 100 best American movies was chosen by 1,500 leaders in the movie industry and announced in its first version in 1998. Since then, the 100 Years... 100 Movies list has proven to be so popular that the AFI came forth with a 10th anniversary edition in 2007, along with other series such as 100 Heroes and Villains, 100 Musicals, 100 Laughs and 100 Thrills.

In addition to talking about which films are deserving of being on the list and bitterly shaking our fists because a beloved film was left out, we also love to brag about the number of movies we've seen. As I was looking over the 100 Years... 100 Movies list recently, I realized that I've seen 47 - less than half. As a lover of film and writer/editor for a movie site, this seemed like a wrong that needed to remedied. And so an idea was born. I would watch all 100 movies on the 2007 10th Anniversary list - some of them for the first time in as much as 20 or more years - and ponder their relevance, worthiness and influence on today's film industry. With luck, I'll even discover a few new favorites along the way.

#65: The African Queen

Before I get into the high points of The African Queen, I feel like I should fully disclose the fact that the film's star, Humphrey Bogart, is my favorite actor. Ever. I've seen almost every one of his movies, some of them multiple times. I own several biographies of the man and have read them cover to cover. And where young women in their late teens and 20s are currently obsessing over Twilight's Edward, buying merchandise with his mug and putting stand-up cutouts of the character in their bedroom, I was doing the same thing with Bogie. I still have my standup of him in gangster garb, along with a variety of posters and old VHS copies of his films. Simply put, I'm a (big) fan. (I'm not alone, either. In 1997, Entertainment Weekly named him the number one movie legend of all-time. The AFI followed in 1999 by ranking him as the Greatest Male Star of All-Time.)

Because of that extreme bias, I've had some trepidation about writing about any of the four Bogart films (Casablanca, The Maltese Falcon, The Treasure of the Sierra Madre and The African Queen) that appear on the AFI 100 Years... 100 Movies list. It's very difficult for me to view his films with fresh eyes and look at them without bias. I accept this going in, and will try to temper my enthusiasm with a measured, objective response.

The African Queen teams Bogart with director John Huston (they made six films together) and Katharine Hepburn (though Bogie was close friends with both her and Spencer Tracy, this would be their only onscreen collaboration). Set in the wilds of German-controlled East Africa during World War I, the story throws two disparate personalities together and lets their relationship develop as they head out onto winding rivers and dangerous lakes for an adventure. There's a degree of political intrigue, too, as the duo's ultimate goal is to destroy a German gunboat that is patrolling a lake and blocking Great Britain from making any counter-attacks.

We meet both Rose Sayer (Hepburn) and Charlie Allnutt (Bogart) within the first five minutes of the film. Rose has accompanied her minister brother to the continent to serve as a Christian missionary to the indigenous people, while Charlie is a rough, crude boat captain from Canada who delivers their supplies and mail. When we first see him, Charlie warns Rose and her brother that war has broken out and tells them their situation is volatile, but they choose to stay on. Rose's brother is beaten down by a German soldier and his condition quickly degenerates. He develops a fever and dies.

This leaves Rose alone, but Charlie arrives on the scene and helps Rose to bury her brother and takes her with him on his boat, the African Queen. When Charlie tells Rose about the German gunboat patrolling the lake, she becomes determined to torpedo it - just the two of them, on their own. He tells her that this task is all but impossible, as they'll have to pass a German fort and impassable rapids, not to mention crocodiles and other dangerous animals, but Rose will not be deterred. She steamrolls her will over Charlie and they set off to try to carry out her plan.

The movie then becomes a masterful study of how two people from very different backgrounds interact with each other when thrown together in an unexpected way. Rose is a prim and proper sort, strong in her convictions and formidable in her resolve. Underneath that exterior toughness, though, is a woman who is obviously lonely and perhaps even sad. Missionary work has its rewards, but Rose has a greater heat that burns within her heart.

Charlie, on the other hand, is crude and coarse. Although he knows his way around a boat, he's less attuned to successful human interactions and lacks manners and subtlety. His lackadaisical attitude seems to be a bit of a shell that he uses to shield himself from pain and heartache, and as a result he's tough and useful in a tight spot.

These two characters come to life courtesy of Hepburn and Bogart. I'm not sure anyone other than Hepburn could have played the role with the same combination of force and delicacy. She's domineering and strong when it comes to convincing Charlie (and others) to do what she wants, but she also has moments of vulnerability that are quite touching. The death of her brother leaves her in a slight state of shock, and she's clearly shaken when Charlie yells at her during a disagreement, saying, "I ain't sorry no more, you crazy, psalm-singing, skinny old maid!" No classic (read: boring) Hollywood beauty would have been appropriate to portray Rose, and Hepburn gives the character depth and complexity that could easily have been one-dimensional in less-skilled hands.

There are people who say that Bogart shouldn't have won the Academy Award for Best Actor for his performance in The African Queen, mainly because these folks believe that Marlon Brando was more deserving for his portrayal of Stanley Kowalski in A Streetcar Named Desire (Brando would beat Bogart a couple of years later, winning for the superior On the Waterfront as opposed to Bogart's villainous Lt. Commander Queeg in The Caine Mutiny). But to watch Bogie play Charlie Allnutt is to realize that he's got a lot more in his repertoire than just the gangsters and private detectives he's iconic for playing. Charlie isn't always a likeable character, as he's crass, dirty and a drinker. He lives hard and serves only his own best interests. But as he and Rose grow closer, he becomes more heroic. She helps him to find that best piece of him, something that he'd never had need of in the past. Bogie displays all of these facets of Charlie, and it's a marvel to watch. Honestly, it's almost a little surprising that this isn't the type of character Bogie always played, what with his pseudo-lisp and his decidedly non-classic look. (It's worth noting, though, that the role had to be rewritten for Bogart, since the character was originally planned to have a thick Cockney accent, one that Bogie couldn't perform believably.)

On top of the fine performances, Huston's direction of the film is simply superb. The movie was filmed on location in central Africa, lending an air of realism to what we see onscreen. The locations, the animals and the set pieces are all true to life, with only the scenes where Bogart and Hepburn were in the water having been filmed in a studio. There's a feeling of being right on top of the action, which gives the movie a quick pace and makes some of the scenes - the rapids come quickly to mind - all the more exciting. It's tough to walk the line between romance and action-adventure, but Huston is more than up to the challenge.

Like so many of the films I've discussed for the AFInity project, The African Queen still feels fresh, exhilarating and relevant today. As a film set during World War I but released in 1951, it was already a period piece, but it also builds to a pretty thrilling climax as Charlie and Rose get closer and closer to their goal of destroying the German gunboat. They encounter a variety of obstacles and treacherous conditions, and all the way up to the film's final moments, you're never quite sure if they're going to succeed (and the movie works whether they do or not). Their unconventional romance is like really tasty sprinkles on top of an awesome donut - it was already good, but now it's just that much better.

Surprisingly, The African Queen has never been available on an authorized Region 1 DVD. It's a movie that you can catch on Turner Classic Movies from time to time, but in recent years, the Bogie/Hepburn flick hasn't been something that's easy to acquire. I have good news for cinema fans, though, because a digitally restored edition of The African Queen will be issued on DVD and Blu-ray on March 23rd. Thus, there's no excuse to miss this classic tale of two singular people brought together in extraordinary circumstances - even if you don't love Bogie the way I do.