Weekend Wrap-Up
Shutter Island Shuts Competition
By John Hamann
February 21, 2010
BoxOfficeProphets.com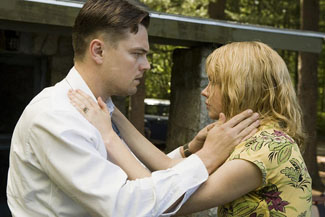 ---
Following an extremely busy Valentine's/President's Day weekend, Martin Scorsese returned to theaters this frame with Leo DiCaprio, and is the lone new release. The last time we saw Scorsese and DiCaprio together was in 2006 with The Departed, the film that won the director an Oscar for his work, and Best Picture. The Departed also earned just short of $300 million worldwide. Flash forward a year and a half later, and instead of Oscar talk for Shutter Island, this Scorsese work is battling talk of delays and questionable quality. Would Shutter Island swing under The Departed's $26.9 million opening? Read on to find out.

For Marty Scorsese, this is his fourth consecutive film with Leo DiCaprio, if we don't count Shine a Light, Scorsese's concert movie about The Rolling Stones. DiCaprio and Scorsese started their affair in 2002 with Gangs of New York, the ten-time nominated film. Gangs brought in $77 million domestically, but earned $190 million worldwide. At the time, Gangs of New York was Scorsese's second biggest domestic earner, behind only Cape Fear, which brought in $79 million in 1991. Next for Marty and Leo was The Aviator, this time nominated for 11 Oscars (it won four, neither of which went to the actor or director). The Aviator was Scorsese's first $100 million film – it took in $102 million domestically, and $112 million overseas. Then, two years later came The Departed, a masterwork with a master class of actors. The Departed earned five Oscar noms, but this time, finally, Scorsese won Best Director for his work, and the film won Best Picture. After a career of struggling for audience recognition via the box office, the Scorsese and DiCaprio team up changed all that. Scorsese became a true box office success, and also found critical and award success as well.

That brings us to today and Shutter Island. Back to water and scares a la Cape Fear, it's no secret that Shutter Island was delayed from October 2009 by Paramount, who said they wanted to cut marketing costs in the fourth quarter of 2009. A better reason might be that Paramount wanted to push Up in the Air for Oscar and not Shutter Island, but we'll never know. In the end, the move was a solid one, as Shutter Island did manage to take in $40.2 million from 2,991 venues, which sets a new high water mark for Scorsese film openings – by a long shot. It's also a new high for Leonardo DiCaprio, whose former highest was Catch Me If You Can, a film that opened five days after Gang of New York in 2002. Catch Me If You Can opened to $30 million, and went on to earn a powerful $164 million. Shutter Island got off to a strong start over the weekend with a $14 million Friday, very similar to both last weekend's Valentine's Day (the movie, not the Hallmark holiday), as that one started with $14.5 million before going on to a three-day total of $56.2 million, thanks to the long weekend. A weekend earlier, Dear John got off to a $13.8 million first day, but could only turn that into a $30.5 million opening, partly due to the Super Bowl. Shutter Island, as expected, flew between those totals, and had a weekend multiplier of 2.87.

Somewhat surprisingly, Shutter Island wasn't as critically accepted as some of his other works. At RottenTomatoes, Shutter Island finished at 67% fresh, with 100 reviewers out of a possible 149 finding something to like. That's a new low for a Scorsese film released in the last ten years. As Reagen Sulewski alluded to on Thursday, Scorsese may have been freed of his bonds of chasing a Best Director/Best Picture award after scoring with The Departed, and may be loosening up somewhat as his career moves forward. Critics have called Shutter Island unapologetic, which to me is fantastic news for a Scorsese film. It will be interesting to see where this Paramount release goes following opening weekend, but for now, Paramount's decision to delay Shutter Island is a very good one.

Finishing second is Valentine's Day, the horribly reviewed rom-com with a bevy of stars, including Julia Roberts, Jamie Foxx and Bradley Cooper. After a four-day opening last weekend that brought in $63.1 million (the three-day was $56.3 million), there was no way Valentine's Day could hold that kind of momentum, coming off the long weekend and having such poor critical response (17% fresh at RT). This weekend, Valentine's Day took in $17.2 million, and was off a nasty 69% from its debut last weekend. With the long weekend, and the titular day falling last Sunday, a 50% drop was expected for this one, but this kind of plunge indicates that word-of-mouth is definitely against it. Warner Bros. doesn't care, though, as Valentine's Day has already earned $87.4 million against a budget of $52 million.

Avatar moves from fourth last weekend to third place this weekend, as the James Cameron Oscar bait shows no signs of slowing – long weekend last weekend or not. After a three-day take of $23.6 million last weekend, Avatar dropped only 32% to $16.1 million. It now looks like it will take down the $700 million mark in the next few weekends, and could finish with as much as $720 million. In terms of the inflation-adjusted box office chart, Avatar now sits at 15th, behind Return of the Jedi's $715 million. Its domestic total now sits at $687.8 million, and its foreign total has reached $1.7 billion. Amazing.

Fourth goes to Percy Jackson & The Olympians: The Lightning Thief. Percy Jackson got off to a great start last weekend as well, but it looks like its Fox compatriot Avatar may be getting in its way. After a four-day gross of $38.7 million and a three-day total of $31.2 million, Percy Jackson fell hard, earning $15.3 million and dropping 51% from that three-day total last weekend. I don't think even the smartest schedulers at Fox could have thought Avatar would still be grossing more than $15 million ten weekends following its release, but if they had, I don't think we would have seen Percy Jackson until April. Regardless, this is still likely a franchise starter for the studio, as Percy has now earned $58.8 million against a budget of $95 million.

Fifth goes to The Wolfman, Benicio Del Toro's incarnation of the old Hollywood monster. After taking in $31.5 million over three days last weekend, The Wolfman fares the worst out of the group of openers that debuted over the President's Day weekend. The second frame for the Joe Johnston flick took in only $9.8 million, giving it a percentage drop of 69%. Reviews and word-of-mouth were just as bad for The Wolfman as they were for Valentine's Day, but with the direct competition coming from Shutter Island, The Wolfman didn't have a chance. With a budget reported to be as high as $150 million, Universal is going to lose a bundle on this one, as it has a take so far of $50.3 million, and likely won't reach $75 million.

Dear John continues its struggles as the inflated holiday weekend impacts it as well. Dear John fell 47% last weekend (despite the Hallmark holiday on Sunday), earning $16 million over three days. This weekend, it did a little worse, taking in $7.3 million and falling 55%. With its $25 million budget, this Screen Gems release was profitable after a single frame, and with a gross so far of $65.8 million, has turned into a huge win for the studio (if we don't count film quality).

The Rock's Tooth Fairy manages to hold on to a top ten spot for another weekend as it finishes seventh. Tooth Fairy took in $4.5 million for Fox, falling a slight 26%. The $50 million Fox effort is their third in the top ten, and has a running total of $49.9 million.

Eighth goes to Crazy Heart, and after a 20% increase last weekend, things get back to normal this weekend. Crazy Heart earned $3 million over the post-holiday frame, and drops 29%. This is probably the biggest winner in the Oscar sweeps, as the $7 million Fox Searchlight picture has now earned $21.6 million.

Ninth and tenth go to action movies with aging film stars. Ninth is From Paris With Love, John Travolta's lunatic turn. Paris earned $2.5 million, dropped 55%, and has a total of $21.2 million. Tenth goes to Mel Gibson's Edge of Darkness. It earned $2.2 million, dropped 54%, and has a running total of $40.3 million.

Overall, the box office is right on target with where things were last year. A year ago, Tyler Perry opened Madea Goes To Jail to an amazing $41 million, which brought totals for the top twelve films up to $119.6 million. This weekend, Shutter Island led the top twelve to a very similar $121.7 million. Next weekend brings the frame prior to Alice in Wonderland, and at this point it looks soft. Opening films include Cop Out, with Bruce Willis and Tracy Morgan, and Overture Films rolls out The Crazies, which looks interesting, but is most likely awful.