Friday Box Office Analysis
By Kim Hollis and David Mumpower
February 20, 2010
BoxOfficeProphets.com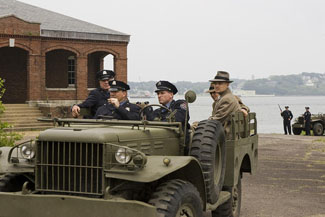 ---
Only one new release hits theaters this weekend, but the combined promise of star power, director and creepy tone was enough to make it a dominant factor at the box office.

Shutter Island

The latest Martin Scorsese / Leonardo DiCaprio collaboration earned $14 million on Friday. That's a significant increase over the $8.7 million that their last team-up, The Departed, earned on its first day. Shutter Island had been delayed for a variety of reasons, most of them involving a complex financial web spun by Paramount, but quality doesn't really seem to be the issue here (though it's only received middling reviews). The movie definitely skews adult, but given the solid marketing for the film, enough interest should have been built that a slight rush factor might mitigate a larger three-day multiplier. We're looking at a weekend total of $38.2 million, and it will be interesting to see where it goes from there. I'm seeing a lot of positive comments about the film, but I found it laborious and disappointing.

Notable Holdovers

The problem with an on-the-nose title like Valentine's Day is that during the weekend of February 19th, it's not going to seem so relevant anymore. That proved to be the case as the romantic comedy starring everyone you know dropped 61% from last Friday to $5.6 million. It also suffers from higher-than-expected deflation due to its large opening and the President's Day holiday last weekend. Valentine's Day should recover a bit to end up with $17.9 million for the weekend.

Percy Jackson & The Olympians: The Lightning Thief also dropped 59% as it earned $4 million on Friday. Again, we're looking at the effects of a President's Day Weekend having an impact here, as well as the fact that the movie suffered from so-so word-of-mouth. It will certainly recover on Saturday and Sunday when the kids and families have a better chance of being at theaters, which means its weekend total should be around $15.2 million.

Finally, The Wolfman fell big, as it declined 70% to $2.9 million. This is pretty typical for the genre these days, so even though it's steep, the total isn't really unexpected. Give it a weekend take of $9.5 million and a pretty quick exit from theaters.