Weekend Wrap-Up
Valentine's Day Big Over President's Day Frame
By John Hamann
February 14, 2010
BoxOfficeProphets.com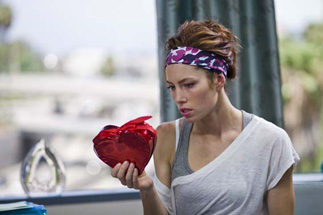 ---
Like the recent Christmas and New Year's weekends, the calendar lined up perfectly again in February, as Valentine's Day falls on a Sunday and during a weekend with a President's Day Monday off for workers and kids. A calendar setup like this means big business at movie theaters regardless of quality – films have their usual big days on Friday and Saturday, but then Sunday plays like another Saturday and a half. Taking advantage of this holiday configuration are the appropriately titled Valentine's Day, a romantic comedy starring everybody in Hollywood with a pulse, The Wolfman, the long delayed goth-horror flick, and Percy Jackson & The Olympians: The Lightning Thief, the Harry Potter wannabe.

The last time Valentine's Day fell on a Sunday, it was 1999. The world was different then – the highest number of venues in the top ten was 2,700, Miramax had two films in the top ten, and the biggest film of the weekend failed to crack the $20 million mark. Just like today, romance ruled that weekend, and Kevin Costner had the biggest film with Message in a Bottle (it remains his biggest opener since Waterworld). Other romantic dramas peppered the top ten – She's All That, Blast From the Past, Shakespeare in Love, and Rushmore, and those were joined by male oriented action films like Payback and Saving Private Ryan, along with My Favorite Martian for the kids. The Valentine's/President's Day weekend represented the biggest movie-going weekend of that year until May, when The Phantom Menace opened. This year could be the same.

Jumping back to 2010, our number one film of the weekend is Valentine's Day, a romantic comedy that looked extremely promising as little as a few weekends ago. With a cast that includes Julia Roberts, Jessica Alba, Jessica Biel, Bradley Cooper, Jamie Foxx, Jennifer Garner, Ashton Kutcher, Taylor Lautner, and more if you can believe it, Valentine's Day got off to an expected huge start this. Over only the three day portion of the long weekend, Valentine's Day managed to earn a staggering $52.4 million from 3,665 venues - and it still has the holiday Monday to go. The Garry Marshall flick had a venue average of $14,300, and played extremely strongly all weekend. While not the biggest film to open in February (that will remain The Passion of the Christ's $83.8 million for a while to come), Valentine's Day did get ahead of Ghost Rider's $45.4 million, giving it the record for biggest President's Day opening weekend ever.

It's almost too bad a film like this opens so strongly. As I said above, the marketing for Valentine's Day had me wanting to see it when the Golden Globes were on a few weekends ago, but after reading a few reviews, I'd almost rather see Dear John (or rent Battlefield Earth). Valentine's Day was the worst reviewed new film of the weekend... and The Wolfman was delayed and re-cut as many as four times. Of the 113 reviews counted at RottenTomatoes, only 18 were positive (and 95 were negative). That gives Valentine's Day a fresh rating of only 16%, which is right on par with Tooth Fairy, which finished at 15%. This isn't a fair thing to do for couples who are stuck choosing between the weeper Dear John (28% fresh) or this steaming pile of dung. Valentine's Day cost Warner Bros. only $52 million to make (despite the names) so the studio is laughing all the way to the bank.

Finishing second is Percy Jackson & The Olympians: The Lightning Thief, the latest attempt at developing a kid-friendly franchise, a la The Golden Compass or The Vampire's Assistant. Percy Jackson blew both those hopefuls out of the water, and just may have a shot at a franchise, as The Lightning Thief earned a powerful $31.1 million from 3,356 venues. It had a venue average of $9,267. Timed to open at the same time as the Winter Olympics in Vancouver, Percy Jackson got off to a great start on Friday, earning $9.7 million. With Friday being the least kid-friendly day of the long weekend, grosses jumped following the opening, and the Chris Columbus flick enjoyed a strong multiplier of 3.2 over the Friday-to-Sunday period.

Percy Jackson has an opening weekend gross that says sequel, but I think reviewers would disagree. The good news about this one is that it is the best reviewed opener of the weekend, but it still finished at 47% fresh from the widest range of critics, but only 35% from the "top critics" listed at the site. Chris Columbus has said that he cast kids for multiple films, and with an opening like this one, I would say 20th Century Fox is greenlighting the sequel as I type this. In all likelihood, Percy Jackson is going to finish above $100 million domestically, and do some serious business overseas, as it has a supporting cast that includes Pierce Brosnan, Sean Bean, and Steve Coogan. No budget data is available, but I would expect this one approached $100 million (and will end up as a very good investment).

The Wolfman finished third, as the Benicio Del Toro goth-horror flick finally finds its way into theaters - and we find out why it took so long. First, the business: The Wolfman actually did okay this weekend, earning $30.6 million from 3,222 venues over the Friday-to-Sunday portion of the weekend. It had a venue average of $9,206. Oddly enough, this is the best horror opening since exactly a year ago, when the Friday the 13th reboot hit theaters on its titular day. Obviously, horror and Valentine's Day work well together. Friday the 13th earned $40.6 million over its first three days last year, almost two-thirds of what it earned overall ($65 million domestically). The opening weekend numbers for The Wolfman are reminiscent of horror releases over the mid-point of the decade, when films like Freddy vs. Jason and The Ring Two earned $36.4 and $35.1 million over their respective opening weekends.

It was nice to finally know why Universal had held The Wolfman up for so long prior to release – it wasn't a very good movie. Of the 121 reviews at RottenTomatoes, only 35 were positive, giving the Joe Johnston film a fresh rating of only 29%. The Wolfman was shot in early 2008, and was originally scheduled to be released later that year in November, but got pushed back to February 2009. It didn't make that date either, and re-shoots were scheduled for May 2009. The date was then moved to summer 2009, and then got bumped again into 2010. These moves and re-shoots are never good news, even if the final product benefits. In this case, they should have started over. For all the promise of a great cast and good idea, this one failed in execution. The budget here was originally $85 million, but that was before re-shoots and costly delays. If this one didn't end up costing at least $100 million, I'll eat my shirt.

Fourth spot goes to the always game Avatar. With the long weekend and Valentine's Day, the James Cameron epic had a stellar weekend, earning another $22 million and dropping only 4%. After getting creamed by the despicable Dear John last weekend, its good to see audiences haven't abandoned one of the very few good films in the top ten. Avatar now has a running total of $659.6 million as it moves toward a final tally around the $700 million mark.

Fifth goes to Dear John, as last weekend's surprise winner gets hit by direct competition in Valentine's Day in its second frame. Dear John earned $15.3 million this weekend, and was off 50% compared to last weekend when it opened to $30 million. Negative word is obviously already out there, as it should have held better considering the holiday. The $25 million Screen Gems release now has a total of $53.2 million.

Tooth Fairy finishes sixth, as The Rock's kid-friendly flick also benefits from the long weekend. The Tooth Fairy, another truly awful film living in this weekend's top ten, earned $5.6 million in its fourth weekend of release. It was off 16% thanks to the holiday Monday. The $50 million Fox flick now has a tally of $41.5 million so far.

From Paris With Love moves from third spot last weekend to seventh spot this weekend, as many folks hop off the Travolta bus. Paris earned a sad $4.7 million this weekend, and dropped 42% compared to last weekend. Taken this one is not, as it has a running total of $15.8 million versus a production budget of $50 million.

Mel Gibson's Edge of Darkness continues its slide this weekend. After opening to a respectable $17.2 million, it dropped a hefty 60% last weekend, though the news does get better in this frame. Edge earned $4.6 million in its third weekend, and dropped another 33%. The $80 million film now has a total of $36.1 million, and isn't going to come close to profitability through domestic grosses alone.

Jeff Bridges and Crazy Heart, the only real beneficiary of Oscar nominations, finishes ninth this weekend, as the Fox Searchlight flick expands to 1,005 venues. Crazy Heart earned $4 million, which means it saw an increase of 12%. The $7 million film has now made $16.5 million, and is going to be a decent win for Fox Searchlight.

When in Rome takes the bottom spot in the top ten. The Kristen Bell rom-com earned $3.4 million this weekend and dropped 38%. The Buena Vista feature has now earned $26 million.

Overall, this year's box office was up against a tough year last year when Friday the 13th opened on, well, Friday the 13th, and Valentine's Day fell on a Saturday. Last year, the top 12 films brought in $162.7 million. This year, with a big top three, the top 12 blew that number away, earning $179.3 million. Next weekend brings only one new release, but it could be big. Martin Scorsese's Shutter Island opens next weekend, so horror fans should finally have something good to look forward to.