What's Next
By Michael Lynderey
February 16, 2010
BoxOfficeProphets.com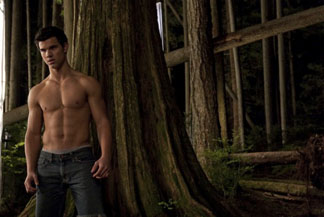 ---
Lautner × 5
Those who follow the latest casting tidbits may have noticed a recent recurring phenomenon: ever since November 20, or, in other words, since the release of Twilight: New Moon, werewolfian co-star Taylor Lautner has been cast in a new starring role roughly once every two weeks, reaching a current total of five upcoming projects. Not counting his already-filmed part in this summer's Twilight: Eclipse, Lautner will star in:

* Max Steel - franchise alert!; Lautner as extreme sports enthusiast turned superhuman secret agent; based on the 2000-2002 animated TV show, unseen by me and possibly many others; higher body count than Agent Cody Banks, one could hope (announced December 4, 2009)

* Cancun - in which Lautner uses his sharkboy martial arts skills to dispatch, incapacitate, or otherwise irritate unfriendly-looking drug dealers who have snatched his girlfriend south of the border; presumably, Lautner will look very intense while doing so (announced December 17, 2009)

* Northern Lights - in which Lautner engages in hitherto undisclosed aerobatical shenanigans, possibly resulting in multiple explosions and stunt work; title sounds like codeword for secret army base storing hordes of displaced UFOs (announced January 6, 2010)

* Stretch Armstrong - franchise alert!; Lautner makes like Mr. Fantastic and turns to long-limbed crimefighting; martial arts much more difficult like this (announced February 5, 2010)

* Abduction - in which Lautner's on-screen parents turn out to be engaged in some form of malfeasance (actually, I always thought "my parents are evil" was a great plot for a teen thriller, that old movie Little Nikita notwithstanding); not sure if I like the title, which immediately reminded me of the girlfriend-Mexico-drug dealer movie (announced February 11, 2010)

That's about it, I think, for now. Lautner appears to be the definitive breakout star of the Twilight films, and maybe that's for the best - if Robert Pattinson made this many movies, we would all have to sit through a lot more Jane Austen period pieces about misunderstood painters with mid-European accents. Also, at this point, Lautner is clearly angling to become the most prolific leading man born during the 1990s, and competition in that department is currently fairly thin (anyone remember Jonathan Lipnicki?). None of these five films have any other cast attached quite yet, nor much more than a vague release date, so it's a tough call as to which one is going into production first, last, or at all. In the meantime, we ought to start an office pool guessing the days left until the next Lautner project is announced. There'll be a number six by the end of the month, I say.

Remake beat
At present, nary a day passes without the announcement of a new remake, reboot, reimagining, redoing, or refurbishing of a good ol' film from years past. For a long time now, I had been fearing this trend - the exhaustion of all, or most, possible film ideas - and now it is finally here. The decade currently most at risk for this form of movie-snatching is the 1980s, although others are not immune to this phenomenon. The past week alone bore witness to the announcement, or significant development, of:

* Akira - long-anticipated live action do-over of the 1988 Japanese anime, helmed by none-other than the Hughes Brothers, fresh off the somewhat-puzzling success of their Book of Eli. Hey, this one could be really good, now that I think about it.

* The Best Little Whorehouse in Texas - re-do of the 1982 Burt Reynolds/Dolly Parton musical - you know, the movie with the title so great you're actually scared to see it and ruin the mystique. The original earned $69 million in '82 dollars (that's well over $170 million today), but I guess that wasn't enough to hold a remake off for much longer. Whorehouse '82 was rated R, but if the new one comes in with anything more threatening than a PG-13, I'll gladly eat a sizeable number of hats.

* Daredevil - Hey, I liked the Ben Affleck Daredevil from 2003, but it looks like the moviegoing public vetoed that one, and so here it is - finally! - a reboot, prepared for a generation that may never have heard of Ben Affleck (chilling thought, is it not?). Fox just hired the writer of The Day the Earth Stood Still to pen this one, so Taylor Lautner may be signing up for one more project yet.

* Mr. and Mrs. Smith: Back for Seconds - That subtitle may simply be the invention of an anonymous BOP writer (me). But this vaguely rebootish version of the very successful 2005 Pitt-Jolie ticket, now with a new (read, younger) set of characters, has just been announced. And they ain't kidding.

* The Thing - OK, OK, they tell me this one's actually a 'prequel', not a remake, but c'mon. Taking place before the 1982 John Carpenter film, and bearing an undisclosed relationship to the 1951 original, this one will star self-identified Scream Queen Mary Elizabeth Winstead and Australian character actor Joel Edgerton. Good times.

* Vacation - "More of an update than a sequel", we're told, so it qualifies for this column. Yes, this will be another entry in the National Lampoon's Vacation hallmark (although you can bet it won't have "National Lampoon" in the title). Chevy Chase will return as Clark Griswold, reportedly, though the mantle of comedic misadventure will be assumed by Griswold's son, who'll be recast for only the fourth time (there're some good possible casting choices there - I hear there's a young actor with a lot of time on his hands - I think he was in some movie last year... something about vampires and weeping teenage girls in Alaska? It may've been Washington state).

Warner Bros. is also planning a new version of The Three Musketeers, last seen on screen in 1993 (Disney's The Three Musketeers, with Chris O'Donnell) and 2001 (the ominously-titled The Musketeer). This story's been remade so many times that I'm frankly a bit desensitized to its constant do-overs. Soon, that may be true of a whole lot of other films.

Ghosts of Oscar voters' future
And finally, Lee Daniels, nominated for the Academy Award for Best Director for helming Precious, is gearing up Selma, which looks to be another politically-charged historical drama ripe for the Oscar season. This one will focus on the '60s trio of civil rights figures Lyndon B. Johnson, Martin Luther King, and segregationist Governor George Wallace, the latter to be played by Robert De Niro in what sounds like catnip for the Supporting Actor category. It's rare to see President Johnson portrayed as a film character - of the post-WWII era, the most prolific on-screen President is Nixon, usually cast as either the subject of Shakespearean tragedy (Oliver Stone's Nixon, Frost/Nixon, Secret Honor) or a Pinocchio-nosed caricature (Watchmen, Dick, Black Dynamite). Nixon's nemesis, John F. Kennedy, is also often invoked cinematically - but usually as a symbol of fallen idealism, and not much of a character. Other recent Presidents are seldom glimpsed outside of news footage and the like, and so it'll be a bit of a novelty to have Johnson given a meaty on-screen treatment. But, who will play him?

Wait a minute... Taylor Lautner, right?