Weekend Wrap-Up
By John Hamann
February 7, 2010
BoxOfficeProphets.com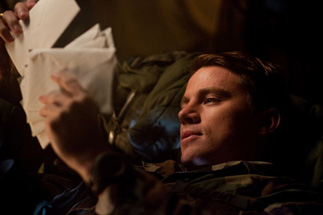 ---
It was bound to happen, and it was bound to happen like this, given today's audiences. Avatar, after seven consecutive weekends at number one, has been pushed to number two this weekend, shortly after receiving nine Oscar nominations. The pusher ends up being the weeper Dear John, a poorly reviewed drama that has no reason being the historic finisher of Avatar's reign. It is a weekend for women, though, as Dear John joins with a bevy of Oscar expanders – all of which are squarely aimed at women. The new options for males this weekend are the Super Bowl, and the new John Travolta flick, From Paris With Love.

Ever since opening, Avatar has been eerily similar in a lot of way to James Cameron's 1998 record breaker, Titanic. The release date, holds, award recognition and boffo box office were all extremely comparable to Cameron's earlier Oscar winner. We have another similarity now with the fact that the biggest film ever in terms of domestic box office has been knocked off its perch by a truly awful film. Titanic was number one for 15 consecutive weekends, earning over $500 million during that part of its reign. On Titanic's 106th day of release, the sunken boat film ran into Lost in Space, the stupendously bad re-imagining of the old TV series. So, on April 3, 1998, Titanic lost its crown to a Matt LeBlanc film. A dozen years later, history is repeating itself, as bad is once again is taking down history's biggest film, and the actor this time is Channing "Drederick" Tatum. Mel Gibson couldn't do it, Denzel Washington couldn't do it, John Travolta couldn't do it and Robert Downey Jr. couldn't do it, but Drederick Tatum has beaten back the Na'Vi. Insanity is among us.

Our number one film of the weekend is Dear John, the latest chick flick based on a Nicholas Sparks novel (The Notebook, A Walk to Remember). Dear John was tracking in the low-$20 millions heading into the weekend, based on what I don't really know. Somehow, Dear John managed to open incredibly strong on Friday with a shocking gross of $13.8 million, putting it on track for a weekend take in the $30 millions, as this one is definitely not targeted at the Super Bowl audience. Dear John finished the weekend with a very strong (and somewhat inexplicable) $32.4 million. That's enough to knock Avatar off its perch, and make Dear John an ugly footnote in box office history.

Released to 2,969 venues, Dear John was actually in fewer venues than Avatar, and gave it an excellent venue average of $10,913. From Sony Screen Gems, this is not the studio's usual fare, but it is up to Screen Gems standards of questionable quality. Usually, Screen Gems delivers bad horror films that tend to gross well versus their production budgets. Examples include When A Stranger Calls, the 2006 film that cost the studio $15 million to make and opened to $21 million, or Boogeyman, which opened to $19 million and cost $20 million to make. The studio's biggest success was also their biggest opener until Dear John came along. The Exorcism of Emily Rose opened to $30 million in 2005 against a budget of only $18 million. Emily Rose went on to earn $145 million worldwide versus that tiny budget. With Dear John, Screen Gems is only the distributor, with Relativity Films (It's Complicated) being the real driver behind the film. Relativity spent about $25 million making Dear John, so this is an instant success for both companies.

Despite taking Avatar down, Dear John won't be on top for long, and not just because The Wolfman is coming next weekend. Reviews for the Lasse Hallstrom flick were definitely not similar to those of his Cider House Rules or Chocolat. Dear John actually received worse review than From Paris With Love, scoring only 25 positive reviews out of a possible 83, giving it only a 30% fresh rating at RottenTomatoes, with "Top Critics" liking it even less at only 22%. Obviously the marketing here worked, as moviegoers ignored reviews (and common sense). The movie did star some folks that may not have the biggest names (Tatum, Amanda Seyfried), both the pair have been in some big movies. Tatum was in GI Joe: Rise of the Cobra, which earned over $300 million worldwide, and Seyfried was in Mamma Mia!, which earned $600 million worldwide.

Avatar drops to second spot in the same week it become the biggest domestic earner ever, and scored nine Oscar nominations. Avatar brought in another $23.6 million this weekend, down only 25% from last weekend, but higher than its previous drops, which had averaged about 14% per week heading into the weekend. Just because the big film is out of first place, don't expect its earning to stop. Avatar still has an entire month on 3-D screens prior to Alice In Wonderland, and still has a significant shot at earning $700 million. Avatar did manage to break another record this weekend, as its eighth weekend gross is the biggest ever for that time frame, ahead of now second place Titanic's eighth weekend of $23 million. That streak will likely end next weekend, as Titanic managed to gross $32 million over President's Day weekend in 1998, when Valentine's Day fell on a Saturday. For now, give Avatar a running total of $630.1 million at the domestic box office.

Finishing an ugly third is From Paris With Love, the new action film starring John Travolta. Paris didn't break out like Dear John did, and in fact did the opposite. From Paris With Love took in only $8.1 million from 2,722 venues this weekend, making it a big disappointment for the folks at Lionsgate. Paris marks the lowest opening for Travolta since 2000's Lucky Numbers, which flopped with a $4.5 million debut. We didn't even need to check the reviews to know that this one was a mistake, as Travolta's mad character in the marketing was enough to put people off. Paris was made by a barrage of European film companies, at a cost estimated around $55 million. At this point, it doesn't look like it will earn $20 million domestically.

Fourth spot goes to Mel Gibson's Edge of Darkness, which tumbles hard versus last weekend's opening take of $17.2 million. This weekend Edge of Darkness earns only $7 million, which means it was off a disastrous 59% from the opening frame. All of a sudden the $80 million Warner Bros. effort is in rough shape, as Edge has a total so far of only $29.1 million.


Fifth spot goes to Tooth Fairy, as The Rock's kid flick isn't proving to be too kid friendly. Tooth Fairy brought in another $6.5 million in its third frame and dropped 35%. The $50 million film has now earned $34.3 million for 20th Century Fox.

Sixth spot goes to last weekend's number three film, When In Rome. After a better-than-expected start last weekend, I thought When In Rome might hold okay, however with the big start from Dear John, this female targeted comedy got left in the dust. When in Rome earned $5.5 million in its second weekend, which means it is off a hurtful 55% from its opening frame. No budget data is available for the Buena Vista release, but with a gross so far of $20.9 million, my guess is that this one is profitable by the end of next weekend.

The Book of Eli finishes seventh, as the Denzel Washington flick tries to match its domestic gross to its production budget. Eli earned $4.8 million in its fourth frame, and was off 46% compared to last weekend. Super Bowl weekend is a tough frame for male-oriented movies, and Eli is no exception. The Warner Bros. flick has now earned $82.2 million versus an $80 million production budget.

Jeff Bridges' Crazy Heart did get the Oscar bump this weekend, as distributor Fox Searchlight finally brought this one into wide release. Crazy Heart went from 239 screens last weekend, to 860 screens this weekend, and Crazy Heart earned $3.7 million with the increase in venues. It had the thrid best venue average in the top ten at $4,457, and increased its take over last weekend by 58%. Nominated for Best Actor (Bridges), Best Actress (Maggie Gyllenhaal) and Original Song, Crazy Heart was able to build on the $7.5 million it earned in limited release, and now has a running total of $11.2 million.

Legion finishes ninth, as Screen Gems owns both the top and bottom of the top ten. Legion, after opening to $17.5 million, dropped a serious 59% last weekend. This weekend, things don't improve much, as Legion earns $3.4 million and drops 53%. However, like Dear John, Legion was made on the cheap, costing Screen Gems only $26 million. It has now earned more than that production figure, as it sits at $34.6 million.

Finally in tenth is Sherlock Holmes, as the Robert Downey Jr. flick is heading out of the top ten after seven weekends of release. This time out, Holmes earned $2.6 million, and was off 42%. The Warner Bros. success story has now earned $201.6 million against a budget of $90 million.

Female-oriented Oscar bait also performed well this weekend as The Blind Side dropped only 14% to $2.6 million to finish eleventh, and Up in the Air dropped only 16% to $2.4 million to finish twelfth. The Blind Side has a running total of $241.6 million, and Clooney's Up in the Air has done nicely with a total so far of $76.7 million.

Overall, the box office was up against a tough frame from last year when four new films went out in wide release. This year has the Super Bowl to contend with, though, while last year the big game fell on February 1st and against the first weekend of Taken. In the same weekend in 2009, He's Just Not That Into You earned $27.8 million. The Drew Barrymore flick, along with the debut of Coraline, took the top 12 up to $131.3 million, a number this year couldn't contend with. This weekend, the top 12 brought in $102.6 million. Next weekend should be huge, as new releases include event films like The Wolfman, Percy Jackson and The Olympians, and the appropriately titled Valentine's Day.