Avatar Passes Titanic
By David Mumpower
February 3, 2010
BoxOfficeProphets.com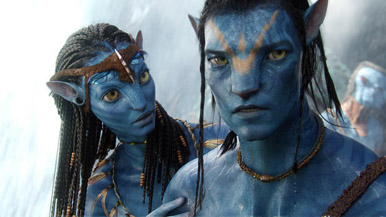 ---
Today is the big day. Avatar has surpassed Titanic to become the most successful domestic performer of all-time after previously claiming the title as largest worldwide revenue earner ever last week. Its Tuesday box office total of $2,688,514 makes its total domestic box office $601,141,551, thereby surpassing Titanic's final total of $600,788,188, a record that had stood since July 23, 1998. BOP's staff has compiled a few tidbits you may or not find interesting we will begin to disseminate in the coming days as well as some thoughts about how history will remember Avatar's unprecedented box office run. Expect more discussion along these lines as it continues to be the biggest movie story of the 2000s. But first, how did we get here? Well...

On March 14, 1998, Titanic surpassed Star Wars to become the number one domestic box office film of all time. The latter film had started 1997 by bumping its previous box office tally of $322.7 million all the way up to $460.9 million due to the popularity of its special effects-enhanced re-release. By the time the summer of 1997 rolled around, no one believed there was a title on the horizon that could surpass the George Lucas epic to become the champion. Had a list of titles been offered, no one would have suggested Titanic, a troubled production whose release was moved from that summer until December of 1997 due to numerous difficulties with the film's final cut. To the shock of all industry analysts at the time, James Cameron somehow pulled off such a feat in making Titanic the gold standard in cinematic success stories. The film earned $600.8 million domestically as well as $1.8 billion worldwide and won 11 Academy Awards to boot.

A dozen years later, history has repeated itself. Cameron took an extended vacation from big budget productions, instead choosing to spend his time championing emerging technologies and overseeing a couple of documentaries. He was waiting for the right time for movie special effects to catch up to his vision for his next project, a decision that was roundly criticized by all of the people in the industry who always line up to throw stones at the director. This is an industry based on ego and insecurity and nobody likes the smartest and most talented guy in the room. When footage from his long awaited project Avatar was released, its photo-realistic artificial characters were the source of much debate with the consensus opinion being that the movie looked shiny. The trailers were a mixed bag, however, as the storyline revealed itself in surprising detail, promising a paint by numbers linear tale of a soldier going native and rebelling against his own people. A lot of people derided the commercials for falling in the void between World of Warcraft and Final Fantasy videogame graphics without offering anything near the caliber of storyline previously offered by the director in Titanic. Oddly, those criticisms only grew louder over time as Avatar began to do the impossible.


On December 18, 2009, almost 12 years to the day after the release of Titanic on December 19, 1997, Avatar opened domestically with single day box office of $26,752,099. While an impressive feat, it was hardly an early warning signal for a record setting box office run. In point of fact, it was only the 95th largest single day total. More surprisingly, that number represents only the 14th largest single day of box office total up until that point in 2009. Future box office trivia will be predicated upon asking people to name the luminaries that somehow outperformed Avatar on their various first days in North American theaters. Sure, most people will guess Star Trek, The Twilight Saga: New Moon, Harry Potter and the Half-Blood Prince and Transformers: Revenge of the Fallen, but how many will remember Fast & Furious? My guess would be only the people who read this column.

I would argue it is unfair to describe Avatar's opening weekend debut as inauspicious. December releases, particularly the ones right before Christmas, are notorious for deflated opening weekends followed by tremendous weekday tallies. Even so, Avatar's first three day total of $77,025,481 is not of the five largest debuts of 2009, an odd footnote for the number one film of all time. Again, this is an instance of history repeating itself as Titanic was the eighth largest debut of 1997 (including the Star Wars re-release). If you asked someone which did better on opening weekend between Titanic and Batman & Robin, they would look at you funny, but this is one of those trick questions that never grows old. Knowing our box office history would have reminded us that Titanic's debut of $28,638,131 was not its largest weekend total. In fact, it surpassed that amount six different weekends on its way to 15 straight weekends in first place at the box office. Keeping this in mind when we evaluate Avatar, it's therefore less surprising that its first weekend is barely even half of the biggest debut of 2009, New Moon, which opened to $142,839,137. So, while Avatar's $77.0 million debut fell just short of breaking I Am Legend's record for December openings, there wasn't any cause for alarm. Industry observers realize that it's the Christmas-to-New Year's weekdays that drive a film's overall box office revenue.

Keeping the above in mind only tells part of the story, though. Avatar's box office performance has been stunning not just for its across the board consistency but also for its ability to perform well above best case scenarios throughout its run. During the 12 Days of Box Office columns, I noted that an odd comparison model was The Prince of Egypt, a 1998 release that released on the same day during a year with the same calendar configuration as Avatar. This pattern was first pointed out to me by former BOP contributor David Parker, who was the first person I trust who made a logical argument for Avatar to overtake Titanic.


While I had no choice but to use The Prince of Egypt for comparison since this particular holiday calendar configuration hadn't happened in 11 years, I never in a million years anticipated that Avatar would behave similarly. To wit, The Prince of Egypt debuted to a modest $14,524,321 but wound up with a domestic tally of $101,413,188. Given the timeframe, this performance was not as impressive as Journey to the Center of the Earth's similar behavior in 2008, but it was still a noteworthy form of box office behavior. Films that open to $14.5 million are not supposed to cross the $100 million barrier, much less possess final box office multipliers (final box office divided by opening weekend) of right at 7. Were Avatar to mimic such behavior, that opening weekend of $77.0 million would lead to final domestic box office of $539 million, a box office performance even beyond the huge story of 2008, The Dark Knight. You see where I'm going with this...

Yes, a model I used in my analysis that I considered not just the best case scenario for Avatar but even a little bit beyond that proved insufficient for my purposes. As we speak, Avatar's running total of $601,141,551 reflects a current final box office multiplier of 7.8, a full 11% better than a family friendly holiday movie from a better box office era in terms of legs. And Avatar is far from finished. In fact, given it is the recipient of nine Academy Awards nominations, its final box office tally is still a source of speculation. At this point, it has overmatched any and all early expectations along the way to becoming the alpha dog in box office discussions.

One of our infrequent but well considered feedback posters made a comment yesterday that one of the facts we haven't mentioned in our constant onslaught of Avatar discussion over the past six weeks - and for the record, I fully appreciate that with four updates a week that have discussed it, some of you are tired of the conversation...it's the elephant in the living room even if some of you are feeling over-saturated - we haven't mentioned a couple of tidbits he felt merited identification. He points out that Avatar has been number one for 44 of the 47 days it needed to become the biggest film of all time. He is right that the film finished in second place on December 23 and December 25, 2009, losing to the Squeakquel and Sherlock Holmes, respectively, on those days. The only January 2010 day Avatar failed to win was on January 15th, the debut of The Book of Eli. Avatar's losses on those three days were by $1.4 million, $1.5 million and $1.3 million. That's how close it has come to 47 straight perfect days of box office. Amazingly enough, while this is again a case of history repeating itself, Titanic blows Avatar out of the water in this regard. The shipwreck film didn't finish out of first place until its 78th (!) day in theaters...and that's not a typo.

While debate will continue for some time about how to quantify the box office performance of Avatar due to its higher ticket price costs, the reality is that such discussions, while thoroughly entertaining, are irrelevant to the bottom line. This is a goal-oriented industry and the goal is to make the most money. Only one film has earned over $601 million domestically, and that film is the new champion of the box office realm. In the coming days, BOP will continue to compile interesting facts and tidbits about its record-obliterating pace. Feel free to drop us a note if you want to offer any you feel are relevant.