Weekend Wrap-Up
Avatar Repels Mel Gibson's Darkness
By John Hamann
January 31, 2010
BoxOfficeProphets.com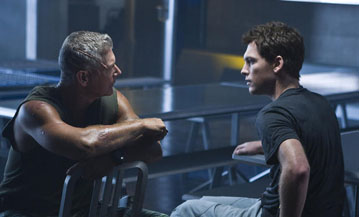 ---
Another weekend, another win for Avatar. With mostly soft new releases hitting screens in January, it's been fairly easy for Avatar to repeat at number one for what is now a six-weekend streak at the box office. The juggernaut that is Avatar now looks to cross Titanic's domestic box office record as early as sometime this week, and it took down the biggest foreign total over this previous week. The question is no longer when will it beat the domestic record; it is by how much. Avatar's bowling pins this weekend included Mel Gibson's return to acting in Edge of Darkness and the romantic comedy When In Rome.

Our number one film of the weekend is (again) Avatar. For seven straight weekends, Avatar has owned the box office, as it wins the weekend again with a gross of $30 million. The James Cameron space epic fell only 14% compared to last week, equivalent to its average drop heading into the weekend. Over the weekends since opening, Avatar has dropped 2%, 9%, 27%, 15%, 18% and now 14%. Considering the strength of the grosses for Avatar over the last seven weekends, these holds are really incredible. Films are marketed as "one and done", meaning the aim is to have one big weekend, and then coast to home video. When a film opens to $77 million like Avatar did, one and done would normally be enough, as the film is likely to gross more than $200 million domestically. Avatar now looks to be finishing with approximately $700 million on the domestic front, or more than nine times that opening weekend. Had The Dark Knight grossed nine times its opening weekend, the domestic take would have been $1.425 billion. Avatar still has four more weekends after this one before it loses its 3-D screens to Alice in Wonderland on March 5th and starts to see some serious declines. It also has the President's/Valentine's Day frame over the February 12th -14th weekend. It's that weekend that Avatar will get its first real taste of some juicy competition, in the form of Percy Jackson and the Lightning Thief and The Wolfman, both of which open over the long weekend. At this point, I have Avatar finishing with about $680 million, but that's without an Oscar bump and a potential re-release. Currently, Avatar has an amazing $594.5 million on the domestic front, and an international total approaching $2 billion.

Finishing second is Edge of Darkness, Mel Gibson's return to theatrical acting, his first since 2002's Signs. With a fanbase that either no longer cares about the actor, or even downright doesn't like him anymore, Edge of Darkness still did okay at the box office, considering. Edge of Darkness earned $17.1 million from 3,066 venues, and had a venue average of $5,584. Considering that Gibson hasn't been seen in more than awhile, and the fact that this one is living in the shadow of Avatar, this debut can't be considered a disaster. Sure, this is Gibson's lowest opening total since Braveheart debuted with $12.9 million in May 1995, but this isn't going to hurt Warner Bros., who picked up the domestic rights from GK Films, Mel's Icon Productions, and BBC Films for $29 million. That's not a bad pickup, as Edge will likely not fall as fast as films like Daybreakers or Legion, and could earn as much as $50 million, which I assume would cover those pickup costs as well as some prints and marketing. One of the issues Edge of Darkness may have is conquering so-so word of mouth. The thriller was split with critics, as it came in at 56% fresh at RottenTomatoes, with 64 positive reviews out of a possible 115. Next up for Gibson is Jodie Foster's The Beaver, about a guy who wears a beaver puppet on his hand and treats it as a real person (Mr. Gibson equals Mr. Garrison?).

Third spot this weekend to When In Rome, as Kristin Bell tries to get some momentum going on a movie career. The romantic comedy earned a not bad $12.1 million. Out to 2,456 venues (or about 500 less than Edge of Darkness), When In Rome scored a venue average of $4,912. TV's Veronica Mars still stands as Kristin Bell's greatest success, but her movie resume is improving. She's had smaller roles in Forgetting Sarah Marshall($17.7 million opening, $63.2 million total), and more recently in the awful Couples Retreat ($34.3 million opening, $109 million finish), but it's roles like this one where she needs to break out. The problem here is that When In Rome is not a good movie, and Buena Vista realized that and failed to properly market this one. Rome finished at only 20% fresh, but likely cost less than $30 million to make.

Tooth Fairy manages to stay in fourth spot, which is telling about this weekend's box office. Tooth Fairy earned $10 million and dropped 29% compared to last weekend. Had there been stronger competition in the top ten, Tooth Fairy would have dropped a couple of spots in the top ten, but ends up staying in the same position where it debuted. Out of last weekend's top ten, only two films were fresh, and both opened in December (Avatar, Sherlock Holmes). The Tooth Fairy had a somewhat higher drop than it should have for a kids' flick, but considering how bad this movie looks, Fox has to be happy with this result. The Tooth Fairy cost Fox $50 million to make, and should finish right around that number. Currently, The Rock's latest effort has earned $26.1 million.

Fifth goes to Denzel Washington and The Book of Eli, and I'm sure many will say that the star-driven film is dead; however, of the top five, four are really star-driven vehicles, so I ask you to really consider this when you hear this rumor. In its third weekend, The Book of Eli earned another $8.8 million, but drops 44% after falling 52% last weekend. Eli cost Warner Bros. about $80 million to make, and much like Tooth Fairy, will finish near its production budget domestically, with any hope for profit coming from either foreign grosses or from DVD sales. The Book of Eli has now earned $74.4 million.

Legion moves from second spot last weekend to sixth this weekend. Legion earned only $6.8 million after debuting to $17.5 million last weekend. The religious horror flick fell 61%, which is similar to plunge that Daybreakers had. Daybreakers opened in fourth spot with $15 million, before falling 66% to 11th in its second weekend, and then another 70% in its third weekend. A similar thing will likely happen with Legion, as these are your "one and done" type of films. Legion has now earned $28.6 million against a budget of only $26 million. You have to love Sony Screen Gems. They know how to make a profit off crap.

Seventh spot goes to The Lovely Bones, which has had a rough ride since going wide on January 15th. The Peter Jackson flick earned $4.7 million in its third wide weekend, and has seen some serious drops since its wide release. After grossing $17 million over that first wide weekend, The Lovely Bones dropped 51% last weekend, and this weekend falls 44%. The reported budget here is $65 million, and the drama has a gross so far of $38 million for Paramount. Had it not been for that first big weekend, The Lovely Bones would have been a Lovely Disaster for Paramount.

Sherlock Holmes finishes eighth, and besides Avatar and Tooth Fairy, has one of the better holds in the top ten. Holmes earned $4.5 million this weekend and falls 32%. The Robert Downey Jr. flick has been inching its way toward $200 million, and should finally make it next weekend. The $90 million Warner Bros. effort has now earned $197.6 million domestically, and a similar amount overseas.

Ninth goes to the sequel to Alvin and the Chipmunks. The Fox film earned $4 million in its sixth weekend and drops 38%. The family film has now earned $209.3 million.

It's Complicated sticks around in the top ten this weekend, taking the final spot. The Meryl Streep comedy earned $3.7 million in its sixth weekend and dropped 36%. It's Complicated finally got across the $100 million mark and sits with a total of $104 million against a budget of $85 million.

Overall, the box office is similar to where we were last year. In January 2009, the top 12 at the box office rang up $103 million on the strength of Taken's opening weekend and Paul Blart's third weekend. This year, the top 12 earned $107.4 million and things don't look to improve much next weekend. Opening films include Dear John, another Nicolas Sparks weeper, and From Paris With Love, with John Travolta looking much too old for an action movie.