Weekend Forecast for January 29-31, 2010
By Reagen Sulewski
January 29, 2010
BoxOfficeProphets.com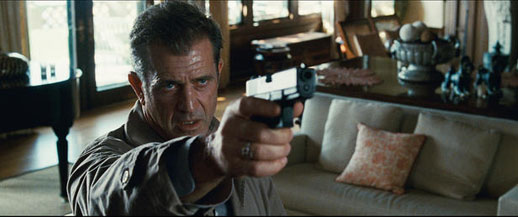 ---
January continues its unusually star-studded lineup for films for the last week of the month, although it looks like we're due for one more week of domination by blue people.

After what's effectively been an eight-year hiatus from appearances on the big screen, Mel Gibson returns to starring roles in Edge of Darkness, a remake of a 1985 BBC TV series. Gibson plays a Boston police detective whose daughter is killed under mysterious circumstances, sending him on a one-man crusade to find her killer. Along the way, he finds a sinister conspiracy that hints at corporate collusion that could go into some of the highest levels of government.

Aside from a couple of glorified cameos, Gibson's last real role was in 2002's Signs, arguably M. Night Shyamalan's last good movie, so it's tough to tell what audience really think of him anymore, or even if they do. He kept his name alive by turning to directing, producing two films in dead languages, The Passion of the Christ and Apocalypto, but then also had that unfortunate and regrettable incident with the Malibu Sheriff's Department. There's more than a few people who likely wrote him off for good after that.

But, like Kevin Costner making a baseball movie, Gibson's going back to his wheel house of the "wronged man" movie, something he's covered in a lot of films with one word titles like Ransom, Payback and Braveheart. This film seems a lot smaller than all those, no doubt in large part to Gibson's hiatus from acting, but also due to the grittier setting of the film – there's a real '70s Serpico feel here, and less Hollywood sheen. Martin Campbell of Goldeneye fame directs, which should hopefully lend a base level of competence, but overall I think we're looking at a low-rent version of last January's Taken (which this is definitely trying to emulate). Opening on a little more than 3,000 screens, Edge of Darkness should come in with about $22 million.

Poor Kristen Bell. For someone who's had success in owning the small screen (at least in quality, if not ratings) and has found some success in supporting roles in films, she's had equally bad luck in lead roles. Four years after the disastrous J-horror remake Pulse, Bell gets her second leading role in When in Rome. While this romantic comedy should do a lot better in the box office department, it's not looking a lot better in terms of quality.

Bell stars as an unlucky-in-love and klutzy young professional who travels to Rome for her sister's wedding, where after meeting a potential dude in Josh Duhamel she proceeds to make a royal fool of herself. In desperation, she steals a bunch of coins from a wishing well that's reputed to hold the key to true love. The men that threw the coins she picked up then start to pursue her uncontrollably, with increasing degrees of zaniness and wackiness.

As talented as Bell is, I don't think she can save how tired and forced this film looks – magical realism is a really tricky thing to do right, and I doubt I'm wrong in thinking the director of Daredevil and Ghost Rider isn't the guy to make it work. Reviews are pretty awful for this, but no more than Leap Year's, and with a more cinematic locale. Its $9 million opening about sets the floor for terrible romantic-comedies with second-tier stars, so I'd say we're looking at $12 million for its opening weekend here.

With those two films as its main competition, Avatar should no real problem maintaining its top spot for a seventh straight weekend. Earlier this week, it passed Titanic as the worldwide champ, essentially without breaking into a sweat. It's still behind Titanic for the US total, but with only about $40 million to go, it would take the plot of 2012 happening for real to stop it. It's also set records for being the fastest film to $500 million, as well as the biggest second through sixth weeks ever. It ought to extend that last record by at least one more week, beating Titanic's seventh weekend of $25 million with around $27 million this weekend. Oscar nominations and wins will ultimately affect what its final number will be, but it's probably even money that it gets to $750 million domestically at this point, and about $2.5 billion internationally, shattering a figure that really was untouchable about two months ago.

The rest of the weekend's returning films are kind of afterthoughts, with numbers two through five from last weekend all looking likely to fall more than 50% from last weekend. Legion was the surprise breakout of last weekend's trio of new films, with the gothic horror film (probably giving it too much credit for having a style, but what the hey) with $17.5 million, but this feels like a one-and-done. Reviews were abysmal and once you've gotten over the shock of evil granny, there's not a lot left to sell people on. It'll drop to $8 million.

That's about the same figure that The Book of Eli should see for its third weekend, with the post-apocalyptic thriller faring a little better in world-of-mouth than Legion, not that that's saying much. At this point, it's headed for about a $90 million finish domestically, which is kind of a middle of the pack result for Denzel Washington and by far the best result for the Hughes Brothers.

While kids films are often bulletproof for word-of-mouth, Tooth Fairy might be the rare exception. Dwayne Johnson kind of embarrassed himself with this supernatural comedy that he probably hoped (feared?) would turn into a Santa Clause situation, but it was greeted with a collecting "what were you thinking?" from all and sundry. The $14 million opening is a testament to just how good of a business kids' films can be, but it should fall to about $7 million this weekend.

After a surprising double digit opening weekend, The Lovely Bones lost its steam in its second weekend. Peter Jackson's literary follow-up to King Kong and a spiritual sequel to Heavenly Creatures, it's almost officially out of the Oscar race now, but should be able to reach $50 million. This is kind of a worst case scenario given the buzz the film had going into awards season, but it's something for Paramount at least.