Weekend Wrap-Up
Avatar Now A Six Weekend Wonder at the Box Office
By John Hamann
January 24, 2010
BoxOfficeProphets.com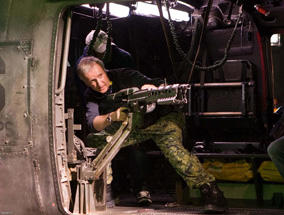 ---
Heading into the frame, way in the back of my mind, I considered the possibility of new release Legion taking top spot away from Avatar this weekend. Screen Gems has seen some solid openers, and Avatar was coming off of a long weekend, so I thought maybe, just maybe, this would be it, and Avatar's consecutive weekend streak at number one would end today. Three openers took on the Golden Globe winner (snork!) - they included the aforementioned Legion with Paul Bettany, Dwayne "The Rock" Johnson's new film The Tooth Fairy (which looked even dumber than The Game Plan), and Extraordinary Measures, a questionable choice for Harrison Ford. The story of the weekend continues to be Avatar, as it had a white hot holiday Monday last week, and a fantastic hold this weekend.

Avatar is our number one film of the weekend, as records continue to fall like rain. This weekend, Avatar earned another $36 million and dropped only 16% against last weekend's holiday inflated gross. Holds are obviously tougher following holiday-impacted weekends, as a holiday Sunday plays more like a Saturday. Avatar ignored that rule, and wins its sixth consecutive weekend, becoming the first film since Titanic to accomplish that feat. Avatar also records the biggest gross ever for a sixth weekend, trouncing Titanic's $25.2 million sixth frame. Holding the top gross in the seventh frame will be somewhat tougher next weekend, as Titanic actually increased its gross between its sixth and seventh weekends, moving up to $25.9 million. Avatar again completely blitzed expectations, as analysts had it finishing with about $25 million before the weekend began. Avatar also took down The Dark Knight, the all-time number two domestic grosser. The Bat-sequel earned $533 million over the summer of 2008, but still holds the record for biggest opening weekend, at $158 million.

Avatar is also unstoppable now for Titanic's crown as the number one domestic earner of all time. These fantastic holds only make the prospective domestic total for Avatar grow. Last weekend I predicted the record to fall in the first weekend of March, but with a much better than expected holiday Monday this week, combined with the excellent hold this weekend, Avatar looks to gross more than $650 million domestically. At this point, I'm predicting the record will fall the weekend of February 5th, or, right before Oscar nominations are revealed. It's important to remember that Avatar is unlike anything we've ever seen, as the 3-D and IMAX element are completely skewing the numbers. Avatar currently has a total of $552.8 million on the domestic front, and over $1.2 billion from overseas cinemas.

Second spot goes to Legion, the heavily advertised action pic. Like Book of Eli, Legion is another action flick with a religious angle, and it managed a weekend gross of $18.2 million from a muted 2,476 venues. It had an average of $7,351. Legion might have looked good, but critics hated it, and I think the public caught on. Legion was only 23% fresh at RottenTomatoes, and scored that low despite only 39 reviews being counted. Sony's Screen Gems picked this one up, and the budget is probably low, my estimate being about $30 million. If that is the case, this is a solid pick up for the thrifty Screen Gems, as it should earn $40 million before it's done. However, it could play a lot like the vampire flick Daybreakers, which opened two weekends ago, and dropped 65% last weekend after opening to $15 million.

Finishing third is last frame's number two flick, The Book of Eli. After opening to just short of $40 million over four days last weekend, and $33 million over three days, the Denzel Washington flick got creamed by Avatar and was barely beaten by Legion. Eli had a second weekend gross of $17 million and dropped 48%. To be fair, unless you're Avatar, drops are going to be bigger following a holiday frame, as there are more chances to see a movie over a long weekend than a traditional weekend. So, the drop for Eli was almost expected, and because it opened over a strong movie going holiday, doesn't have to work that hard to be a financial success. Eli should do okay overseas, and already has a domestic gross of $62 million. Is this one going to earn $100 million stateside? Probably not, but it might get close.

Fourth spot goes to The Rock in The Tooth Fairy, which opens somewhat lower than expectations. 20th Century Fox's Tooth Fairy opened to $14.5 million this weekend from an ultra-wide 3,344 venues. It had an average of $4,336. The Tooth Fairy is The Rock's lowest opener when it comes to family-friendly fare, as both The Game Plan and Race to Witch Mountain opened in the mid-$20 millions. Considering the advertising campaign for Fairy, I think Fox should be happy with the result, as this release looked truly awful. Critics agreed, to say the least. At RottenTomatoes, 78 reviews were counted, and of those, only 12 were positive, leaving this one at an abysmal 15% fresh. With the kid angle, The Tooth Fairy should see some okay legs despite its awfulness.

Fifth spot goes to Paramount and Peter Jackson's The Lovely Bones, which had a better than expected debut last weekend. In its second weekend of wide release, Bones earned another $8.8 million, and was off a higher than expected 48%. Again, coming off the MLK weekend isn't helping a lot of films this weekend, and in this case, neither is film quality. The Lovely Bones is a bit of a mess, and while audiences were fooled last weekend, word is now getting out. This one now has a cume of $31.6 million, a long way from its production budget, which has been reported to be somewhere between $65 and $100 million.

Sherlock Holmes parlays a Robert Downey Jr. win at the Golden Globes last weekend into a solid hold at the box office this weekend. Sherlock earned $7.1 million in its fifth weekend, and drops only 28%, playing against the trend of higher drops. It wasn't only Downey's win, it was also that fantastic speech that got a lot of recognition following the ceremony. Whether he deserved to win or not, there was an impact at the box office, and Sherlock Holmes now has a domestic running total of $191.6 million, and a foreign cume of about the same amount. Bring on Moriarty!

Seventh goes to Extraordinary Measures, the new doctor drama with Harrison Ford and Brendan Fraser. Measures is from a new studio, CBS Films (yes, born out of the television studio), and their first film is unfortunately a bit of a mess. It earned only $7 million from 2,450 venues, giving it a sad average of $2,746. Sick kids do not often equal big opening weekends, so maybe they are looking for legs. Unfortunately, again the answer is no, as this one was only 26% fresh at RottenTomatoes. Made for about $30 million, Extraordinary Measures will be lucky to make half of that. This is now Harrison Ford's second consecutive flop.

The sequel to Alvin and the Chipmunks arrives in eighth this weekend, after finishing fourth last weekend. Alvin and company brought in another $6.5 million this weekend, its fifth, and dips a large x44% from last weekend's kid friendly weekend. The $75 million film crossed the $200 million mark this weekend, and now has a total of $204.2 million. It's earned a similar amount overseas.

It's Complicated is ninth this weekend as the Meryl Streep comedy begins to slip. Complicated earned $6.2 million this weekend, and drops an excellent 24% in its fifth frame. The Universal film cost the studio $85 million to make and has now earned $98.6 million.

Tenth place just barely goes to Jackie Chan and The Spy Next Door, which slides a tough 51% on its way to a $4.8 million weekend. This kid flick will be a forgotten memory before long, as its current $18.7 million total will indicate. Clearly, no one is looking for dumb movies with action stars embarrassing themselves for children.

Despite finishing in 11th spot, The Blind Side has another solid hold in its tenth amazing weekend. The Sandra Bullock award winner earned another $4.5 million and dropped a very small 19%. Alcon Entertainment's $29 million sports drama has now earned a fantastic $234 million.

Overall this weekend, the box office is still facing off against last year's weird little dominator, Paul Blart: Mall Cop. Last year, Paul Blart held at number one for the second consecutive weekend, taking down Underworld: Rise of the Lycan's debut. The top 12 last year took in $129.5 million, which puts it just behind this year's top 12 tally of $134.9 million. Next weekend, Mel Gibson will try and push Avatar off its perch with Edge of Darkness, and the romantic comedy When in Rome also opens. Mel Gibson hasn't opened a film since 2002's Signs, so it will be interesting to see his affect on the box office.