Weekend Wrap-Up
Avatar Closes Book of Eli
By John Hamann
January 17, 2010
BoxOfficeProphets.com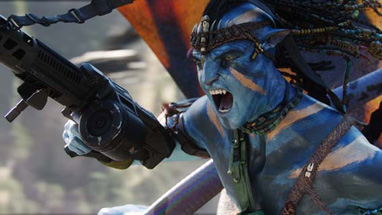 ---
Avatar faced some potential blockbuster competition this weekend, as Martin Luther King Jr. Weekend brought Denzel Washington and The Book of Eli out to face off against James Cameron and the Blue People Group. Avatar seemed safe to repeat for its fifth straight weekend, but with Denzel able to open films in the $40 million range, Avatar would have to hold strongly from its $50 million gross earned last weekend. Other new players this weekend include Peter Jackson's The Lovely Bones and Jackie Chan dipping to new lows in The Spy Next Door.

Our number one film for the fifth straight weekend is James Cameron's Avatar, as it becomes the first film since 1999's The Sixth Sense to stay at number one for five consecutive frames. Avatar earned another $41.3 million this weekend, and drops a very small 18%, thanks largely in part to the Martin Luther King holiday on Monday, which turns a usually slower Sunday at the box office into a quasi-Saturday. While Avatar didn't reach $500 million this weekend, it will before next weekend is upon us, which will make it the fastest ever to reach that mark. It took The Dark Night 45 days to earn a half-billion, where Avatar will likely take 35 days. Avatar also easily took the record for the biggest fifth weekend of all time, getting ahead of Titanic's $30 million and The Sixth Sense, which brought in $29.3 million over its fifth frame. Oddly enough, over Titanic's fifth frame, it beat another Denzel Washington film, Fallen, which debuted that weekend to $9.1 million. History is repeating itself, this time with bigger numbers.

I am now prepared to say that Avatar is going to be the number one film of all time, as there is no slowing the march toward Titanic's $600 million domestic gross. As of today, I am extrapolating an expected total domestic gross north of $625 million, which it could earn by the first of April. Avatar should have a strong weekday showing, as the MLK holiday on Monday should play like a Sunday, improving Monday-to-Thursday numbers. Additionally, there could be an uptick in weekday numbers due to potential Golden Globe wins tonight for the 3-D film. I am then expecting a fairly hefty drop next weekend (45%) as it will compare with this weekend's holiday influenced take. Following that, drops should be fairly normal (35% area, 3-D always holds well) until the President's Day long weekend, which combines with Valentine's Day weekend this year (Valentine's falls on the Sunday) and should lower that weekend's drop to 20% (or even less). Avatar will lose its 3-D and IMAX screens to Alice in Wonderland on March 5th, and if my extrapolations are correct, could cross the $600 million mark that weekend, which, oddly enough is also Oscar weekend. While the odds are still very long, it is in the realm of possibility that Avatar could beat Titanic's record and win a Best Picture Oscar on the same day. Avatar currently has a domestic gross of $491.8 million, and a foreign cume well over a billion dollars. Avatar should also easily beat Titanic's worldwide gross of $1.85 billion.

Finishing second this weekend is Denzel Washington's The Book of Eli, which had a solid start, but like Daybreakers and Sherlock Holmes can tell you, it's hard living in the shadow of Avatar. The Book of Eli took in an impressive for January – and solid for MLK weekend - gross of $31.6 million from 3,111 venues. It had a venue average of $10,162. I'm still struggling with the fact that over MLK weekend last year, Paul Blart: Mall Cop took in a similar $31.8 million – and Kevin James is obviously no Denzel. The Book of Eli swung under Cloverfield's $40 million three-day gross, but was ahead of Black Hawk Down's MLK three-day of $28.6 million.

As has been discussed many times in this column, Denzel Washington is not known for opening films over $30 million. Only once in the actor's career has he opened a film beyond $40 million. That was American Gangster with Russell Crowe, which opened to $43.6 million on November 2007. Prior to that, Washington's biggest opening was The Inside Man, which debuted to $29 million in March 2006. This is a stronger start than The Taking of Pellham 1 2 3 did this last summer, as that one started with $23.4 million against the second weekend of The Hangover and the third weekend of Pixar's Up. Suffice it to say that competition has not been kind to Denzel Washington over the last year.

The Book of Eli is an $80 million production financed by Alcon Entertainment (which was also the production company behind The Blind Side) and distributed by Warner Bros. Eli should be another win for the suddenly ultra-successful production company, as it should have decent success domestically, and be even bigger internationally. Denzel Washington is a solid draw overseas, as his films tend to outgross their domestic totals overseas. The Taking of Pellham 1 2 3 finished with a domestic take of $65.5 million, then earned another $85.4 million overseas. American Gangster earned $130 million in North America, and $135 million overseas. Reviews of Eli were mixed down the middle, with 55 positive reviews out of 120 for a 45% fresh rating at RottenTomatoes.

Finishing in somewhat of a surprise third is The Lovely Bones, Peter Jackson's adaptation of Alice Sebold's bestseller. After a few weekends of only so-so limited release (at best), Paramount took the film wide this weekend to 2,563 venues, and The Lovely Bones earned $17.1 million, well ahead of what analysts were predicting. With a strong cast that includes Mark Wahlberg, Susan Sarandon, Rachel Weisz and Stanley Tucci, The Lovely Bones debuted in three theaters on December 11th. It earned $116,000 in its first weekend, before dropping 61% in its second frame. Suddenly, Paramount was stuck trying to decide what to do with this high profile production that wasn't grossing much in limited release, and wasn't receiving good reviews. Cue the marketing ambush that we saw this week, and all of a sudden this $65 million effort goes from being a big disappointment for Paramount to something they can salvage with a strong DVD release. Peter Jackson can go back to writing The Hobbit without this black mark on his record. The Lovely Bones now has a running total of $17.5 million.

Fourth spot goes to the Alvin and the Chipmunks sequel, as kids' films show big legs over the MLK weekend. Now in its fourth frame, Alvin and Company earned $11.5 million and dropped 31% compared to its $16.5 million haul next weekend. The noisy $75 million production has now earned $192.6 million, and will be headed toward $200 million over the next few weekends. It has also earned over $140 million overseas. Sad, but true.

Fifth spot goes to Sherlock Holmes, which recovers somewhat after dropping 55% in the last frame. Holmes brought in another $9.8 million and dropped a not bad 41% compared to last weekend. The Robert Downey Jr. flick has now earned $180 million – surprisingly less than the Alvin and the Chipmunks sequel.

Jackie Chan's The Spy Next Door opens in sixth this weekend, and from the previews I've seen, that has to be considered a victory. The Lionsgate film opened to $9.7 million from 2,924 venues, giving it an awful venue average of $3,317. This one was only 7% fresh at RottenTomatoes, as only three reviewers out of 45 found something to like. This one will hopefully disappear out of the top ten faster than Conan O'Brien from NBC.

It's Complicated finishes seventh, down two spots from last weekend. The Meryl Streep comedy took in another $7.7 million and was off 30% from the previous frame. The Universal comedy finally outgrossed its production budget of $85 million this weekend, as it now has a cume of $88.2 million. It will finish with about $110 million, and will be Streep's second film to gross more than a $100 million since 2008.

Leap Year was able to hold fairly well, as the Amy Adams flick managed to not drop off the face of the earth (notice no Daybreakers yet, right?). Leap Year earned another $5.9 million this weekend, and dropped a fair 36% compared to last weekend. I say fair as this one was only 18% fresh at RT, so to managed this decent hold has to be considered a win for Universal. Against a budget of $20 million, Leap Year has now grossed $17.5 million.

Ninth spot goes to The Blind Side. Now in its ninth weekend, the Sandra Bullock film earned $5.6 million, and dropped only 26%. The tally for this Alcon Entertainment entry has now reached $226.8 million, with $250 million not out of the realm of possibility.

Finishing tenth is Up in the Air, which is going to need some Golden Globe wins tonight to keep its momentum going toward Oscar nominations, which come out during the first week of February. This weekend, the George Clooney flick took in $5.5 million, off 24% from last weekend. Up in the Air has a running total of $62.8 million.

After debuting last weekend in fourth spot with over $15 million, Daybreakers fails to make the top ten this weekend. Its gross was only $5 million, giving it a searing drop of 67%. The Lionsgate entry goes from possible sequel candidate to barely making any money by weekend two.

Overall, the top 12 at the box office was up against the biggest MLK weekend take ever, which happened last year, when Paul Blart was on top with $31.8 million. The Kevin James comedy wasn't the only big opener, as Hotel For Dogs, Notorious and My Bloody Valentine in 3-D all opened above $17 million, giving the top 12 a total of $164.8 million. This weekend, the top 12 was still very strong, but couldn't beat that record, as the gross came in at $153.4 million. Next weekend's competition for Avatar's run at six straight weekends on top is Legion from Sony Screen Gems, and The Tooth Fairy with The Rock. Check back next weekend to see if they can take down Avatar.