Weekend Forecast for January 15-18, 2010
By Reagen Sulewski
January 15, 2010
BoxOfficeProphets.com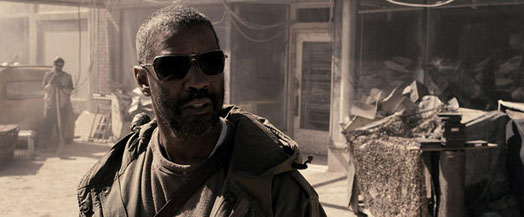 ---
As Avatar threatens to rewrite the box office record books, it's being seriously challenged at the top spot of the box office charts a little earlier in its run than the current champ. Oh well, even if he loses this weekend, James Cameron will simply have to console himself while sleeping on his bed made out money.

There's been a strange sort of unofficial strategy in the movie business the last few years, to release a film with a black lead or about a black subject over Martin Luther King Day, whether that film would actually be appropriate to the sentiment of Dr. King or not. In the past few years we've had Are We There Yet?, Glory Road, Stomp the Yard and Notorious. This year, Denzel Washington and the Hughes Brothers pull MLK duty with the post-apocalyptic thriller The Book of Eli.

Looking a lot like Fallout 3 crossed with Waterworld, the film stars Washington as a nomadic survivor of a nuclear holocaust. He's charged with the protection of a book of knowledge that somehow could lead to the restoration of civilization. Since everyone wants to take it from him, he's forced to kick a little ass.

Along with Washington, Eli also stars Mila Kunis, Ray Stevenson and Gary Oldman, in full scenery-chewing villain mode, something we really haven't seen from him since The Fifth Element. Washington's entered a portion of his career where he's gone from inconsistent with potential to a sure thing with a chance at blockbusters. Most of his films in the past five years have opened in the mid 20s, with American Gangster peaking at $43 million. While Eli likely doesn't beat that total, it's created a compelling looking landscape for itself, and Warner Bros. has been thoroughly behind this film as an early year blockbuster, or at least this season's equivalent. Opening at 3,111 venues, it's looking to be about a $35 million opening film, with about $41 million over the four-day weekend.

After a couple of years off American movie screens, Jackie Chan is back in The Spy Next Door, although I kind of wish he wasn't. Now 56-years-old, Chan simply can't perform his trademark stunts like he could, and his increasingly muggy comedic performances are getting broader and less funny.

This film is a fairly savvy career move, though, as he's teamed up with children's shlockmeister Brian Levant, responsible for such crimes against humanity as The Flintstones, Beethoven and Snow Dogs. Here, Chan plays a secret agent pressed into action when his girlfriend's kids accidentally download classified information and are beset upon by bad guys. Oh, the dangers of the Internet.

Most of Chan's adult fans have basically abandoned him at this point, but for kids, he's probably still something of a star and these broad jokes likely work really well. This won't reach the heights of something like The Pacifier or The Game Plan, to used two not-so-random examples of action stars going family, but it should have a solid $13 million weekend, and $15 million over four days.


The Lovely Bones expands into wide release, after a curiously extended limited release. This is Peter Jackson's adaptation of the Alice Sebold novel about a young girl's murder and the both literal and metaphorical ways she haunts her family. Jackson returns to his Heavenly Creatures style of blending fantasy and reality to portray the world that Susie Salmon (played by Saorise Ronan) inhabits after she's murdered by neighbor Stanley Tucci. In the real world, her family, Mark Wahlberg, Rachel Weisz and Susan Sarandon obsess over her death, at turns tearing her family apart.

Reviews for the film have been middling to poor for the most part, and what seemed like a likely Oscar contender has disappeared from the conversation even with ten nominees this year. Paramount is now left to try and salvage the campaign for an Oscar-type film without the benefit of Oscar buzz. The most similar recent movie to it on the surface is The Time Traveler's Wife, though the mystery/dead child aspect is a much tougher sell than a romance. It's made just $500,000 in its limited release so far and things don't look great for this expansion. I'd look for $6 million in three days, $7 million in four, for The Lovely Bones.

This brings us to Avatar, of which there's not a lot new left to be said. Now at the $450 million mark domestically and a stunning $1.4 billion worldwide, the talk about it passing Titanic is no longer the crazy ramblings of a street person. Although it had some help from Christmas week, the 35% its weekend figure has fallen would be great if it happened over one weekend – instead this is over four. Put whatever credit you want towards the 3D aspect of the film (it's a lot – but then why didn't other films use 3D?) and higher ticket prices, but these are simply astounding legs, the likes of which seem to come around once every three or four years, or once a decade for a blockbuster.

Eventually, it's going to lose these 3D screens but until then it's a major force to be reckoned with. If The Book of Eli performs to expectations, Avatar's going to be neck and neck with it for the top spot – if Eli falters, it's an easy win for Avatar. As it is, look for a narrow win with $42 million over four days for the big blue people.

Two Christmas openers, Sherlock Holmes and Alvin and the Chipmunks 2, lost basically all momentum post-holidays, tumbling over 50% each. Neither film is hurting and each will cross the $200 million mark with ease, but the significant parts of their runs are both over. Give them each $9 million.

Daybreakers managed an okay $15 million opening weekend, given its lack of star power and the burned-out genre of vampire action it inhabits. Despite decent reviews and word-of-mouth, I don't expect any legs for this – genre fans are always out there on first weekends. Give it $7 million in the second weekend.