Weekend Wrap-Up
Avatar Repels Revolt, Daybreakers
By John Hamann
January 10, 2010
BoxOfficeProphets.com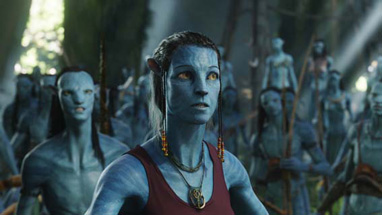 ---
For the fourth weekend in row, James Cameron's box office behemoth Avatar dominated movie screens. Gone now from mere strong earner to box office phenomenon, this weekend was extremely key to Avatar's future. Now that we have a box office weekend away from the holidays, we are able to get a better grasp on how well this film is holding, and where it appears to be heading in terms of total domestic box office. Opening in the shadow of Avatar this weekend is the vampire flick Daybreakers, along with Michael Cera's Youth in Revolt and Amy Adams' Leap Year.

You've read the news. You know the story. Avatar, after opening to a quite mortal $77 million on December 18th did not lose a step as it cruised through the holidays (and through a slew of box office records). It's hard to believe that this one has only been open for four weeks, yet prior to the weekend had amassed $380.5 million on the domestic front and $781 million overseas, for a total of $1.16 billion in global movie ticket sales. Avatar had entered the top ten for biggest domestic films ever, and when North American and foreign grosses are combined, Avatar is already the second biggest earner of all time, behind only Titanic, also from James Cameron. That Titanic connection is the last of Avatar's undiscovered country, and we will know this weekend whether it has a shot at the top or not.

Our number one film of the weekend is Avatar, and while the 20th Century Fox product has taken a hit, it has still held up quite well compared to the business it's seen over the last 24 days. As Kim Hollis reported yesterday, Avatar earned about $13.3 million on Friday, which is a little more than half of what it earned last Friday, which just happened to be New Year's Day (and was a bigger day for Avatar than Christmas Day, often the biggest movie going day of the year). With school and work back to normal this week, it was impossible for Avatar to see the same grosses it saw a weekend ago. Last weekend Friday and Saturday grosses were virtually flat, where this weekend we see a big Friday followed by an even bigger Saturday, and then a drop off into Sunday. The weekend gross for Avatar comes in at $48.5 million, off 29% from last weekend. The gross is decently ahead of where expectations were laid. For example, BOP's Regan Sulewski predicted a fourth weekend gross for Avatar at $42 million. Avatar now has a domestic cume of $429 million, and is now about $170 million shy of Titanic's domestic box office record.

Avatar again dipped into the record book this weekend. It became only the tenth film ever to cross the $400 million mark in terms of domestic grosses, and did it in the second fastest amount of time at 23 days, behind only The Dark Knight, which earned $400 million in 18 days. Avatar does set the record for biggest fourth weekend, beating Titanic's $28.7 million - it now has the record for biggest second, third, and fourth weekends - but might have a harder time with a fifth, as Titanic earned $36 million in its fifth frame. Avatar entered the top ten domestic grossing films of all time list this week, and this weekend got ahead of Transformers: Revenge of the Fallen ($402.1 million), Spider-Man ($403.7 million) and Pirates of the Caribbean: Dead Man's Chest ($423.3 million). It will join the top five biggest in the days ahead. Finally, by passing Transformers: Revenge of the Fallen, Avatar becomes the biggest film released in 2009, and saves us all from such a bad film being recognized as the biggest film of the year. Michael Bay is James Cameron's bitch.

The question on everyone's mind is whether Avatar will catch Titanic's record setting $600 million domestic gross. Now that we have the fourth weekend gross, all I can really say is that its going to be very close, and depends on a few outside influences. Oscar nominations are announced February 2nd, which is still another three weekends away. If (and we are talking some fair sized "ifs" here) Avatar loses about $10 million per weekend going forward, and then gets a basketful of Oscar nominations (I'm looking for ten, including Best Picture) my rough calculations have Avatar at about $560 million by February 7th. Should that estimate hold, I don't see Avatar having a problem making it to $600 million by the time the Oscar ceremony is held on March 7th. I'm not telling you that Avatar is a lock to be the biggest domestic grosser ever, I am telling you that at this point, it looks like it will be close. Regardless, Avatar is a behemoth, as its worldwide total now sits at $1.3 billion, again, behind only Titanic's $1.84 billion. Notice that there is now little talk of Avatar's $230 million budget.

Our number two film this weekend is Sherlock Holmes, another film that has found a lot of success, but this one is doing it much more quietly than Avatar. The Robert Downey Jr. flick earned $16.6 million and was off a rough 55% compared to the previous weekend. Before freaking out about the large drop for Holmes, remember that the last time New Year's Day fell on a Friday it was 1999, and despite that crop of films earning a lot less than the $36.6 million that Holmes earned last weekend, the average drop was still 42% down from the previous frame. Simply put, the drop is large here, but it is expected. Sherlock Holmes now has a running total of $165.2 million for Warner Bros. against a $90 million production budget, and is approaching $100 million in overseas grosses and hasn't opened yet in a handful of large markets. Sherlock Holmes should be considered a huge success for its studio, but it's hard living in the shadow of Avatar. I expect the Holmes sequel will easily outdo the Holmes original.

The Alvin and the Chipmunks sequel stays in third this weekend, as the kids flick also lost some steam thanks to kids being back in school on Friday. Alvin and company earned another $16.3 million and was down a hefty 54% compared to the previous frame. The 20th Century Fox sequel has now earned $178.2 million domestically, and over $100 million overseas, against a $75 million production budget. It's been a really good winter for the folks at Fox.

After a few weekends with nothing new in theaters, we finally have a new film in the top five, our first since Christmas Day. That film is Daybreakers, and it earned the amount it needed to be considered a success. Daybreakers took in $15 million from 2,523 venues, and had an average of $5,945. The vampire flick, which stars Ethan Hawke and Willem Dafoe, was made for $20 million, and with this weekend's take, will already be profitable for Lionsgate due to foreign sales. While no Twilight (thank goodness), Daybreakers' opening does fit right in the wheelhouse of other vampire flicks from the past. Blade opened to $17.1 million in 1998, and 30 Days of Night opened to $16 million in 2007.

For an R-rated vampire flick, not only is the opening solid, the reviews were remarkably strong as well. At RottenTomatoes, 86 reviews were counted, and 55 were fresh, giving Daybreakers a 64% fresh rating. For Lionsgate, this is another strong horror title for the studio, joining the Saw franchise and films like The Haunting in Connecticut ($23 million opening) and My Bloody Valentine ($21.2 million opening). Daybreakers ends up as solid January opener for Lionsgate, but will likely struggle next weekend against The Book of Eli.

It's Complicated moves down to fifth this weekend, but enjoys a smaller plunge than Sherlock or Alvin. The Meryl Streep comedy took in another $11 million, dropping 41% compared to last weekend. Now in its third weekend, It's Complicated has taken in a remarkable $76.4 million for Universal, but that's still less than its $85 million production budget.

Finishing sixth is our next opener, this time Amy Adams in Leap Year. I felt like this one was undersold and marketed poorly, but I obviously wasn't the target, as Leap Year opened with a respectable $9.2 million from 2,511 venues. Considering that It's Complicated and The Blind Side are still going strong, I think Universal held back somewhat on the marketing for this one, especially when reviews started to roll in. Leap Year was a horrid 16% fresh at RottenTomatoes, so I think Universal has to be happy with a gross above $8 million. Leap Year was a $19 million pick up for the studio, so Leap Year will end up as another forgettable romantic comedy instead of a financial disaster.

Despite dropping two spots to seventh, The Blind Side still had a solid weekend, which is its eighth frame. The Sandra Bullock starrer earned another $7.8 million and was down a not bad 35% compared to last weekend. The $30 million feature has now earned $219.2 million, and while a longshot for $250 million, it could just do it. The Blind Side has now earned more than seven times its production budget domestically - if Avatar earned seven times its production budget domestically, it would have to take in $1.6 billion.

Finishing eighth is Up in the Air, and also had a solid weekend, despite its rank in the top ten (it was another very busy weekend). The George Clooney flick earned another $7.1 million and was off 34% compared to last weekend. The Golden Globes get handed out on January 17th and Up in the Air could do quite well. This $25 million film has already earned $54.7 million, and has the opportunity to earn a whole bunch more.

Youth in Revolt finishes ninth this weekend. Never looking to dominate the box office, this Michael Cera flick earned a respectable $7 million this weekend from only 1,873 venues. It had a so-so average of $3,737. Made by the Weinsteins for $18 million, Youth in Revolt isn't going to save the losses incurred by Nine at the studio, but it will be a solid title considering the budget.

In tenth is The Princess and the Frog, as the Disney flick enjoys its last weekend in the top ten. The Disney animated flick earned $4.7 million in its sixth weekend, and was off a nasty 52% from the previous frame. The 2-D experiment now has a running total of $92.6 million.

Overall, it was another strong weekend at the box office thanks to Avatar. A year ago over the January 9-11, 2009 frame, the top 12 films at the box office earned $128.2 million on the strength of Gran Torino's first wide weekend when it earned $29.5 million. This year, the top 12 films earned a mighty $146.6 million, the highest total ever for the first two weekends of January. Next weekend brings the first potential blockbuster of 2010 in the form of The Book of Eli with Denzel Washington.