Box Office - Decade at a Glance: September - December 2009
By Michael Lynderey
January 5, 2010
BoxOfficeProphets.com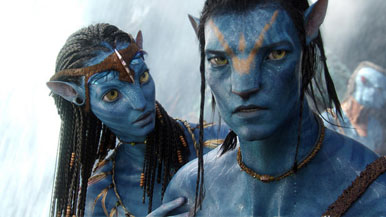 ---
September

The fall started off as a fairly slow time at the movies, dishing out a motley collection led by workplace shenanigans (Extract, $10 million total), weird burlap-sack sci-fi (9, $31 million), dull thrillerism (Whiteout, $10 million), Tyler Perry doing what he does best (that would be cross-dressing for our entertainment - I Can Do Bad All By Myself, $51 million), and over-the-top action (Gamer, $20 million). Slasher film Sorority Row was a welcome change of pace from the recent multitude of horror blow-outs, finishing with just $11 million. And Sandra Bullock took a break from mega-hits for All About Steve ($33 million), a film that would have probably joined her other two 2009 titles in making $150 million+, had it not been awful.

The box office went back to the blockbuster route on the 18th, releasing yet another one of the decade's 82 CGI-animated hits (I kind of made that number up, but it sounds right). Indeed, the audience of Cloudy with a Chance of Meatballs seems to have ignored the box office off-season, giving the picture a $30 million opening and a strong $124 million finish. No such luck for the week's also-rans, though - Megan Fox's transmutation into horror villainess, Jennifer's Body ($16 million total), Jennifer Aniston and Aaron Eckhart's dabbling in romance in the aptly-named Love Happens ($22 million), and Matt Damon's ode to Oscar-nominated weight gain, The Informant! ($33 million).

Business didn't really pick up the next week, either, with the arrival of another sci-fi disappointment, Bruce Willis' Surrogates ($38 million total), along with '80s reimagining Fame ($22 million) and the incredibly odd space horror film Pandorum ($10 million). Michael Moore's Capitalism: A Love Story began its limited release and eventually totaled at $14 million, a decade-low score for the man who redefined what a documentary could accomplish at the box office. The real buried story of the weekend was shaky-cam horror tale Paranormal Activity, a film that became the definitive poster boy (or girl?) for underground Internet buzz turning into an incredible box office performance. The movie started slow and then rode several strong weekends to finish with a startling $107 million - a number that reeks somewhat of Blartism. Let's just hope this one doesn't inspire a decade's-worth of shaky cam-flavored rip-offs. We've had enough wrong-headed horror subgenres in the 2000s, thank you very much.

October

October 2nd featured three unusual comedies duking it out for supremacy, with one becoming an unexpected box office success story. That would be Zombieland, an unabashedly quirky if highly entertaining zombie tale that took its well-reviewed self to a $24 million opening and fairly leggy $75 million total. While the cast wasn't much of a draw (Woody Harrelson, Jesse Eisenberg, Abigail Breslin), the good reviews and word-of-mouth bolstered this one up to a higher than expected opening. The same couldn't be said of the other two quirky pictures; they were pretty good, but they didn't have the same luck at the box office - Drew Barrymore's directional debut, Whip It, cast Ellen Page as a roller derby warrior and totaled at $13 million, while Ricky Gervais returned with another entertaining venture, The Invention of Lying, which finished at $18 million, despite some choice cameos and more than a few good laughs.


Next, October 9th launched the real big earner of the month, a quintessentially mainstream big studio comedy package, and one very carefully assembled from a high concept premise, a star or two at the helm (Vince Vaughn, Jason Bateman), and a few entertaining supporting actors. Critics didn't much have a good time at this one, but Couples Retreat became the fall's third $100 million title, finishing with $108 million after a strong $34 million opening. The 16th continued the semi-blockbuster trend, unleashing two sturdy performers: action thriller Law Abiding Citizen ($21 million opening, $72 million total) and neurotic children's book adaptation Where the Wild Things Are ($32 million opening, $75 million total). The former film pit Jamie Foxx against Gerard Butler in a somewhat implausible, if occasionally entertaining, battle of wits, and somehow broke out to bigger than usual thriller numbers - and some legs, too. The latter movie, on the other hand, transformed the 1963 Sendak book into a metaphor-heavy portrait of uncertain childhood, and one immensely beloved by a certain segment of the population - though the movie dropped big after a strong opening. Also prowling about in this frame was yet another PG-13 horror thriller remake, The Stepfather, which played like the TV movie version of the R-rated 1987 original - and delivered box office ($29 million total) that perhaps hinted that the PG-13 horror subgenre was, too, beginning its inevitable descent. Hey, it's the end of the decade, so it's only appropriate.

The 23rd was the real dead zone weekend at the movies, with the highest grossing title finishing at a grand total of $27 million. That would be Saw VI, another gruesome sequel, and one that surprisingly tackled the health care debate, of all things. That $27 million was far removed from the $56 million taken in by the 2008 edition of Saw, and indeed it was looking like the series would, too, end along with the decade. While there is another entry scheduled for 2010, I don't think I'm being too presumptuous in assuming it will be the last we will see of good ol' John Saw (for surely, no one would think of, uh, rebooting, the Saw franchise? Right, guys? Right?) Anyway, the rest of the weekend's lot were entertaining CGI manga Astro Boy ($19 million), generally disliked Earhart bio Amelia ($14 million), and children's book series adaptation Cirque du Freak: The Vampire's Assistant ($13 million), a film that certainly had an interesting title and look, among not too many other pluses.

October 2009 ended on a quiet, heartfelt note, as late singer Michael Jackson's life and work was celebrated one last time with documentary This Is It. Despite early skepticism, this was a fairly good-natured doc and a treat to his fans, opening with $34 million in five days and ending at $71 million. Those were nice numbers, not too big, not too small - and while that may make them somewhat unJacksonlike - at least the movie had the grace not to Blart all over the box office.

November

The November '09 start-off featured a smorgasbord of titles, shadowed by the now standard November-opening CGI blockbuster. That's not to say that the film itself, Robert Zemeckis's A Christmas Carol, was average - coming in somewhere between his brilliant Polar Express and the entertaining Beowulf, this was a good old time in Victorian London, full of spooky holiday atmosphere and elevated by Jim Carrey's excellent voice performance as the miserly Scrooge. As far as CGI grosses go, though, this wasn't tops - a $30 million opening and a $137 million total gleaned after some long, hard legs.

The weekend's other entries included exceptionally weird thriller The Box ($14 million total), with its elegant Frank Langella performance, and vaguely shaky-camish sci-fi thriller The Fourth Kind ($25 million), a film that did ring in a chill or two, even in the face of predictability (and it's always nice to see Milla Jovovich). The only non-horror film of the weekend (and believe me, the CGI Christmas Carol certainly embraced the underlying horror film elements in the plot) was politically-tinged The Men Who Stare at Goats ($32 million), which enlisted George Clooney, Ewan McGregor, Jeff Bridges, and Kevin Spacey into an occasionally amusing comedic morass that did fall apart some at the end, if not before delivering a good laugh or two.

Next, November 13th saw the release of entertaining Richard Curtis ensemble comedy Pirate Radio ($7 million total), but the weekend's real story was the designated $100 million title, and one that I was pleased to see permeate the modern blockbuster world with its frankly old-fashioned '90s-style disaster trappings. Remember when big blockbusters weren't adaptations of beloved fanboy material, but rather simply high-concept ideas given to a high-profile director and populated with a cast of familiar actors? 2012 did, and featured frequent helmer Roland Emmerich ending the world in style, with a loopily entertaining cast led by an earnest John Cusack, a madcap Woody Harrelson, an immeasurably noble Chiwetel Ejiofor, a distinctly sinister-seeming Oliver Platt, and a barrage of Earth-destroying special effects that perked up a familiar story. This one nabbed a $65 million opening and a $163 million finish, a total lower than that of Emmerich's previous end-of-the-world epics, Independence Day ($306 million) and The Day After Tomorrow ($186 million). These disaster movies just don't make money like they used to. But you know what does?

Vampires and werewolves tusslin' over an apparently underage high school student, that's what. Yes, that epitome of 2000s-era fanboy box office outrageousness, Twilight, was back on November 20th. The Twilight Saga: New Moon managed to engineer not only a $300 million-area total (still waiting to see if it makes it to three zero zero), but more importantly, a $72 million first day - the biggest single day gross of all time, naturally - and a shockingly strong $142 million weekend, topping the first film's mere $69 million opening. How did New Moon do it? Wiser men than me may have the answer, and all I can really say is: beats me - must have been fanboy magic at work (or fangirl, if you like). By the way, stars Robert Pattinson (the vampire) and Kristen Stewart (the teenage girl) were still on top of the world here, and the film seems to have done wonders for Taylor Lautner (the werewolf), who may be on the path to becoming the biggest male movie star born after 1990.

Not content with just one shock, the November 20th weekend delivered yet another one of the year's biggest box office stories, and a fine example of '09-style Blartism: The Blind Side, a feel-good football-themed family film with Sandra Bullock as a particularly good samaritan, opened with $34 million and then simply kept on making money, again and again, ad nauseum. Right now, it's at $208 million, and who knows when it'll stop? Don't get me wrong - The Blind Side's a pretty good film, if a bit overlong, but at that point, haven't we just about had our fill of 2009 box office surprises?

The month ended with a batch of typically hit-and-miss Thanksgiving titles, none of which offered more surprises - Robin Williams and John Travolta teamed up for the really very bad parental re-education comedy Old Dogs ($47 million total), blood hit the wall as the title character went to work in Ninja Assassin ($39 million), and the CGI machine produced a rare box office misstep, Planet 51 ($39 million). Elsewhere, Wes Anderson's interesting claymation adventure Fantastic Mr. Fox finished with $19 million, a figure allotted to any would-be children's movie that dabbles in animalistic existentialism.

December

The first half of the last month of the 2000s didn't exactly set the box office on fire. No, times were slow, and holdovers were still ruling the day. December 4th dished out a typically minor slate of releases, led by effective Portman-Gyllenhaal-Maguire drama Brothers ($27 million total), Robert De Niro's cross-country holiday trip in Everybody's Fine ($9 million), PG-13 action film Armored, looking sorely out of place in December ($15 million), and something called Transylmania, which received a wide release but finished with a number considerably lower than one million dollars. December 11th perked up some, what with Disney's (one-time?) return to traditional animation, The Princess and the Frog, opening with a moderate $24 million and finishing somewhere by $100 million. On the other side of the hall, Clint Eastwood's South African-set Invictus began its pre-Oscar run, but thus far hasn't met much enthusiasm ($30 million and counting).

The Christmas movie rush really only started on the 18th, when the release of Avatar recharged the box office with surprising new life. But before we get to that, let's take a look at the not-inconsiderable rest. The top two non-Avatar December titles look to be heavily-anticipated sequel (I kid, I kid) Alvin and the Chipmunks: The Squeakquel, with its immeasurable total potentially touching $250 million, and Robert Downey Jr. headlining Guy Ritchie's campy tackle of Sherlock Holmes, a film that overcame its Victorian setting to a total approaching $200 million. Also doing pretty good was Meryl Streep, teaming with Alec Baldwin and Steve Martin for It's Complicated and delivering yet another of her hits, a film that's looking to get to around $100 million, if perhaps not quite breach it.

Meanwhile, some of our Oscary friends were doing better than others - George Clooney's dramedy Up in the Air had racked up $45 million by early January, while Harlem-set Precious was brewing under the scenes, and has so far taken $43 million out of the Oscar pool. Much less lucky was big star-musical Nine ($13 million thus far), but enough about all that. It's time for the big one - the breakout film of the month, the season, and the year.

Overcoming all expectations and doubts, James Cameron's return to big-budget sci-fi filmmaking, Avatar, opened with a hefty $77 million and looks to total at a sum much higher than $400 million (thus beating Transformers 2, natch). Much has been written about this one elsewhere, and none of it will be repeated here, except to say that I really hope Avatar doesn't end up quite as influential as its prognosticators think. See, I really don't want to spend my entire 2010s moviegoing time stuck wearing 3D glasses. And, now - wait, wait, let me get this straight here - am I saying that Avatar made more money than Paul Blart: Mall Cop?

See you in 2019. Maybe.