Weekend Wrap-Up
Avatar Starts 2010 With $300 Million
By John Hamann
January 3, 2010
BoxOfficeProphets.com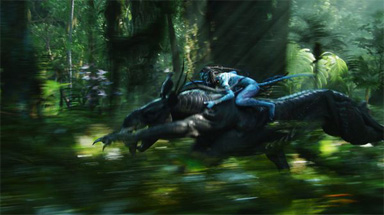 ---
The holiday season box office bonanza ended with a bang, as no new openers meant a clear playing field for our crop of incredible films from last weekend, when overall box office set a record for the busiest weekend ever in the modern era of film. Last weekend, we had two tiers of earners: Avatar, Sherlock Holmes and the Alvin and the Chipmunks sequel in one tier, and It's Complicated, The Blind Side and Up in the Air in the other. This weekend, things are similar in most ways, but different due to the fact that two films in different tiers are pulling away from their packs. We also now know that the Weinstein's Nine is in its death throes, and at this point can only be saved by running the table at the Golden Globes.

On Friday, Avatar's 15th day of release, the James Cameron film crossed the $300 million mark, becoming the third fastest film ever to earn that much money that quickly. This is an amazing achievement, considering it took the fourth fastest film, Star Wars: Revenge of the Sith, two days longer to reach the same mark, despite opening larger by $31 million. BOP's Tim Briody reported yesterday that Avatar grossed $24 million on Friday night, which was enough to take it to $307.8 million after only 15 days of release, which means at that point, Avatar was averaging over $20 million per day since opening, which is a truly amazing statistic. With Sunday being the end of holiday season box office bonanza, we knew things weren't going to hold up like they did last weekend, as Sunday was a back-to-school, back-to-work sort of day. The James Cameron epic earned $68.3 million for the weekend, and scores a drop of only 10% compared to its Christmas weekend frame. Considering the size of the grosses involved, this is an exceptional hold, something never seen. The last time Christmas and New Year's Days fell on a Friday, it was 1999, and the average drop for non-expanding films was 24%, so Avatar beat that average, despite the top film in 1999 earning only $19.1 million, or about $40 million less than Avatar.

Avatar also took down some new records this weekend. Its gross of $68.3 million easily became the biggest weekend ever for the month of January, besting Cloverfield's opening weekend take of $40 million in 2008. Avatar also had the biggest third weekend ever, easily beating Spider-Man and The Dark Knight, which earned $45 million and $42 million in their third weekends respectively. It will also set the record next weekend for fourth biggest weekend, unless something truly bizarre happens. Avatar also entered the realm of the 20 biggest domestic hits ever this weekend, coming in now at number 14, in between Jurassic Park and The Passion of the Christ. Avatar will be in the top ten biggest films ever by the time next Friday's grosses are counted.

I'm starting to see more and more comparisons in the media of Titanic to Avatar, and despite the huge three-weekend gross, it's still far too early to say that Avatar is going to be a $600 million film like Titanic was. It took the sinking boat movie 45 days to earn what Avatar has amassed in only 15 days. While Avatar has showed zero signs of slowing, the truth will come out next weekend over a non-holiday weekend, where this is at least some competition for the same demographic, in the form of Daybreakers and Youth in Revolt. Titanic dropped only 14% when moving from the New Year's weekend to its more normal follow-up. Avatar can't keep that pace up, but I think if we see a drop of less than 30% for Avatar, we are definitely going to see a new film get past 1997's Titanic, which finished with $600.8 million on the domestic front. Internationally, Avatar has cleared the half-billion mark, but is still far away from clearing Titanic's overseas gross of $1.2 billion. Domestically, Avatar has a running total of $352.1 million, and is already setting the bar for 2010.

Second spot this weekend goes to Sherlock Holmes, which didn't have as strong a weekend as Avatar, but that shouldn't take anything away from it. Behaving more like an action movie, Sherlock Holmes earned $38.4 million, and sees a large drop of 38% compared to the Christmas Day weekend. Over the comparable Fridays alone, there was a $10 million difference between Christmas Day and New Year's Day, where Avatar saw a $1.5 million increase. Regardless, the Robert Downey Jr. flick crossed the $100 million mark on Thursday, its seventh day, the same amount of time it took fellow December opener, I Am Legend, to complete the same feat. Admittedly, the drop is larger than expected, but I think it's important to remember that last weekend was the biggest weekend in box office history, so to have solid holds (like the 24% average we saw in 1999) for this kind of large opener is almost impossible. The Warner Bros. flick is still likely to be a $200 million film; it will just have to work harder than we expected it to last weekend. Living in the shade of Avatar isn't easy, so to have a gross so far of $140.7 million versus what could be the biggest movie in history is definitely a large accomplishment.

The Alvin and the Chipmunks sequel doesn't see the same large drop that Sherlock Holmes did, but it is still significant. Again, though, it has been another huge earner over the last 12 days. Alvin and the Chipmunks (you can forget it on the subtitle) crossed the $100 million mark on Tuesday, also its seventh day of release (it opened on a Wednesday). Alvin had earned $120 million before heading into the weekend (its ninth day), where the original Alvin took 15 days to reach the same mark. Alvin had a Friday gross of $12.6 million (off $1.3 million from the previous Friday), and turned that into a weekend gross of $36.6 million, good for a solid drop of 25%. The previous earnings of the top three are skewing the third weekend percentage drops, as most films haven't earned these amounts through three weekends. Alvin and the Chipmunks cost Fox and New Regency only $70 million to make, and it has now earned a wild $157.3 million. The sequel is on track to best the domestic take of the original, which took in $217 million at the US box office in 2007.

The breakaway winner from the second tier of releases is It's Complicated, as the Meryl Streep flick pulls away from Up in the Air and The Blind Side. It's Complicated is becoming a story unto itself this box office weekend, as it had a stellar hold that puts Sherlock and Alvin to shame. The Nancy Meyers comedy earned $7 million on Friday (basically flat with Christmas Day) and a total of $18.7 million over the weekend, dropping only 15% from the previous frame. This gross is more in line with the 1999 comparison, the last time New Year's Day fell on a Friday. This one behaves more like the model as its gross leading into the weekend is more moderate and less breakout, and thus follows the trend. The Universal release cost $75 million to make (Streep, Baldwin and Martin and director Meyers would likely have been half of that), so to have a current total of $59.1 million is fantastic news for the studio, especially when next weekend's take is likely to be above $10 million. It's Complicated will finish as a $100 million film, but it will likely to take until the end of January to reach that mark.

The Blind Side finishes fifth this weekend, and despite being in its seventh weekend, is still holding remarkably. The Sandra Bullock flick took in another $12.7 million and joins only 16 other films to earn more than $10 million in their respective seventh weekends. The Warner Bros. release actually outgrossed its Christmas Day gross on New Year's Day, which could have been due to 20/20 providing an hour long plug for the film this week. The Blind Side was actually up 10% compared to last weekend's gross of $11.7 million, and raises its cume to $209.1 million. The Blind Side crossed the $200 million mark on Friday, and while it wasn't the fastest to earn $200 million, it may have been the most satisfying.

Somewhat surprisingly, Up in the Air fell behind The Blind Side this weekend after finishing ahead in the last frame. The George Clooney award-fave earned $11.4 million in its second wide weekend, and could be setting the table for a very big haul, should the awards gods favour this film. Up in the Air dipped increased 1% compared to last weekend, and I wouldn't be surprised to see this one expand somewhat next weekend. Up in the Air has a current take of $45 million.

The Princess and the Frog continues to get bailed out due to the holiday season, but that's going to end quickly next weekend. Over the New Year's frame, the Disney 2-D experiment earned another $10 million, and is up 11% compared to last weekend. The $105 million effort has now rung up $86 million in sales for the mouse house, and has pulled in another $30 million overseas, so this one may see some profit for the studio after DVD sales have been counted.

The ineptitude of Nine really shows in our number eight film this weekend, as the truly awful Did You Hear About the Morgans? beat the star studded musical again this weekend. The now three-weekend old comedy earned a dismal $5 million this weekend, but likely more than it would have had it been a traditional weekend. Sarah Jessica Parker will be looking forward to Sex in the City 2, as the Morgans has only earned $25.5 million, despite a plum Christmas release.

Nine finishes in ninth place, as this musical appears to be dead, dead, dead. Considering the cast involved in this one, Nine is heading toward being one of the most talked about flops in history, as it had another dismal weekend, earning only $4.3 million from 1,412 venues. It drops 22% compared to last weekend, and unless the $80 million feature goes five for five at the Golden Globes, this one could be an ugly disaster, earning less than $25 million. So far, the Rob Marshall musical has pulled in $14 million.

Invictus finishes tenth, as the Matt Damon Morgan Freeman tries desperately to hold onto a top ten spot. Invictus earned $4.1 million in its fourth weekend of wide release, and is up 2% compared to last weekend. The Warner Bros. award hopeful has now earned $30.8 million.

Overall, things aren't as super-sized as last weekend, but the top 12 did combine for the biggest total ever in the month of January. The top 12 films took in $214.4 million, which is off about 17% compared to last weekend (which, keep in mind, was the biggest weekend of box office ever). Next weekend, things get back to normal. Amy Adams tries to open leap year against It's Complicated and Up in the Air, Daybreakers takes on Avatar and Sherlock Holmes, and Youth in Revolt has the younger market pretty much to themselves.