Top 12 Film Industry Stories of 2009:
#5: January Films Think They're Summer Films
By David Mumpower
January 1, 2010
BoxOfficeProphets.com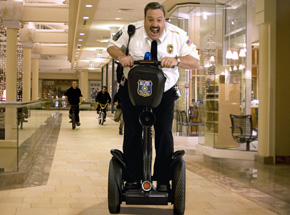 ---
A frequent statement made by NFL head coaches is, "We are what our record says we are." The meaning of this is simple. A team may be comprised of players who are convinced they are the best in the league and that eventual Super Bowl victory is the only possible outcome for their group. If their record says they are mediocre, however, they are. Pretension and delusion are oftentimes one and the same. Such as the case with January box office. No matter how much producers of movies released during this month may argue to the contrary, their titles are there for a reason. The perceived quality of such titles is...unkind.

Distributors slot titles in this area for a very specific reason. They are contractually obligated to exhibit the films but they want to do so during a time frame wherein none of their higher quality releases will be negatively impacted. Whether that impact stems from demographic competition, inferred stink of failure rollover from the studio's lesser title or simple paranoia from distributors, the result is still the same. An argument has persisted over the years that self-fulfilling prophecy may rule the day in terms of January box office. Even if a person feels this way, however, the reality is that if a studio has a potential hit on its hands, December is the time to release the feature in order to maximize its box office revenue. At least, that had been the assumption in the past. In 2009, something very, very odd occurred.

If you want some data to support the notion that January has been a historical box office graveyard for new releases, here they are. In 2000, the average January wide release opened to $9.3 million with a final domestic take of $27.0 million. The "largest" opener was Next Friday, which debuted to $16.9 million. It was also the most successful in terms of final box office take with $57.2 million. 2001 saw gradual improvement to an average debut of $12.9 million with a final domestic take of $42.9 million. Of course, over 70% of the box office for the new January openers that month came from two titles, The Wedding Planner and Save the Last Dance. The latter film was the most successful January release of the 2000s up until, well, 2009.

In 2002, the average January opening was $11.1 million with a final domestic take of $39.3 million. 2003 had slightly better openers at a rate of $13.7 million per debut, but the final domestic box office was only marginally better at $41.1 million. Only one January film made at least $60 million in each of these years. In 2002, it was Snow Dogs, an allegedly uplifting Disney release that starred the box office corpse of Cuba Gooding Jr. , who used to be famous, as hard as that is to believe now. The big release of January of 2003 was Kangaroo Jack, a CGI movie about a rappin' kangaroo that was endless mocked on this site for the body of five years. If you missed it, you're one of the lucky ones.

Once we allow for box office inflation, 2004 was the worst of the first five years of January openers. The train wrecks of this period averaged a $10.3 million debut with final domestic revenue of $27.7 million. What's scary about this is that Along Came Polly was a huge hit, debuting with $27.7 million on its way to $88.1 million. If we take it out of the equation, the other January 2004 releases averaged only a $8.3 million opening weekend with a final take of $21.0 million. Yes. Ouch.

2005 is when the pattern for January openers took a positive turn. After the 2000-2004 period saw only a pair of movies open north of $20 million, there were three in this month alone. This is why the average debut in this time frame was $15.8 million, the best of the decade thus far, and final box office was $44.6 million, again the best yet in the 2000s. Part of this was because a pattern was starting to emerge involving the Martin Luther King Jr. holiday in the United States. That x-factor of time argument BOP has been espousing began to elevate the releases on this three-day weekend as well. Hollywood took notice of this and began to build around it afterward.

The results the next two years were hit and miss. Two more films opened north of $20 million in 2006 with Hostel narrowly missing the mark by a few hundred thousand. Alas, there were also several films dumped in the first month of 2006, meaning that the average debut was still only $13.5 million with the final domestic take mediocre at $37.2 million. In 2007, the situation was even direr. Stomp the Yard was the only release to debut north of $20 million. The average January debut that year was a woeful $9.6 million with the worst overall take of any January in the 2000s, even before we adjust for ticket price inflation. The average January 2007 debut managed a final domestic take of only $23.5 million.

In spite of this setback, 2008 saw a bold gambit during an otherwise ordinary month of January box office behavior. Yes, the films that opened wide during this period only earned an average final domestic take of $37.0 million and the average debut was only $15.6 million, less than 2005's $15.8 million. The story here is that one film blew the curve for everyone else. Cloverfield debuted with a remarkable $40.1 million. How impressive a total is that for the month of January? Among new releases and not counting platformers, the previous record holder for opening weekend in this month had been Big Momma's House 2 (God help us) with $27.7 million. Keep that number in mind for later discussion, but what's important is that the monthly record for best opening weekend was scorched by 45%. Studios again took note.

Before we move forward, please consider the following. No film that debuted in January had ever earned over $100 million domestically. Coming into 2008, only four January openers had earned even as much as $75 million in North America. Then, that total went up by 50% with 27 Dresses and Cloverfield. While the former film earned only $3.2 million less than the latter in terms of final domestic gross, Cloverfield's $40 million debut was the cataclysmic opening that gave studios the confidence to open higher quality films during January.

In 2009, it seemed like everything released in the month of January succeeded. The first weekend of the new year contained no new releases, but the second frame had two titles given wide exhibition (over 1,000 locations). The Unborn and Bride Wars debuted to $19.8 million and $21.1 million. As you are now fully aware, both of those are great totals in comparison to historical January box office data. In addition, Gran Torino effectively opened with a platform expansion from 84 locations into 2,808 locations. Its $29.5 million earned that weekend represented the fifth best tally ever for the month of January and the second largest ever if we remove a holdover (Titanic) and a re-release (Star Wars) from the equation. Only Cloverfield had done better under the criteria we'll be using for the purposes of this discussion.

The third weekend of January is the one that upped the ante to an epic degree. Four titles entered the marketplace and the *worst* performer debuted with $17.0 million. Generally speaking, that's enough to not only win a weekend in January but also place a film in the running for most successful debut for the month. Alas, Hotel for Dogs had to settle for fifth place for the weekend and a nice consolation prize of earning $73.0 million domestically against a production budget of $35 million. All three of the other new releases for the weekend debuted north of $20 million. Notorious, the biopic of rapper B.I.G., made $20.5 million while My Bloody Valentine 3-D, a title that coincides with the #6 Film Industry Story of the year, accrued $21.2 million.

The real winner of the weekend of January 16, 2009, of course, was Paul Blart Mall Cop. BOP has a theory that there is nothing North American audiences enjoy more than a funny fat man who falls down a lot. This Die Hard rip-off (no, really) had that in spades and because of this, it absolutely torched the domestic box office. Its $31.8 million debut one-upped the prior weekend's biggest release, Gran Torino, to become the second biggest debut for the month of January. And the Kevin James comedy didn't stop there. It became the first movie ever released in January to cross the $100 million mark. It even cleared the bar by a LOT, winding up with a North American tally of $146.3 million. Gran Torino, technically a December release but one that earned $143 million of its box office in 2009, surpassed this tally with $148.1 million.

The logical assumption would be that after that much early success in the month that the remaining titles would be the weak links. In the case of the following weekend's Inkheart, this perception was correct. In the case of Underworld 3: Rise of the Lycans, it was untrue. That movie debuted north of $20 million as well, albeit in heavily frontloaded fashion as it wound up with a domestic take of $45.8 million. Then again, that's better than Notorious managed. That one flamed out in epic fashion, winding up with only $36.8 million, an unconscionable final multiplier (final box office divided by opening weekend) of 1.80.

The shock of all shocks was that there was another juggernaut release yet to come in January. In fact, it was my favorite one, Taken, a film that behaved like an old school 1980s/1990s release due to its tremendous legs. From the start, the Liam Neeson action flick was surprising. It easily exceeded tracking with a $24.7 million debut, but what happened next is much more impressive. During its next six weekends, the movie depreciated less than 17% four times. Its "bad" weekend declines were 26% and 41%, numbers most films' producers covet for later weekends of box office. People responded to the tale of a father crossing an ocean to find his daughter to the point that the film experienced a 150% rise in box office (in weekend 14) before it experienced a 50% decline in box office (weekend 15).

In an era where frontloading isn't just the rule, it's also the expectation and the law, Taken performed like a 1990s Disney animated movie. It was an exhibitors' dream come true. Taken was the rare title that performed well enough after a few weeks in release to justify keeping it. Ordinarily, exhibitors must funnel in a new product that would give them a smaller percentage of the overall box office revenue from ticket sales rather than keep an older title. This has been the cause of much strife in the frontloading era, and it makes Taken's 14 weekend run of marginal declines all the more impressive. Before the film eventually exited theaters, it had earned $145.0 million domestically and a grand total of $225.5 million worldwide against a $25 million production budget. Any film that earns a return of a factor of 10 on its expenditure is the most lucrative of investments in this industry.

Putting the whole series of events of January of 2009 into perspective, ten films debuted to at least $20 million in the nine year period from 2000-2008, barely over one a year. In 2009, the AVERAGE film debuted to almost that amount, $19.3 million. Seven titles earned north of $20 million on their opening weekends in January of 2009. Their average domestic box office total was $67.6 million, a full $23 million more than the prior highest tally for the month in the 2000s. The largest combined domestic take for the January openers in any single year in the 2000s had been $409,226,078. 2009's releases brought in an incomprehensible $810,677,759, almost exactly double that amount.

For the entire period from 2000-2008, the average January release managed an opening weekend of $13.1 million and a final domestic take of $36.6 million. The average release in January of 2009 was $6.2 million higher at the start (i.e. a full 47% more per release) and exactly $31 million higher overall (85% better). It is no wonder why box office analysts and pretty much everyone else involved in the industry were left shaking their heads over what had come to pass. January, historically the worst month on the box office calendar, had as many $100 million movies (Gran Torino, Paul Blart Mall Cop and Taken) as June, July or August of 2009 (three in each of those months). This is as close to the box office End of Days as we get.