Top 12 Film Industry Stories of 2009:
#8: Ice Age Transforms
By David Mumpower
December 31, 2009
BoxOfficeProphets.com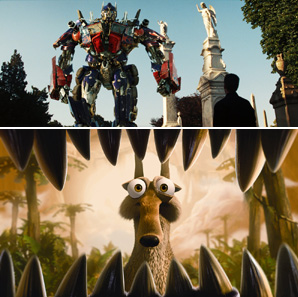 ---
Admittedly, the choice to link these two titles together is a bit of a cop-out. We had a short list of 13 stories we felt justified inclusion in this column. A debate ensued over which feat was more impressive between Ice Age 3 and Transformers: Revenge of the Fallen. Battle lines were drawn about whether domestic or international performance was more important in terms of overall 2009 box office stories. In the end, the decision was made to avoid having a tie at #12 or pick one over the other by melding the two topics. In the past, we have avoided this sort of situation by disallowing ties in the staff voting process. This year, however, saw a return to the early days of Film Industry Stories selection wherein the Webmasters made the final call about entries and ordering. What we decided is that the Ice Age and Transformers stories in combination are a more interesting story than either one individually and that their overall box office was a bigger story than selections 12-9 on our list. Now that there's been some transparency offered regarding the selection process, let's discuss why these movies are so novel.

Unlike some of the other selections listed in this year's Film Industry Stories, Ice Age: Dawn of the Dinosaurs and Transformers: Revenge of the Fallen are a couple of titles whose overwhelming success was a foregone conclusion. The former film follows on the heels of two previous titles with combined worldwide box office of over a billion dollars. The latter is the successor to the third strongest domestic performer of 2007. Ice Age: The Meltdown earned $652 million worldwide while Transformers managed an even better $708.3 million. Any sequel to either of those titles feels like the scion of Bill Gates. It's going to be rich no matter what. The question is whether it can avoid the fate of THAT film. You know the one. Terminator: Salvation's $370 million worldwide total represents a decline of roughly $50 million from its predecessor despite half a dozen years of ticket price inflation.

Both titles managed to avoid such a fate of lost consumers and they accomplished this task in deeply impressive fashion. Transformers: Revenge of the Fallen came first, and it immediately exemplified the box office behavior BOP has been espousing the past few years. The perceived quality of a film directly correlates to the opening weekend box office of its successor. No matter what you may personally think of Transformers, 68% of the top critics at Rotten Tomatoes gave it thumbs up. It also has a 7.4 user rating at IMDb, which falls somewhere between the good and very good range. Finally, the film was the second best revenue earner on the home video market of any 2007 release. In short, people liked it and this was reflected by the debut of its sequel. While the first film managed an impressive $70.5 million debut, Revenge of the Fallen spiked huge to $109.0 million, making it the eighth biggest opener of all time.

What's particularly surprising about Revenge of the Fallen is what happened next. Despite an abrasive critical reception (only 17% of those same top critics at Rotten Tomatoes liked the sequel), the film demonstrated exemplary legs. Almost $300 million worth of revenue was attained after opening weekend. Given that the original only made $319.2 million, this is a tremendous demonstration of legs. What's odd about it is that almost everyone who has watched the movie was nonplussed by it. The title's IMDb rating is currently 6.1, which leaves it looking up at the afore-mentioned Terminator: Salvation's 6.9. Films with 6.1 user ratings are considered word-of-mouth disappointments and sometimes even disasters. A strange sort of mass hypnosis swept over North America, however, and it made consumers flock to theaters to see a movie they didn't really enjoy. The end result was that Transformers: Revenge of the Fallen became the ninth most successful domestic performer of all-time with $402.1 million. As hard as this is to believe/accept, only nine films have earned $400 million domestically and it is one of them. The hypnotic effect wasn't a singularly North American phenomenon, either. It earned slightly more overseas, $430.0 million, than it made domestically, giving it a worldwide result of $832.1 million, the 20th largest total ever.

Released only a week later, no one anticipated Ice Age: Dawn of the Dinosaurs outperforming its more storied competitor. Domestically, it didn't. The third Ice Age flick accrued $196.6 million, ever so slightly edging its direct predecessor's $195.3 million to become the most successful film in the franchise. Of course, if we adjust for inflation, Dawn of the Dinosaurs is a few million behind The Meltdown, which means it shouldn't make for that good a story. That's where the international receipts come into play.

Overseas, Dawn of the Dinosaurs became the little engine that could. In fact, it is not hyperbolic to state that it has behaved like the international equivalent of My Big Fat Greek Wedding. It just keeps hanging around with basically the same numbers each week. Sure, the first two Ice Age films had been successful abroad, earning $383.3 million and $652.0 million, respectively. Somehow, Dawn of the Dinosaurs still blew them away in this regard. As of the date of publication of this column, it has earned $690.8 million overseas, a total that on its own would represent the 35th largest global take of all time. It is also a full $40 million more than either previous Ice Age film had earned in terms of global revenue. That $690.8 million is the third (!) largest overseas performance in box office history. Only freakin' Titanic and The Lord of the Rings: The Return of the King can claim a stronger international run than Ice Age: Dawn of the Dinosaurs.

Once we throw in the domestic take, Ice Age 3 not only outperforms Transformers: Revenge of the Fallen by $50 million but it also becomes the 14th most successful overall performer in box office history. And it's not done yet. There is something about the incompetent squirrel and his woeful inability to maintain ownership of nuts that has a universal appeal that makes it just as entertaining in Asia as it is in North America. While Avatar is going to surpass it and probably sooner rather than later, on the last day of 2009, Ice Age: Dawn of the Dinosaurs stands as the second biggest revenue earner of the year's releases. Only Harry Potter and the Half-Blood Prince can claim a larger overall global take. This series of events has been understated since it happened with little fanfare, but this is one of the most surprising box office results in our industry's history.