Box Office - Decade at a Glance: May - August 2009
By Michael Lynderey
December 31, 2009
BoxOfficeProphets.com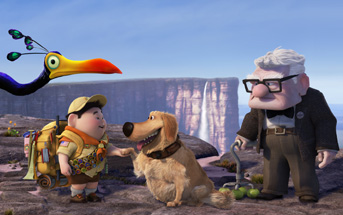 ---
May

Summer '09 began with perhaps the most routine, unremarkable May opening frame of the decade: you had your standard Marvel Comics-based superhero film (X-Men Origins: Wolverine), your prototypical Matthew McConaughey romantic comedy counterprogramming (Ghosts of Girlfriends Past), and, as is also necessary, an obscure movie being dumped for no particular reason (Battle for Terra had that distinction). Hugh Jackman's solo outing as Wolverine was the first of a series of summer disappointments - neither the fanboy world nor much of anyone else particularly liked it, while the numbers were solid if not very earth-shattering ($85 million opening, $179 million total). As for Battle for Terra - well, if a film is to be properly obscure, surely we mustn't talk about it?

The real juice of the summer started pumping on May 8th, with the release of J.J. Abrams' reimagination of the Star Trek enterprise (and I don't mean Enterprise). Here's what this one was about: in the most deviously brilliant plot yet, Eric Bana - apparently playing a particularly business-minded film producer - travels back in time to a date before all of the Star Trek films and television series, and by doing so, wipes away the franchise's entire established continuity! Do you know what that means? It means that far from simply being alleged prequels, the Star Trek films that we're going to get throughout the 2010s (where they will repeatedly open to outrageous, eye-popping numbers) can do absolutely anything at all with the series' continuity, all without ticking off the Trekkers. And if you think that means they'll be craftily resurrecting Khan or other easy box office tourist traps - hey, you're right. It is perhaps the most fiendishly clever reboot of them all - because out of all of them, this is the one that literally remakes a franchise through a plot development, rather than a press release. Oh, and the box office? $75 million opening, $257 million total. Leggy. Was it the highest grossing Star Trek film by a country mile? Duh. It's 2009, so of course it was.

May 15th's designated hitter, Angels & Demons, was a somewhat more innocent time at the movies, as Tom Hanks raced about Rome - solving mysteries and diffusing bombs and doing all those things he's grown so fond of in the latter years of the decade. This wasn't a half-bad outing, actually, except for the ending, which featured Ewan McGregor as perhaps the single most implausibly-motivated character of the year, if not the decade. But enough about him - Angels & Demons followed '06's Da Vinci Code, and not all that well - $46 million opening, $133 million total, to the first one's $217 million sum. But we all saw that coming.

Next, May 22nd had been planning to hatch a couple more biggie titles, but only one came out more or less okay. That would be Night at the Museum: Battle of the Smithsonian - while it didn't match the first film's Christmas-time gross of $250 million, the sequel took its loopy menagerie of historical caricatures to a $54 million opening and $177 million total. This one gave stars Ben Stiller and Amy Adams a fairly respectable grosser, even if one that seemed particularly badly written (though a few of the scenes - like the visit inside the V–J Times Square photograph, did brim with some nifty imagination). Next on the weekend's tab, spoof Dance Flick nicely rounded out the decade - I don't mean the movie was good - I mean there's some excellent symmetry in the fact that the Wayans Brothers relaunched the whole parody subgenre with Scary Movie in 2000, and now were on hand for what is likely to be the last spoof in quite some time. Next, McG took over the Terminator franchise with 2010s-set fourquel Terminator: Salvation, which teamed Batrman star Christian Bale with Australian newbie Sam Worthington, to evidently no avail - critics and fanboys alike voted thumbs down, and the film totaled at $125 million, a gross higher than that of only the first film in the franchise. So - wait, wait, let me get this straight here - am I saying that Paul Blart: Mall Cop made more money than Terminator: Salvation?

The 29th brought along Sam Raimi's entertainingly loopy tackling of the PG-13 ghost film, Drag Me To Hell, which totaled at a fair if slightly downward-tilting $42 million. May ended on a real low note, though, with the unleashing of the latest Pixar disaster, entitled simply and glumly Up - a sort-of-remake of Gran Torino, except all cartoony this time, and just a little more violent. As per usual for Pixar, this one flopped hard, opening with $68 million and finishing with a miserable $292 million, their second biggest total after Finding Nemo's meh-inducing $339 million; critics bashed this one, giving it just 98% Fresh on Rotten Tomatoes and calling out Pixar for their insistence on repeatedly releasing very bad movies... (Okay, okay - Up was a massive hit and everyone loved it. Do I really have to stick to facts?)

June

June 2009 began as an almost-textbook case of upturned expectations. The big winner of this comedy-filled weekend was not the pre-designated star vehicle blockbuster - but the little movie that could. And in a typical case of 2009-style Blartism, it wasn't a title that opened slow and then bore itself some legs through word-of-mouth; the legs were there, of course, but this one was inexplicably huge right off the bat. Indeed, how was it exactly that The Hangover, an admittedly well-reviewed but totally starless Vegas comedy, managed to open with a staggering $44 million? (I'll express shock at the $277 million total gross another time). Yes, I know the film had some good advance buzz, and a catchy trailer, too - but this was an R-rated title with no established draws - and it somehow opened bigger than any live-action comedy did in 2008 (with the exception of Sex and the City, but c'mon). On the other end of the rainbow, Will Ferrell's bizarre, pot-drenched piece of prehistoric television adaptation, Land of the Lost, opened with $18 million and finished with $49 million. Indeed, after headlining some of the decade's biggest and most memorable comedies, Ferrell was now distinctly faltering - after the failure of Semi-Pro and the moderate if crude success of Step Brothers, the dinosaur picture was a step in the wrong direction. In fact, conveniently around as a sort of Ghost of Big Star Future was Nia Vardalos and her vehicle My Life in Ruins, which finished with an $8 million total that in no way reminds one of her 2002 mega-hit, My Big Fat Greek Wedding. Will Ferrell, take note.

June 12th took a little break from $100 million earners (hey, it happens), teaming a villainous John Travolta and a typically heroic Denzel Washington for so-so thriller remake The Taking of Pelham 1 2 3, and giving Eddie Murphy another shot at family film stardom with Imagine That. The Pelham film - occasionally effective if somewhat meandering - opened with $23 million and finished at $65 million, coming in on the lower ebbs of Washington's standard box office formula. Imagine That, on the other hand, was a somewhat entertaining children-aimed comedy that was summarily ignored, finishing with a mere $16 million and making the idea of Murphy's re-strapping on one of his many beloved fat suits an even more tempting one.

Another Hangover-style upset awaited the 19th. The winner of the week was quite often amusing if unabashedly routine romantic comedy The Proposal, which lifted itself above the pack with a stunning $33 million opening and near-unbelievable $163 million total - a definite case of 2009-style Blartism. While the trailers for this one seemed good-natured enough, no hint was to be found anywhere as to just how big The Proposal was going to be. And aside from helping (further) break out star Ryan Reynolds, The Proposal gave Sandra Bullock her then-biggest hit, shaping up a career that had been hit-and-missing throughout the decade. The box office wild streak of The Proposal masked the weekend's other comedy - Year One, which had Jack Black and Michael Cera as pseudo-cavemen stumbling through the unfunny prehistoric era, and totaling with just $43 million (but at least the tagline was good - you know, "Meet your ancestors"). Also around this time of the month was the somewhat syrupy if generally workable drama My Sister's Keeper, which used some star power (Cameron Diaz, Abigail Breslin) to glean a decent $49 million total. With all of that out of the way, it was time for the summer's biggest film to arrive.

Indeed, the fairly action-less June ended with an outrageous barrage of sound and fury, signifying the coming of Transformers: Revenge of the Fallen. The first Transformers gave the second half of summer '07 a leggy $300 million+ hit, and so the sequel behaved as such things must - $200 million five-day opening, followed by a staggering climb to $402 million. Even most of the critics who derived some pleasure from the first film disassociated themselves from the follow-up, and I can't really blame them: while I'm generally a Michael Bay fan (hey, The Rock was a great movie), even I can't much defend this overlong collection of explosions and loud noises (well, at least the robots still looked really cool). As I write this, Transformers 2 remains the highest grossing movie of 2009, although it looks like Avatar is quickly gaining on it. Check back in about ten years to find out if it ever got there.

July

The Fourth of July slate looked a little out of place - rather than dishing out something that appeals to most demographics alltogether, studios broke up families by releasing a kids-aimed CGI adventure sequel (Ice Age: Dawn of the Dinosaurs) alongside a vaguely Oscary '30s period piece about John Dillinger (Public Enemies). That latter film did have a hint of action and more than a little star power (Johnny Depp, Christian Bale), taking its well-made and generally entertaining self to a fair if unexceptional $97 million total. Ice Age, on the other hand, did as all CGI summer extravaganzas must do, opening with $41 million and finishing at $196 million, thus outgrossing its predecessor by exactly one million (but a win is a win).

Not very exciting, was it? Well, if you like that sort of thing, you may enjoy hearing that July 10th featured yet another pre-ordained blockbuster go belly-up: Sacha Baron Cohen's Bruno was painted as a mockumentary follow-up to his surprise 2006 box office monstrosity, Borat. And while the reviews on this new one were still pretty good, Bruno came off like frontloading at its worst - $30 million opening, $60 million total, probably because the Bruno character was a little too smug for the mainstream audiences that embraced the more innocent Borat. Not much needs to be written about the weekend's other title, the Hayden Panettiere teen movie vehicle I Love You, Beth Cooper ($14 million total), so I will not write much about it.

Predictability reared its head yet one more time on July 15th, with the release of the fourth - no wait, the SIXTH - Harry Potter film; this was the one about the Half-Blood Prince, even though as far as I can remember, the movie never even explained what a Half-Blood Prince is. I know these Potter pictures have their fans, but they really have got to stop making them. $77 million opening, $301 million total - you know the drill by now. Changing pace a little, July 24th abandoned token blockbusters for some more uncertain titles - and for better or worse, they all paid off. Katherine Heigl was paired with Gerard Butler for another of her hit romantic comedy vehicles, the intermittently amusing The Ugly Truth, which opened at $27 million and totaled $88 million. Elsewhere, cute furry animals assembled en masse for G-Force, a film that played out like a particularly hamster-infested remake of Cats & Dogs, and performed about as well - $31 million opening, $119 million total (if you think we're not getting a sequel, you're dreaming). This one oddly featured occasional appearances by Transformers-style killer appliances, and did supply a character of the mole persuasion with one great line: "Son, if you ever get the chance to bring mankind to its knees - do it". Speaking of bringing mankind down to its knees - the weekend's third release, horror thriller Orphan ($41 million), was actually a pretty effective if just vaguely implausible version of that old saw about the evil child hammering away at their unsuspecting parents. I know people laugh when they hear the twist - but if you see the movie, it all makes sense. Really, it does.

July 31st dished out some disposable titles - horror thriller The Collector ($7 million total) and so-so Aliens in the Attic, with kids fighting off bug-eyed inhabitants of UFOs ($25 million). But the real story of the week was the fate of Judd Apatow's latest, comedian-themed dramedy Funny People. You see, after The 40 Year-Old Virgin ($109 million total) and Knocked Up ($148 million) had become unexpected summer hits, the stage was set for Apatow's third film to reign over late July. But it was not to be - despite the presence of one of the decade's most consistent stars, Adam Sandler, along with frequent Apatow cohort Seth Rogen, this one opened with $22 million and totaled at just $51 million. A lot of people seemed to have high expectations for this one, but the inside-baseball premise lacked the romantic comedy appeal of Apatow's previous hits, and the box office paid the price. Funny People also finished off Sandler's 2002-2008 streak of $100 million films, thus putting him even with Will Smith, who also ran $100 million titles from '02 to '08 but defaulted on '09 by sitting it out. Now - wait, wait, let me get this straight here - am I saying that Paul Blart: Mall Cop made more money than Funny People? (I promise that'll be the last time I use that line, though the temptation will remain for a long time).

August

Considering the strange phenomenon of several of July's pre-ordained blockbusters faltering badly, it was a little hard to know how things would turn out in August - always an uncertain box office month in itself, forever stuck in between summer glory and September rain. First in 8/09, though, old school summer blockbuster G.I. Joe: The Rise of Cobra capitalized on exactly that old-fashioned bash-and-trash action factor to nab a $54 million opening and $150 million total - spitting in the face of frontloading, as it were. Elsewhere, Meryl Streep channeled Julia Child while Amy Adams toiled away in the kitchen in big star team-up Julie & Julia, which took in a female-driven $94 million total. And rounding out the weekend, A Perfect Getaway was an initially slow thriller with a slam-bang ending but a not-too-exciting $15 million finish. Next, the 14th unleashed a near-unholy number of titles, but it was clear which two ended up way ahead of the pack. The big winner was another leggy surprise, Peter Jackson-produced sci-fi action thriller District 9, which earned its $37 million open and $115 million total through a lot of viral buzz and fan adulation of the material. Buzz of a different kind is probably what propelled book-based romance The Time Traveler's Wife to a decent total - $63 million - giving stars Rachel McAdams and Eric Bana a respectable (if somewhat confusing) hit. No-prizes go out to the weekend's rest - actually pretty funny Jeremy Piven comedy The Goods ($15 million total), Hayao Miyazaki's good-looking, fish-talking animation Ponyo ($15 million), and well-written if slightly dusty high school music film Bandslam ($5 million). The food chain went down pretty steeply in this frame.

Next, the 21st delivered a real rarity - a late August $100 million earner. Indeed, Quentin Tarantino's WWII fantasy Inglourious Basterds never really seemed like it would get to three digits, much less become Tarantino's highest grossing film - but somehow, it did, one-upping both Kill Bills and Pulp Fiction with a $38 million opening and leggy $120 million total, as brilliantly-accented Brad Pitt and co. succeeded in doing what Tom Cruise had tried in vain to do in Valkyrie, while supporting actor Christoph Waltz was busy stealing every scene he was in with relish. Hey, it's nice to see a good film make $100 million once in a while, especially in the summer. The weekend's other contestants didn't get anywhere, though - no luck for Tarantino colleague Robert Rodriguez' latest wacky family film, the occasionally entertaining Shorts ($20 million total), Alexis Bledel's likable if mild star vehicle Post Grad ($6 million), or the presumably aptly-named X Games 3D: The Movie ($1 million), which at least has a distinction as a rare 3D box office failure.

The summer ended with a gruesome-twosome double feature of unnecessary horror titles: a sequel to a sequel to a sequel (The Final Destination) and a remake of a sequel (Halloween II). The Destination film chopped off the scary-but-accurate "part 4" from its title, added a vague "the", and then took its off-putting, 3D-tinted collection of dismemberments to a strong $27 million opening and $66 million total - the highest in the franchise, wouldn't you know. Rob Zombie's Halloween II, on the other hand, finished with exactly half of that Destination total - $33m - below its predecessor's $58 million, and only a couple of million above the real Halloween II (1981)'s $25 million. Speaking of Halloween II - the real one, of course - while it ended up as a bit of an atmospheric bore, it did start off with an excellent first half hour that included a classically pulpy line of dialogue delivered by scenery-chewing character actor Donald Pleasence (namely, "You don't know what death is!", his reply to "I've been trick-to-treated to death tonight"). Why am I telling you this? I don't really know, but I sure don't want to talk about the Rob Zombie version. Let's just hope we don't get any more remakes of horror sequels. Even for a horror fan like me, that's pushing it.