Top 12 Film Industry Stories of 2009:
#10: Bullock Blind Sides Box Office
By David Mumpower
December 30, 2009
BoxOfficeProphets.com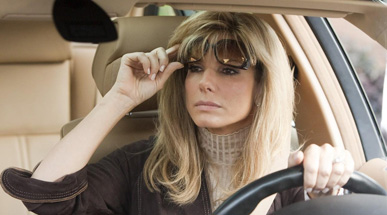 ---
After the release of Speed in 1994, Sandra Bullock became one of the most popular actresses in the history of the industry. No, this wasn't her first role (pay channels used to get a lot of enjoyment from playing Love Potion No. 9, a film she probably wishes had been destroyed) nor was it even her first mainstream action film (she provides awkward love interest support to Sylvester Stallone in Demolition Man). Heck, it wasn't even the first film where I loved her. I have a soft place in my heart for one of her early roles, The Thing Called Love (River Phoenix's penultimate movie). North American audiences were unaware or uninpressed by these early performances, of course, but that all changed once they fell for her as Annie, a neophyte bus driver with an unflinching ability to keep her vehicle over 55 miles per hour. Speed earned $121.2 million domestically, making it the seventh most successful release of 1994. What was fascinating about the fallout from Speed is that Keanu Reeves and Bullock split the credit for it and both of their careers were indefinitely secured.

Bullock's next film became her staple, the romantic comedy. In this case, it was While You Were Sleeping, which also starred Bill Pullman (not Paxton), and earned $81.1 million domestically. Her following film, The Net, is already as technologically dated as any release over the last 25 years (even Hackers), but it had North American revenue of $50.6 million against a $22 million budget. It was also her fourth consecutive title to earn over $100 million worldwide. Ms. Bullock had become bankable domestically and abroad in a very short period. From 1997 until 2002, she had four more $100+ million worldwide hits (including her voice work in Prince of Egypt). Her biggest domestic performer during this period was A Time to Kill, which made $108.8 million while her largest worldwide hit (ignoring Prince of Egypt) was Miss Congeniality, which brought in over $212 million. In the timeframe from Speed to Two Weeks Notice, her popular 2002 release, Bullock's films averaged $57.6 million domestically and $110.2 million worldwide. She was as reliable a draw as the nature of the industry allows.

After Two Weeks Notice, Bullock's career took a downturn. Part of this was based on perception, but the reality is that her next five major roles earned an average of $40.9 million domestically and $79.7 million worldwide, significantly below her earlier works (and not even adjusting those for inflation). Part of the reason for this is that a couple of her roles were awards contenders, accepted to be less appealing from a box office perspective. The decision to make Crash paid off while Infamous did not.

Along the way, the now 40-something actress fell in love with television host Jesse James and got married. Given that James' ex is famous porn star Janine Lindemulder, who would later be incarcerated for tax evasion, there were a lot of salacious headlines the actress deftly avoided for the most part. During this period, it was a smart decision to keep a relatively low profile in order to avoid being inexorably linked with the mistakes of another person.

Her mistake was in choosing to do a Miss Congeniality sequel, which was critically reviled. It speaks to Bullock's longstanding popularity that the film's worldwide gross of $101.4 million made it a theoretical winner relative to its $60 million budget, but history will remember this career choice unkindly. From there, she went full circle with The Lake House, a film that saw her fall in love with Keanu Reeves all over again. Her only other release in this time frame, Premonition, earned $81 million worldwide against a $20 million budget. Clearly, Bullock's popularity had been maintained but she needed to pick better projects. Sadly, the trend of poor career choices continued with All About Steve, a film Bullock produced and starred in back in 2007. The project simply didn't work on any level and so it sat on the shelf for a over a year. Amusingly, it wound up being the middle film in an otherwise stellar 2009. This is the part of the story that will be forgotten when we look back on it in later years, though.

Part of the nature of the industry is to put female actresses out to pasture after they reach a certain age. Older men can fall in love with as many 20-somethings as they want, but the opposite is rarely true in the existing studio system. At least that had been the case before we entered the age of the cougar. Perhaps this all started with Stifler's mom, the First MILF, but it took a decade for the idea to permeate through society.

What's clear is that by the time The Proposal rolled around, people were ready to embrace Sandra Bullock in a romantic comedy again and if that meant getting to see a lot of shirtless Ryan Reynolds, so much the better. Relatively unheralded prior to release, the romantic comedy about the cougar and her eight-pack abbed employee unexpectedly became the biggest hit of Bullock's career by over $40 million. The Proposal made an astonishing $164 million domestically with a grand total of $314.6 million worldwide. Bullock also earned a Golden Globe nomination for her performance in the film. Amazingly, this critical and financial blockbuster was not Bullock's most successful film of the year despite being easily her most successful project up until then.

Ignoring all pun-related word play, The Blind Side snuck up on consumers in November of 2009. It was released on the same day as New Moon, a film that earned over twice as much on its first day in release ($72.7 million) as The Blind Side made in its entire weekend ($34.1 million). What was unique about the situation is that the football film appealed to women as much as men, if not more so. The audience splits from opening weekend caught a lot of people off-guard. The female demographic for the weekend had been ceded to fans of broody vampires yet they showed up in droves to make the film a surprise opening weekend success story.

What happened next is even harder to explain. On Thanksgiving of 2009, The Blind Side earned $9.5 million while New Moon tallied $9.2 million. The difference between the two movies the prior weekend was $108.7 million in domestic revenue. On each film's seventh day in theaters, The Blind Side had already overtaken its much more storied competitor and become the number one film in the country. Sure, this lead didn't hold up over the holiday weekend, but the gap closed by $106 million in seven days. The Blind Side, a movie that had a $29 million budget and expected earnings in the $40-$50 million range, found itself crossing $100 million on its tenth day of release. Fast forward to today and that total has increased to the tune of $186.9 million, surpassing The Proposal by almost $20 million. At some point in the next week, it appears likely to become her first $200 million domestic performer.

In addition to being a box office juggernaut, The Blind Side also garnered Bullock a second Golden Globe nomination for Best Actress. At this point, she is either a strong possiblity to be nominated for an Academy Award for The Blind Side or a mortal lock to win the award, depending upon your perspective. She had two major releases this year, a comedy and a drama (plus All About Steve, which was a 2009 release in name only). She earned Golden Globe nominations for each one and they are both among the top 15 releases of the year to boot.

In 2009, 17 years after her first mainstream role, Sandra Bullock has achieved her most successful box office earner to date. Twice. An actress with $1.31 billion in combined domestic box office over a 17 year period entering 2009 somehow managed to accrue $382 million in a single calendar year. She is the female equivalent of Robert Downey Jr. circa 2008 in terms of career resurgence after 15+ years in the industry. And this was done at an age when most actresses can't even get work.