Box Office - Decade at a Glance: January - April 2009
By Michael Lynderey
December 29, 2009
BoxOfficeProphets.com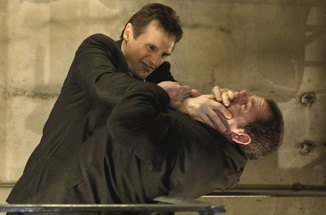 ---
January

As the sun arose on the first day of the last year of the 2000s, filmdom was about to enter the single most astonishing month of box office I have ever lived through. That's not hyperbole. January 2009 had already started off big, with the post-December 24th holdovers raining down their wrath upon the box office: Brad Pitt was aging backwards and making $100 million in Benjamin Button, Marley of Marley & Me was nibbling down some particularly lucrative dog food, and even Tom Cruise's Valkyrie had been doing better than expected, with audiences ignoring the high potential for camp that the Cruise casting could entail. By this point, the big numbers for the Christmas movies had ceased to be surprising. The real shocker was that the assault on the box office was just beginning.

January 9th seemed like it would be an average year-opening weekend, with the standard mix of romantic comedy nonsense (Bride Wars) and PG-13 ghosties popping-up to scare clueless undergrads (The Unborn). Indeed, said films' numbers weren't all that alarming: Bride Wars utilized its star power (Anne Hathaway, Kate Hudson) to open with $21 million and total at $58 million - not an outrageous sum - while The Unborn took in the standard boring PG-13 thriller numbers - $19 million opening, $42 million finish. Now that I think about it, that last opening did seem a little on the excessive side, but neither of those two films were the real stunners on the weekend charts. Rather, the big shocker was Clint Eastwood's expanding Gran Torino, which had platformed in December like a good little Oscar film and seemed headed for the usual sub-$50 million total allotted to such awards contenders. But it was not so this time - after taking in $11 million in limited release, Torino grossed an inexplicable $29 million over the January 9th - 11th weekend, and then had legs, legs, legs, finishing with a gargantuan $148 million - Eastwood's biggest total to date, and one I still can not explain. How could this little movie - not to be condescending, but that's what it looked like, a little movie, a low-key story - make so much money? Torino hardly came off like anything special: it was a simple tale of an aging semi-bigot's life-changing shenanigans, and as far as Oscar movies go, it wasn't the leader of the '09 awards pack by any reasonable measure. Sure, Torino cast Eastwood in an alleged "one last hurrah" role - but so did every single film he has starred in since at least 1993, when he played an aging secret service agent saving the President's life one last time in In the Line of Fire. None of his 2000s roles came near to this kind of box office: the closest, 2004's Million Dollar Baby (another "last hurrah" role), was boasted by exceptional reviews and an Academy Award Best Picture win to a $100 million flat total - and that was a slow, leggy ride, with just one weekend gross above $10 million (and it wasn't much above it). Torino, on the other hand, opened huge right off at the bat, and ended up without a single Oscar nomination. The numbers just made no sense.

The Torino affair was far more plausible, however, than what happened next. The four-day Martin Luther King Day frame, the 16th, seemed like a peaceful little January weekend, with a standard hodgepodge of early year product jockeying for a little attention. But forget all about that. We were in the big leagues now, as Kevin James' Paul Blart: Mall Cop opened with a staggering $39 million four-day gross, and just like Torino, legged it way, way, way, up to a number I will never be able to understand, for as long as I live - ONE HUNDRED AND FORTY SIX MILLION DOLLARS (these days, a friend of mine always asks me "Wait, wait, let me get this straight here - you're saying Paul Blart: Mall Cop made more money than [insert blockbuster of your choosing]?") . How could this completely non-descript, random January comedy make just so much money? Yes, Kevin James was in a hit sitcom and played second banana in a $100 million film or two, but that doesn't explain how he made this solo vehicle such a must-see. Blart was a film no one had heard about even a month before its release, and it was a title I predicted would make just about $8 million - as a total gross, needless to say. If you think critics boosted this one up, think again - the Tomatoes score came in at a mild 34%. And we're not talking about Blart growing legs over time, ala Big Fat Greek Wedding. No, this mall cop was massive right from the start. I don't care how many excuses box office analysts come up with for this one. For me, the Blart numbers are just incomprehensible, and they always will be.

So, with that one out of the way, you'd think the weekend's other films would have the decency to flop? Nah. Sure, B.I.G. biopic Notorious did drop big after its $20 million opening, finishing with only $36 million. But the 16th's two other titles came in on the high, high end of expectations: ultra-gory slasher movie remake My Bloody Valentine rode a $21 million opening to a strong $51 million total, and kidpic Hotel for Dogs finished with a staggering $73 million after a $17 million start. Sure, Valentine was boosted by 3D ticket prices, but that number still seems a little high to me; as for the Dog movie: while we all know by now that films with posters featuring hordes of cute animals go big at the box office, you'd think Hotel for Dogs would have been muted some by the PG-rated success of fellow traveler Paul Blart. Not a chance.

Next, the 23rd at last gave inexplicability a breather. Werewolf threequel (really prequel) Underworld: Rise of the Lycans totaled at $45 million (below the last one's $62 million), while Brendan Fraser's somewhat cheesy adventure Inkheart finished with a mild $17 million. Gee, with these kind of numbers, you'd think we were in January 2006 or something here.

January ended with - oh, what's this? Another $100 million movie? Yes, if we count Torino as a January title, then the first month of 2009 delivered no fewer than three $100 million earners, a figure usually reserved for summertime. Now, don't get me wrong, Liam Neeson's Taken always looked like an okay little thriller - the trailers were efficient and so on, and the reviews were pretty good. But the same can be said of about a hundred other 2000s thrillers, so what was it about this one that nabbed it a startling-enough $24 million opening, followed by January '09-style legs (hollow laugh) that climbed all the way to a massive $145 million total? After all, Neeson is a familiar actor, but not an established box office draw. The premise was certainly not out of the sphere of ordinary. There really is no comparably leggy box office performer among the thriller/action genre, and so, once again, I am left clueless in the dark on this one, except to say that some supernatural box office enchantment was in the air this month - and I think that's really all there is to it. I could believe one of these amazing box office stories, but I can not believe all of them happening at exactly the same time.

That said, there was not enough enchantment to lift up the weekend's other entries, Renee Zellweger's mediocre Minnesota comedy New in Town ($16 million total) or somewhat fun PG-13 thriller The Uninvited ($28 million). But 'twas a bewitched box office time nevertheless.

February

It was hard to know quite what to expect from February '09 - would every other movie pass $140 million? Would Confessions of a Shopaholic outgross Titanic? - but looking back at it now, the month seems like an innocent enough time, with only a few movies deviating from their natural box office habitat.

I'd peg the first weekend's He's Just Not That Into You as a slight recipient of that January box office tomfoolery, though, but in retrospect, it kind of makes sense that a romantic comedy with a few big stars (Drew Barrymore, Jennifer Aniston) would open to $27 million and total $93 million. Sure, a little high, yes, but understandable still. The rest of the weekend wasn't so scary - sci-fi hodgepodge Push finishing with $31 million, Steve Martin's The Pink Panther 2 putting that franchise out of its misery with a $35 million total (down from the first film's $82 million), and much-beloved CGI excursion Coraline legging it up to $75 million. Hey, it happens.

When you look at the totals for the next weekend's films, they don't seem so weird either: $25 million for Clive Owen and Naomi Watts' slow-paced thriller The International; $44 million for Isla Fisher's debut as lead, the critically-maligned ode to big spending, Confessions of a Shopaholic; and finally, $64 million for extremely-unneeded horror remake Friday the 13th. That last number may seem innocent enough, but it represented a sort of epic point for the art of front-loading. Friday the 13th, you see, opened on Friday, February 13th with a staggering $19 million first day, dropped quite so much as to end up with a $40 million weekend, and then dropped more, more, and more to finish with a number no higher than the aforementioned $64 million total. And gee, by the way, did they really have to stop giving the series roman numerals? Jason was on Part VIII in 1989, and would have reached Part XIII by the time the inevitable remake-of-a-sequel comes cruising to town. Seems like a waste.

February 20th - 22nd was lorded over by Tyler Perry, whose Madea Goes to Jail opened with a shockingly high $41 million (his biggest opening) and finished with a front-loaded-enough $90 million (his highest total...). Perry's previous two films had each grossed less than their predecessor, and so putting the focus again on Madea (absent since 2006's Madea's Family Reunion, notwithstanding a cameo in 2008's Meet the Browns) was the logical option to bring Perry's box office back from the brink. And it certainly worked. The weekend's other title was comedy Fired Up!, which totaled $17 million and hilariously starred a 31-year-old and a 28-year-old as two high school students. But enough about them, because the next weekend featured a startling act of courage that we should all dearly remember. You see, by this point, every single weekend since January 9th had featured at least one new title opening with more than $20 million, usually for reasons that still remain quite opaque. The Jonas Brothers - you know the Jonas Brothers, right? - surveyed this box office landscape and gave it a most disapproving nod. This has to stop, they said in typical Jonas-esque unison - the box office had gone out of control, overrun by absurd opening weekends handed out to Madea and Jason and angry guys with guns avenging their friends or family members, and someone simply has to do something about it all, now. And so, on February 27th, three mop-haired pop singers stood up to Blartism in a cry of "No more!" Their film, The Jonas Brothers: The 3D Concert Experience, was meant as a follow-up to the $65 million-grossing Hannah Montana concert film from the year before. But for one reason or the other, those kind of numbers weren't to be: the Jonas Brothers opened with a mere $12 million and finished with $19 million, defiantly breaking the tradition of $20 million+ '09 openers. The weekend's other film, Street Fighter: The Legend of Chun-Li ($8 million total), didn't exactly help matters there either. So, one thing was for sure: thanks to the bravery and heroism of The Jonas Brothers, the box office blow-out that characterized winter '08-09 had now come to an end.

March

One of the most pivotal moments of 2000s fanboy anticipation arrived on March 6, 2009. Watchmen, a beloved 1980s graphic novel, had finally been adapted to the screen - and by no less than Zack Snyder, purveyor of very entertaining if unnecessary remake Dawn of the Dead (2004) and, more crucially, the fanboy-beloved visual feast 300 (2007). In short, Snyder was a man whose box office and fanboy credentials had thus far been impeccable. So, considering the early year movie rush, Watchmen had everything going for it, right? Right?

Well, the $55 million opening was pretty strong, but that was about the end of the road for Watchmen, because the final gross had come in at a distinctly front-loaded $107 million. As for the movie itself, it was certainly fascinating - if a bit choppily plotted - presenting a 1980s America altered by the presence of superheroes, something quite well illustrated by the film's brilliant opening montage. Critics were about evenly split on this one, and after the fans rushed out opening weekend, demand for this somewhat insular material sank pretty quickly. So - wait, wait, let me get this straight here - am I saying that Paul Blart: Mall Cop made more money than Watchmen?

Next, March 13th played out like a standard spring weekend. The Rock, now firmly entrenched in children's pictures, delivered another one with fairly routine Disney remake Race to Witch Mountain ($67 million total). We were also assaulted by the third horror remake in as many a month, though this one came in on the lower box office end - The Last House on the Left turned the original film's brutal emotional maelstrom into a plausible attempt at thriller, but totaled at a mere $32 million. And finally, the weekend dished out yet another sex comedy, Miss March ($4 million total), a film that is rapidly disappearing into the annals of history even as I write this. The March 20th slate perked up the box office a tad: Nicolas Cage's love it-or-hate it apocalyptic sci-fi thriller Knowing totaled at a strong $79 million after a $24 million open, Julia Roberts and Clive Owen teamed up for the confusing, $40 million-grossing Duplicity (it all made sense at the end of the movie, but that was a loooong wait), and the very Apatowish comedic ticket of Rudd-Segel '09 - I Love You, Man - opened with $17 million and finished at $71 million. No, this wasn't really an Apatow film, but it sure felt like one, and the box office responded in kind; it also gave Paul Rudd and Jason Segel a very respectable earner, on the level of the former's Role Models ($67 million total) and the latter's Forgetting Sarah Marshall ($63 million). While Seth Rogen has faltered, these two members of the Apatow gang still seem to be on a roll.

Rounding out the month, March 27th dished out a rather appropriately monstrous hit, as 3D CGI action picture Monsters vs. Aliens opened with $59 million and finished at a strong $198 million, almost becoming the first film since The Dark Knight to cross $200 million. The weekend's other titles were an apparently forgettable John Cena action thriller, 12 Rounds ($12 million total), and yet another PG-13 ghost movie, The Haunting in Connecticut - which played out on the top level of how those films do - $23 million open, $55 million total. That whole PG-13 sub-genre appears to be going strong still, and indeed horror as a whole rebounded in numbers in 2009 - 27 wide releases, by my count. A crowded slate indeed.

April

April's first weekend appeared to forget its place in the world, and gave car-race fourquel Fast and Furious a staggering $70 million opening and $155 million total. The first film had grossed $144 million in 2001, the second $127 million in 2003, and the third faltered with $62 million in 2006. Rounding out the series, and the decade, this one brought back all of the first film's leads - Vin Diesel, Paul Walker, Michelle Rodriguez and Jordana Brewster - and the box office responded in kind, even if this particular entry wasn't all that great. Is this the last film in the series? Boy, do I doubt it. The weekend's other newbie was entertaining dramedy Adventureland, with Jesse Eisenberg and Kristen Stewart at the lead and direction by Superbad's Greg Mottola; but the total was a very unSuperbad-like $16 million. And after Watchmen and The Haunting in Connecticut, this was the season's third movie to be set in the 1980s - something we'll no doubt see more of in the 2010s, as the previously-popular 1960s and '70s recede further into the past.

April 10th dished out another mini-blockbuster, as Hannah Montana: The Movie was to Miley Cyrus what The Lizzie McGuire Movie was to Hilary Duff, except on a bigger scale. Duff's Disney TV show adaptation netted a fairly strong $42 million back in May 2003 and launched her film career, but Cyrus' TV-to-film transition went above and beyond that, opening with a $17 million first day, $32 million weekend, and scoring a searing $79 million total. When the Montana picture opened, a chilling thought hit me: of the audience giving Cyrus her massive big-screen coronation, how many even knew who Hilary Duff or Lizzie McGuire were?

All cinematic existentialism aside, said weekend was otherwise a box office dead zone. Long-awaited (by some - no, not me!) video game adaptation Dragonball: Evolution totaled just $9 million, and Seth Rogen's latest, pitch-black mall cop comedy Observe and Report, finished with a mere $23 million. Clearly, not all mall cop films are created equal. The next weekend, the 17th, gave yet another Disney star a big-screen bonus, as Zac Efron transitioned from High School Musical 3 into high school body switch comedy 17 Again, a strong performer at a $23 million opening and $64 million total - not so far from what the Cyrus picture ended up with. Unlike Efron's previous endeavor in Hairspray, 17 Again was a pure test of box office star power, and it seems like Efron retained more of it than one would think, even three years after the first High School Musical premiered on television. The following week dished out yet another $20 million+ performer, as absurd catfight thriller Obsessed took its lucrative PG-13 rating to a $28 million opening and baffling $68 million total, giving Beyoncé Knowles a decent hit, if not much else.

The rest of the month was a bit more down to earth. Channing Tatum duked it out with someone or other in Fighting ($23 million total), nature did whatever it is that it does in Disney documentary Earth ($32 million), Robert Downey, Jr. and Jamie Foxx visited the Oscar off-season in The Soloist ($31 million), and a cast of grim-faced good actors was saddled up for effective political thriller State of Play ($36 million). And while everyone probably has their favorite among this month's titles, mine may be a bit unusual: It's Crank: High Voltage, Jason Statham's follow-up to his entertainingly loopy '06 film, and one that one-upped its predecessor in every way. Aside from the token barrage of ultra-violence, High Voltage was funnier, wittier, more entertaining, and in its last half, outright creatively spectacular. But there was no Blart-like box office miracle in store for this one: Crank 2 totaled at $13 million, about half of the first film's $27 million.

That tells me that some of the Hannah Montana audience were clearly seeing the wrong film.