Weekend Wrap-Up
Christmas Jackpot For Sherlock Holmes, Avatar, and Fox
By John Hamann
December 27, 2009
BoxOfficeProphets.com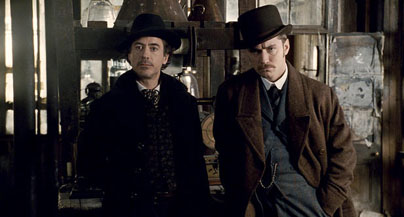 ---
That snapping you hear is not fireworks practice for the approaching New Year, it's the sound of holiday box office records shattering, as we have seen the biggest three days in terms of box office, ever. Any concerns that Warner Bros. had that Sherlock Holmes might get buried by Avatar are gone. Any concerns that Fox had about Avatar's opening weekend are gone. And any concerns that the idiotic Alvin and the Chipmunks might not work twice are also gone. All the things analyzed in this column over the last year – scheduling, blockbusters, budgets, just to name a few – are on display this weekend, in what might be the most exciting box office weekend ever. Box office nerds, rejoice!

I completely expected to sit down today and write about the number one film being Sherlock Holmes, but I was absolutely wrong. It was a three-horse race at the box office this weekend, with newcomers Alvin and the Chipmunks (its subtitle will NEVER be mentioned in this column - please don't even think it) and Sherlock Holmes facing off against holdover Avatar. The secondary race this weekend was between the counter-programming options, with the new film It's Complicated, along with expansion flicks Nine and Up in the Air, and the storied Blind Side. The real story is how many people went to the movies this weekend, regardless of what they saw, as theaters were extremely busy from Christmas Day to today.

As we all know by now, Avatar dominated the box office last weekend, pulling in a gross of $77 million, just missing the December record set by Will Smith's I Am Legend in 2007. What was not expected was what happened after the opening weekend, on Monday, when Avatar posted a $16.4 million Monday, off only 34% from the sci-fi flick's Sunday gross. On the surface, it might seem that this was just another big day for the James Cameron film, but it was more than that. It not only meant that this one was going to have legs, it also meant it was playing extremely broadly, selling not only to sci-fi fanboys (and fangirls), but also to families. The much smaller grossing Princess and the Frog dipped 23% from its Sunday take, and Avatar was more akin to The Blind Side's drop of 32%. The Blind Side became the hit that it is because it was able to cross demographics just like Avatar. Could Monday have been a box office blip due to the snowstorm on the East Coast last weekend?

No. On Tuesday, it grossed a remarkably similar $16.1 million, and on Wednesday Avatar took in another $16.4 million. It was the only film that increased its take from Tuesday to Wednesday, except for the expanding Up in the Air. Additionally, it increased its take against a big new release, Alvin and the Chipmunks, which finished at number one on Wednesday with $18.8 million. This showed Avatar's invincibility against new product, and foreshadowed the weekend to come. After it earned $11.3 million on Christmas Eve (usually a very drab day at the box office), Avatar had a running total of $137.3 million, which means it earned approximately $60 million from Monday to Thursday. To put that in perspective, Transformers: Revenge of the Fallen earned about $50 million over its first Monday to Thursday. Twilight: New Moon earned about $45 million over that same period of time.

Avatar is the number one film of the weekend, and its second weekend take is breathtaking. The record for the biggest second weekend ever belongs to the one and only Dark Knight, which took in $75.2 million in its second frame in July 2008. Avatar fell just short of that this weekend, bringing in an amazing $75 million from 3,456 venues (The Dark Knight was in 4,366 venues), but the record may fall when actuals are released tomorrow. Avatar was pretty much even with its opening weekend business, as it dropped only 3%, another absolutely stunning fact, partially due to how the calendar fell this year. The folks at Fox deserve an award for scheduling Avatar to open the weekend prior to Christmas, and over a year when Christmas fell on a Friday. As Tim Briody reported yesterday, Avatar grossed $23.5 million on Christmas Day, finishing second behind the also incredibly strong Sherlock Holmes. We at BOP then had a very long discussion about how this would extrapolate over the rest of the weekend.

Christmas Day has notoriously been the busiest movie-going day of the year, with the top ten on Friday bringing in a remarkable $83.6 million, or approximately double what the top ten films brought in last weekend, when Avatar opened. Usually, box office starts strong on Friday, peaks on Saturday, and falls off on Sunday. Holdover and family films tend to have even stronger Saturdays as there is no pent up urge to see films on opening day, as they have already been in release for a week. The question was whether Avatar could increase its gross on Saturday from Friday, and the answer was that it did. The Saturday gross for the 3-D space epic came in at $28.6 million, which means the Sunday gross has been estimated at $22.9 million. The weekend multiplier for Avatar finished at 3.2, and was very strong considering the big holiday on Friday.

So does this mean that Avatar equals Titanic? It is still highly doubtful that Avatar can charm the teen girls like Leo DiCaprio and Titanic did; however, similarities are already forming. Titanic and Avatar basically opened on the same weekend, a dozen years apart. Titanic earned $28.6 million over its opening weekend, but unlike Avatar, increased its take in the second weekend by 24%, earning $35.5 million from December 26th - 28th. The difference here is the breadth of release, and how movie-going patterns have changed. Titanic was a slow build with a small opening, that benefited from big legs and award considerations. It took Titanic nine days to earn what Avatar did in three days, and the sinking boat story 29 days to earn what Avatar has done in ten days. While the numbers are smaller, the pattern is remarkably similar, so at this point I'm expecting a somewhat flat frame for Avatar next weekend. It crossed the $200 million mark on Sunday, its tenth day of release, and could conceivably earn $300 million by the end of next weekend. Currently, the blue man film has earned a fantastic $212.3 million after only ten days of release on the domestic front, and has crossed $400 million from overseas grosses. Avatar is quickly becoming the box office story of 2009, eclipsing any headline that the uber-opening Transformers: Revenge of the Fallen or The Twilight Saga: New Moon might have earned.

Second spot goes to Robert Downey Jr. and Sherlock Holmes, and just because Sherlock finished second, there is no bad news for the Guy Ritchie film. Sherlock Holmes was the number one film on Christmas Day, eclipsing Avatar by about $1.4 million, as it earned $24.9 million compared to Avatar's $23.5 million. As the weekend wore on, though, Avatar's increased ticket prices due to 3-D viewings made the difference, as Sherlock finished the weekend with a very strong $65.4 million. Warner Bros. opened the great detective story on 3,626 venues, and the film earned a screen average of $18,031.Sherlock Holmes is playing much bigger than Meet The Parents/Fockers, and is runner up to only Avatar in terms of Christmas dominance. For a non-sequel, this is an extremely impressive debut, and will generate sequels and imitators faster than you can say Iron Man.

From 1980 until February of 2008, Robert Downey Jr. starred in over 40 films. None of them earned $100 million domestically. Surprisingly, the most successful film he was in during this period was the Rodney Dangerfield classic, Back to School - and let's be honest - he was not any portion of the draw in it. With the release of Sherlock Holmes exploding into theaters, this will be his third $100+ million movie in a year and a half after not having one for the first 28 years of his career. His resurgence started on May 2, 2008, when Iron Man opened to a staggering $102 million, before going on to earn $318 million domestically, and almost $600 million worldwide. After a fantastic cameo in The Incredible Hulk as Tony Stark, he appeared in Ben Stiller's Tropic Thunder, which earned the actor an Oscar nomination, and earned Paramount $110 million at the box office. Now the actor has a new franchise with Sherlock Holmes, and will be back in theaters in May of 2010 in Iron Man 2. If Holmes has legs, Downey could conceivably be in three $300 million pictures within two years of release of one another.

So why the big turnout for Holmes? Other than fantastic scheduling at work again, Holmes did it the hard way. This is a good movie that people seem to love; it had a fantastic trailer and marketing campaign, and a star that people are really getting behind, a la Harrison Ford in the 1980s. RottenTomatoes posted 135 reviews for Holmes, and 94 were positive, leaving this one with a solid 70% fresh rating. This wouldn't have been easy – Guy Ritchie is not a director critics love (remember, they had to sit through Swept Away and Revolver), on top of that, this is a historic character that the British treat like royalty, who some think shouldn't be messed with more than Hugh Laurie does with House. Add to that the fact that many don't see Holmes dancing around explosions and being what seems to be an action hero type role, so to escape general negative criticism is a big deal. Suffice it to say that Sherlock Holmes has overcome a lot of roadblocks to be successful. It will out-gross its production budget ($80 million) after four or five days of release, something that Avatar can't brag about after ten days of release.

Finishing third, and not to be outdone with a huge gross, is the follow-up to Alvin and the Chipmunks. Alvin and company was the number one film on Wednesday, when it beat Avatar by $2.4 million. The Wednesday number came in at a surprisingly large $18.8 million, before dipping to $8 million on Christmas Eve. It had a strong Christmas Day gross of $14.5 million, and then pulled off a stunning Saturday, earning $20.4 million – more than its opening Wednesday. The five-day tally came in at a very impressive $77.1 million, and the Fox film had a three-day figure of $50.2 million, and a weekend multiplier of 3.5. Considering that both the original and sequel are hated by many, the kids flick still out-grossed the original over its opening weekend, as the original took in $44 million over the December 14, 2007 frame. 20th Century Fox dominated Christmas, with Avatar and Alvin in the top three and the combined three-day tally for both films coming in at $125.2 million. The sequel to Alvin and the Chipmunks will now have a very solid week heading toward New Year's, and another big weekend in the next frame.

The counter-programming choice this weekend was It's Complicated, as the Meryl Streep/Alec Baldwin/Steve Martin adult comedy placed fourth, earning $22.1 million from only 2,886 venues. It had an average of $7,663. This is another stunning gross for a film that would normally be squeezed out of the pie, but against kids' fare and blockbusters, still found an audience in a very big way. It's Complicated had the star power, as Meryl Streep is easily the biggest draw for the 45+ crowd right now, with her last three films, Mamma Mia!, Julie & Julia and It's Complicated, all debuting above $20 million over their respective opening weekends. The only drawback to the opening is that It's Complicated may not have the legs that Mamma Mia! or Julia had, as reviews, and likely word-of-mouth, may not be as golden. The comedy was definitely mixed with reviewers, as it scored only a 52% fresh rating with critics, down from the 75% rating that Julie & Julia earned. However, Mamma Mia! was a remarkably similar 53% fresh, and It's Complicated will benefit from the holiday week (and weekend) ahead.

Fifth place was a virtual tie between Up in the Air, the George Clooney dramedy, and The Blind Side, the now six (!) weekend old sports drama with Sandra Bullock. Estimates have Up in the Air finishing ahead in fifth with $11.8 million, and The Blind Side sixth with $11.7 million. These are two films moving in different directions. Up in the Air expanded this weekend to 1,895 venues from 175 last weekend (its venue average was $6,203), and The Blind Side's venues are contracting, moving from 3,407 last weekend, to 2,766 venues this weekend ( its venue average was $4,241). The Blind Side's sixth weekend gross is now the 15th biggest ever for that time frame, finishing behind Return of the Jedi's sixth weekend take of $12 million in 1983. As for Up in the Air, I think this one still has room to move up in terms of weekend gross, but it would have to further expand its venue count next weekend to do it. Remember that Up in the Air is 89% fresh at RottenTomatoes, and George Clooney looks his suavest in this one. Up in the Air has a current total gross of $24.5 million. The Blind Side still has one more power weekend to go, and appears more than set to cross the $200 million mark. It has a running total of $184 million.

The Princess and the Frog finishes seventh, as despite the holiday, the 2-D experience from Disney still gets hit by the 3-D Avatar and Alvin and the Chipmunks. Princess earned $8.7 million this weekend, and dips 29% despite the kid-friendly holiday. This one is getting messy for Disney, as it now has a cume of $63.4 million versus a budget that is likely higher than $100 million.

Nine is the expanding film that appears to be left out in the cold, as the musical can't play with the big boys this weekend. The star-driven Rob Marshall flick earned only $5.5 million from 1,412 venues, and had a venue average of $3,926 as it finished a disappointing eighth over the holiday frame. This is an $80 million film for The Weinstein Company, and if things don't quickly improve, could be the final nail in the coffin for Bob and Harvey Weinstein.

Did You Hear About the Morgans? finishes ninth, as the critically reviled comedy doesn't gain ground over last weekend. The Hugh Grant/Sarah Jessica Parker flick earned only $5 million in its second weekend, off 24% from last weekend. It has a total so far of $15.6 million against a $60 million budget for Sony.

Invictus finishes tenth as it improves slightly from last weekend, and knocks The Twilight Saga: New Moon out of the top ten (victory at last for this writer). The Morgan Freeman/Matt Damon rugby flick earned $4.4 million, and was up 4% compared to last weekend. It has a cumylative so far of $23.4 million.

Overall, the box office sets a record for the biggest three-day frame ever. The former record holder for biggest weekend ever was the frame when The Dark Knight opened, and the top 12 films brought in $253.6 million. This weekend, the top 12 films brought in an unbelievable $264 million, setting the new high water mark. Box office for 2009 crosses the $10 billion mark, and still has four very big earning days to come. No new openers hit screens next weekend, so we should see another big weekend for all of these films over the New Year's frame.