Weekend Forecast for December 25-27, 2009
By Reagen Sulewski
December 23, 2009
BoxOfficeProphets.com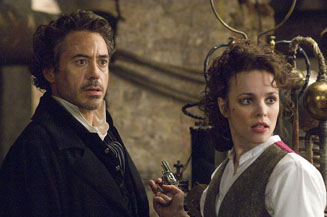 ---
So, this is it for 2009. Fifty-two weeks of releases are capped off by this weekend's slate of five new wide releases, which are a mix of potential blockbusters and Oscar contenders. We're entering the richest week of box office in the year, and there's plenty of reason to suspect it could be the biggest ever.

Probably leading the way (but maybe not, more on that later) is Sherlock Holmes, the latest attempt to modernize the Victorian-era detective for contemporary audiences. Guy Ritchie directs, MTVing up the place with Robert Downey Jr. in the lead role as he attempts to land himself a second franchise (and owing more than a little to Johnny Depp's Captain Jack Sparrow). Jude Law also stars as his sidekick Watson, while Rachel McAdams takes on the female lead role and foil for Holmes.

Looking less like a suspenseful detective film and more like a hyperkinetic action film (which is a good thing as far as box office is concerned), Holmes seems to be designed to capitalize on Downey's plentiful charm, while serving up an action-adventure plot mostly suitable for families (there is that pillow scene). The words "rollicking" and "roller-coaster" seem to come to mind, at least thanks to the subliminal imprinting from Warner Bros, but there's also a hint of unwelcome cheese in there, with a slight chance of a Wild Wild West situation.

For this weekend, at least, the fact that it looks like an easy-going and lighthearted romp with good interplay between the two main leads should carry it to some success. Audiences are definitely familiar with Downey as this kind of rakish lead thanks to Iron Man, and a lot of this good will should carry over. Opening at over 3,600 venues on Christmas Day, it looks set for about a $65 million opening.

One of the two films getting a jump on the weekend with a Wednesday release, Alvin and the Chipmunks: The Squeakquel (a subtitle that seems to have instantly jumped into horrific pop culture lore, vying with "Electric Boogaloo" for infamy) is the major family release for Christmas.

It was just two years ago that audiences were terrorized by the first Chipmunks movie, which brought the 1960s gimmick band to the big screen, updating it with poop jokes and breakdancing moves. For that, it opened to $44 million and finished with $217 million, making me instantly hate all families. Yes, even the ones that didn't go see it.

For the *shudder* "squeakquel", the Chipmunks' singing careers have taken off, leading to the pressures of fame and fortune, and have brought out rivals in the form of the Chipettes, an all-female chipmunk singing group. Because if there's anything better than one novelty act, it's two. After using the relatively anonymous grouping of Justin Long, Jesse McCartney and something called Matthew Gubler for the Chipmunks in round one, it's all star power for the Chipettes, with Christina Applegate, Anna Faris and Amy Poehler providing voices, not that the target audience of kids cares that much. Jason Lee and David Cross return as live-action actors, and are joined by Zach Levi from Chuck, but again... who cares?

The week's widest opener at 3,700 venues, it'll probably decline a bit in opening weekend box office because of the Wednesday opening, but still should come in with about $39 million over three days, and $50 million for its five day period, with the extra almost completely coming from December 23rd.

Up in the Air also goes wide on Wednesday, though this is from a national release instead of just from scratch. Jason Reitman's film about a nomadic businessman, an expert at firing people, has already earned $8 million in three weekends of limited release and now jumps to over 1,800 venues.

Starring George Clooney, along with Vera Farmiga and Anna Kendrick, it's become a major awards contender, with six Golden Globe nominations to start, and a win for Best Film with the National Board of Review, which partially answers why its getting a wider release now. Clooney's character, as a man without connections and who likes it that way, seems like an odd choice for a holiday movie, but it's proving to be quite the inspiring film for audiences. Despite his fame, Clooney's almost never been a major box office guy, but this might change things slightly – this weekend should see Up in the Air reach $12 million, and $15 million over five days.

Seizing the "worst title of December" award quite firmly, It's Complicated opens at 2,800 venues on Christmas Day as the romantic comedy option for the holidays. A rare 50-something targeted film, it stars Meryl Streep, Alec Baldwin and Steve Martin in a love triangle, with Streep and Baldwin playing exes who end up getting back together, except Streep was seeing Martin at the time and... well, you get the picture.

The closest analog to this film is Something's Gotta Give, which also was directed by Nancy Myers, who is quickly becoming the new Nora Ephron, for better or for worse. And although the thought of a romantic movie starring Jack Nicholson has quickly turned to ick, none of the stars here really has the pull in this kind of film that Nicholson did six years ago, strange as it is to think. Streep maybe comes closest on her hot streak of Mamma Mia! and Julie & Julia, but then there are the reviews to consider. They've been pretty tepid, and without any huge laugh moments in the trailer, I'm not seeing the urgency for people to check this out. I'm thinking we'll see a weekend of about $11 million.

Finally, we have Nine, this winter's musical. Directed by Rob Marshall of Chicago fame and adapted from the stage play that was itself derived from the Fellini film 8 1/2, it stars Daniel Day-Lewis as an artistically blocked Italian director, and follows him as he attempts to create a new film while balancing his many loves, who include Marion Cotillard, Penelope Cruz, Nicole Kidman, Kate Hudson and Fergie. Poor bastard.

While several Broadway adaptations have had success in transitioning to the big screen, it appears as though Nine is about to flub this test. The desired critical support has failed to materialize and has even turned against the film in many cases, calling it a bit of a bloated mess. What we're left with wondering is how much the mostly female cast writhing around in their underwear can save the film's box office prospects. Surprisingly, it's probably not going to be that much. Opening on about 1,500 venues, it should see an opening weekend of just around $8 million.

Twelve years ago, James Cameron surprised the world by taking the number one spot the weekend before Christmas with his little art film. Almost immediately, though, it was evident that something special was happening with Titanic's box office, as it refused to yield to normal pressures. With his latest film Avatar, it's just possible he's done it again.

Although its $77 million opening weekend is impressive enough, Cameron's sci-fi epic and visual masterpiece is already showing signs of unusually strong word-of-mouth. It's just one day, to be sure, but its Monday figure of $16 million, a one-third drop when most films lose half or more of their box office, points to a growing perception that this is a must-see film, particularly in the expensive IMAX or 3-D formats. While a repeat of Titanic's run seems impossible and foolish to expect, it's not going to take much for Avatar to become a colossal success after its big start. This has an off chance to beat out Sherlock Holmes for a second weekend on top, but more likely will be a strong second with around $58 million.

The Princess and the Frog will be eclipsed in the family market by Alvin and the Chipmunks this weekend, and let's all sit back and think about that and be depressed. The Disney musical should still see a slight uptick with all the kids out of school, and bring in about $13 million this weekend.

Elsewhere, The Blind Side keeps running at a tremendous pace and seems destined for $200 million which...wait for it...just about no one saw coming. Watch it earn $9 million this frame.

The answer to the question Did You Hear About the Morgans? is "No." A dismal $4 million should greet it this weekend.