Weekend Wrap-Up
Game Changer Avatar Breaks Few Records at the Box Office
By John Hamann
December 20, 2009
BoxOfficeProphets.com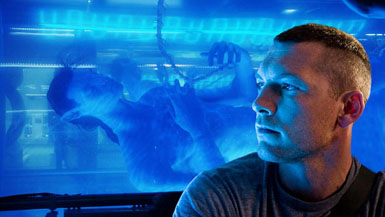 ---
After James Cameron spent 12 years developing the supposed movie game changer Avatar, and Fox spent $300 million getting it to movie theaters, an unexpected roadblock hit the biggest movie of the year in the form of snow on the US East Coast. Avatar still performed strongly, but the weather likely ruined the space epic's chances of being the biggest December opener ever. Avatar isn't the only one cursing the weather this weekend, as many titles saw large drops compared to last weekend. The good news for Avatar and its cohorts is that this is just the front end of the holiday box office bonanza, with 14 big days still to come.

Our number one film of the weekend is James Cameron's Avatar, the former king of the world's return to theaters. It's been a dozen years since Titanic walked away with $1.85 billion in worldwide grosses, 11 Oscars and four Golden Globes (the same amount Avatar is nominated for). Since then, Cameron has stuck to IMAX documentaries in the form of Aliens of the Deep and Ghosts of the Abyss, neither of which shook the foundation of cinema. While those docs were being produced, though, Cameron was working on the epic Avatar, billed as the re-invention of cinema. Whether it is or not is still being determined, but by the results of the weekend, moviegoers are certainly interested in finding out what Cameron has been up to. Avatar opened on 3,452 venues – that's a combination of 2-D, 3-D and IMAX – and grossed a very impressive $73 million. It had a venue average of $21,147. Without the snowy weather on the US East Coast, we are probably looking at maybe a 5% increase to Avatar's weekend total, but it wouldn't have been enough to take down I Am Legend's December gross of $77.2 million.

Is this a win for James Cameron, the folks at Fox and their partners? Oh yeah, baby. Judging from the way the TV ads rolled out, it has looked like Fox and company were playing for the long haul and not the opening weekend, like Twilight: New Moon did a few weekends ago. Actually, the long-haul decision happened a long time ago when Avatar was given a pre-Christmas release date, much like that of Titanic. Titanic opened December 19, 2007, to $28.6 million, and it stayed at number one for 77 days, until Friday, March 6, 1998, when it got beat by US Marshals (it still won the weekend). While the same domination will likely not happen with Avatar, the release strategy is the same: dominate the holiday season, and the rest is really gravy, despite that huge production cost. Most of the days leading up to Christmas will play like a Friday night, and Avatar could conceivably be a $200 million picture by the time 2010 hits. The way the calendar falls this year, there are three big weekends over the holidays, this weekend, December 25th - 27th, and then January 1st - 3rd. Somewhat disappointing for studios this year is that December 25th falls on a Friday; however, both Christmas and New Year's Eve fall on a Thursday.

Reviews and legs will be Avatar's story, and so far, things are looking pretty good. Avatar currently has 162 positive and only 35 negative reviews, which means a certified fresh rating of 82%. Top critics liked it even more, giving it a 94% fresh rating, and users of the site (and the real core of word-of-mouth) rate it at 88% fresh. With new films rolling out with worse scores, Avatar's biggest competition is going to be Sherlock Holmes on Christmas Day. Avatar has the 3-D world pretty much to itself (A Christmas Carol has been evicted), and young audiences tied up until at least the middle of January when Youth in Revolt or The Book of Eli open. Its also no question as to how successful Avatar is going to be overseas. Remember that Titanic earned double what it did domestically, and could even be more akin to a film like Roland Emmerich's 2012, which has earned a so-so $157 million domestically, and $560 million overseas. There is no doubt in my mind that Avatar will gross at least $750 million worldwide. The "reported" budget has Avatar at $230 million, not including prints or marketing, but some have said that budget figure is actually more like $300 million, making it one of the most expensive films ever made.

Finishing second this weekend is last weekend's champ, The Princess and the Frog, which is almost the direct opposite of Avatar. The old-school Princess opened last weekend with an under-whelming $24.2 million, and the news doesn't get much better this weekend. In its second frame, The Princess and the Frog brought in only $12.2 million, which gives the Disney flick a nasty drop of 50%. Usually, kids' flicks hold well in general, but are usually more likely to hold well in December than any other time of the year. Take for example the truly awful Alvin and the Chipmunks. Alvin and company opened on December 14, 2007 to $44.3 million and dipped only 36% in its second weekend to $28.2 million. Even the unloved Charlotte's Web, which opened to only $11.5 million, still held in its second weekend, dipping 34%, and it had Christmas Eve to contend with in its second weekend. We now know that Disney's experiment in the land of 2-D is a failure, and their film is going to be extremely lucky to earn $100 million (especially with Alvin 2 on its way). Currently, The Princess and the Frog has earned $44.8 million.

Third spot goes to The Blind Side, which is now not only a critical and commercial success, it's also a Golden Globe nominee. Now in its fifth weekend, the Sandra Bullock sports movie earned another $10 million, and drops a not bad 33%. With Christmas now on our doorsteps, I expect The Blind Side to have a really good couple of weeks, as this is a strong, feel good American drama. The Blind Side could be a top five or six movie on Christmas Day, which would be a huge win for Alcon and Warner Bros., as this one was released November 20th. Give The Blind Side a running total of $164.7 million, and a very strong shot at $200 million. The Blind Side has tapped the American consciousness unlike any film in a long, long time.

Fourth this weekend goes to the floppish What About The Morgan's?, another rom-com miss. The Hugh Grant, Sarah Jessica Parker comedy failed miserably as counter-programming this weekend, as it earned only $7 million from 2,718 venues. It had a sad sack opening venue average of $2,575. The opening is on target with the Renee Zellweger disaster that was New in Town – that one flopped in January of 2009, opening to $6.7 million and finishing with $16.7 million. New in Town at least managed a fresh rating at RottenTomatoes of 18%, where What About the Morgan's? bottomed out at only 10% fresh. It should outgross New In Town only because of the scheduling it received.

The Twilight Saga: New Moon finds itself in fifth this weekend, as it tries to will itself toward $300 million. In its fifth weekend of release, Twilight: New Moon earned $4.4 million and was off 45%. New Moon is running out of gas in a hurry, but will still earn a few bucks more than it should over the holidays. Currently, it has a domestic total of $274.6 million, and an overseas total of $360 million.

Sixth spot goes to Invictus, Clint Eastwood's South Africa rugby drama which stars Morgan Freeman and Matt Damon. Despite all the names in the previous sentence being nominated for Golden Globes, Invictus still had a rough weekend. After opening to $8.6 million in the previous frame, Warner Bros. had to be hoping for great legs following the Golden Globes, but got the opposite. This weekend, Invictus earns only $4.2 million, and drops a troubling 52%. Invictus cost Spyglass Entertainment and its partners $60 million to make, a number this one won't see from domestic box office. Currently, Invictus has a running total of $15.8 million.

As expected, Disney's A Christmas Carol has a rough weekend, due to Avatar knocking it out of all those 3-D theaters, thus losing that 20-30% mark up. The Robert Zemeckis film earned $3.4 million in its seventh weekend, and was off 50%. Will it perk up a little over Christmas? Definitely, but it might be too little, too late. A Christmas Carol has a domestic take so far of $130.8 million and an overseas cume of about $150 million, versus that large $200 million production budget.

Up in the Air finishes a strong eighth this weekend, considering it's only out to 175 theaters, up from 72 last weekend when it earned $2.4 million. After scoring six Golden Globe nominations, Up in the Air took in another $3.1 million this weekend, which means the George Clooney flick is up 29% compared to last weekend. The drama looks to expand significantly next weekend, when it will be on about 2,000 screens. So far, Up in the Air has earned $8.1 million, and is just getting started.

Brothers finishes ninth this weekend, and is still dropping fast, despite two Golden Globe nominations. Brothers earned $2.6 million this weekend and was off 48%. So far, the Lionsgate drama has earned $22.1 million against a $26 million budget.

Old Dogs finishes tenth this weekend. The Robin Williams/John Travolta comedy earned $2.3 million and was off 48%. Somewhat surprisingly, this one has quietly earned $43.6 million versus a production budget of $35 million.

Overall, thanks to Avatar, the box office had a pretty good weekend. The top 12 films earned $125.6 million, which destroys last year's same weekend total of only $80.7 million, when Jim Carrey's Yes Man was on top. Last year was somewhat of an anomaly, however, as the same weekend in 2007, December 21st - 23rd, earned a more powerful $152 million on the strength of National Treasure 2 and the second weekend of I Am Legend. Next weekend brings Christmas, and with it comes Sherlock Holmes, the Robert Downey Jr. peculiarity. I'll be more than interested in how this one does versus the second weekend of Avatar. Wide releases will also include Nine, It's Complicated, Up in the Air and Alvin and the Chipmunks the Squeakquel.