Box Office - Decade at a Glance: September - December 2008
By Michael Lynderey
December 17, 2009
BoxOfficeProphets.com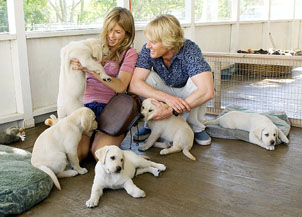 ---
September

The box office sweepstakes of September '08 had a clear and obvious winner: Eagle Eye, a somewhat absurd computer-gone-mad thriller that star Shia LaBeouf nevertheless carried over to $101 million, thematically following up his first big film, Disturbia, and proving some drawing power beyond his already-established franchise hits (Transformers and Indiana Jones). #2 for the month went to another showcase of stars at work, as George Clooney, Brad Pitt, Frances McDormand and the distinctly villainous John Malkovich teamed up for the goofily amusing Burn After Reading, which gave helmers the Coen Brothers another decent hit ($60 million total) fairly soon after No Country For Old Men became their highest grossing title.

That's about it for the good news, though. Everything else in September '08 went below the $50 million mark - usually way, way below. Richard Gere and Diane Lane teamed for Nights in Rodanthe ($41 million), a vaguely effective romantic drama with a really bad ending, Robert De Niro and Al Pacino reunited for the amazingly wrongheaded crime thriller Righteous Kill ($40 million), Samuel L. Jackson was scary terrific as a sourpussed policeman in intriguing thriller Lakeview Terrace ($39 million), and Tyler Perry's box office took another slight dip with The Family That Preys ($37 million), a '50s-style melodrama not based on any of his plays (for a change). Christian-aimed film Fireproof rode some grassroots marketing to a strong $33 million, somehow managing to beat about half the month's titles.

Those were the B-leagues on this scale, and every month must also have its Cs - and Ds - in this case, Ricky Gervais' actually rather funny U.S. starring debut, Ghost Town ($13 million total), Meg Ryan loitering with Annette Bening and Jada Pinkett in melodrama The Women ($26 million), Frankenstein-based CGI excursion Igor ($19 million), Dane Cook teaming with Kate Hudson, of all people, with Jason Biggs oddly thrown in the mix, in My Best Friend's Girl ($19 million), a crude comedy that nevertheless delivered a very occasional moment of hilarity. Not looking very good for wear was Nicolas Cage's thriller Bangkok Dangerous ($15 million), which gave the month one of the slowest September starts of the decade.

Oscar films were a bit on the down-low this year, but we still got Viggo Mortensen and Ed Harris fighting off some Western-inclined baddies in Appaloosa ($20 million total), Keira Knightley donning a corset more frequently than Freddy Krueger wields his blades in The Duchess ($13 million), and Spike Lee tackling an African-American army unit during WWII in the eventually non-Oscary Miracle at St. Anna ($7 million) - which was yet another two-and-a-half hour epic that paid the box office price for every overlong minute.

October

A surprisingly muted box office season struck October 2008, part of a mild fall slump that lasted until exactly Christmas Day. The month's two biggest titles were both children's films from Disney, and indeed one of the two was at one point expected to rule over not only the month, but perhaps the entire fall season. That was not to be.

The October 3rd weekend gave us one of those Disney films - the self-explanatorily titled Beverly Hills Chihuahua, with an all-star voice cast and one of the most ungainly trailers of the year, opened to $29 million and finished with a very solid $94 million indeed. Needless to say, this was another in the "furry animals on poster = lots of $$$" cannon, a simple and clear box office formula that just never seems to fail. Aside from that, the weekend was the busiest frame of the month, unleashing not only the mad dog picture but also a whole lot of single digit grossers: dour apocalyptic drama Blindness ($3 million total), Greg Kinnear pretty good in the little-seen Flash of Genius ($4 million), Simon Pegg funny in masterfully-titled but underperforming vehicle How to Lose Friends & Alienate People ($2 million), and conservative-leaning spoof An American Carol ($8 million), a film whose general lack of good jokes is something I suspect both sides of the political spectrum can come to a hearty agreement on. The one non-Chihuahua film to cross $10 million was Michael Cera's first solo vehicle, Nick & Norah's Infinite Playlist, a great-looking if clichéd teen movie that fared just about OK for itself, finishing with $31 million and apparently making sure that Cera's brand of neuroticism would live on for some time longer.

Business didn't much pick up on the 10th, either. Expected hit Body of Lies, a thriller teaming Leonardo DiCaprio with Russell Crowe under helmsman Ridley Scott's watchful eye, failed to generate much excitement for its War on Terror-themed premise, totaling at $39 million. Shaky-cam horror thriller Quarantine finished with $31 million, while low attendance was even more in store for interesting-looking fantasy City of Ember ($7 million total), with its extended Bill Murray cameo, and Dennis Quaid-starring '60s football movie The Express ($9 million), a film that perhaps signaled a downshift among those pesky sports dramas, what with that single digit total and all. Next, the 17th was another den of strikeouts - Max Payne, Mark Wahlberg's intriguingly near-black-and-white crime drama, finished with $40 million, while raunchy comedy Sex Drive dug up a mere $8 million. Elsewhere, Dakota Fanning teamed up with forces of nature Queen Latifah and Jennifer Hudson for intriguing if predictable '60s-set drama The Secret Lives of Bees ($37 million), and Oliver Stone biographed George W. Bush in W., casting Josh Brolin in the title role to the tune of a $25 million total. That last one was the subject of quite some pre-release intrigue, and it might have been the very unStone-like conventionality of the film that gave it only a meh result at the box office. Considering the subject matter, I don't think some good old-fashioned controversy and culture warring would have hurt the box office at all.

The 24th was the month's real question mark, pitting two horror sequels up against each other in a fight for status as the month's most terrifying release. The winner, I think - at least box office wise - was Disney's High School Musical 3: Senior Year, the first theatrically-released threequel I can think of to follow two movies that never played in theaters. Those first two films got gargantuan ratings on their television airdates, but the TV-to-screen translation lost some luster along the way - after a $42 million opening, this one totaled $90 million - making it the highest opening-film to finish under $100 million (don't worry, that record won't stand for long). All whispers of HSM III dominating the fall box office turned out to be nothing but idle threats. The other horror sequel was left behind in the dust - and yes, of course, it was yet another Saw entry - the fifth - and slipped to $56 million from Saw IV's $63 million. We were just one year away from that franchise's freefall here, folks.

The month wrapped things up with some vaguely intriguing titles. In the Oscar sweepstakes, Clint Eastwood delivered Angelina Jolie to her second nomination in Changeling ($35 million total), a meticulous '20s-set thriller, if one decidedly overlong and ultimately unfocused. Elsewhere, Edward Norton and Colin Farrell fought it out in New York cop drama Pride and Glory ($15 million), to no avail, while Seth Rogen teamed with Elizabeth Banks for Kevin Smith's Zack and Miri Make a Porno ($31 million) - a film much less crude than it sounds, especially by Smith standards - and also not quite as funny. Finally, and in a year with fewer horror films than any other since 2002, we had another one just in time for Halloween - The Haunting of Molly Hartley, a near forgotten PG-13-rated $13 million grosser. Don't worry, though, horror was just taking a year off - 2009 unleashed another monstrously uncountable number of entries in the genre, keeping the 2000s horror boom going for one more year.

November

Since 2004, every first weekend of November had seen the release of a high-profile CGI film, and so 2008 continued the tradition, unleashing sequel Madagascar: Escape 2 Africa upon the nation. This was a prototypical CGI comedy in every fathomable way (though fairly entertaining at that), and finished with a strong $179 million after a $63 million opening (below the first film's $193 million, sure, but who's counting?). The weekend's other openers were both reasonably amusing comedies, though vaguely Apatow-ish Role Models ($67 million) certainly one-upped Samuel L. Jackson/Bernie Mac team-up Soul Men ($12 million) - which happened to be Mac's last starring role (he also appeared in that Madagascar sequel, oddly enough, and popped in for a bit part in the embarrassing Old Dogs - the man was prolific, no doubt about that). Role Models, on the other hand, paired up old school (early 2000s, that is) comic actor Seann William Scott with Apatow-era star Paul Rudd (in his first post-Anchorman hit as a leading man), also dropping in supporting players Ken Jeong, Jane Lynch and Christopher Mintz-Plasse. 'Twas quite an effective package for fans of that sort of thing.

November 14th was home to yet another designated blockbuster - James Bond's Quantum of Solace, which nearly mirrored Madagascar's run, opening with $67 million and totaling at $168 million. While the first Daniel Craig-starring Bond film, Casino Royale, appears to have been universally beloved, this one surely was not, and failed to take in much more than the last Brosnan-era Bond (Die Another Day, $160 million) or indeed Casino Royale itself ($167 million). Also out that week, albeit in limited release and expanding only much later, was a film that ended up with a total too close for comfort to the Bond picture - Slumdog Millionaire, an old-fashioned zero-to-hero adventure set in India, rode its overwhelmingly positive critical reception to an eventual $141 million total, and a Best Picture win, to boot.

Next, November 21st was a launching pad for two more $100 million titles. The first was dog movie Bolt, yet another CGI adventure, and one that took its Disney brand and some voice star power (Miley Cyrus, John Travolta) to a $26 million opening and solid $114 million total. The other film, for better or worse, was pro-vampire romance Twilight - a teenage female-driven hit that dominated the entire season, becoming the highest grossing movie released between September and December, and playing out in many ways like High School Musical 3 was expected to - opening with a shockingly strong $69 million and finishing with a somewhat leggy (for this type of thing) $192 million. The Twilight books had their fans, that's for sure, but such a high tally was fairly inconceivable at the time, and the franchise only got bigger from there. How bizarre.

As usual, November's last week was a more hit-and-miss affair, but just one more $100 million title was flailed out for all to see: Four Christmases, an old-school cheesy comedy with a lot of star power (Vince Vaughn, Reese Witherspoon, Robert Duvall) and generally appealing premise, opened with $31 million and totaled at a strong $120 million after some holiday legs. The old holiday movie package never fails, and indeed the weekend's other titles could only look on in envy - Transporter 3 ($31 million), the standard late November action entry, Milk ($31 million), with Sean Penn's Oscar-winning title performance, and Baz Luhrmann's Australia, which did exactly as you'd expect all 166 minute-long epics starring Hugh Jackman and Nicole Kidman to do, opening with $14 million and finishing with a mere $49 million - and on a scary $100 million+ budget, to boot. Anyone wondering why studios don't make old-fashioned romantic epics very often should look no further than the numbers on this one, that's for sure.

December

The slight fall box office slump was nowhere more evident as it was in the early weeks of December 2008. The first weekend's titles weren't expected to do much business, anyway, but they disappointed even at that: Ron Howard's very Oscary Frost/Nixon, pitting Frank Langella's president against Michael Sheen's randy television interviewer, finished with an $18 million grossed out of vaguely disinterested awards-bait crowds; meanwhile, cartoonishly ultra-violent sequel Punisher: War Zone ("reboot" to you savvier folk) totaled at a very non-respectful $8 million, down from the first movie's not-quite-searing-either $33 million. In a way, this result was refreshing: after living through the summer of 2008, that number restored my faith in the old idea that a comic book film can actually bomb at the box office, at least once every few years.

December 12th was when the real boffo box office was theoretically scheduled to arrive - but it looks like it missed the train. The week's designated hitter, big-budget ($80 million) Keanu Reeves-starring sci-fi remake The Day the Earth Stood Still, opened with a mild $30 million and totaled at $79 million, a victim of negative critical reception and a dowdy, depressing look in a season aching for something a bit more cheerful than hordes of alien-induced death and destruction. Next weekend, the 19th, didn't pick things up either, despite some star power: Jim Carrey's Yes Man opened to $18 million and finished with $97 million, while Will Smith delivered his first non-$100 million starring role since Ali (2001) with twisty drama Seven Pounds, which started off with just $14 million and finished with $69 million. The Smith film obviously had far too much of an unclear premise and bad critical buzz, while Carrey's return to live-action comedy form failed to pick up any critical or audience approval, either. Still, Yes Man is notable as one of the few 2008 films to crawl its way into the late $90 millions without actually hitting the one-zero-zero mark. Oh yeah, also out was yet another book-based CGI - the creepily-animated mouse-filled The Tale of Despereaux, which totaled at a not-so-notable-but-better-than-I-would-have-expected $50 million.

And so, after that display of box office inactivity, filmdom headed into the post-Christmas weekend looking distinctly unenthusiastic. But something happened there, between weeks three and four, and box office analysts everywhere awoke on the morning of December 26th to some startling Christmas Day tallies. They looked a little like this: Marley & Me, a seemingly non-descript dog movie with Jennifer Aniston and Owen Wilson: $14 million! The Curious Case of Benjamin Button, a vaguely overrated near-three hour drama with Brad Pitt and Cate Blanchett - $11 million! Adam Sandler's latest, children's-aimed and effects-filled fantasy Bedtime Stories - $10 million (Only $10 million? Sandler coming in a mere third?)! Tom Cruise as an eye-patched, mixed review-receiving German in historical thriller Valkyrie - $8 million! And Frank Miller's great-looking if somewhat hollow comic book film, The Spirit - $3 million! (Well, actually, that was the only movie that pretty much flopped - finishing with $19 million, by the way).

Something had gone a bit haywire here - a holiday miracle that saved the box office right in the nick of time, perhaps. How else to explain the Cruise picture gaining such traction, and totaling $83 million, despite months of bad buzz and a somewhat ungainly premise? Or Benjamin Button inspiring enough audience interest to leg it up to no less than $127 million? (the film it was most reminiscent of, Burton's 2003 Big Fish, had finished with only $66 million). The box office of Marley & Me (eventually totaling $143 million), with its cute, furry title animal adorning posters everywhere, is perhaps a bit more understandable, but even that one seemed to make just a little too much money. And finally, the underperformance of the Sandler film (which totaled $109 million), the one I expected to rule above all, was distinctly unusual. Even with the late Christmas movie rush, though, 2008's December was the decade's only edition of the month that was not home to a single $200 million earner (or an $150 million earner, for that matter) - though the jury's still out on December '09, I admit. This fizzling out on December's part is to blame for letting Twilight take the fall lead (and surely, blame for that must be assigned somewhere).

As expected, December also dished out a hefty batch of limited releases that rolled out wide only in January. Chief among them was another $100 million title, Clint Eastwood's Gran Torino, which expanded wide on January 9th to a shocking $29 million weekend sum and amazing eventual $148 million total, Eastwood's highest ever. How this Oscar-bait drama about an aging factory worker's misadventures reached such dizzying heights, I do not know; ironically, the movie didn't get a single Oscar nomination, so some cosmic karma may have been at play here.

Other awards-baited titles included Kate Winslet and Leonardo DiCaprio feuding in Sam Mendes' '50s-drama Revolutionary Road (with its distinctly non-Titanicesque total of $22 million), Meryl Streep and Amy Adams conspiring against Philip Seymour Hoffman in searing drama Doubt ($33 million), Dustin Hoffman and Emma Thompson taking a romantic London stroll in Last Chance Harvey ($14 million), Winslet again, playing an illiterate Oscar-winning ex-SS member in The Reader ($34 million), and finally, Daniel Craig and co. fighting off Nazis (although they seemed to have spared the Winslet character) in critically-unloved drama Defiance ($28 million).

All good and well, but as 2008 ended, the real box office story was just beginning - what January 2009 had in store was a mad movie rush that put almost all fall months to deep, deep shame.