Box Office - Decade at a Glance: May - August 2008
By Michael Lynderey
December 16, 2009
BoxOfficeProphets.com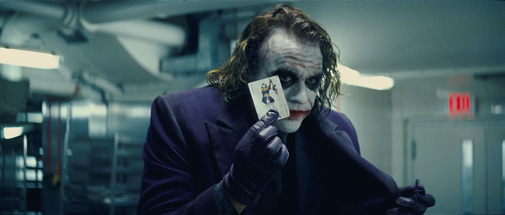 ---
May

A summer veritably overflowing with comic book adaptations was in store for 2008, a season that looked like the logical culmination of the fanboy-based blockbuster mentality of the 2000s. May's first film was indeed a perfect example of such a title over-performing to unexpected scales, as Iron Man, an adaptation of a relatively lesser known comic book character, opened to an amazing $98 million before totaling at $318 million. Granted, the reviews on this one were enthusiastic to the hilt, buzz of all sorts had been growing, and Robert Downey Jr.'s career-remaking performance generated not only fan adoration but rumors of an Oscar nomination. The plot was a little predictable, and reminiscent for my money of the basic structure of the first Spider-Man movie (think about it), but the supporting actors were well chosen, with a deliciously villainous Jeff Bridges matching wits with Downey and his entourage (Gwyneth Paltrow, Terrence Howard). But a $98 million opening? That's a number reserved for established franchises or universally known characters, and indeed it's exactly how the sequel to Iron Man should have opened, not the first one. It's a figure of staggering enormity, and one I still can not explain, other than as a foreshadowing to just how outrageous the box office for a certain other summer '08 comic book film would be.

May 9th brought along a classic case of box office bait-and-switch. The Emile Hirsch-starring, $120 million-budget, Wachowski Brothers-directed epic sci-fi adventure movie Speed Racer disappointed, while the nondescript if well-natured comedy What Happens in Vegas broke out to a decent sum. Indeed, the Racer film's fate seemed continuously more grim as the release date approached. While some of the trailers were fun, the character wasn't particularly beloved stateside, and word-of-mouth slowly started to trickle in on the wrong side of the positive/negative spectrum. It was an imperfect storm of sorts, and the box office delivered the summer's first blockbuster-that-wasn't: an $18 million opening and a $43 million total. Things were looking up for the Vegas film, though - the teaming of Ashton Kutcher and Cameron Diaz seemed like a workable enough match, and the film broke out well, opening with $20 million and finishing with a monstrously leggy $80 million.

May 16th's designated hitter was a film I once expected to be the summer's biggest. But - jeez! - was I ever wrong here. The Chronicles of Narnia: Prince Caspian followed up its $291 million-grossing predecessor with a $55 million opening and $141 million total - a clear and noticeable step down from the breakout success of The Lion, The Witch and The Wardrobe. What turned this surefire fantasy epic hit into one of the summer's more noticeable underperformers? Well, none of the Narnia books were ever as popular as the first, the non-holiday release date decreased the size of family audiences, and while the movie did get some positive critical notices, it seemed to me like a fairly routine excursion through the usual barrage of swordfights, fictional geo-political conflicts, and foreign-accented villains. And of course, there was no baddie on display as effective as Tilda Swinton's majestic White Witch, slain in the first film. All that aside, a third film is on the way for December 2010 - and it's going to be real interesting to see if that one bounces back in the Christmas season that spawned the franchise.

Next, Thursday, May 22nd delivered one of the most anticipated films of the year, as fourquel Indiana Jones and the Kingdom of the Crystal Skull opened with a $25 million first day and $100 million weekend, and finished with a respectable $317 million (the highest total in the series, but not so if one dabbles in adjusting old numbers). After a decade of headlining lesser-seen thrillers (Firewall, Hollywood Homicide), this was a return to $100 million+ form for big '90s star Harrison Ford - his first three-digit-earner since 2000's What Lies Beneath. The film was also a prime piece of box office meat for co-stars Cate Blanchett, in a rare non-awards contender role as a whip-wielding Russian villainess, and Shia LaBeouf, in another notch in his chain of summer blockbusters. Nostalgia for the legendary Jones trilogy is what brought this one to the $300 million point, even if a large chunk of the franchise's fans found the Crystal Skull too jokey and confusing (but hey, I liked it, if that counts).

As the month wound down, the 30th was initially seen as a box office off week - but that pipe dream wasn't to be. Sex and the City opened to a startling $26 million first day and $57 million weekend, and totaled at a not-so-frontloaded $152 million. Fans of the television series rushed out to see this nearly two and a half hour-long film version, and its performance woke box office analysts up to the reality that female-driven fanboy films can pull in numbers just as absurd as those of their male-driven counterparts (and we'd see this pointedly repeated again later in the year, with Mamma Mia! and Twilight). A sequel is, needless to say, on its way. Not to be outdone, the same weekend also dished out terror tale The Strangers, which carried some suspenseful trailers to a $20 million opening and strong $52 million total. This R-rated thriller was a departure from the era's flood of PG-13 ghost horror, torture porn, and remakes, but after an effectively promising start, the film did fall apart with a mean-spirited and needless ending. Still, The Strangers was a step in the right direction for the horror genre, even if it's one of few taken since.

June

As is generally expected, June slowed down some from the over-the-top box office shenanigans of May, and gave some much-needed breathing room before the plunderers of July were to arrive. That didn't mean June 2008 couldn't sneak in a $200 million movie or two, though. First, on June 6th, Kung Fu Panda, another DreamWorks CGI monstrosity, opened to a stunning $60 million and finished with a startling $215 million. CGI fare outside of Pixar and Shrek didn't usually climb quite so high, and so I called this one a monstrosity precisely because it did so - boasted by gushy reviews and an apparently-catchy premise, the film gave star Jack Black a welcome hit, if only in CGI. The weekend's other entry was a three-digit earner, too, of course - Adam Sandler's You Don't Mess With the Zohan cast him as an uber-efficient Israeli soldier turned New York hairstylist, to the tune of a very Sandler-esque $38 million opening and flat one-zero-zero finish. Aside from netting a lower Sandler total gross than usual, this one was notable as one of a seemingly endless parade of 2008 movies to... just ... barely... get... to... $100 million, after weeks of "will it or won't it"-type wobbling amid the $90 millions (you'll see what I mean as we get through the summer).

June 13th pitted two sci-fi extravaganzas against one another - bash-and-trash sequel The Incredible Hulk and M. Night Shyamalan's latest, plants-will-get-ya thriller The Happening. With the 2003 Hulk movie criticized as too talky and cerebral, this follow-up (all right, "reboot", if you want to toe the party line) played out like the first movie's missing action scenes, piling on repetitive if occasionally entertaining moments of violent destruction, peppered with good performances by re-cast stars Edward Norton, Liv Tyler (as part of her apparent summer comeback), William Hurt and Tim Roth. Fans and critics alike took well to this one (especially enjoying the gratuitous Downey Jr. cameo, in character as you-know-who), but hey, the box office wasn't really any better than the first time around - $55 million opening, $134 million total, to the first film's $62 million start and $132 million finish. Not much of a net gain there.

As for that movie The Happening, it seems to have developed quite a cult of hatred around it - understandable, perhaps, considering the film's veering between laughable pretension and occasionally effective terror (the brief video clip of some zoo misadventures stands out in memory). To its credit, the film did better than Shyamalan's previous, Lady in the Water, opening to a fair $30 million before dropping down to a more moderate $64 million, after word-of-mouth had its way with it. Next, June 20th dished out yet another $100 million film (only two of the month's wide releases didn't make it to that mark) - Get Smart, a belated adaptation of the old TV show and a film that played out like a standard summer package: big stars (Steve Carell, Anne Hathaway, The Rock), generally agreeable concept, and decent reviews. And Get Smart did as such packages do - $38 million opening, $130 million total - just like the film, the numbers were unexceptional but not disappointing. That fact seems especially true compared to the weekend's other title, Mike Myers' The Love Guru, a film that may actually be remembered better than Get Smart years from now simply because of its well-earned reputation as being unbearably awful. What a bizarre supporting cast, too - Myers' old co-star Verne Troyer, Justin Timberlake as an oddly-accented caricature, and a cross-eyed Ben Kingsley presiding over the proceedings. This was Myers' first live-action film since The Cat In the Hat just made it to $100 million in 2003, and even the high box office status of his Shrek roles couldn't lift Guru up past the inevitable - $13 million opening, $32 million total. Shrek 4 is well on the way, and indeed Guru may have been Myers' last live-action lead role for a while.

June 27th basically remade the openers of June 6th, upping the ante on quality and box office. Instead of Kung Fu Panda, we got Pixar's universally ultra-praised WALL-E, which played out as all Pixar films do - $63 million open, $223 million total, Best Animated Picture win, etc. Boring, isn't it? Next, Zohan's comic action was replaced by the not particularly less ridiculous shootouts in Wanted, a knowingly ludicrous action film that utilized Angelina Jolie and Morgan Freeman's screen personas to punch up a cheesy story, and gave drama star James McAvoy - usually seen in movies set back before anyone reading this was born - a rare big blockbuster role. $50 million opening, $134 million total - a solid old-school summer take, and one of Jolie's many June hits (not to be outdone, she also voiced some critter or other in Kung Fu Panda). There's a sequel brewing for Wanted, too, even if a few of its stars obviously won't be able to make a return appearance (barring the introduction of their characters' twin siblings, something I wouldn't put past this series).

July

Summer box office went a little mad about two weeks into July, but for now, let's enjoy the relative quiet before the storm. First, Big Willie Fourth of July weekend was back, as Will Smith headlined superhero parody Hancock to a $62 million open and handy $227 million total. Here was an example of a film that could be characterized as having nothing going for it except sheer star power - it wasn't based on anything, the reviewers appeared unenthused, and the film itself was an occasionally entertaining mix of tones that started like a fun if violent affair, and turned darker as it dabbled in an odd little plot twist. But Smith carried this one well above its negatives, even if the movie was the last entry in his seven consecutive year (2002-2008) batch of $100 million movies (as I write this, he's got about 15 days to release another $100 million grosser, or it won't be eight consecutive years). Also hanging around this weekend was another Abigail Breslin vehicle, Kit Kittredge: An American Girl, a well-reviewed Depression-era adventure - but one left behind in Hancock's dust ($17 million total).

Next, July 11th gave us one more bait-and-switch. Designated comic book blockbuster Hellboy II: The Golden Army got out of the gate strong, with sturdy reviews and the generally positive reception of the first film lifting this one up to a $34 million opening. But the drop was severe, and so Hellboy II totaled $75 million to the first film's $59 million. It was, in fact, the weekend's other film that would make it to $100 million: Journey to the Center of the Earth in 3D, one of the first entries in the recent resurrection of that old format, opened to a fair $21 million but then legged it up to $101 million. With adventure film veteran Brendan Fraser at the lead and generally welcoming reviews, this silly B-movie excursion probably had the advantage of being good kids-aimed counter-programming to the much darker The Dark Knight. Hellboy, on the other hand, was pummeled out of the ring by his comic book contemporary (I won't say much about the weekend's third release, Eddie Murphy's Meet Dave, thoughts of which are too depressing to return to).

The decade's most perfect storm hit theaters on July 18th, with the release of a film that broke both the opening day ($67 million) and weekend ($158 million) records, before finishing with $533 million - the biggest tally of the entire decade, and the second largest domestic box office gross of all time. Indeed, The Dark Knight followed the setup-punchline format utilized by many other well-received, leggy films whose sequels end up opening massively (Batman Begins had taken in a comparatively-measly $205 million). Along with Iron Man, Dark Knight's dabbling in darker themes was cited as a maturing of the comic book film, a genre that had come a long way since its renewed inception at the beginning of the decade, when X-Men did well enough to inspire a host of new comic adaptations. As for the film's cast - while Christian Bale was well received in the title role, it was really his co-star who walked away with the praise - playing a just slightly more plausible version of John Saw of the Saw pictures (think about it), Heath Ledger's The Joker was perhaps the single most talked about performance of the entire year, and netted him a posthumous Oscar. The Dark Knight got reviews even better than its predecessor's high accolades, and so the film turned into a leggy phenomenon, proving that some ultra-high openers can live up to their first three box office days.

Wouldn't you know it, though, but the 18th wasn't done yet. Sure, minor CGI fare Space Chimps took in only $30 million, but the week also gave us a starling example of counter-programming - Mamma Mia!, a perhaps unsurprisingly cheesy musical based on the Broadway show, opened with $27 million before finishing with an inexplicably leggy $143 million. Positioned on the same weekend as the previous year's Hairspray, this one played out like an even bigger version of it. Buoyed by star power (Meryl Streep, Pierce Brosnan, Colin Firth) and the beloved (in some circles) music of ABBA, this was a cheerful if bubble-brained affair, and broke out young starlet Amanda Seyfried into wider notice. But it may be Streep who's the real story here - after decades of excellent performances in films of occasionally questionable box office value, she had by decade's end finally become a genuine box office star - delivering Devil Wears Prada to $124 million in 2006, and headlining high grossers Julie and Julia and It's Complicated in 2009 (Okay, I'm just speculating on that last one at this point, but c'mon).

The new films of July 25th were perhaps obscured by all these overwhelming goings-on, but Will Ferrell's latest feast of unbridled vulgarity, Step Brothers, did open to $30 million and slowly crawl its way up to exactly $100 million. After the spring's Semi-Pro gave Ferrell one of his biggest disappointments, this was a necessary hit. And while the movie was no doubt crude and only half-heartedly funny, it did give excellent character actors John C. Reilly and Richard Jenkins high-profile roles, and was one of five 2008 films that featured Judd Apatow's name lurking somewhere in the credits (his most prolific year, t'was). In fact, perhaps the lack of Apatow involvement was exactly what doomed the weekend's other new entry, sequel The X-Files: I Want to Believe. Designed as a stand-alone story, and one without particular heft, this had only the series' fanbase to draw from, opening to $10 million and finishing with $20 million (ten years after the first X-Files film delivered an $83 million total at the height of the show's popularity). For all I know, though, the movie actually grossed $300 million, and the low box office score known to the public is just some form of mind-bending alien conspiracy. I wouldn't put it past them to mess with the box office (that would also explain Paul Blart).

August

With the summer's resources being quickly eaten up by The Dark Knight, August had room for only moderate hits. But still, belated Asian-set follow-up The Mummy: Tomb of the Dragon Emperor proved an entertaining enough adventure, opening to $40 million and finishing with $102 million - yes, once again, as with Zohan, Step Brothers and Journey 3D - it just barely crawled its way to one-zero-zero (and gave Brendan Fraser his second $100 million picture in just three weeks, to boot). The first two Mummies (1999 and 2001) delivered totals much higher than this, and so I suppose Mummy 3 has to be taken as a disappointment - but considering some of the reviews from the no fun zone (Rotten Tomatoes), I think it did just fine.

The other $100 million crawler was over-the-top jungle action comedy Tropic Thunder, which mixed occasional comic gold with a bloated running time and totaled at $110 million after a somewhat slow $25 million opening. As if teaming up comedy superstars Ben Stiller and Jack Black wasn't enough, this one craftily inserted in newly-minted audience favorite Robert Downey Jr., and cast him, controversially, as a pretentious method actor dabbling in blackface (that was just the tip of the various bruhahas this film inspired, but let's not get into that). Also doing pretty well on the comedy front was the Apatow-produced (yes, again) Pineapple Express, which played like somewhat of a follow-up to the previous summer's Knocked Up, teaming Seth Rogen with James Franco and sending them onto a drug-induced comedic adventure. Just like Tropic Thunder, this one mixed some undeniable hilarity in with a bloated length and some surprisingly unrestrained violence. After a $23 million weekend (and $12 million opening day!), this one finished up with $87 million - not a super number, but actually one of Rogen's better totals.

As usual, the whole of August easily proved to be the summer's busiest month, substituting quality for quantity, as Augusts always do. Probably the best received titles were Don Cheadle's thriller Traitor ($23 million total), sequel The Sisterhood of the Traveling Pants 2 ($44 million - despite the ungainly title), and inevitably cult comedy Hamlet 2 ($4 million). Mirrors ($30 million) was another ghost horror picture, distinguished from the PG-13 rest by a surprising R rating. And CGI cartoon Star Wars: The Clone Wars presented a significant box office question mark for those who know just how potent this franchise can be. Would Clone Wars be another fanboy-driven $100 million earner? The answer, simply, was no. A $14 million opening and $35 million total were in store for this one, and if Clone Wars were the last film in the series, I don't know that it would be such a bad thing.

The rest of the August fest included star vehicles for Ice Cube (The Longshots - $11 million total), Rainn Wilson (The Rocker - $6 million), Drake Bell (College - $4 million), Kevin Costner (Swing Vote - $16 million), and Vin Diesel (Babylon A.D. - $22 million - and his first starring role in a wide release since The Pacifier in 2005). Somewhat incoherent action thriller Death Race pitted Jason Statham against Joan Allen (of all people), to the tune of a typically Statham-esque $36 million. And Anna Faris' cheesy comedy The House Bunny cast her as the title Playboy veteran and rode some funny trailers to a strong $48 million total.

As usual with Augusts, I saved the most enjoyable box office performance for last: Disaster Movie, a parody from the makers of Date Movie, Epic Movie, and Meet the Spartans - and released, incredibly, just seven months after that last film - finished with a meek $14 million. After all the $35 million - $50 million level totals for these genuinely bad movies, this was the one that had the decency to stand up and say "no more". Indeed, as I write these words, I am fully confident that Disaster Movie will be one of the last spoofs to be given a wide theatrical release for quite some considerable time now.

So, on behalf of moviegoers everywhere, I applaud you, Disaster Movie. Your sacrifice shall not have been in vain.