Box Office - Decade at a Glance: January - April 2008
By Michael Lynderey
December 15, 2009
BoxOfficeProphets.com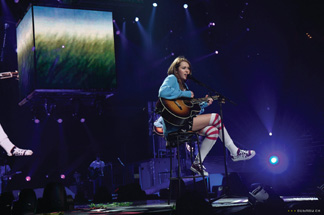 ---
As the 2000s dwindle down, we arrive at 2008. So, what did the year give us? A non-eventful start, a blazing comic book summer, and a surprisingly muted fall with one unexpected mega-hit. All this, and the decade's biggest film, too.

January

2008 started slow, no doubt about that. You had your standard year opener, PG-13 ghost movie One Missed Call ($26 million total), your typically nonchalant Ice Cube comedy, First Sunday ($37 million), your distinctly not-so-good Uwe Boll film, In the Name of the King: A Dungeon Siege Tale ($4m), and the brilliantly-titled The Pirates Who Don't Do Anything: A VeggieTales Movie ($12 million). That Dungeon Siege thing was the thus far last of Boll's four wide releases, but enough about him, because the really important stuff happened in the next frame: with the releases of Cloverfield and 27 Dresses, January 18th played out like a mini-blockbuster weekend, especially relative to most other Januaries (although January '09 would end up putting even this box office score to shame). The way in which the weekend's two big films ended up with around the same total is pretty illustrative of the difference between how their respective genres usually play out at the box office - Cloverfield, a horror-thriller, opened with $40 million and totaled at an ultra-frontloaded $80 million, while romantic comedy 27 Dresses started off with a good $23 million and legged it up to $76 million. Cloverfield, essentially a shaky-cam monster movie, had of course been the subject of much buzz and speculation prior to its release - it had one of those "What just happened?" trailers that inspire a lot of posts on sites like Ain't It Cool News, and the opening rush-out reflected that buzz. 27 Dresses, on the other hand, proved to be Katherine Heigl's coming-out as a solo lead actress - her role in Knocked Up was the set-up, and this film was the punchline, making her an immediate successor to Kate Hudson and Reese Witherspoon in those "quirky-but-beautiful woman looking for love" roles that often prove such solid gold at the box office (for better or worse).

The rest of the month was just your usual January collection of shady characters - a Diane Lane-starring '90s-style serial killer thriller with a dash of torture-porn (Untraceable, $28 million), Diane Keaton, Queen Latifah, and Katie Holmes making for a particularly unvillainous band of crooks in Mad Money ($20 million), and a mish-mash of a spoof, Meet the Spartans ($38 million!). We're getting to the judgment day for that subgenre - hold on for just a little longer. And finally, Sylvester Stallone returned to another of his hallmark franchises with Rambo, an almost unbelievably ultra-violent if routine adventure that finished with $42 million, the lowest tally for the series (a fact that may soon apply to Rambo 5, which is apparently on the way).

February

February 2008 opened with three wide releases thoroughly trounced by a film that never even went above 800 theaters. Yes, February 1st - 3rd was the frame where concert movie Hannah Montana & Miley Cyrus: Best of Both Worlds (a real tongue-twister) opened to $31 million before totaling up at $65 million. As the reign of 2003-era teen queens came to a thorough end, Cyrus stepped in and dominated the now-empty landscape; indeed, the immense popularity of her Hannah Montana character is the only explanation for the boffo performance of Best of Both Worlds, which took concert film box office to unprecedented heights. As for those films left behind in the dust? They were The Eye, a mild PG-13 ghost horror with Jessica Alba ($31 million total), Strange Wilderness, an inconceivably unfunny comedy from Happy Madison ($6 million), and Over Her Dead Body, a non-moving vehicle for Paul Rudd and Eva Longoria ($7 million); none of these ever stood a chance - not with Montana coming down the tracks.

The 8th brought out another big earner: Kate Hudson and Matthew McConaughey re-teamed for Fool's Gold, a critically-reviled little non-gem that opened with $21 million and finished with a strong $70 million - not up to the par of the team's earlier How to Lose a Guy in 10 Days ($106 million), but considering the reviews, more than adequate (and frighteningly leggy). The weekend's other comedy, Martin Lawrence's family reunion-fest Welcome Home, Roscoe Jenkins, fared well enough with $42 million, though Lawrence was far from his golden days in the Big Momma suit.

Valentine's Day weekend's really where the action was at this month. Ranking highest was Jumper, a somewhat cheesy action-thriller that nevertheless gave Hayden Christensen his one solid non-Star Wars hit, opening with $27 million and finishing with $80 million. Next, The Spiderwick Chronicles was another entry in the book-based fantasy cannon, pitting children against forest goblins bent on conquering the world (no joke). This one was a dark little film, but effective, and played out nicely - $19 million opening, $71 million total. Needing no plot explanation was Step Up 2 the Streets, an aptly atmospheric, occasionally entertaining entry in the urban dance sweepstakes - this one finished well, with $58 million to the first film's $65 million (of course, both totals are more than either film should have realistically expected). And we are getting a threequel in this series, folks, like it or not.

Last but not least, the less visible of the weekend's titles was the well-made romantic drama Definitely, Maybe, which finally gave Ryan Reynolds a good lead role, matched opposite supporting actresses Isla Fisher, Elizabeth Banks, and Rachel Weisz. But despite the good reviews and well-timed release, this one managed no more than $32 million. Blame it on those who were busy looking for fool's gold in... well... Fool's Gold. The rest of the month wasn't particularly memorable, but there was one big surprise - thriller Vantage Point, which seemed to come out of nowhere in opening with $22 million and finishing with a hefty $72 million. It looks like the mix of a twisty, implausible, terrorism-themed plot with some name actors (Dennis Quaid, Forest Whitaker, and an all-too brief Sigourney Weaver) worked well for this one, and word-of-mouth was better than critics gave it credit for.

The month was capped off by yet another Larry the Cable Guy movie (Witless Protection, $4 million total), odd-sounding Christina Ricci fantasy Penelope ($10 million), Michel Gondry's bizarre video-on-demand comedy Be Kind Rewind ($11 million), Natalie Portman and Scarlett Johansson doing nothing particularly lurid in 1500s-set The Other Boleyn Girl ($26 million), and the cinematic misadventures of Charlie Bartlett, a suspiciously arrogant high schooler ($3 million). Grossing more than any of those films, but presenting perhaps the biggest disappointment, was Will Ferrell's basketball comedy Semi-Pro. This one oddly teamed Ferrell up with Andre 3000 and Woody Harrelson, but reviews tore it apart and the total was one of his lowest yet - $33 million. Could this be the last of his many sports comedies? We shall see.

March

After 2007's March gave us no fewer than three $100 million titles, March '08 had just one of those to show for itself - and just as many times before, that film was a colorful CGI adventure. Dr. Seuss' Horton Hears a Who! took its all-star voice cast (Jim Carrey + Steve Carell) to a $45 million opening and a strong, leggy $154 million total, mostly due to fair reviews and a lack of other films of interest, especially for children. It probably ought to be noted that at this point in their careers, the animated films of both Carell and Carrey were heftily outgrossing their live-action output. The month's #2 and #3 spots went to cases of box office disappointment and pleasant surprise, respectively: Roland Emmerich's prehistoric 10,000 BC diverted from his usual disaster movie path to give us the misadventures of some unentertaining cavemen, and struck out with a $35 million opening and $94 million finish, just around its $100 million or so budget; on the other hand, Las Vegas-set poker film 21 matched college students against Machiavellian professor Kevin Spacey, turning its glitzy setting and generally appealing premise to a $24 million opening and strong $81 million total. This one really came out of nowhere, but Vegas movies seem to perform almost preternaturally well, so what are you gonna do?

The remainder of the March pack was led, for better or worse, by Martin Lawrence's really pretty bad comedy College Road Trip ($45 million), with its self-explanatory plot and supporting parts by teen idoless Raven-Symoné and the terrifying Donny Osmond. Elsewhere, Tyler Perry's Meet the Browns was one of his more middling performers, reducing Madea to a cameo and finishing at $41 million (his second lowest total at that point). Next, PG-13 ghost movie Shutter more or less followed the standard 2008 gross of such films, finishing with $25 million, while high schoolers dabbled in mixed martial arts in Never Back Down ($24 million), parody abounded to mixed results in Superhero Movie ($25 million), Owen Wilson fought off high school bullies in Drillbit Taylor, another Apatow-produced nerd comedy ($32 million), disgruntled brutes roamed about in the loud, post-apocalyptic sci-fi mess Doomsday ($11 million), and back-from-war (but not for long) drama Stop-Loss tried to use its MTV-friendly cast (Channing Tatum, Ryan Phillippe) to lift itself above the curse of being a serious drama, but to no avail - $10 million total for that one.

However, receiving better critical notices than pretty much all the other March films was '70s-set thriller The Bank Job; this was another Jason Statham vehicle for Lionsgate - one of four releases he'd star in that year - and it finished with a typically Stathamesque $31 million. Indeed, by this point, Statham's thrillers had the consistent box office of a low-budget version of Denzel Washington. Finally, the month was home to one of Simon Pegg's less beloved comedies, Run Fat Boy Run; that one finished with $6 million, and I think it may have had something to do with a lack of truth in advertising - Simon Pegg is not actually fat.

April

April '08 got off to a fairly dowdy start: the 4th - 6th weekend gave us the George Clooney/Renee Zellweger/John Krasinski team-up Leatherheads, which performed exactly like
you'd think a 1920s-set screwball comedy about football would: $12 million opening, $31 million total. Elsewhere, lean, surprisingly effective horror movie The Ruins killed off some young people to the tune of a $17 million total, while Abigail Breslin, fresh off her Oscar-nominated role in 2006's Little Miss Sunshine, began to dominate the child actor circuit - starring not only in the aforementioned Definitely, Maybe - but also Nim's Island, a neat little fantasy that gave Breslin good support from Jodie Foster and Gerard Butler, and took its generally positive critical reception to a $48 million total (thus besting not only those pesky teen-killing vines but also no less than George Clooney himself).

Next weekend was led by Prom Night, a lame PG-13 slasher remake of an even worse horror film (does that make it OK?), and one that broke out in typical Screen Gems fashion - $20 million open, $43 million total. Meanwhile, Smart People gathered the interestingly-cast Dennis Quaid, Ellen Page, Sarah Jessica Parker and Thomas Haden Church into a good little dramedy - but not good enough, and playing during the Oscar off-season, it finished with a lonely $9 million. A batch of not-so-good thrillers reared their head throughout the rest of the month, led by Keanu Reeves' LAPD shootout Street Kings ($26 million total), Al Pacino in the much-delayed, not to mention absurd, 88 Minutes ($16 million), and Ewan McGregor and Hugh Jackman teaming for Deception ($4 million), which came off like a less well-thought out version of the Rob Lowe thriller Bad Influence.

When it came to box office, though, it was comedies that dominated the latter half of the month. First, Apatow-produced Forgetting Sarah Marshall opened with $17 million and finished with a supremely leggy $63 million, breaking out another member of Apatow's entourage, Jason Segel, who wrote and starred in the film. And just as Knocked Up set Katherine Heigl up for a career as romantic comedy leading woman, Sarah Marshall appears to have done the same for the title character's thespian, Kristen Bell (co-star Mila Kunis seems to have done well for herself, too). Next, Baby Mama was a combination of likable comediennes Tina Fey and Amy Poehler, as well as an efficient if not groundbreaking comedy, netting itself a $17 million open and excellent $60 million total. Good for Fey. On the lower ranks, sequel Harold & Kumar Escape from Guantanamo Bay positioned the first film's stars, John Cho and Kal Penn, into another politically incorrect morass, this one less amusing than the first - but part one had its fans, and thus the sequel got itself a $14 million open and $38 million total (the first film finished with $18 million, so the series was definitely moving upmarket here).

April was also home to the goofy martial arts fantasy The Forbidden Kingdom, with Jackie Chan and Jet Li; while not an outright comedy, this one was hard to take seriously, and pulled in a total of $52 million - frankly a lot more than I would have thought. Li and Chan have their fans, no doubt about that.