Monday Morning Quarterback Part II
By BOP Staff
December 15, 2009
BoxOfficeProphets.com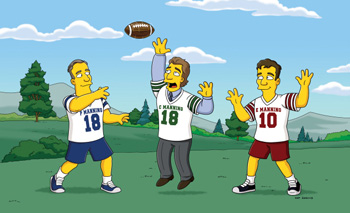 ---
In-what-us?

Kim Hollis: Invictus, Clint Eastwood's movie about rugby and Nelson Mandela, opened to $8.6 million. Should Warner Bros. be happy with this result?

Josh Spiegel: Considering that Invictus is about...well, rugby and Nelson Mandela, I don't know that Warner Bros. should have expected anything more than, at most, $10 million. They've been marketing the movie for a month, but it is still about something that most Americans aren't very familiar with. Yes, the film's a sports movie, but The Blind Side is probably stealing some of the sports crowd still. Warner Bros. is more likely concerned with Oscars, not blockbuster numbers.

Max Braden: That's right in line with the first wide release weekends for Changeling and Flags of Our Fathers, both of which grossed totals in the low $30 millions. Invictus will probably follow the same pattern. I don't think anybody was expecting the $100 million-plus numbers that Million Dollar Baby and Gran Torino earned.

George Rose: Since this will likely experience a long run in theaters and receive several award nominations (if not also the awards), the studio should be happy. There isn't a large rush factor for films with awards acclaim and expected legs, and this is more than enough to secure a decent run. It's already on course to earn more than Precious, so that should help declare this a success. While it currently doesn't shed a light next to Eastwood's other Oscar bait projects, it has massive potential. It might not be his next Million Dollar Baby or Mystic River, but the stink that was left after Changeling will definitely fade after Invictus leaves the theaters.

Matthew Huntley: I don't think Warner Bros. should be happy with this result, but they shouldn't be too upset, either. Given Clint Eastwood's track record for award nominations and legs at the box office, the studio is probably confident the film will become profitable somewhere down the road, but given the opening weekend numbers, they'll have to wait longer than they wanted to.

Michael Lynderey: That isn't a very satisfying number, even with whatever Oscar legs this film can glean in the next few weeks. I'd blame the release strategy: Invictus clearly should've been a platform release, and going wide right off the bat hurt its momentum. In fact, the whole weekend just doesn't seem very well thought out, does it? Typically, this time of year can be used to launch a blockbuster or two (see 2007: I Am Legend and the Chipmunks), and it's kind of a waste of space that a studio didn't slot anything in and get a few weeks of extra business (my favorite candidate for that treatment, according to my brain if not my heart: The Squeakquel).

Tom Macy: I think they're pleased. Clearly an awards contender, this one's going to hang around for awhile. I don't know how he does it, but Clint's direct, no-frills approach to storytelling somehow avoids being simplistic and trite and achieves this boldness that feels very complex and mature (like my A. O. Scott impression?). So his films are easily accessible but carry enough substance to satisfy more discerning audiences. This is a perfect combination for a leggy awards-aimed run. I wouldn't be surprised if this followed the path of Million Dollar Baby, if perhaps to a slightly less successful tune. Invictus isn't as strong a film, though the ending is, oh, just a touch less of a downer. Plus Morgan Freeman's performance as Mandela is instantly on the short list of Best Actor contenders; in fact, he was probably already on that list the day he signed on, and he does
not disappoint.

Reagen Sulewski: In this case, I'm pretty surprised. I didn't think people would have to know much about rugby to care, just to see that it's Matt Damon and Morgan Freeman in a story about Mandela. A serious Best Pic run could take it to the $60 or 70 million mark still.

Sean Collier: The material was clearly very heady and Oscar-focused, and The Blind Side is wrapping up any casual sports fans (and, at the end of the day, Invictus is a sports movie foremost.) The result is nothing to be ashamed of, and the true goal here is gold, not cash.

Jason Lee: I was certainly surprised at how little buzz this film seemed to have going into its opening. Considering that, for me, this was Eastwood's most commercially-accessible film in some time (not centered around racism, WWII, or kidnapping) with a great cast, a feel good story, an iconic real-life political figure, and a sports angle, I certainly thought it'd see a bigger break-out success than $9.1 million.

The Return of the King (of the world)

Kim Hollis: What do you think is the most interesting aspect of Avatar's release this weekend? Any updated thoughts on opening weekend now that we're just a few days from its release?

Josh Spiegel: What's most interesting to me is that, in some ways, Avatar is going exactly along the path of Titanic. Before Titanic was released, there was a lengthy amount of bad buzz surrounding the movie; then, reviews poured in and the tide turned drastically. Avatar hasn't been saddled with the same kind of bad buzz that Titanic had, but after the initial trailers, some people (myself included) thought that the footage didn't seem as impressive as James Cameron made it out to be. But now, in the last few days, reviews have poured in, and they are almost uniformly positive. Of course, I'm still hardpressed to make any solid predictions, but with two-thirds of the theaters this movie is playing in being in 3-D, I'm thinking we might get somewhere near $100 million for the flick.

Max Braden: I agree with Josh, I was not expecting opinion to take a positive swing as we got closer to release. What's also changed is the behind-the-scenes footage we've been seeing in promotional tv spots. While the trailers from this summer looked like all-cgi, it now looks like there's a lot more live action in the movie. That may convince a lot of potential viewers who may have been on the fence about going opening weekend.

Tom Macy: Got my tix for Friday! 1:20 a.m. on IMAX 3-D!!!! I'm most interested to see how a film of this magnitude does with no built-in audience. Today's event films are pretty much exclusively sequels, remakes, or comic book/young adult novel adaptations. Introducing an audience to something for the first time on such a massive scale never happens in today's movie climate. It's only fitting that the director of the biggest film of all-time could is at the helm. The odds seem to be stacked against him, the buzz isn't exactly deafening and the response to trailers seems to have been fairly tepid, considering the hype. But this is the same place we were back in December 1997, so doubters beware. Of course I don't expect a Titanic-like outcome. I don't think blue-humanoid-sea monkeys are as mesmerizing to 14-years old girls as a 22-year-old Leonardo DiCaprio. I just found out the girl I'm seeing now saw Titanic seven times when it came out. Good lord.

Michael Lynderey: The momentum on this one has been building considerably these last few days. All the rave reviews coming in are exactly what Avatar needs to lift it up from being a $170 million-grossing disappointment to maybe a $300 million earner, if audiences embrace it as warmly as critics have. And with no big budget special effects competition outside of Sherlock Holmes (a movie I have my doubts about), I think it's pretty much smooth sailing ahead for Avatar, something I would not have expected even a month ago. Looks like kudos to Cameron again.

Matthew Huntley: Given its early reviews, and the 3-D and IMAX surcharges, I think it's safe to say the film will open with at least $50-55 million, which is about $15-20 million more than I would have originally predicted after its first trailer hit theaters. I think the most interesting aspect of Avatar's release is that moviegoers still don't know what to expect from the story. It's still a mystery as to what the movie's really about, and that's (usually) an incentive for people to open their wallets.

George Rose: I had a lengthy conversation with my brother this past weekend about Avatar, he being the die hard James Cameron fan and me being the cynical box office analyst who weighs pre-release expectations against final earnings. Avatar will make a lot of money, relative to other movies. That's a given. It won't have the biggest opening weekend and it won't be the biggest movie ever, but it will make enough in both respects to be in the top 10 of the year. However, in my book, the movie is already an epic failure. Sure, it's getting great early reviews, but that doesn't mean it will be as good as Cameron's other work. Sure, it will make over $200 million, but cost twice that to make and market, and won't be the biggest movie of the year or make half of Titanic's $600 million, let alone half of the larger total from 10 years of inflation. There is so much pressure and previous acclaim/success behind Cameron that unless it makes more than Transformer 2's $400 million it will feel like a disappointment. As far as the most interesting aspect? I'd have to say it's Zoe Saldana. She, along with the irritatingly appealing 3D IMAX experience, will have me at the midnight release of Dances With Smurfs.

Kim Hollis: I think that expecting any film to live up to the lofty standards of Titanic's box office performance is unrealistic, George. Additionally, as Tom mentioned, stuff like Transformers 2 already has that built-in audience where Avatar is building solely on buzz and intrigue alone. It's not a known story. People aren't sure what to expect. All I know is that I was at the original Terminator on opening night, it remains one of my favorite films of all-time, and James Cameron will always get the benefit of the doubt from me. The fact that the film is getting fantastic reviews doesn't even surprise me. Avatar is following the Titanic model so closely it's almost eerie.

Reagen Sulewski: It's interesting how confident a filmmaker James Cameron is. He'll absorb all these complaints prior to release knowing that he's got his ace in the hole. You really can't rule anything out with him.

Tim Briody: As someone who still couldn't explain what this movie is about at gunpoint, the advertising to me is terrible. "Here's James Cameron! He made another movie! And it uses crazy special effects! Holy cow!"

Sean Collier: I was stunned by the glowing praise from the initial reviews, and instantly turned from "I'll see this when I get around to it" to "I'm going ASAP." The most interesting thing to me is the chance that it actually might live up to the hype, which would be a phenomenal achievement.

Jason Lee: I'm sort of surprised at how much of the conversation around this film has centered around the expected "spectacle" of it all. To me, there's been more talk about the technology that's gone into making it than anything about the plot . . . sort of like 2012.