Weekend Wrap-Up
2-D Princess Dominates Pre-Avatar 3-D Weekend
By John Hamann
December 13, 2009
BoxOfficeProphets.com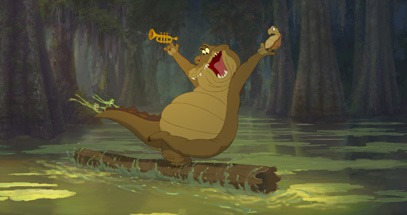 ---
It's a tale of two weekends, this one and the next. In this frame, old school animation dominates the box office in the form of Disney's The Princess and the Frog, whereas next weekend brings the next big thing to movie screens, in the form of the 3-D Avatar. Our only true wide opener this weekend is Invictus, Clint Eastwood's latest master-class work with stellar performances from Morgan Freeman and Matt Damon. Invictus is a film that could reap a lot of award attention, but would need at least a small victory in terms of box office to catch the attention of Oscar voters. Finally, we have the now weekends-old battle between The Blind Side (David) and Twilight: New Moon (Goliath), and thankfully Goliath is taking a beating, after dominating the opening round.

Our number one film of the weekend is the old school The Princess and the Frog, Disney's 2-D plunge into a 3-D world. There were a lot of questions heading into the release of this one, as no one knew if this almost old-fashioned story would still strike a chord with young audiences and families. Disney also chose to use their old school release pattern for holiday season animation, starting with a limited run on only two screens, which is similar to what they did in the early 1990s with films like Beauty and the Beast and Aladdin. The Princess and the Frog did very well in limited release, scoring $786,000 in the first weekend (venue average of $393,000), and $748,000 in the second weekend (venue average $373,855, and a drop of only 4%). With these early scores, we knew Princess and the Frog was going to be a success, but how big of one? Aladdin earned $196,000 when it was on two screens in 1992, and then opened to $19.3 million. Pocahontas earned $2.7 million from six screens in 1995, before going wide with an opening of $29.5 million, and 1997's Hercules earned $852,000 from its two screens before earning $21.5 million over its first wide frame.

The Princess and the Frog did finish in the number one spot this weekend with a gross of $25 million from a quite wide 3,434 venues. It had a venue average of $7,280. The question remains: Is this opening good enough financially for Disney to spawn more 2-D animated films? The easy answer is likely no, as this score is far from breakout status; however, legs could spell the difference. Tracking was expecting $25-35 million, so to swing at the low end of such a wide range is not a good start, considering this is a Disney animated film, with a huge marketing campaign working behind it. On the other hand, it did beat the last wide opening 2-D animated production, Curious George, which opened to $14.7 million (albeit on almost 1,000 fewer screens) in February 2006. The non-Disney Curious George went on to earn about $58 million, or about four times its opening. Princess also beat the last Disney 2-D effort, Home on the Range, as that one opened to a bleak $13.9 million in April 2004, and went on to earn only $50 million, against a production budget of $110 million (yes, ouch). Maybe most importantly, it wasn't close to the last 2-D Disney hit, Lilo & Stitch, which opened to $35 million eight years ago, and went on to earn $146 million domestically, and another $100 million overseas. With the opening weekend of The Princess and the Frog now on display, we know it's never going to be a Lilo and Stitch (best case scenario), but it will be better than Home on the Range (worst case scenario)? Will it end up as a disappointment for the folks at Disney? Probably, but Christmas may throw a curveball into the analysis.

While the above may all be true, The Princess and the Frog may see some sturdy legs. The Disney flick did turn in some fantastic reviews, and does that have that marketing machine in play. Reviews were fabulous – of the 99 reviews counted at RottenTomatoes, a remarkable 84 were positive, leading to a solid score of 85% fresh. Reviews indicated how family friendly this one was, and considering that fact, Princess could play well throughout the holidays. The problem is, it may get buried next weekend when Avatar opens. Avatar could also play very well with families, and steal some of the media coverage from the Disney release. In the end, I expect an opening to total multiplier over 4.0, which would make this one a $80-$100 million effort for Disney. Budget data isn't available; however, I think it's safe to assume that this one cost at least $100 million, if not more.

Finishing a strong second this weekend is The Blind Side, a film that has shown the legs of a Disney sports movie, but is actually from Warner Bros. The Blind Side continues to hold strongly at the box office in its fourth frame, as it earned another $15.5 million, down 22% from its $20 million frame last weekend. To recap the phenomenon, The Blind Side opened to $34.1 million, rose to $40.1 million over the Thanksgiving frame, and then dropped to $20 million over the post-turkey day frame last weekend. The Blind Side reigned at number one for seven days – its 15th day to its 21st day of release, which in this day and age is extremely remarkable. The Sandra Bullock film has now reaped $150.2 million, and considering the holiday season is closely upon us, still has a chance at $200 million, against a budget of only $29 million.

Third spot goes to Invictus, the new Clint Eastwood flick that stars Morgan Freeman and Matt Damon. Considering this was a film about rugby in South Africa, Invictus had little chance of being a box office phenomenon a la The Blind Side. However, it did get off to a decent enough start at the box office, recording an opening frame of $9.1 million from a sparse venue count of 2,125. It had a venue average of $4,275. Gran Torino this is not, even though it tackles some similar themes. Gran Torino, when it went wide, earned $29.5 million, and in the five weekends that followed, dropped an average of only 24.6%. Invictus is a different film, geared toward an older, more refined audience. A slightly better comparison might be Million Dollar Baby, where Morgan Freeman and Eastwood worked together last. After a few limited release frames, Baby earned $12.3 million from 2,010 theatres. Reviews for Invictus were more Gran Torino (80% fresh) than Million Dollar Baby (91% fresh), as this one currently sits with a 78% fresh rating. Going forward, word-of-mouth should be strong for Invictus, and I imagine that once award season rolls into full gear, we will be hearing about this one quite a bit.

The Twilight Saga: New Moon moves down to fourth spot this weekend, as the opening weekend phenomenon is now earning about half what The Blind Side is. In its fourth weekend, New Moon earned $8 million from 3,635 venues, and dips hard again, dropping 48%. Since opening to that amazing score of $142.8 million, New Moon has dropped 70%, 64%, and now 48%. Still, the second film in the teen vamp saga has pulled in $267.4 million domestically, and over $300 million in overseas grosses, all against a budget of only $50 million.

Disney's A Christmas Carol drops one spot to fifth this weekend, but it's not much of a drop. The Jim Carrey flick earned $6.9 million in its sixth weekend, which is down only 11% from last weekend's take of $7.8 million. There's trouble brewing in Disneyland, though, as Avatar is going to dominate 3-D screens next weekend, which means A Christmas Carol could get crunched. So far, the $200 million Robert Zemeckis tale has earned $124.5 million.

Finishing sixth is Brothers, last weekend's biggest opener with $9.5 million. This weekend, the Tobey Maguire, Natalie Portman, Jake Gyllenhaal flick earned $5 million, and was down 48% from its opening frame. Brothers is a $26 million effort from Lionsgate, and has a cume so far of $17.4 million.

2012 finishes seventh this weekend, as the Roland Emmerich disaster porn effort is now in its fifth weekend. 2012 earned $4.4 million this frame, dropping 35%. The $200 million Sony effort has now earned $155.3 million at the domestic box office, but that's not where the story is. 2012 has earned over a half a billion dollars from overseas grosses, as this one should see $750 million globally.

Eighth goes to Old Dogs, the John Travolta/Robin Williams 'comedy'. Old Dogs had a much better frame this weekend than last, as the previous weekend delivered a devastating 59% drop. This weekend, Old Dogs earns a measly $4.4 million, but at least drops only 36%. The $35 million Disney release has now earned $40 million, and won't be a disaster for the Mouse House.

Armored finishes ninth after opening in seventh for Screen Gems last weekend. Armored earned a poor $3.5 million in its second frame and drops 46%. The $20 million heist film has now earned $11.7 million.

Finally in tenth is Ninja Assassin. The action film earned $2.7 million and falls 46%. Ninja Assassin has now earned $34.3 million against a $40 million budget.

Finishing just outside the top ten is George Clooney's Up in the Air, as word-of-mouth really heats up for this awards contender, despite being on only a handful of screens. Up in the Air earned $2.5 million from only 72 venues, giving it a stellar average of $34,028. Expect to hear a lot about this one in the weekends ahead.

Overall this weekend, the box office compared to last year was just a tough stronger. Last year, with The Day Earth Stood Still on top with an opening take of $30.5 million, the box office took in $82.3 million. This year, with The Princess and the Frog on top, the box office took in $89.3 million. It's all about next weekend now, as we look forward to Avatar dominating the box office as it hits over 3,000 venues. The counter-programming option will be Did You Hear About The Morgans? with Sarah Jessica Parker and Hugh Grant.