Top Chef Las Vegas Recap
By Jason Lee
December 10, 2009
BoxOfficeProphets.com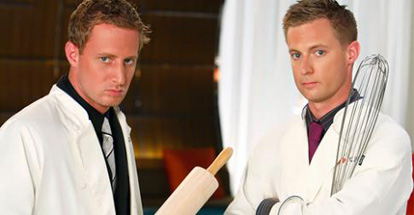 ---
"You are Top Chef."

We know Padma will say it, but who will she say it to? The candidates are Kevin, Michael and Bryan. And what a trio they are.

From the very beginning, we knew that these three were the ones to beat. Pompous Mike gave them a go, Eli tried to bring it right at the end, Jen was certainly neck-and-neck with them for the majority of the season...but these three have always been the ones to beat. Combined, they won 12 out of the 13 Elimination Challenges this season (who won the 13th Elimination Challenge? Why, that would be Jen).

For 13 weeks, they pushed their castmates and they pushed each other – they forced every other competitor to be smarter, quicker, cleverer and more innovative. There simply has not been another season with a comparable level of talent. I've said it before and I'll say it again: this is the best group of chefs that we've ever seen in a Top Chef finale, and they are arguably the best three chefs that the show has ever seen.

What makes this finale even more incredible is that there isn't a frontrunner. Sure, Kevin has probably been the most consistently excellent chef in the competition, but Michael and Bryan have been brilliant on multiple occasions. All three of these chefs have a fantastic shot of winning this title – but it will take their very best to beat the other two finalists.

There is no Quickfire this episode. The chefs arrive at a beautiful grape orchard and Padma explains their challenge. They must cook a three-course meal...though there will be guidelines. For the first course, the chefs will be given a Mystery Box full of ingredients. The chefs must utilize every ingredient in their box to form their first dish. The second dish can be anything the chefs want. The third dish, in a huge change from previous seasons, must be a dessert (fanatic Top Chef viewers will remember the debate that went on last season when Stefan made a dessert but Hosea did not).

And of course, to cook this "meal of a lifetime," the chefs will need help. Kevin, Michael and Bryan turn their head expectedly to see a group of people emerging from behind some grape vines. They're expecting to see their fellow cheftestants, but I have a sneaky suspicion that we'll see some Master chefs play the role of sous-chefs like in Season 3 when Michelle Bernstein, Eric Ripert and Todd English cooked for Kacie, Dale and Hung respectively.

Nope, I'm wrong. We see EVERY cheftestant from this season come out from behind the grapevines. And a grinning Jenn carries a knife block. Yep, they will not be picking sous chefs like in Season 1, they will not be assigning sous-chefs like in Season 4. Each finalist will be randomly assigned two past contestants based on the knives they pull. One sous-chef will help them cook the day before, the other will help them the day of the competition.

Michael lets his gaze drift over to Robin and tells the camera that if he were to draw the knife of "certain individuals," he would rather use it to slit his own throat than cook with them.

Kevin looks over a Jen and calls her a bad-ass. He wants her on his team.

Kevin draws first and he gets Preeti. He's not happy. I wouldn't be either. Preeti was annoyingly clueless through the first three episodes. Bryan does much better, picking Jen. He's thrilled, as any of the three finalists would be if they'd picked Jen. He immediately has an advantage in the finale. Michael picks Jesse, who I wasn't a fan of (she could never get her act together) but who Michael says he's happy with, calling her a workhorse.

The chefs draw one more round of knives. Kevin gets Ash and looks none too happy. I don't blame him. His sous-chefs are weak. Bryan picks Ashley and both he and Jen look really enthused. I would be, too – Ashley showed some great skills in the middle of the season. Michael picks Eli and is extremely happy with it.

In his narration, Kevin says that he's extremely jealous of the sous-chefs of his competitors. He was really hoping to draw Jen and Eli, but they went to Bryan and Michael respectively.

The chefs head back to the kitchen and open up their Mystery Boxes, which contain crab, rockfish, squash, Meijer lemon, anise and matsutake mushrooms. All three of them look perplexed – "how on earth will I combine these ingredients into a good dish?" they seem to be wondering.

The prep period goes by pretty quickly. Ashley is melding very well with Bryan, though his dishes sound a little more safe than the other two. Michael is concerned with the fact that he doesn't have a clear vision of what he wants to do with the Mystery Box ingredients – he says that for the first time in the competition, anxiety is settling in. Kevin spends the majority of his prep time being pissed off at Preeti. He says that she's far too slow, and out of about 20 items on his prep list, he's only allowing her to do two of them. I understand his reluctance to let Preeti do too much for his menu but I find it strange to see the normally unflappable Kevin to be so angry and frustrated.

The chefs wake up the next morning and are chomping at the bit to get started. Kevin is mad at himself for having wasted so much time being down on Preeti the day before, saying that it cost him half his prep time. Michael is still trying to figure out his Mystery Box dish and Bryan is drawing plans for his plating. When all of a sudden, there's a knock at the door.

The chefs immediately all go on high alert. They are understandably expecting a huge twist. Bryan says that he expects Padma or Tom to come in and add a totally new aspect to the challenge. The door opens and in walks...

THEIR MOTHERS!!! Awwwwwwwwwwwwwwwwwwww! The mothers of Kevin, Michael and Bryan enter and give their sons big hugs. You can tell that the chefs are super excited to see their mothers. Kevin is crying and Bryan lets his mother button up his chef jacket.

It's interesting to see the effect that this visit has on each chef. Kevin has a heart-to-heart talk with his mom, and she tells him to "bring the real Kevin." You can tell afterwards that he's much more focused and centered. Bryan, too, I think is comforted by his meeting with his mother – I think it makes him feel better about competing so hard against his brother for this title. Michael, on the other hand, seems to just want to get this over with so that they can get into the kitchen.

When they arrive in Cyrus restaurant, they are stopped at the entrance by Tom. Again, the chefs' hackles rise. They know a twist is coming.

And indeed, one arrives. They now have to cook FOUR courses. The new first course has to be a dish dedicated to their mother and must be inspired by a childhood memory. This is very reminiscent of the final challenge of Top Chef Masters this past summer.

Back in the kitchen, the three chefs describe their dishes to us as they hurry to get everything done on time. At this point, I'm just luxuriating in fact that I get to see Jen cook one last time. She's totally on point for Bryan, seeming more focused than I've seen her at any point during this competition (save, perhaps, for the mission in the Army Base).

Service begins and the chefs begin to present their dishes. As the first course goes out, I make a mental note: at this point, I believe that Bryan has the edge (due to the involvement of Jen), I think that Kevin is second most likely to win, and that Michael is least likely due to the fact that he waited so long to decide on his Mystery Box dish.

In another surprise, the moms are all seated at the table, alongside the judges (Tom, Gail, Padma and Toby) plus a bunch of high-powered, super-respected restaurateurs. This is a huge opportunity for the chefs, as any one of the restaurateurs could decide to hire them.

But of course, the first course is all about moms. Kevin serves a southern fried chicken with liquid squash casserole. Bryan says that his mom was a queen of one-pot dishes and presents his play on a tuna casserole. Michael says that he was a picky eater who hated broccoli, and presents a cream of dehydrated broccoli, which was fried to taste like popcorn.

Tom loves Kevin's squash, saying that he keeps finding new flavors and nuances in it. Another diner says that Kevin's dish takes him straight back to the south and Padma agrees. Toby thinks that Bryan's dish lacks acid and is the least seasoned. Michael's prawn didn't seem to work, with some calling it undercooked.

Kevin wins Round 1.

The moms are thanked for participating and head to the kitchen to bid their sons goodbye and good luck. Of course, the boys just want to know what the judges said about their food.

The Mystery Box dishes are next and again, all three are beautiful. Kevin has a lightly cooked rockfish with roasted squash and crab broth. Bryan cooked his rock sous-vide with diced matsutake mushrooms and a lemon jam. Michael has a warm rockfish with dashi, plus a salad made from the crab and squash.

Kevin's broth was the star of his dish but he really messed up on the matsutake mushrooms, leaving them super tough – someone remarks that they need a hatchet to cut it. Bryan's dish, again, needs more seasoning, though his fish was cooked the best. Gail says that it was the safest dish of the three and that it didn't inspire her. Tom calls Michael's combination of the lemon and squash "perfect," and that that balance of sweet and sour was great. Someone else says that it "popped," and calls it their favorite dish of the course.

Despite the fact that he didn't have a clear idea of what to do with the Mystery Box, Michael wins Round 2.

The next course was Chef's Choice. Kevin serves a slow-roasted pork belly with Brussels sprouts, broccoli and caramelized ham jus. Bryan has a venison saddle with a puree of sunchokes and orange juniper sauce (it looks beautifully plated). Michael has a fennel-scented squab breast with a pistachio cassoulet and different textures of mushrooms. It's a pretty grey plate of food.

Bryan's dish was delicious, with tons of flavor and pungent aromas. Tom marvels at the amount of work that went into it, with each vegetable prepared in two ways. Michael's squab is also excellent, with different complexities of flavor, though Gail doesn't like his mushroom puree and another diner calling it a "gimmick." Kevin's pork belly was not cooked enough, though the sauce was great.

I call that one for Bryan, and looks like each chef has won one round. It'll all come down to the dessert.

Kevin presents a roasted banana with toasted peanut, chocolate bacon mousse and a bacon brittle. Bryan has a dulce de leche cheesecake with a fig sorbet, poached pear and basil. Again, it looks beautiful. Michael has a chocolate caramel coolant, butternut squash brûlée and butternut ice cream.

One diner doesn't like the pork in Kevin's dessert. Gail thought the bacon had great flavor, but Tom doesn't think the bananas had enough done to them. Michael's garnish of the toasted pumpkin seeds were delicious, but his cake was too dry (he admitted earlier to having left it in the oven too long) and needed more creaminess. Tom says that he's cooked this cake before and that it needs to be served immediately, otherwise the caramel in the inside soaks back into the cake. He calls it an "almost great dessert." Bryan's dish is a huge hit, showing great finesse and complimented with a "heavenly" fig sorbet. Gail calls it a "pastry chef's dessert."

Call Round 4 for Bryan, and ladies and gentlemen, I think we have your new Top Chef. I'm going to go out on a limb and credit Jen with some of this victory, so actually, I'm going to say that BraJen won Top Chef Las Vegas.

The cheftestants nervously await Judges Table. Kevin liked the food he served, saying that he was happy with it, but admits that he thinks that Bryan had the most seamless service and that Bryan will likely win. Bryan feels confident. Michael is angry that he messed up one dish (the dessert).

The chefs come before Judges Table and Tom thanks them for an amazing end to an amazing season. Bryan goes first. Toby says that Mystery Box dish was cooked well enough but that it didn't have enough textures – well-executed but nothing was bold. Gail was crazy happy with his venison. Tom says that it was well seasoned and perfect for the fall, calling it his most successful dish of the night.

Kevin's fried chicken gets praise all around (though how can you be unhappy with fried chicken, really?). Padma says that it had tons of flavor and Tom really loved how his squash was more than just squash, it had layers of flavor. As for his pork belly dish, Toby thought that it was going to be a knock-out but that it wasn't. Tom wished that Kevin had taken it a step further, suggesting that an addition of some roasted pork would have made the dish more complete.

According to Toby, Michael nailed the Mystery Box dish, saying that he nailed the mushrooms and that his pickled tomato was a "flavor bomb." Tom said that his food was so well-cooked that it kept revealing different flavors. As for his dessert, Michael admits that he messed up with the cake, neglecting to set a timer and letting it overcook. Gail says that the cake was super dry but that the flavor combinations was great – she sees how it was almost a great dessert.

Padma asks each chef to express why they think they should win. Bryan say that he cooked a lot of dishes that showed style, and felt that he expressed his cuisine and why it means so much to him. Michael says that he wants to win so that Bryan doesn't win. Everyone (including me) laughs. He then says that food is all he knows – it's how he expresses himself and what he loves. Kevin says that he loves how food can comfort people. He feels that he put some great, soulful food out – food that shows the person that he is.

The chefs head into the back and the judges get to work, discussing the dishes course by course.

In the first course, Gail thought that Kevin created the most flavor and had the most interesting dish. Tom liked Bryan's idea for a dish but found it bland. Toby disagrees, saying that he didn't mind it being a little underseasoned as it brought out the sardine flavor. Tom didn't like Michael's dish, saying that the prawns overpowered the broccoli.

Tom thought that Michael used his ingredients the best in the second course – Michael was more imaginative and let the flavors come through. Gail didn't like his tomato but found it to be far better than the "low" point of Kevin's dish: the messed up mushroom. Toby said that Kevin realized that he messed up, and that he almost made up for it with his delicious broth. Tom argues that the mushroom wasn't correctly prepared, to which Toby responds, "That's easily remedied – just don't eat it!" Gail jumps in by saying that Kevin made it to be eaten.

Gail could find not a single flaw in Bryan's third course dish. Tom called it beautiful and flavorful. Toby found it to easily be the strongest dish he made that night, but thought that Michael's squab dish was more memorable. Gail didn't like his mushroom puree and disliked the texture of his pistachio cassoulet. As for Kevin, she was disappointed. She knows he can do so much better. Tom says that he usually presents such sophisticated flavors, but didn't tonight.

In the dessert course, Tom says that Michael didn't make his cake correctly and he knew it. Gail said that even though it was dry, there was a boldness about his flavors that she liked, and that the dish conceptually made sense. Padma agrees. Toby says that Kevin was disappointing again, but notes that he is on the fast-track to culinary superstardom. Of all the desserts, Tom would like to eat Bryan's dish again. Gail agrees that his was the most subtle and sophisticated. With some tweaking, she continues, Michael could have had the best dessert but tonight, Bryan's was best.

At this point, I think it's clear. Kevin wins Round 1, Michael wins Round 2, Bryan wins Round 3 and 4. You probably have to go back to Season 1, when Harold slam-dunked Tiffani, to find a more clear-cut winner.

I'm calling it for Brajen.

The cheftestants come back out and Tom tells them that this season took the chefs from the glitzy lights of Vegas to the wine country of Napa Valley. It was a long journey with some thrillingly great dishes. Bryan presented a stellar set of courses, each well-constructed and beautifully presented. He also had a great dessert. Michael had amazingly creative dishes, he always reaches high and frequently delivers. Kevin stayed true to himself and showed that southern food is about more than biscuits and gravy.

Padma looks at each of the cheftestants. They tense.

Padma: "Kevin.."

WHAT?!?!?! KEVIN WON THE TITLE OF TOP CHEF?!?!?

Padma: "...you are not Top Chef."

Whoa. That was a crazy fake out. I had no idea what was going on for a second and based on the expression on Kevin's face, neither did he. He gamely shakes the judges hands before walking backstage where he finds his mom waiting. He tearfully confesses to her how much he wanted this title. He said that he had one bad day. He says that he is proud to lose to people as talented as Bryan and Michael. He saw himself as an underdog, showing that if you can fight then you can make it...he just didn't go all the way.

I'm still reeling from the shock as Tom addresses our remaining chefs. He tells Michael and Bryan that they were both a pleasure to watch. They're both incredibly passionate chefs. Bryan says that this is probably the proudest moment of both their lives. Michael says that they both accomplished what they set out to do.

Padma looks at each of them. They tense. I tense.

Padma: "Michael, you are Top Chef."

Michael stands there stunned for a moment, unable to move. He honestly, 100% looks shocked. I am, too. I thought that Bryan had this in the bag, but apparently Michael has won. Michael's mom comes out, gives Bryan a hug and then Michael a hug. She's clearly very proud and sad at the same time.

As I watch her cry and embrace her two sons, I almost tear up. It's absolutely the most emotional moment in the show's history for me. These two chefs fought so hard and in the end, they had to beat their brother to achieve their goal. To see their mother's reaction makes me realize how hard it must have been for both of them.

Michael tears up a little bit and says, "There's the emotion you've been waiting for, Padma." All the judges beam at Michael – they're so happy for him. As Gail warmly embraces Bryan, letting him know that he did a great job even if he didn't win, Bryan says that he's exhausted, surprised, happy and sad. He says that he didn't know that a person could feel every emotion at once.

It was a strange process, but it was worth it and he would do it again. Michael feels that being on Top Chef really got him in touch with who he is as a person, and he will always appreciate his time on Top Chef.

I have to say that after looking at my notes, I'm sort of dumbfounded. I have no idea how Michael pulled off the win. I knew that Kevin was the only one who had no chance to win (a la Richard Blais) but I had honestly thought that Bryan won two rounds and Michael won one – especially since Gail had so many bad things to say about Michael's first and third dish. Of course, we've seen that it doesn't really matter what the other judges thought – it only matters what Tom thought. And so I visit his blog.
And it looks like Tom knew we were coming. The first line of his newest entry is: "If you're left scratching your head after the finale, you've come to the right blog."

Apparently, Michael did win two rounds to Bryan's one. Yes, Gail had some quibbles with Michael's squab dish and yes, Bryan's venison dish was his best dish of the night...but the judges agreed that Michael's dish in that round was better. Couple that with the win in the Mystery Box round and Michael wins.

But beyond that, I gather from Tom's blog and Gail's blog that as a whole meal, in looking at the entire arc of dishes that the chefs put out, Michael put out the best food. As a whole, he was the most innovative, the most imaginative, the most daring and the most interesting. He might have won more rounds than Kevin and Bryan, but it was his overall package that sealed the deal.

Of course, Tom and Gail are quick to note that Kevin, Bryan and Jenn are all headed towards fantastic culinary careers . . . but in the end, Michael had the best night. Congratulations to him.

I hope you all enjoyed this season as much as I did. Take care and I'll see you all back here for Top Chef: Masters 2!