Monday Morning Quarterback
By BOP Staff
December 7, 2009
BoxOfficeProphets.com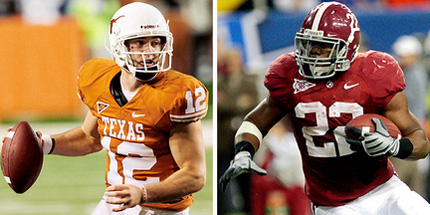 ---
The future stars of Thor, Prince of Persia and Spider-Man 4 open a movie to...less than $10 million.

Kim Hollis: Brothers, the Lionsgate release starring Natalie Portman, Tobey Maguire and Jake Gyllenhaal, earned $9.5 million. Should the studio be pleased with this result?

Josh Spiegel: Absolutely. That this movie even made nearly $10 million is a bit of a surprise. Movies about the Iraq War are pretty much guaranteed to not succeed; though Brothers is mostly set in the States, it's also obviously a film set in and dealing with wartime. Lionsgate did a solid job of marketing the film, even if some of the ads kind of gave away what I would imagine is the entire plot; the reviews were solid enough and the actors are still intriguing enough to lure audiences in. Brothers may not be a blockbuster, but Lionsgate should be plenty happy.

Sean Collier: Josh is right - this is about the ceiling for any film dealing with Iraq. It seems that audiences are not, en masse, willing to deal with the last ten years on the big screen yet. This isn't a home run, but it's a fine enough result; I'm sure they'd like some Oscar attention for the leads, but I don't think that's forthcoming.

Michael Lynderey: It's a fairly decent result, especially for this weekend, and the movie will probably have the momentum to finish in or around $30 million. That's not bad, considering that Brothers is gloomy little picture with a trailer that never even tried to hide that fact. And the gloom and doom wasn't redeemed by glowing reviews - rather, critical reception was just pretty good, or mixed. If the main mission statement of Brothers was to receive Oscar nods, though, it looks like they're not succeeding in building up any kind of buzz.

George Rose: They should be thrilled with this result. Breaking $10 million was probably the best case scenario, but for a film that I feel I've already seen just by having watched the trailers, this is a great result. The plot was given away too soon and it unfortunately didn't look that great. The only reason to see this movie was for the cast, and if that's the deciding factor then there are better movies to see. The Men Who Stare At Goats had an infinitely better case and didn't make much more than this. If that large cast of great actors couldn't turn that unique story into a success, why would anyone expect much of a movie where Tobey Maguire acts irrational and overly emo? Been there, saw that in Spider-Man 3.

Reagen Sulewski: This is about double what I was expecting for it, given how dreary the subject matter is. This says a lot for the cast, I think, as you could easily see this making jsut a couple of million, or not even getting a wide release with actors that no one cares about. Then again, maybe feel-bad cinema is in right now, with this and Precious out there.


Oh boy! A crappy looking action flick!

Kim Hollis: Armored, from Sony's Screen Gems arm, opened lower than expectations at $6.5 million. Why didn't this one strike a chord with consumers?

Josh Spiegel: The marketing for Armored was always very low-key; frankly, I feel like I saw an ad for this movie almost a year ago, so some audience members may have assumed this was already out or something they'd find direct-to-DVD. Even though the plot may have seemed a bit nice to some folks who're in need of money in trying times, they may not have wanted to see the guys taking the money for themselves in said hard times become the villains. Also, this is a bad weekend to release anything new, as the post-Thanksgiving hangover takes full effect at the multiplex.

Tim Briody: The weekend after Thanksgiving is still one of the few remaining box office dead zones that exist. While quality will still succeed here, it's usually a holdover from a few weeks ago that does (see: Blind Side, The). Audiences are aware that anything new is a turkey and despite ridiculous amounts of advertising, they still stayed away.

Sean Collier: I also remember seeing previews for Armored about a year ago, so the delays until now were an indication to me that there were problems. Audiences at large must've felt the same way - with no buzz and no word of mouth, the film fell flat off the bat.

Michael Lynderey: Armored always looked like a B-movie, and this isn't the right time of year for a humorless action thriller - even one with toned-down PG-13 violence. Could it have done better if it stuck to its original September release date? Perhaps. But I would never have pegged it as scaling much of a double digit opening - the plot isn't particularly arresting (no pun intended), the cast are recognizable but not A-list stars, and not screening the movie for critics was like an admission of guilt (even though Armored wasn't even a bad movie).

George Rose: What about this movie suggested a chord was going to be struck? The cast is bland, the action uninspired and the plot lacks anything resembling depth. This would have fared much better in September, a time when nobody expects much of any of the releases. It didn't need to open to $20+ million, but even breaking $10 million would have made this appear to be a smash hit. But coming out just after 2012 and New Moon, and just before Avatar, made this a clear choice of films to be avoided. There's not enough time or money over the holidays to see every crap movie that comes out, and not much about Armored helped it stand out in the busy crowd.

Reagen Sulewski: This is about standard for a December generic action flick, but did anyone else feel like they inverted the cast in this? You have Laurence Fishburne and Jean Reno in your film - and your leads are Matt Dillon's googly eyes and the guy from Studio 60 that no one remembers? Not that that film becomes a big hit either, but I'm just sayin'.

Somewhere, the Weinsteins are giggling.

Kim Hollis: Everybody's Fine, the Robert DeNiro comedy, opened to only $3.9 million. Is it fair to say that Miramax is going out with a whimper with this one?

Josh Spiegel: That may be too fair, frankly. Saddled with one of the two worst titles of a movie this year (It's Complicated being the runner-up), and some apparently misleading marketing, Miramax is not going out the way it came in. I'll avoid the obvious pun with the title, but...yeah, epic fail here.

George Rose: Saying this is a whimper is still being kind. We're talking about Robert DeNiro, Drew Barrymore, Kate Beckinsale, and Sam Rockwell here. At the very least, I expected more than a $5 million opening out of DeNiro and Barrymore. Then again, the trailer of the movie claims the story is about a father trying to see his four children, yet there are only three children to be seen. That means the big surprise twist of the movie is going to concern that missing child and some sort of troubled past, right? YAWN! This is the holiday season, people! Consumers want tentpole blockbusters or inspirational stories, not sappy children crap. We want things we can see with our family, and the story of a broken family doesn't having me running for Fandango. Is this the case 100% of the time? No, or Precious wouldn't have become such a success. But at the end of the day, we can only handle a certain emotional load. Plus, we already know from the title that everyone is fine, so there's no rush to spend money to see what happens. I'm sure they'll still all be fine in a few months when it comes out on DVD.

Michael Lynderey: Miramax just gave up on Everybody's Fine. Maybe a platform release would have done this one better, but I think the film is basically a victim of being average on most levels. The reviews neither particularly loved it and nor trashed it, the cast are name actors but not break-out draws, and the movie feels familiar enough without being in any way a must-see. And in a season where Oscar buzz is expected for this type of film, having no discernible amount of it was a minus. A good comparison would be last year's Last Chance Harvey, which had a similar premise and better reviews - but still didn't much break out.

Sean Collier: I'm a little surprised at the failure, here. While it's the wrong weekend for any big release, this felt to me like Four Christmases last year - the easy, inoffensive holiday family choice with the big stars that would do just fine. They either woefully mistimed the release or saw some terrible things from test audiences and dumped it. This could've at least been a weekend-winning hit, but it seems something went very wrong.

Reagen Sulewski: A lot of that would be that no one had anything to gain from it, Sean. It's an orphan project at a studio that will be no more. What studio head in their right mind would throw marketing dollars at it?

It's time to dream of little gold men.

Kim Hollis: Now that a couple of early awards and nominations have come out, what's your current take on the Oscars landscape?

Josh Spiegel: It's still a bit too early to tell, I think. We're only a couple weeks away from the release of The Lovely Bones, Nine, Invictus, and, of course, Avatar. All four of these movies could easily take slots in the Best Picture nominations, and they could all miss the mark. The first three have had early screenings; none of the films seemed to have a consensus opinion, all getting a mixed bag of reviews. Of course, that doesn't mean much, but even with 10 nominees, a movie like Nine or The Lovely Bones might lose out if it's not popular enough among voters. So, my current take is a shrug in online form.

Tim Briody: With 10 nominees, something screwy can still happen when we get to the actual ceremony, but I see Up In the Air as a big time frontrunner right now.

Kim Hollis: Tim, I think this is correct. Up in the Air feels like the movie to beat at the moment. I always felt like Precious was too grim, while the praise for Up in the Air makes it sound like the kind of movie the Academy will want to reward. Things change quickly as various other awards are given, and there's also some importance in seeing how the Clooney film does at the box office first. It can have an impact.

Sean Collier: Precious is still a frontrunner, but the buzz may have peaked too early. I'm hoping for some unexpected contenders due to the 10-nominee thing - A Serious Man, perhaps? - and it looks like we will not be able to avoid an utterly inappropriate Sandra Bullock nomination.

Michael Lynderey: It's odd that, in the span of just one week, Up in the Air basically replaced Precious as the front-runner in lot of categories; the Clooney film went from being considered good to near-universally praised as great, while Precious' momentum at the box office just died - $100 million seems well out of the question now, and it's hard to say if Lionsgate will be giving it a further expansion. Otherwise, things are mostly still the same - Clooney leading the Best Actor pool, Carey Mulligan for Best Actress in that film no one is going to see, Christoph Waltz for Supporting (with Woody Harrelson now a possible spoiler), and Mo'Nique still holding the Supporting Actress slot, for now. The last three weeks are where the potential game-changers lie: Morgan Freeman is revving up buzz for Invictus, Nine is popping up here and there, and The Lovely Bones seems to be getting a surprising shrug-off from a lot of critics. It's also looking increasingly unlikely that Avatar will be up for any major awards.

George Rose: I said this before and I'll stand by it: predictions can't be made until Peter Jackson's The Lovely Bones is released. People were screaming Precious at the top of their lungs when it first came out. "Precious is a front runner!" "Precious is going to sweep the Oscars!" Precious this, Precious that, blah blah blah. And guess what? Precious dropped 67% this past weekend. Suddenly its chances of making $100 million aren't looking so good, since it sits at just over $30 million and only made $2.3 million this weekend. What I want to know is where are all those people that used to say Precious is the frontrunner? Those people that want so badly to be the first person to correctly guess who the eventual Best Picture winner is going to be. Do people really consider it cool for someone to scream, "I knew Precious would win Best Picture back in December!" at the Oscar telecast party? I would tell that person to shut up and sit down, because they're blocking my view. My theory is that I don't need to be the first, I just need to be right. I never jumped on that bandwagon and for good reason; it's simply too soon to make a prediction. I'm not saying we need to wait until the day before the Oscar ceremony, but at least until January 1st when all the qualifying titles have been released. Anything is possible this early in the game and with 10 Best Picture nominations, there are going to be lots of "front runners". If my arm is really being twisted for an answer, then I'll stick with The Lovely Bones. At least until I see it, anyway.

Reagen Sulewski: Not just peaking too early, but I think we're starting to see some Precious backlash. Not enough to keep it out of the Group of Ten, but probably enough to limit it to that and a couple of acting noms. I don't see much critical support behind the Coens, and I think about 95% of people don't even know there's been a Coen film this year. I think the slate has been weak enough so far that we might get something like The Hurt Locker sneak back in as a major contender. I expect that the big award is either Invictus' or Nine's to lose, though.