Top Chef Las Vegas Recap
By Jason Lee
December 3, 2009
BoxOfficeProphets.com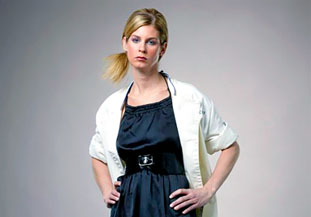 ---
It's finally here. The Top Chef finale in Napa has finally arrived. We've gone through two dozen Quickfire and Elimination Challenges, and four chefs are left standing. And guess what? It's the right four. There's a reason why, over 12 episodes, not a single chef other than these four won an Elimination Challenge. That's how dominant they've been.

This is the first time in the history of the show that the most talented, most capable chefs made it all the way to the finale. In Season 1, we missed LeeAnn. In Season 2, Cliff was disqualified before the finale. In Season 3, Tre was left out. In Season 4, Dale imploded during Restaurant Wars. In Season 5, Jaime got tripped up on seafood.

Finally, the true contenders make it all the way to the finale. And what a group of contenders they are. We have Kevin, who makes deceivingly simple-looking food with a comfort food sensibility. We have the Voltagio brothers, who ooze innovation out their ears. And we have Jennifer, the tough-as-nails, no nonsense, when-she-smiles-it's-like-the-sun-coming-up executive chef for one of Eric Ripert's restaurants.

I've been rooting for Jen since the very beginning – mostly, I think, because I see a lot of myself in her. When something has to get done, she puts her head down and works to get it done without a lot of theatrics. She's a natural leader but can be her own worst critic. She genuinely wants to befriend those around her but won't go out of her way to do it.

And she's ridiculously talented.

Jennifer arrives first at a Napa Valley train station awaiting the others. She says that being in the top four is nothing to her – she wants to win. Michael arrives next and remarks about the strong abilities of all four chefs – but he's shooting for the title. Kevin shows up and tells us that he won't be happy with any outcome other than him winning. Bryan arrives last, wielding the largest umbrella in the history of Napa Valley. He says that he really missed his son while he was away.

A train arrives at the station...TRAIN CHALLENGE! I'm calling it right now. They're cooking on the train. I'm sure of it.

Padma steps off with Michael Chiarello. You might remember him as the runner-up to Rick Bayless on the first season of Top Chef Masters. Padma is sporting a ltitle baby bump and Jen refers to her as a "hot pregnant mom." I idly wonder how Padma is going to endure a Top Chef finale in Napa Valley (with the wine a'flowing) while pregnant...

It's the last Quickfire of the season and the four chefs will be working with Napa Valley's signature ingredient: the grape. They have a full pantry and will be allotted 30 minutes to cook their dish in the train. And oh by the way, this is a High Stakes Quickfire. The winner gets an all new third generation Toyota Prius.

I think I just crapped my pants. Holy cow, what an amazing prize. You can almost hear the drips of drool coming down off of the cheftestant's faces. Jennifer comments on how her current car is so old that it doesn't even have a CD player.

The chefs head into the train and there's HUGE spread of grapes and produce in the car. The kitchen is expansive and beautiful, which is even better. They get to work.

Half an hour later, they present their dishes in a *cozy* train car. Kevin has a honey and fromage blanc mousse with glazed grapes, olive oil and sea salt. It looks like a flowery panna cotta to me. Michael has a grape leaf stuffed with cous cous with a vinegar-glazed kabob of grapes and scallops on a grape vine. Fantastic use of the ingredient here. Bryan has a roasted hen with brussel sprouts and bacon with a concord grape reduction. Jen has salty chicken livers with steamed clams, cabernet grapes and wild tendrils.

Michael Chiarello is truly pleased with all four dishes. Kevin's dish was tasty but wishes that he had more grape-love in it. Michael smartly used three parts of the grape in his dish. Bryan's dish was good but his smoky flavor overwhelmed the grape. Jen's dish was so good that Michael Chiarello all-but-promises to steal it for one of his restaurants.

I predict that Jennifer will win this Quickfire - until Michael Chiarello describes his criteria for the winner. Today's winner was the one that best celebrated the grape ("argh, Michael wins this") and really told a story. And yes, Michael wins the challenge. He's the proud owner of a brand new Prius.

Lucky bastard.

The Elimination Challenge for the finale is much akin to the governor's banquet in Season 4 – this year, the cheftestants will be cooking for the annual "crush party" for a Napa Valley winery. This is a traditional event that celebrates the end of the harvest. The cheftestants will be using the finest local ingredients – other than salt and pepper, they can only use ingredients grown within a 100 mile radius of the winery. They need to do two dishes – one vegetarian and one featuring a local protein. They will serve 150 people with five hours to cook.

Also, Michael is wearing a kick-ass leather jacket. I mentally make a note to look for one for myself this Christmas.

The chefs head to the farmhouse to pick out their ingredients and everything looks amazing. Jennifer wanders around the meat freezers, lamenting that they're filled with "beef, beef and beef." She says she has a million ideas in her head. ARGH! I hate it when Jennifer is not focused!

The chefs head to Brix restaurant where they have a huge kitchen with tons of equipment. Kevin is cooking a beef brisket but is worried that it won't be tender enough. Michael is trying to do an egg custard, which he believes will have enough of a "wow" factor to win him the challenge. Jen is a little bit nervous, and wants to forget that this is an Elimination Challenge. Bryan believes that his experience cooking with local ingredients will play to his advantage.

Most of the cooking takes place without drama - except when Jennifer finds out that the coals in the wood-burning oven have died out. She will not be able to grill her duck and infuse them with a smokey flavor as she'd planned. She switches to a confit technique instead.

ARGH!

Before we know it, the guests arrive and the chefs start serving. The judges head over to Bryan's table first and he has for them a goat cheese ravioli with squash puree, as well as a fig-glazed short rib with a puree of beans with a side of wild arugula. Gail loves the flavor of the short-rib, Michael Chiarello loves the texture, but Padma thinks that it lacks salt.

Next we have Michael, who is very happy with the way his "perfect egg" dish has come out. He serves the judges a vegetable pistou with a heirloom tomato coulis with fennel, as well as a turnip soup with foie gras terrine, a poached pear and a glazed turnip. He has cleverly made the turnip look like a poached pear and the pear to look like a turnip. Tom says that the flavors are nice and the combo is nice but the egg overwhelms the vegetables. Padma wishes her egg was more cooked. With the pear/turnip combo, Tom says that the whole enhances the individual parts.

Kevin is next and serves a vegetarian dish of roasted beets and carrots with a carrot top puree and San Andreas cheese. He also has a grass-fed brisket with pumpkin polenta and marinated root veggies. Gail compliments his "strikingly beautiful" colors. Padma calls his seasoning "complex." Michael says that it's a brilliant use of local ingredients. Tom doesn't like his beef, saying that it has a "tin" flavor to it.

Finally, there's Jennifer. She's tried her confit duck and she's happy with it. She serves a cheuvre mousse with honey mushrooms, braised radishes and basil. She also has her braised duck legs with a confit of duck breast, squash puree and foie gras. She has also paired each dish with a wine (poor Padma!). The judges comment that her veggie dish is a little too salty. Tom likes the composition, Michael didn't think the mushrooms would work but then tried a bite and said it made total sense. Tom also really appreciates the fact that Jen used the whole duck to make her protein dish.

At this point, I'm hyper attuned to everything being said about Jennifer's foods and I'm very worried. She definitely inspired the most tepid compliments of all four chefs from the judges. I knew coming in that Jen would be the underdog to make it to the next round of the finale, but I'm thinking that her time on Top Chef may be coming to an end.

Padma calls all four chefs before the judges. Tom compliments all four on a wonderful season, saying that their professionalism consistently made the judges proud and that it continued today. Michael Chiarello said that they all showed respect and restraint in representing the Napa Valley.

Tom says that Kevin's vegetarian dish was stunning – that it may have looked simple but it was very well done. Gail asks if Kevin felt that the beef was tender enough and Kevin responds that if the beef were any more tender, it would have been a "mushy" plate paired with the soft polenta.

Gail thought that Bryan's pasta dough was perfect and Padma loved his pumpkin polenta, though she would have liked more seasoning in the mushroom sauce. Michael was impressed with the level of flavor infused in the short rib given the short amount of time he had. Gail didn't taste enough fig in his short rib, though.

Gail didn't like the fact that Michael chopped his veggies so small – said that they lost texture and that perhaps using a more rustic cut would have enhanced the dish. Padma said that the white of her egg was colorless and liquid, leading Tom to chide him for not paying more attention to detail. He did, however, enjoy the meat dish and Michael chimes in by saying that he was surprised how it all came together. Gail disagrees, though, saying that it was far too bitter.

Lastly, we have Jen. Tom calls her use of goat cheese "interesting," but then after seeing the look of fear on Jennifer's face, he quickly adds "but in a good way." Michael confesses that he had never tried basil with goat cheese before but found it beautiful with the citrus flavor. Padma criticizes the overuse of salt, but Michael jumps to Jen's defense. He says that he's cooked with the salt that Jennifer used and that when you add it to food, it doesn't taste very salty but will later melt into the dish and release all its flavor.

Gail asks why Jen chose duck as her protein and she responds by saying that she felt that she would be able to use all parts of the duck in her protein dish. Michael comments that all the judges had appreciated the "ducky" quality of the dish, saying it came through. Jen then describes the initial approach that she'd wanted to take with the dish – grilling it over a wood oven – and explains that she could not follow through with this plan due to the fact that the coals in her oven cooled too quickly.

"If you could go back, would you have grilled it or would you still have cooked it the way you did?" asks Tom.

"I would have grilled it to get that smoky flavor in it," Jen responds truthfully. I really respect that she was honest about this. Most cheftestants would have lied, saying that they were 100% happy with how the dish came out, brashly trying to stand behind what they served. Jennifer told the truth and I admire her for that.

The chefs head back to the Stew Room while the judges hash things out. Michael loved the use of the goat cheese in Jen's dish but notes that it got too salty. Gail says that Jen's idea was so striking that you couldn't help but take notice. Michael wishes that he could have seen Jennifer's initial vision for the dish because it sounds delicious. Tom says that she was still thinking through the dish and didn't realize it.

Tom loves how bold Michael was in his cooking, saying that he got different flavors as he put together different bites of his turnip/pear dish. Gail still didn't like how bitter it got. Tom calls Michael's preparation of the egg "sloppy," and says that it overwhelmed the dish.

Gail fell in love with Bryan's ravioli but Tom says that it needed a little salt and pepper. Tom liked his short rib but said that the fig got lost. Michael points out that Bryan attempted two dishes with a high level of difficulty and did so successfully for the most part.

Tom loves the simplicity and confidence of Kevin's vegetarian dish. Gail was amazed at how much flavor he got out of those carrot tops. Tom really didn't like the tin flavor of Kevin's beef, saying it needed more time.

It's so hard to tell who's going home at this point . . . I think that Bryan and Kevin are safe, leaving Michael and Jennifer up for elimination. It all comes down to whether or not Michael's error with the egg was enough of an elementary cooking error to allow the judges to overlook Jen's overseasoning.

The chefs come back and Tom says that the judges' expectations were high this challenge and that the chefs delivered. He wishes that all four could go onto the finale but of course, only three can move forward. Michael announces the winner and it's - BRYAN!!! Wow, this is his first Elimination Challenge win in eight episodes. Good for him.

As for the remaining three chefs, only two spots for the finale remain. Tom says that all of them performed well but that something was missing. Kevin had a great veggie dish but the beef was stringy. Michael went out on a limb with a great foie gras dish, but he didn't take the extra step to make sure his egg was ready to serve. Jennifer seemed scattered, letting her coals die out, but her duck dish was nice, though her goat cheese dish was too salty. He'd be happy to eat at any of their restaurants in the future, but only two can compete for the title of Top Chef.

At this point, I'm even more nervous - Jenn was the only one without a "WOW" dish. I'm thinking that might do her in.

Padma: "Jennifer, please pack your knives and go."

NOOOOOOOOOOOOOOOOOOOOOOOOOOOOOOOOOOOO!!!!!!!!!!!!!!

Poor Jen, she looks absolutely devastated. She drops her head into her hands the minute that Padma speaks her name. Then, she pulls herself up and bravely shakes the hands of each of the judges, thanking them for the opportunity to compete. Then she gives Michael and Kevin a big hug.

In her final interview, she says that the competition pushed her to become a better chef and made her want to learn more and be more creative. She's sorry that she's not in the finale. She really wanted to win – to be there at the end. She's happy that she made some great friends, and that's hard when you know you can do better but you don't have time to fix or change things.

"I'm proud of myself. I made a lot of great food here," she says, tears welling up in her eyes. "It's just hard. I just wish I did better."

As a six-year fan and loyal viewer of this show, this is the first elimination when I've actually gotten a little choked up. Jen is a fantastic chef and a tough woman – until the very end, she worked her hardest to put out the best possible food she could. Unfortunately, Jennifer had the misfortune of competing against three of the very best chefs that Top Chef has ever featured, EVER. There's no shame in losing to Kevin, Bryan and Michael, but you gotta think that in any other season, she could have very easily contended for the title.

As for next week's episode, this promises to be the best final episode of Top Chef in the history of the show. I am convinced that these are the three best chefs to ever make it to the Top Chef finale. The title is up for grabs and I'm not even going to hazard a guess as to who'll walk away with the title. All I know is that I can't wait for next week.