Box Office - Decade at a Glance: September - December 2007
By Michael Lynderey
December 3, 2009
BoxOfficeProphets.com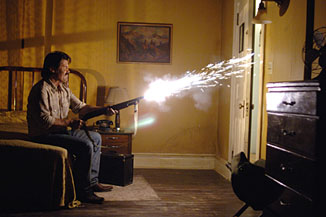 ---
September

It's a kind of class caste system we see in September 2007, isn't it? You have your (mostly not-so-good) big-studio hits at the top, and a whole batch of Oscar-aimed releases (some with very positive reviews) stuck right down at the bottom, with no particular chance of escape.

Indeed, the month's biggest title was the unabashedly mediocre children's-aimed sports comedy The Game Plan - you know, the kind of movie where the poster features a smirking tween surrounded by macho athletes (think Like Mike). This was the one I'd blame for pointing its star, The Rock, firmly into children's film territory - and who can blame him? His kids movies routinely outgross his action output, and indeed The Game Plan's $22 million opening and unbelievably leggy $90 million (!) total bested every one of his leading roles but his first, The Scorpion King. In fact, I have no doubt that it is that very statistic that went through The Rock's mind as he filmed each and every pratfall in the upcoming The Tooth Fairy. After all, faith in the power of the box office can keep a man strong even through the worst of times.

The other three decent earners were the excellent Russell Crowe-Christian Bale team-up 3:10 To Yuma ($53 million total - good for a Western, and with another wiry Ben Foster performance); the Jamie Foxx-Jennifer Garner thriller The Kingdom ($47 million), which mixed some murky moralizing with ultra-violent action (and a horrifyingly realistic opening scene); and yet another threequel (I gotta stop using that word), Resident Evil: Extinction ($50 million), which will be giving way to a fourquel pretty soon. Now that I think about it, The Kingdom may also be notable as a partial return to the '80s subgenre of based-on-real-life wish fulfillment action (i.e. The Delta Force): the film's climax seemed to be modeled after the Daniel Pearl murder, but gave it the kind of happy ending we would have wanted - a last-minute, Chuck Norris-style rescue.

Also doing OK was another Dane Cook vehicle, Good Luck Chuck ($35 million total), along with Jodie Foster's mostly intriguing vigilante thriller The Brave One ($36 million). I say mostly because the film seemed to be one of the dozens of fall '07 releases to start out strong before simply falling apart with an unconvincing, inexplicable ending - something true also of some of those aforementioned lower-caste Oscar films - In The Valley of Elah ($6 million total), with Tommy Lee Jones as a grieving father, and David Cronenberg's Eastern Promises ($17 million), another violent Viggo Mortensen thriller.

Also around (if you knew where to look) were occasionally fun '60s Beatles riff Across the Universe ($24 million total), Clive Owen gunnin' for meanie Paul Giamatti in underrated actioner Shoot 'Em Up ($12 million), Billy Bob Thornton viciously funny again in the aptly-named Mr. Woodcock ($25 million), something called Dragon Wars ($10 million), and Amanda Bynes fighting off sorority queens in Sydney White ($11 million). That film could be considered the last release in the 2003-2007 teen queen cycle, which began with the first big starring roles of Bynes, Lindsay Lohan and Hilary Duff, and ended with the last of their wide theatrical releases to date - the aforementioned college picture. Of course, in no time at all, a certain Ms. Cyrus came around to begin the teen queen wars anew, even if she doesn't have much competition this time around.

October

10/07 was one of the weakest Octobers of the decade, led as it was by a lonely two $50 million+ earners; both of those came from Lions Gate Films, and indeed were part of the studio's two most popular franchises: Saw and Tyler Perry.

First, Tyler Perry's Why Did I Get Married? - his best film to date, if I may say - opened with a strong $21 million and finished with a fine $55 million. This was a return to form for Perry, after the slight disappointment of Daddy's Little Girls, and it marked the first year in which he'd direct not one but two films - something he would do again in 2008, 2009, and, it looks like, 2010. The man is the most prolific major director working today. Also prolific was the Saw series - after all, regardless of the fact that villain John Saw (not his actual name, I know, but it's close enough) was now dead, the franchise kept going posthumously. A $31 million opening, $63 million total was in store for Saw IV - a dip from part III's sum, but more than enough incentive for the show to go on for another year (or three).

The rest of the month had some good stuff to offer: George Clooney very serious in thriller Michael Clayton ($49 million); Steve Carell showing his sensitive side with dramedy Dan in Real Life ($47 million), and Ben Affleck's re-invention as director, mystery Gone Baby Gone ($20 million) - another one of those '07 Oscar films with a shady ending. Also fairly Oscary in theory if not in practice were big-star thriller Rendition ($9 million), Cate Blanchett's grandstanding in sequel Elizabeth: the Golden Age ($16 million), and Halle Berry-Benicio Del Toro drama Things We Lost in the Fire ($3 million), a good little film that failed to find an audience. That one was Berry's last big role to date, although it looks like she's teaming up with Tyler Perry in 2010. Speaking of last roles - the events of October '07 may have played a big part in Joaquin Phoenix's decision to leave acting: his team-up with Mark Wahlberg, the interesting '88-set cop drama We Own the Night, finished with a mild $28 million, and his other film, dramatic thriller Reservation Road, incredibly failed to expand past 39 theaters, despite the presence of co-stars Mark Ruffalo and Jennifer Connelly. The box office Gods were not smiling down on Phoenix.

Fans of flops had other things to see - Ben Stiller's team-up with the Farrelly Brothers, so-so remake The Heartbreak Kid, disappointed on a major scale, finishing with a $36 million well below your typical Stiller film; Walden Media's fantasy The Seeker: the Dark is Rising failed to drum up another franchise, totaling at a meek $8 million; and choppy Alaskan horror thriller 30 Days of Night didn't metamorphose into a Halloween hit, ending up with only $39 million - and thereby making this into one of the slowest Octobers for horror in a while. If you wanted to scream just in time for Halloween, though, you could've always checked out The Comebacks ($13 million total) - a pretty bad sports movie spoof that was so terrifyingly unfunny it scared even the most hardened ghosts, goblins, and succubi among us.

November

November '07 got to work pretty quickly removing the doldrums of October. Ridley Scott's '70s period piece American Gangster opened on November 2nd, utilizing its star power (Denzel Washington, Russell Crowe), generally good reviews, and slight event film feel to nab a $43 million weekend and finish at a strong $130 million (enough to break Washington's usual pattern of $20 million-ish opening / $70 million-area finish). Targeting a different audience, though no less successfully, was Jerry Seinfeld's considerably annoying CGI-fest Bee Movie (I always confuse this one with Bee Season), which opened with $38 million and finished at a pretty good $126 million. This one was basically your typical early November animated hit - so don't go raving about it or anything.

November 9th gave us a surprise upset, at least in the long term: after a leggy run, top awards contender (and Best Picture winner) No Country for Old Men eventually totaled at $74 million, while Vince Vaughn comedy Fred Claus underwhelmed, opening with $18 million and finishing with $72 million - right under No Country. Claus, with Vaughn as the brother of you-know-who, was another Christmas film that turned out just so-so, a disappointment after the decade's strong early crop of Elf, Love Actually, The Polar Express, and Bad Santa. No Country, on the other hand, was a dark, vaguely thriller-ish affair with (once again) an unclear ending, but more than a handful of excellent bits of cinema. And, after a few years of dabbling in American films, this was the title that made Javier Bardem a near-household name, and boosted Josh Brolin from B-movie veteran to frequent resident of Oscar-bait films. Elsewhere, rounding out the week were actually very effective thriller P2 ($3 million total) and Robert Redford's big-screen debate forum, Lions for Lambs ($15 million), which co-starred Redford, Tom Cruise and a typically terrific Meryl Streep (the constant high quality of her performances is getting too predictable).

The 16th was another mixed bag, top-lined by Beowulf, Robert Zemeckis' stop-motion follow-up to the masterful Polar Express (Zemeckis seems to have sworn off live action). This one actually had some legs, turning a $27 million opening into an $82 million total. Based on the (really, really) old poem, Beowulf was entertainingly pulpy, and the animation's creepiness proved a perfect fit with the various monstrosities on display in the plot. It was also amusing to see British supporting player Ray Winstone reformatted in animation as an uber-muscular norseman. Out that day as well was charming fantasy Mr. Magorium's Wonder Emporium, which paired Dustin Hoffman and Natalie Portman to the tune of a mild $32 million total - the film's title appears to have by this point been reduced to the punchline of bad jokes.

Next, the 23rd featured a typically busy Thanksgiving roll-out of filmstuff, with a little something for everybody. The pack was led by Disney's Enchanted, a semi-musical with an animated opening scene and a clever premise, about an innocent fairy tale princess in modern-day New York (too bad the movie's version of the city was more Disney than Scorsese). Enchanted is the one that turned star Amy Adams from indie darling (Junebug) and entertaining character actress (Talladega Nights) into a strong female lead, breaking out with a $49 million five-day sum and finishing with a strong $127 million - a nice hit to bridge the gap between the month's early successes and the upcoming December onslaught. Playing across the hall was This Christmas ($49 million total), a somewhat saccharine but effectively charming piece of family holiday dramedy. This one was compared by reviewers to Tyler Perry's output (and indeed, the film featured Sharon Leal in a role very similar to her character in Perry's Why Did I Get Married?), and in fact, it is of higher quality than most of Perry's work. Elsewhere, Stephen King's The Mist came around with a great idea, an occasionally effective execution, and a distinctly absurd ending that nevertheless has its fans. This one kind of seemed out of place among the horror subgenres of the time, and played out as such, with a $25 million total. The weekend's remaining two titles were Timothy Olyphant's starring role in the OK Hitman ($39 million total), which was never going to go beyond its action base, and August Rush ($31 million), a drama that plugged stars Jonathan Rhys Meyers, Keri Russell and Freddie Highmore into a frankly absurd plot played straight, with some decidedly mixed results.

November ended quietly, with breezy Hayden Christensen-Jessica Alba thriller Awake ($14 million total); this one co-starred Terrence Howard, who had appeared in no less than five films that fall, and was pretty much the best thing about all of them. As for Awake itself: slow start, good twist, contrived ending. Let's move on.

December

Here is a golden month for meh movies surpassing all expectations: after May '07's feast of $300 million+ titles, December '07 churned out its own little B-level repeat, with no fewer than three $200 million+ releases breaking out even before traditional holiday legs set in.

The top three are ranked here in order of box office and, coincidentally, quality. The biggest, Will Smith's post-apocalyptic I Am Legend, didn't look or feel anything like a December movie - not with its abandoned (but not wintery) citiscapes and crisply burnt zombies. But Smith's star power combined with audience interest to get the ball rolling on this one, giving it a stunning $77 million opening (the biggest December weekend tally to date) and a strong $256 million total. The month's #2 went to National Treasure: Book of Secrets, an unapologetically absurd action-adventure that one-upped the first film's $173 million with a $219 million total, and engineered another hit in star Nicolas Cage's rooster. And bronze went to Alvin and the Chipmunks ($44 million opening, $217 million total - that's two hundred and seventeen million dollars!), perhaps the most inexplicable performer of the three - but was it, really? After all, it was based on a familiar property, it headlined not one or two but three cute, furry animals, and it was completely inoffensive as far as children's entertainment went. Like it or not, that formula equals a winner - even if the final score here seems more than just a little outrageous.

Speaking of kids' movies, it's quite funny to look at the numbers on the Chipmunks picture and then glance over at the box office for a film released just a week before the Alvin-Legend duo: The Golden Compass, a title that was regarded as the potential winner of the holiday season. And why not? After all, book-based fantasies like Lord of the Rings, Harry Potter, and Narnia towered over the winters of the early years of the decade, and this one seemed like a clear contender to reclaim the title. But boy, was it ever not to be - Golden Compass opened with $25 million and totaled at $70 million, all on a $180 million budget. This was real bad, but there is some reason to this madness: the film was hurt by allegations that it preached anti-religion, the reviews were mixed, and the series was perhaps not as popular stateside as it was in its native U.K. The film ended on a cliffhanger, and as time passes on it's looking more and more like that's one plotline never to be resolved.

The same weekend - the 7th - saw the release of the other big story of the month: teen pregnancy dramedy Juno rode a strong wave of critical acclamation that got only louder throughout the fall, and the film finished with $143 million by the time awards season was over. This was a classic case of a Sideways-style Oscar-bait hit - a limited release that grows along with word-of-mouth, receives all the expected Academy Award nominations (winning some) and finishes with a hefty total. Juno broke-out its obscure pop culture-referencing star, Ellen Page, and cemented the screen persona that co-star Michael Cera had introduced in August's Superbad. It was also the subject of some inevitable backlash, but that goes with the territory.

Looking at the lower box office ranks, there's a lot to choose from among the garage sale of December '07 movies. Denzel Washington's second film as director, The Great Debaters ($30 million), was an effective little drama that didn't get far down the Oscar track. Johnny Depp and Helena Bonham Carter sang well, and looked ghastly pale, in Sweeney Todd ($52 million) - not a runaway musical success like Hairspray or Dreamgirls, but a respectable entry in the genre. The Water Horse: Legend of the Deep ($40 million) was a nice little family movie with a particularly ugly critter as the star (the Loch Ness Monster is who I mean). Comedy Walk Hard: the Dewey Cox Story underperformed ($18 million), but gave John C. Reilly a good role and was that rare late 2000s achievement - a genuinely funny spoof. Charlie Wilson's War ($66 million total) may seem like a big-star disappointment - considering the presence of headliners Tom Hanks, Julia Roberts, and Philip Seymour Hoffman - but for such an off-beat looking movie (a political drama marketed as Coen Brothers-style comedy), it seemed like the best possible score. Alien Vs. Predator ($41 million) showed up at just the wrong time of year, and followed the rest of 2007's horror sequels by coming in way under their predecessor's total (next stop for this franchise: Reboot). Keira Knightley and James McAvoy teamed for the historical romance Atonement, to the tune of a $50 million total and a spare handful of Oscar nods. Paul Thomas Anderson's long, dark, and stormy epic There Will Be Blood ($40 million) gave us one of only four 2000s performances by Daniel Day-Lewis, along with a few lines of dialogue that, unlikely as it sounds, have entered popular culture (I'm talking about that whole milkshake affair). And finally, romantic comedy P.S. I Love You ($52 million) came off like a just slightly less gory remake of Saw IV, what with the plot revolving around Gerard Butler using hordes of pre-recorded audio cassettes to control the life of Hilary Swank from beyond the grave (which is very creepy, if you think about it).

And here's an odd hit - Jack Nicholson/Morgan Freeman team-up The Bucket List didn't expand wide until well into January, but then pulled in a bizarrely strong $19 million opening and inconceivably leggy $93 million total, despite reviews correctly calling it out for being schmaltz - and the fact that the holiday filmgoing season was at that point pretty much over. That movie's proof of the idea that if you build it (cheesy big-star comedy), they will come - even if it's January. After all, some people just have no respect at all for the way the box office is supposed to work.