Box Office - Decade at a Glance: May - August 2007
By Michael Lynderey
December 2, 2009
BoxOfficeProphets.com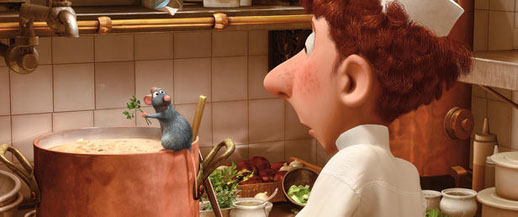 ---
May

While no doubt an improvement over the events of 2006, May-August 2007 played out like a longer, stretched-out version of summer '04, with disappointing follow-ups to several of that year's big films, and an emphasis on "threequels" - which makes sense, because at this point in the decade, many 2000s franchises were rapidly shedding away roman numerals.

May's first release was an ample demonstration of the bad threequel principle - Spider-Man 3, out smack dab on May 4th, was not only longer than its brilliant predecessor, but also more thematically murky and crowded with plotlines, some successful, some not. Thomas Haden Church was particularly effective as tragi-villain the Sandman (and the scene of his creation was remarkably well done), but Topher Grace's Venom was an almost obligatory disappointment, and the film was further dragged down by endless subplots about the romantic entanglements of Peter Parker and Mary Jane - not to mention that unapologetically cheesy memory loss storyline on the part of Harry Osborn. Not that any of those things hurt the initial box office - Spider-Man 3 opened with $151 million, easily breaking the opening weekend record set the previous year by Dead Man's Chest, and reminding us that these milestones were becoming as redundant as they were now common (the total gross was $336 million, the lowest for a Spidey movie - but still enough to win both the summer and the year). The weekend's other movie was Lucky You, an interesting if somewhat dull Las Vegas-set drama with Eric Bana and Drew Barrymore; Barrymore was of course effortlessly adorable, but the film was left way behind, finishing with $5 million. Bummer.

May 11th gave us some quiet before the storm - more specifically, a smorgasbord of very bad movies delivering even worse box office. I'm in a bit of pickle trying to decide which of the following was the worse film, so make up your own minds. Your choices are: 28 Weeks Later ($28 million total), another horror sequel franchise killer, and one of the most viciously implausible films of the year; Delta Farce ($8 million), which starred Larry the Cable Guy and at the very least reminded me of the enjoyably pulpy Chuck Norris movie with the similar name; Georgia Rule ($19 million), a Lindsay Lohan-starring semi-comedy about child molestation from the man who brought you Pretty Woman; and finally, The Ex ($3 million), a Zach Braff comedy where the wheelchair-bound antagonist (Jason Bateman) is revealed at the end of the picture to have been faking his disability for over 20 years (amazingly, this revelation was cut out of the film when it hit video and cable - but I saw it in theaters, so you can't fool me).

Moving past that quagmire, we get into the next pre-designated summer blockbuster - Shrek the Third. This one was inevitable after Shrek 2 took in $441 million, becoming the biggest film of 2004 (not to mention the then-third highest grossing title, ever). But Shrek the Third followed the 2007 threequel route to a tee: first, it was inferior to both its predecessors, alternating occasional moments of good humor with a generally lax and familiar plot; second, it one-upped the previous films' opening weekends, starting with $121 million for three days; and finally, the movie finished well below Shrek 2, with a total of $321 million. But, like it or not - a fourquel is indeed on the way.

May 25th finished off the month with another threequel. I have to admit here, though, that Pirates of the Caribbean: At World's End wasn't really any more overlong, overplotted or just plain bloated than the second film in the series (they were both equally so) - and just like its predecessor, it was kinda fun (here and there). This particular follow-up saw a drop from not only the second film's total gross, but also its opening weekend, starting with $114 million for three days and finishing with $309 million (below Pirates 2's $423 million). At World's End featured star Johnny Depp still riding high and character actor Bill Nighy entertaining as a deliciously full-of-itself piece of villainous seafood. The film also marked the last wide theatrical film release to date of Orlando Bloom, who had rapidly come to fame during the early years of the decade; 2005 was the year that sealed his fate - his two starring roles (Elizabethtown and Kingdom of Heaven) disappointed at the box office, and the success of the Pirates follow-ups didn't give him the momentum to make a comeback (at least not yet).

Speaking of last roles to date in wide release films (that's a mouthful, I know), May 2007 also had one-time thriller queen Ashley Judd's last appearance in a big film - Bug, a stageplay-based little thriller that got some good reviews and was summarily ignored by audiences. If only they'd called it Bug 3...

June

After May's onslaught of $300 million+ earners, June went back down to Earth a little, with box office performances that were somewhat more modest - though the $100 million movie-per-week schedule kept right on rolling.

Nothing much happened on June's first weekend - just American cinematic comedy being reshaped for the remainder of the decade, that's all. Indeed, Judd Apatow's second film, Knocked Up, was released on June 1st to gushy reviews and enthusiastic audience reception, opening with $30 million and finishing at a remarkably leggy $148 million (well above the $109 million score of his first film, The 40 Year-Old Virgin). Knocked Up may not have grossed as much as the May trifecta, but I'd say it had about five times more impact on popular culture; this was the film that made then-chubby comedian Seth Rogen into an A-list comedy star, and firmly established several actors - Jonah Hill, Paul Rudd, Leslie Mann, Jason Segel, Jay Baruchel, Martin Starr, Craig Robinson, Kristen Wiig, Bill Hader, and Ken Jeong - as members of the Apatow crew, a group of comedic thespians who would dominate American cinema for the next several years (try finding a major comedy released since without the presence of at least one of those actors). Knocked Up was also the film that turned Rogen's co-star, Katherine Heigl - then best known to me for her role in the amusing Bride of Chucky (1998) - into a top-level lead actress, a successor to Meg Ryan, Sandra Bullock, and Kate Hudson. The weekend's other movies - teen soccer tale Gracie ($2 million total) and Mr. Brooks ($28 million) - don't require as lengthy a write-up, although Brooks was an intriguing if overplotted thriller, with Kevin Costner and William Hurt making for a deliciously demented pair of villains. Mr. Brooks was also (all together now...) '90s starlet Demi Moore's last widely released theatrical film to date.

The month's next two $100 million+ titles were sequels, of course - unnecessary and confusing threequel Ocean's Thirteen ($36 million opening, $117 million total) and considerably cheesy follow-up Fantastic Four: the Rise of the Silver Surfer ($58 million opening, $131 million total). I don't have much to say about the Ocean's film (except I hope that the series is really over now), and it looks like Fantastic Four 2 is going to be the last entry in that franchise as well, although you never can tell with such things. Also hanging around at mid-month's point were Emma Roberts as the title character in the stylistically incoherent Nancy Drew ($25 million total), cute CGI film Surf's Up, which finished at $58 million (remember, by 2007, CGI did not automatically equal $100 million), and Eli Roth's torture porn franchise-killer, Hostel: Part II. Roth's film continued the year's tradition of disappointing horror box office - especially for sequels; it grossed $17 million, way down from the first movie's shockingly high $47 million, and that was that for the Hostel franchise. Shed tears at your own discretion.

Next, on the 22nd, Evan Almighty was an almost reluctant $100 million earner, finishing at exactly that one-zero-zero number after a slow $31 million opening. Evan was the follow-up to 2003's mega-hit Bruce Almighty, and featured Steve Carell taking over from Jim Carrey in a kind of laugh-less, critically panned retelling of the Noah's Ark story. Almost forgotten but not ignored, the same weekend dished out entertaining PG-13 ghost story 1408, which combined good reviews and the likeable presence of star John Cusack to a $20 million opening and $71 million total. Not too shabby at all.

The end of the month was where the June action really was, though - Pixar's rat tale Ratatouille opened on the 29th, taking in a low-for-Pixar $47 million for the weekend but then legging it up to a hefty $206 million. As usual for Pixar, the film was praised through the roof, won the Best Animated film Oscar, and so on. In short, it was all very predictable, and I'm on the verge of refusing to see any more Pixar films until and unless they make one that gets savaged critically, is despised by audiences, and finishes with a paltry $24.7 million at the box office. I may have to wait a while on this one, but I'm ready.

The same weekend also gave us Live Free or Die Hard ($33 million opening - $134 million total), the fourth film in that series and a very effective action thriller, bringing back Bruce Willis after 12 years and pitting him against some crafty cyber-terrorists. While it was a shame that the film was stamped with a mild PG-13 rating, it certainly didn't feel like it skimped on too much action for rating's sake. As for Willis, he had mostly spent the few previous years turning in some interesting supporting work (especially in Alpha Dog), so it was good to see him in the lead of a big film again. Meanwhile, on the margins of the month were Angelina Jolie's bid for Oscar glory, dark drama A Mighty Heart ($9 million total), the overcooked Meryl Streep-Claire Danes-Vanessa Redgrave melodrama Evening ($12 million), and documentarian Michael Moore's follow-up to his Fahrenheit 9/11, Sicko. Tackling the health insurance industry, Sicko was typically topical, but it was more or less expected that it wouldn't live up to the lofty Fahrenheit standards - it finished with $24 million (to the previous film's $119 million) - still a good sum for a documentary, a genre that continued to thrive during the 2000s.

July

Fourth of July weekend '07 did not disappoint. Michael Bay's Transformers, the much-anticipated (I think) adaptation of the '80s cartoon and toy line, roared into theaters with an $155 million six-day opening and a remarkable $319 million total - the year's fourth (and last) $300 million movie. It's not hard to see how this one played well outside of its fanbase - it was a bright, often funny (if overlong) action-adventure with a lot of appeal to children, and even most critics didn't outright despise it. For Bay, it was a comeback of epic proportions, after the failure of The Island (2005); lead actors Shia LaBeouf and Megan Fox gained a lot of star wattage from this one, with Fox turning into a media-designated super-babe. Entertaining supporting roles from Jon Voight, John Turturro and Anthony Anderson out to be noted, too, as should the often amazing special effects (those robots looked so cool that they helped overcome a lot of dead air). Also out on July 4th was fairly lame-brained Robin Williams comedy License to Wed ($43 million total), which gave TV star John Krasinski his first big film role, and one which I'm sure he'll apologize for sooner than later.

This was really a July for the ages, because week two launched yet another mega-hit - Harry Potter and the Order of the Phoenix, the fifth film in the series, opened on July 11 and scored a $77 million weekend before finishing with $292 million - at the time, that was a Potter total second only to the first film's $317 million. As usual, the movie was pretty well received, and supporting actress Imelda Staunton offered a deliciously villainous foil (even if her character's comeuppance was a bit sketchy). Also out on the same weekend was Elisha Cuthbert-starring torture porn thriller Captivity, which totaled at only $2 million; that's notable - Captivity could be seen as one of the last gasps of the torture film, a horror subgenre that was dying out slowly but definitively throughout 2007. I sure won't miss it.

Maybe because only one July 2006 film crossed $100 million, some sort of cosmic karma befell 2007's edition of the month - because July 20th was home to not one but two more $100 million earners. The first, I Now Pronounce You Chuck and Larry, was your standard consistent Adam Sandler performer, opening with $34 million and totaling $119 million. The presence of Kevin James as co-star should be noted, considering what he'd accomplish at the box office on his own in 2009. The week's other film, Hairspray, was part of the second wave of 2000s musicals; the first wave was began by Moulin Rouge! (2001) and Chicago (2002) and died out with the 2005 failures of Rent and The Producers. The second got its start after the shocking popularity of Disney television's High School Musical (2006), and was carried on cinematically by Dreamgirls, which crossed $100 million in December 2006. Hairspray gave a nod to the Disney film by placing its star, Zac Efron, in a supporting role, and combining in the film's cast list established adult stars (John Travolta [in drag, of course], Michelle Pfeiffer, Queen Latifah) with teen idols (Efron, Amanda Bynes, Brittany Snow). Critics liked it, as audiences must have, because this one legged its way up to $118 million after a $27 million opening. For better or worse, after this, the musical wasn't going anywhere.

July 27th kept the $100 million tradition going with The Simpsons Movie, which delivered a long-awaited film adaptation of the television show beloved by almost everyone but me. The movie was pretty good, though, and opened with a front-loaded $74 million, leading to an $183 million total. Hard to say on a sequel - could happen - maybe after the show ends. Also out on the same day were No Reservations ($43 million total), an all right little romantic comedy with Aaron Eckhart and Catherine Zeta-Jones, Who's Your Caddy? ($5 million), a presumably very bad movie, and Lindsay Lohan's I Know Who Killed Me ($7 million) - a movie whose awfulness I can personally attest to - no need for presumptions there. Reservations was Zeta-Jones' last big role thus far, while the same is true of Lohan and the Killed Me movie - and not unexpected, after a series of box office disappointments credited to her name. But who knows? Lohan may be back. Someday.

August

After Augusts 2004-2006 delivered just a single $100 million movie each, August '07 broke the curse and went to the big leagues. First, The Bourne Ultimatum, generally considered this summer's best threequel, one-upped its predecessors, opening with $69 million and totaling $227 million. Next, August 10th saw the release of yet, yet, yet another threequel - Rush Hour 3: on the one hand, this one was demanded by no one - but on the other, Rush Hour 2 did take in a massive $226 million in the summer of 2001. Rush 3 didn't quite get there this time, but it opened with $49 million and finished at $140 million, giving Jackie Chan and Chris Tucker a good hit (by the way, who's Chris Tucker?). And finally, Judd Apatow and co. rounded out the summer, with the Apatow-produced masterful teen comedy Superbad opening to a decent $33 million on August 17th, and then following audience adoration all the way up to $121 million. Seth Rogen, who co-wrote and co-starred, was really on a roll here, and the film's leads - Jonah Hill and especially Michael Cera - broke out, with Cera taking the screen persona he introduced here into a series of similar high-profile roles, and Hill popping up every time you least expect him.

The rest of the month did as August does, and unleashed an unstoppably numerous horde of films upon the masses. The loot here included needless sequels (Daddy Day Camp, Mr. Bean's Holiday), a not-bad Scarlett Johansson vehicle (The Nanny Diaries, $25 million total), Andy Samberg's debut as lead actor (Hot Rod, $13 million), an awful tween film (Bratz, which features perhaps the single most implausible teen villainess in film history), and another PG-13 horror remake, Nicole Kidman's $15 million-grossing The Invasion (although the Body Snatchers premise has been remade so many times that it hardly makes a difference). Neil Gaiman-based fantasy Stardust ($38 million total) was an interesting if overcrowded affair, Disney's cheesy Underdog actually did pretty well ($43 million), and the Jet Li-Jason Statham team-up War ($22 million), aside from being awful, failed to really match these two actors against one other. I don't know what to make of weird table tennis comedy Balls of Fury ($32 million), but the Kevin Bacon revenge tale Death Sentence offered occasional entertainment, to the tune of a mild $9 million total.

The whole thing came to a climax on August 31st, with the release of Rob Zombie's incalculably unnecessary remake of John Carpenter's classic Halloween. While Zombie delivered an effectively original work with The Devil's Rejects (2005), his penchant for over-the-top characters and situations didn't fit in with the more traditionally reserved style of the Halloween films, and the gaggle of genre actor cameos was more distracting than amusing. That didn't stop Zombie's Halloween from becoming yet another remake hit - it opened with $26 million and finished with a frontloaded $58 million. Happy Halloween, I guess.