Box Office - Decade at a Glance: January - April 2007
By Michael Lynderey
December 1, 2009
BoxOfficeProphets.com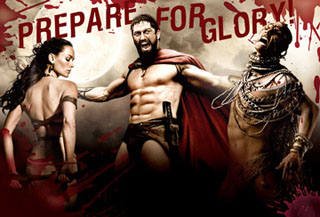 ---
January

Following in the steps of recent Januaries, the first month of 2007 cluttered the path of holdover awards contenders with hordes of inferior product. In general, the spring of 2007 can be characterized as a near-literal garage sale of films, with movie after movie being heaved upon mostly unwilling audiences. Quantity didn't equal box office quality, a theme that was first established by January's output - this was the first January since 2000 to feature only one new film that grossed more than $40 million. That lucky winner was Stomp the Yard, yet another in a now thriving series of hit dance movies. Taking up the second week of January teen slot, it opened with $21 million and finished with a strong $61 million.

The rest of the month was dodgy. January 5th continued the newly-established trend of crowding the year's first weekend, and threw out the uninspired-looking spy comedy Code Name: The Cleaner ($8 million), with Cedric the Entertainer, the CGI fairy tale parody (where have I heard that before?) Happily N'Ever After ($15 million), and the actually rather excellent MTV Films drama Freedom Writers ($36 million), with Hilary Swank at the peak of her game in a surprisingly effective urban teen movie. The same could be said of the best of January 12th's films, Alpha Dog, Nick Cassavetes' gritty follow-up to his soapy The Notebook (2004). Alpha Dog was ignored at the box office ($15 million total), but gave pop star Justin Timberlake a very respectable film debut, re-introduced former teen TV actor Ben Foster as an efficient player of demented psychotics, and gave '90s starlet Sharon Stone her last wide-release film role to date (it's ironic, then, considering her public image, that she played her last big-screen scene in a fat suit).

The 19th was a dead weekend, with one release that was expected to score big. It didn't. The Hitcher, yet another horror remake (albeit not a PG-13 one), opened with $7 million and finished at only $16 million. I really can't explain the failure of this one - sure, it was rated R, but that didn't stop other R-rated re-dos. Maybe it was part of a downward trend: after all, the previous weekend featured yet another floppy horror, the croc-on-the-loose adventure Primeval ($10 million), and the 26th dished out horror-romance Blood and Chocolate, which finished with a squeaky little $3 million. Indeed, the frequency of horror titles didn't stop there - 2007 represented the absolute peak of the 2000s horror boom, standing (tall?) as the year with the biggest number of widely released horror films (loosely defined), ever - a staggering thirty-four of them. As with every boom, there must be a bust, and after so many horrors failed in 2007, their 2008 head count dropped down to a more reasonable seventeen.

Anyway, the month ended okay, with the cute Jennifer Garner comedy Catch and Release disappointing ($15 million total), the cameo-laden bout of action outrageousness, Smokin' Aces, breaking out to a moderate $35 million, and the abominably unamusing hijinks of the spoof Epic Movie coming in second for the month, with a $39 million total. Those parodies seemed to be getting worse with every new one, but at this point, their box office didn't slow down any. The day of their comeuppance would come, but not quite yet.

February

February '07 livened things up some with a few respectable earners. The biggest was Ghost Rider, a PG-13 superhero adventure that broke out to a surprisingly strong $45 million opening and $115 million total. This was an excellent score for Nicolas Cage's hit-and-miss career, even if the movie wasn't any good. Continuing with the theme of bad movie gone good at the box office, Eddie Murphy's astoundingly absurd Norbit, another dip in the salty waters of the fat-suit pool, opened with $34 million and finished with a scary $95 million. In fact, badly reviewed comedies doing well was a bit of a trend, whatwith the Diane Keaton/Mandy Moore team-up Because I Said So scoring a fairly solid $42 million. February can boast of only one really good title getting upper-tier box office attention: Disney's book-based Bridge to Terabithia - marketed as a fantasy but really a drama, with an unexpectedly tragic ending - opened with $22 million and finished with a leggy-as-all-get-out $82 million, a classic example of a well-made children's film finding an audience.

The lower-grossing rank had some movies worth watching, led by Hugh Grant and the adorable Drew Barrymore's fun romantic comedy Music & Lyrics, which gave them both a good total ($50 million total). Also around were the effective Chris Cooper-Ryan Phillippe spy thriller Breach ($33 million), intermittently-very funny TV-based comedy Reno 911!: Miami ($20 million), Billy Bob Thornton's less vulgar-than-usual work in drama The Astronaut Farmer ($11 million), and the historical adventure Amazing Grace, which broke out from limited release to an above-expectations $21 million. Elsewhere, Tyler Perry had his first (and thus far only) box office disappointment with Daddy's Little Girls, which finished with his lowest total - $31 million; this one is easy to explain - while Perry wrote and directed the film, he did not appear in it, and unlike most of his movies, this one wasn't based on one of his plays. A distinctly imperfect storm, it was.

Also on the radar in February, the horror boom didn't slow down any, even if the box office for those titles did - Kristen Stewart had a good lead role in PG-13 ghost story The Messengers ($35 million total), slow-paced, Hopkins-less prequel Hannibal Rising ($27 million) probably finished off that cannibalistic-leaning franchise for good (until the inevitable Lambs remake, of course), and Jim Carrey's stab at dark thriller, The Number 23 ($35 million), was summarily ignored by audiences hungering for Carrey's comedic talents. Actually, when I first heard of that project, I thought it was going to be a comedy, and I suspect I'm not the only one who wishes that was so.

March

Compared especially with the meek March '06, 2007's edition of the month played out like a summer month hijacked from its natural habitat and plugged into the spring. First, dorky mid-life crisis comedy Wild Hogs capitalized on its carefully-assembled package of star power (John Travolta, Tim Allen, William H. Macy, Martin Lawrence), apparently relatable premise, and broad comedy that appealed to both children and adults; it opened with $39 million and finished with a jaw-dropping $168 million, keeping alive the tradition of the really bad March comedy uber-blockbuster. Next, on the 9th, Zack Snyder's comic book-based historical adventure 300 wowed with its remarkable visual style and opened with a distinctly summer-esque $70 million; it finished with $210 million and introduced Gerard Butler as a perpetually-rising star (he went beyond perpetual in 2009, actually). Between this one and Ghost Rider, comic book films were thoroughly continuing their 2000s' reign supreme at the box office. Next, Will Ferrell's team-up with Jon Heder proved to be another one of his hit sports comedies - despite the potentially off-putting ice-skating theme, Blades of Glory opened to a strong $33 million and finished with a leggy $118 million. Clearly, at this point, Ferrell still had it. And to finish off the hit parade, Disney's Meet the Robinsons was another bright and bubbly CGI adventure, and one that came painfully close to finishing with $100 million - after opening at $25 million, it totaled at a so-close to the mark $97 million. March could contain only so many three-digit earners, and so Robinsons ended up the odd man out.

More animation scurried around in theaters, as TMNT proved that the good old Teenage Mutant Ninja Turtles had some fans left, after all, and gave this CGI adventure a $54 million sum (compare that to the first live-action Turtle picture, which grossed a then-shocking $135 million in March of 1990). Next, Mark Wahlberg's overlong star vehicle Shooter gave him a good action role (to the tune of $46 million) and Sandra Bullock had a decent hit with the almost offensively absurd thriller Premonition ($47 million) - but even she couldn't have foreseen that she was only two years away from her biggest box office year.

The rest of the month played out like your usual spring laundry list of films: Samuel L. Jackson chained down Christina Ricci for her troubles in Black Snake Moan ($9 million), Chris Rock pondered the meaning of life, or something, in I Think I Love My Wife ($12 million), and, just like Jim Carrey, Adam Sandler found no box office gold at the end of the dramatic rainbow in Reign Over Me ($19 million). Elsewhere, the good little drama The Lookout failed to break out star Joseph Gordon-Levitt, ending up at only $4 million, and modest totals were in store also for the well-acted if unexceptional sports drama Pride ($7 million) and oddly-New Agey fantasy The Last Mimzy ($21 million). As happened in both January and February, horror films crawled out of the grave and into local theaters with little to no discernible effect - as demonstrated by the box office failures of haunted dummy-fest Dead Silence ($16 million total) and torture porn-horror sequel The Hills Have Eyes 2 ($20 million), which seems to have finished that remake franchise for good (although my crystal ball tells me another remake is scheduled for April 9, 2032). Finally, David Fincher's critically beloved near-three hour thriller Zodiac was only a quasi-horror film, but it didn't do very well either, finishing at $33 million - Fincher's lowest score to date. But karma must have worked out for him, because his highest grossing film was released the next year.

April

The results sheet for April 2007 looks like a cruel joke: a veritable army of films was put out to sea, but only one broke out as a decent hit, with another trailing behind. The month's standard-bearer was of course Disturbia, another PG-13 thriller made good, and the film that established Shia LaBeouf as a lead actor. While the plot on this one was pretty generic - next door neighbor may or may not practice some late-night hack and slashing - the good reviews, a breezy pace, and LaBeouf's generally well-received performance led this film from a $22 million opening to a shocking $80 million total. Large chunks of demographic out there really want to see PG-13 horror films, and quality is one of the unfortunate incentives that draw them in. So that explains that.

For every surprise hit, there must be an unexpected flop, and we sure had one with Grindhouse: directors Robert Rodriguez and Quentin Tarantino teamed up to direct two back-to-back genre films in the tradition of '70s exploitation. Following up their pulpy successes Kill Bill, Once Upon a Time in Mexico, and Sin City, this project seemed like a natural fit, and it wasn't a bad movie(s), but the box office did not take well to the whole thing. The three hour combined running time, mixed reviews, and horror movie fatigue just killed Grindhouse, which opened with $11m and finished with a mild $25 million. Clearly, there would be no Grindhouse 2.

As for that aforementioned #2 slot in April '07, it went to Are We Done Yet?, a follow-up to 2005's Are We There Yet? and a clear contender for the most unwisely chosen title of the decade. The first film, a silly PG kids' release with Ice Cube, broke out to a shocking $82 million just two years before; the sequel, on the other hand, finished with $49 million, which is frankly a lot more than I guessed the first movie in the series would have made - so it looks like a win to me.

Now, the above paragraphs cover only three movies, so they obviously don't do justice to the massive collection of films that April 2007 spawned. So, to recap the month's other events: Anthony Hopkins smirked maliciously at Ryan Gosling (in the thriller Fracture, with its $39 million total), Adam Brody flirted with Meg Ryan in In the Land of Women ($11 million), vikings did as vikings do in Pathfinder ($10 million), Kate Beckinsale fought off some very bad men (Vacancy, $18 million - a pretty scary movie, actually), Halle Berry and Bruce Willis stared menacingly at each other in the ridiculous thriller Perfect Stranger ($23 million), Nicolas Cage fulfilled the "miss" part of hit-and-miss (Next, $17 million), and Hilary Swank faced off against the Apocalyptic forces of evil in The Reaping ($25 million). She must have won that battle, because, well - we're all still here, aren't we?

But that wasn't quite it... deep breath... here goes... the rest of the April gang was comprised of another funny Simon Pegg movie (Hot Fuzz, $23 million total), an acting showcase for Richard Gere (The Hoax, $7 million), a dog-gone-good kids film (Firehouse Dog, $13 million), some obscure thrillers (Redline, Slow Burn), another PG-13 pseudo-ghost excursion (The Invisible, $20 million), cheesy low-budget action (The Condemned, $7 million), and Jamie Kennedy's breakdancing comedy, Kickin' it Old School ($4 million); as far as I know, the reason for that last film's existence still remains a mystery. The prize for the month's best title simply has to go to the delectable Aqua Teen Hunger Force Colon Movie Film for Theaters (I think I got that right), one of those movies you're scared to see because you're afraid it just couldn't live up to its brilliant moniker. And considering the $5 million total gross, I must not have been the only one carrying that thought around.