Weekend Wrap-Up
Holdovers Blind Side Openers at Thanksgiving Box Office
By John Hamann
November 29, 2009
BoxOfficeProphets.com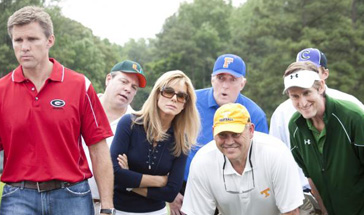 ---
It's been ten years since Thanksgiving was an event weekend for blockbuster movie openings. The scheduling trend in the last decade is to open your event film the weekend before Thanksgiving, and take a healthy amount of gravy over the five-day frame that follows. Openers trying to take down The Twilight Saga: New Moon and The Blind Side this weekend are Ninja Assassin, produced by Larry and Andy Wachowski; Old Dogs, with Robin Williams and John Travolta; limited-release The Road with Viggo Mortensen; and the expansion of Fantastic Mr. Fox, Wes Anderson's animated Roald Dahl story. While some of the openers appeared to have a chance to score on paper, we knew on Thursday that it was going to be a big holdover weekend.

Thanksgiving just isn't what it used to be as a movie weekend anymore. Once upon a time, Thanksgiving opened big films like Mrs. Doubtfire, The Bodyguard, Back to the Future Part II, Scrooged, and Three Men and a Baby (some of those you may have to ask your parents about) before Disney took over, releasing Toy Story, A Bug's Life, and Flubber. Now, studios open event films in the weekends leading up to Thanksgiving so they can enjoy the "Thanksgiving Bump". Last year, Disney's lackadaisical opener Bolt managed to outdo its opening weekend gross of $26.2 million over the comparable Friday-to-Sunday portion of the Thanksgiving weekend. This saved Disney's Bolt from being a $75 million flop, and turned it into a $114 million disappointment (it cost Disney $150 million to make). Holdovers also benefit from big Wednesday numbers heading into the long weekend. Wednesday is basically another Friday for a holdover, which can translate into big money. The top ten films on Wednesday grossed just short of what they grossed on Friday, November 13th - the day 2012 opened to $23.4 million.

The big winner in the Thanksgiving Bump sweepstakes is The Blind Side, as the Sandra Bullock football drama came -this- close to dethroning the third-biggest opener of all time in their respective second weekends. Read that again – after The Twilight Saga: New Moon opened to $142.8 million last weekend, it was a step away from falling to second in its sophomore weekend to a film that was runner-up with a gross of $34.1 million (a $108.7 million difference). After a historic weekend in the last frame, we have a historic follow up-weekend – which is much more of a surprise than the size of New Moon's opening weekend gross. Never before have we seen one film go down to such a degree, while being joined by another film showing such a sharp increase. The most ironic thing in my mind is that this film is called The Blind Side, which is quickly becoming my favorite movie title of all-time.

Number one by a hair is The Twilight Saga: New Moon, as the teen wolf phenomenon implodes this weekend. New Moon earned $42.7 million over the Friday-to-Sunday portion of the weekend, and was down a dramatic 70% compared to its explosive $143 million opening frame. The drop is remarkably similar to that of the original Twilight, but that film opened to a much lower $69.6 million. The first Twilight plunged 62% over the Thanksgiving frame, earning $26.3 million. By the end of the holiday weekend, the original Twilight had yet to gross what New Moon earned over its opening weekend. New Moon crossed the $200 million mark on Friday, making it the third fastest film to reach the $200 million mark, as it lagged behind Transformers: Revenge of the Fallen and The Dark Knight, which both did it in five days. It now has a total domestic gross of $231.2 million. If we follow the original Twilight pattern, we will see another significant drop next weekend, before leveling off heading through December. Is it a $300 million film? It should be, but at this point, I'm not ruling anything out with this one.

The real winner of the box office weekend is our second-place finisher, The Blind Side, which is turning into a box office phenomenon. After opening to a surprisingly strong $34.1 million last weekend, the Sandra Bullock sports drama rode the Thanksgiving Bump to a three-day gross of $40.6 million. That's an increase of 18% compared to last weekend, and for a film that didn't expand its venue count (it added 30 venues from last weekend, moving from 3,110 to 3,140, or 0.9%), this is an amazing performance. Usually the Thanksgiving Bump is enjoyed by kids or Christmas movies (or both). The Santa Clause 3 jumped 20% in 2006, but it only jumped from $8.3 million to $9.9 million. The Polar Express jumped 24% from $15.7 million to $19.4 million in 2004, and Elf saw similar success in 2003. I scrolled back over two decades of Thanksgiving box office, and the only slightly similar example is Home Alone, and it is still a longshot as a comparison. Home Alone opened to $17.1 million in 1990, over the pre-Thanksgiving weekend. Over the Thanksgiving weekend, it earned $21 million, an increase of 23%. The Blind Side doubled that gross, and increased the percentage difference, which is statistically amazing.

The Blind Side actually beat New Moon on Thursday, when it grossed $9.5 million versus New Moon's $9.2 million. It was at this point we knew that something very special had the potential to arrive this weekend, as no one expected Blind Side to get past New Moon after only one week of release. On Friday, New Moon was the number one film with $17.7 million versus Blind Side's $16.2 million. The Friday figure for the $29 million-budgeted Warner Bros. flick was an extreme 47% higher than its opening day, which suggests that Blind Side could have been even bigger over opening weekend, had New Moon not caused such a stir. With Friday grosses in, it became a showdown on how these two films performed on Saturday to crown a winner. The original Twilight had a 2.4 multiplier over opening weekend, and its sequel earned an identical 2.4 multiplier this weekend; Blind Side earned a 2.5 multiplier, bringing it with an inch of winning the weekend.

For Sandra Bullock, 2009 has been the year of her renaissance. After opening The Proposal to her biggest weekend yet at $33.6 million, she trumped it with The Blind Side at $34.5 million. The Proposal also had big legs, earning a domestic total of $164 million, or about 5.9 times what it opened to. Now, The Blind Side could be on an even bigger trend upward, as The Proposal's smallest drop was 17.5%, and never showed an uptick over its run, except when it was on fewer than 500 screens. Great legs are not new for Bullock either, as Miss Congeniality also rose in its second weekend, jumping from $13.9 million to $14.6 million over Christmas in 2000. While You Were Sleeping also rose 13% for the actress in 1995, moving from $9.3 million to $10.5 million in its second weekend.


The Blind Side crosses the $100 million mark today, Sunday, only the film's tenth day of release, and brings with it another shocking statistic. The Blind Side joins huge films like Monsters vs. Aliens (opened to $59 million), Pirates of the Caribbean: Curse of the Black Pearl (opened to $70 million over five days), and The Matrix Revolutions ($83.8 million over five days) as films that crossed the $100 million mark on their tenth day. The Blind Side has an awesome current total of $100.9 million.

The Thanksgiving weekend helped 2012 get back on the road toward $200 million, as the Roland Emmerich flick earned $17.8 million in its third weekend of release. It dropped a much better 32% this weekend, after plunging 59.5% in its second frame. Even if 2012 doesn't make $200 million domestically, it will still be a huge worldwide hit. The end of the world flick has already earned $350 million overseas, which will certainly help to cover the film's $200 million production cost. So far, 2012 has earned $138.7 million, and should add another $10 million in the upcoming frame.

We finally get to a new film as Old Dogs managed to land in fourth. The Robin Williams/John Travolta comedy earned $17.1 million from a very wide 3,425 venues, and had a sad average of $4,986. Its five-day gross came in at $24.4 million. Wild Hogs this is not, as that one was just as insipid, opening to $39.7 million, and eventually fooling people out of $168 million bucks. Wild Hogs was 14% fresh at RottenTomatoes, Old Dogs is 7% fresh. Best to avoid this rabid old dog.

Disney's A Christmas Carol lands in fifth, and much like director Robert Zemeckis's The Polar Express, the also-motion capture Christmas Carol took a ride on the Thanksgiving Bump. Last weekend A Christmas Carol grossed $12.3 million, this weekend that score is up 33% to $16.3 million. This has to be a huge relief to the folks at Disney, as this $200 million extravaganza needed a push to give it some momentum heading into December. It got it, and while it will likely drop to between $8 and $10 million next weekend, it should hold that weekend gross pretty tightly until shortly after Christmas. The Jim Carrey flick now has a total of $105.7 million.

Ninja Assassin finishes sixth, as the audience for this one was either still at New Moon, or seeing 2012 again. Assassin earned $13.3 million over three days from 2,503 venues and $21.2 million since Wednesday. It had a three-day venue average of $5,311. Marketing seemed to struggle with Assassin, almost to the point where Warner Bros. seemed uninterested in the success of the $40 million feature. This one also failed with critics, as it came in with a 28% fresh rating at RT.

Planet 51 lands in seventh, and despite being a sophomore family film, can't increase its box office in its second frame. After opening last weekend to $12.3 million, the animated feature fell 17% in its second frame to $10.2 million. The $50 million Sony feature has now earned $28.5 million.

Surprisingly, Lionsgate's Precious gets the squeeze, as despite the long weekend, it sees the first drop of its run. After grossing $10.9 million last weekend, Precious dropped 34% to $7.2 million this weekend. Lionsgate chose to expand the feature by only 34 screens this weekend, and may have cost the early Oscar fave some momentum. Financially, this one is secure, as the production cost was only $10 million and it has a gross so far of $32.5 million. Next weekend could be interesting for Precious.

Unfortunately, The Fantastic Mr. Fox finishes in ninth this weekend, as sadly the best features aren't seen by the most people. Since expanding on Wednesday, Fox earned $10 million, and over the Friday-to-Sunday portion of the weekend, the Wes Anderson feature earned $6.9 million. This is a movie we should all be seeing – a solid film with something for the whole family, and a movie that is actually good, not useless drivel. The Fantastic Mr. Fox is 92% fresh at RottenTomatoes, and has a crack at winning the Best Animated Oscar this year. Go see it!

Finishing tenth is The Men Who Stare at Goats, as George Clooney makes room for The Fantastic Mr. Fox and the soon to be released Up in the Air. Goats earned $1.5 million in its fourth weekend, and drops 45% compared to last weekend. Goats now has a total of $30.6 million.

The Road finishes outside of the top ten this weekend, but was only out to 111 venues. From that limited venue count, the Viggo Mortensen flick earned $1.5 million, and garnered a venue average of $13,495. Look for this one to be a player in the weekends to come.

Overall, the box office was quite strong this weekend compared to other years. At Thanksgiving, the trend is for the top 12 films to earn about $150 million, with last year being the Thanksgiving high point at $154 million. This year, the box office was much stronger, with the top 12 films taking in an estimated $179.3 million. Next weekend openers include Brothers, with Natalie Portman, Jake Gyllenhal and Tobey Maguire, Armored, with Matt Dillon and Laurence Fishburne, and Everybody's Fine with Robert DeNiro.