Weekend Forecast for November 27-29, 2009
By Reagen Sulewski
November 25, 2009
BoxOfficeProphets.com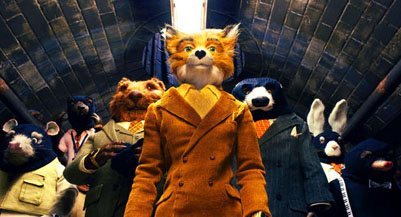 ---
It's a typically busy Thanksgiving weekend at the box office, but it's not the new movies that are attracting the most attention or curiosity about their performance. For the second straight weekend, it's all Twilight, all the time. Still, with three new releases, there's at least some choice out there for more discerning movie-goers. Well, kind of.

Disney returns to the well of mid-life crisis humor with Old Dogs, which shares a main cast member and title assonance with the surprise 2007 hit Wild Hogs. Robin Williams stars as an insta-dad of twins (who have somehow been hidden from him for seven years by his ex-wife – which when you think about it, is pretty damn despicable), and enlists two coworkers (John Travolta and Seth Green) to help him bond with them on an outdoor adventure trip. In typical family film fashion, this goes wrong in slapsticky and possibly legally-troubling ways.

This brand of sitcomish family film is often a big hit over the holidays – the big surprise is probably that Steve Martin isn't involved somehow. Beyond the three leads, Old Dogs throws in a strong supporting cast that includes Kelly Preston, Matt Dillon, Justin Long and Bernie Mac (which gives a hint as to how long this film has been sitting on the shelf), and while these guys don't offer much in the way of marquee appeal in and of themselves, they do tend to go a long way to convincing audiences that there's a broad range of humour in it.

Disney's clearly hoping that this follows in the steps of Wild Hogs and its $39 million opening weekend, though it's received some of the worst reviews of the year. That's largely unimportant for this audience but will have some effect because of the ferocity of the dislike for it. As a compromise pick over the holiday period, it should do okay, with around $35 million over five days.

There's a story that William Goldman tells about the origins of The Princess Bride, where he asked his two daughters what they wanted their bedtime story to be about – one yelled "Princesses!" and the other yelled "Brides!" and thus that story was born. I bring this anecdote up in connection with this week's films for the realization that the movie Ninja Assassin is probably what we would have gotten if Goldman had had boys.

Directed by James McTeigue (of V For Vendetta fame) and produced by the Wachowski Brothers, Ninja Assassin is selling itself as a balls-to-the-wall gory action film. It feels like nothing else but an update of those low-budget films from the 80s that tried to make just about any fringe martial art "cool", or else a big-budget take on Ong-Bak. There's more than a touch of irony in the film's marketing, acknowledging the genericness of the title, and fetishizing the extreme violence in it – if a knife on a chain could wink, that moment in the commercial with slow motion would be it.


It's difficult to imagine this being embraced by a particularly large audience because of its genericness, and the male/female splits will be about the reverse of New Moon's last weekend. Really, it just looks like warmed over Tarantino, and should suffer as a result. Look for around $16 million over five days.

Fantastic Mr. Fox expands from limited release to around 2,000 screens, and while this weekend can always use more family films, this film has more challenges than most. Adapted from a lesser-known Roald Dahl story, it's a stop-motion animated film from Wes Anderson, who has pretty much never screamed mainstream. The Royal Tenenbaums is his "break-out" with $52 million, with decreasing returns following that as he's gotten considerably weirder with his choices.

With a voice cast that includes George Clooney, Meryl Streep, Bill Murray, Owen Wilson (of course), Willem Dafoe and Jason Schwartzman, it's definitely got some appeal for adults, but it's a rare case of a family film that may not have sold itself to kids. Aesthetic choices here should probably keep this away from being more than a couple weekend phenomenon, with maybe cult appreciation in its future. For now, give it about $12 million over five days.

This brings us to New Moon, which smashed any number of records last weekend, including the figure for the top day of all time, with $72 million on Friday. That was in large part thanks to midnight sneaks, which almost beat out Sunday's total figure, something that doesn't bode well in the long term.

Still, it's difficult to find fault with that $142 million performance on opening weekend, unless we're talking about the people who parted with their hard earned dollars to see it (and there, I certainly do).

So now the race is on for New Moon to see if it can beat Twilight's mark of 2.72 times opening weekend, as unimpressive as that is. If it could, that would put it right up against $400 million, a rather outstanding and depressing figure. Despite, or maybe because of, this strong start, I don't see that happening. While the Twilight craze has obviously grown in the last year, it's also grown in fanaticism, and most of the die-hards hards have already seen the film. While there will undoubtedly be a number of repeat viewers (why? Nothing happens in this film), they never amount to as many as they think they will, and I'd say we're looking towards a drop to about $53 million over three days, or about $75 million over five days.

The Blind Side shocked a lot of people with a $32 million opening weekend, grabbing both female and male audiences with the combination of Sandra Bullock and football. It's so simple it's a wonder no one's come up with it before! This is actually pretty likely to find a strong family audience over the Thanksgiving period, and come in with about $29 million over five days.

The year that The Polar Express came out, this was the weekend where it really started to take off, increasing week-over-week not just on the holiday period, but from Friday to Sunday as well. There's nothing in the cards to indicate that A Christmas Carol will be immune to this phenomenon, and Zemeckis' big screen adaptation of Dickens should come away with about $20 million over the holiday period.

Also still in theatres and hoping to make impacts this weekend are 2012, which is quickly collapsing as expected and should earn around $18 million over five days, Planet 51, which is probably the third best choice for family entertainment but still should grab around $10 million, and the feel-bad movie of the holidays, Precious, which expands slightly and should also earn around $10 million over five days.