Weekend Wrap-Up
New Moon Eclipses Box Office Records
By John Hamann
November 22, 2009
BoxOfficeProphets.com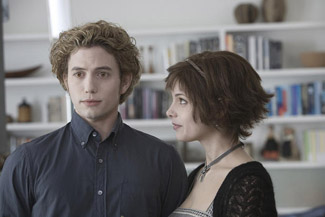 ---
Like it, hate it, or despise it, the Twilight franchise means big money for all involved. Yes, the always-huge pre-Thanksgiving weekend in 2009 has brought us The Twilight Saga: New Moon, the not-so-great sequel to the not-so-great original that is based on Stephenie Meyer's not-so-great series of books aimed at the teen set. Mediocrity be damned, New Moon stormed the box office this weekend, taking down a number of box office records. Other openers living in the shadow of New Moon are Sandra Bullock's The Blind Side and the new animated feature Planet 51. Add in the second weekend of 2012, and the third weekend of A Christmas Carol, and we have an historic weekend to remember at the box office.

Our number one film is of course The Twilight Saga: New Moon, the current ruler of the pop culture world. After opening at midnight on Thursday to a ludicrous $26.3 million from midnight showings alone (my parents would have killed me for staying out until 2 a.m. on a Thursday), we knew the first day of box office was pretty much a lock to take down The Dark Knight's record of $67.2 million for a single day gross. As BOP's Tim Briody reported yesterday, that record-setting total came in at a (literally) staggering $72.7 million, which means New Moon didn't only beat The Dark Knight's record, it trounced the previous high. That single day is bigger than any opening weekend that any Universal Pictures film has ever had; bigger than The Lord of the Rings: The Return of the King grossed over its opening Friday-Sunday; about what the top 12 films grossed over the entire weekend of December 7-9, 2007, when the director of New Moon's prior film, The Golden Compass, earned $25.8 million; and more than Michael Jackson's This Is It has earned domestically thus far. Not bad for a day's work, eh?

Even if we strip out those midnight screenings (which were arguably Thursday night shows), the opening day gross is still $46.4 million, good enough on its own to be in the top ten opening days of all time. With the massive opening day, all of a sudden, The Dark Knight's record three-day gross of $158.4 million could be (conceivably) in jeopardy, but let's remember who and what we're talking about. When the original Twilight opened over the same weekend last year, it also had a huge opening day of $36 million, with $7.5 million of that coming from midnight screenings. After that first day, some thought Twilight was heading toward an $80 million opening frame, as it would have needed only a 2.8 weekend multiplier (weekend gross less midnight screenings, divided by Friday gross) to accomplish that task, a multiplier that most movies have no problem hitting. When the final results were tallied, the opening weekend for Twilight came in at $69.6 million, well off of that $80-90 million target. The original film had a horrible internal first weekend multiplier at only 2.4, and it earned half of its weekend gross on opening day. This provided me with what was my first real taste of Twi-Hards, the voracious fanbase that follows this series. Greasy Fan Boys (and Girls) be damned.

The question becomes whether New Moon's opening weekend would be as front-loaded as Twilight's was. The way we determine this is to use the $46.4 million the new film earned not including sneaks and multiply it by the 2.4 multiplier that Twilight had, also excluding midnight sneaks. That would give us a $111.4 million total, and then we add back in the $26.3 million in sneaks for an extrapolated weekend take of $137.7 million. Keep in mind that we are dealing with larger numbers this time, so maintaining the 2.4 multiplier is more impressive here. Then, we compare that $137.7 million to the official estimate, which has the advantage of seeing Saturday grosses prior to determining the number.

That official estimate, released by Summit Entertainment this morning, has The Twilight Saga: New Moon scoring a huge weekend gross of $140.7 million from 4,024 venues, which means that the first film was a pretty close model after all. New Moon earned a venue average of $34,965. While it doesn't top The Dark Knight's three-day record of $158 million, it does put it in the top four of all time behind only the aforementioned Dark Knight, Spider-Man 3 ($151.1 million in May 2007) and ahead of Pirates of the Caribbean: Dead Man's Chest ($135.6 in July 2006). Of course, none of these figures are adjusted for inflation. Twilight: New Moon does become the biggest November opener ever, beating three Harry Potter flicks by a country mile (the top Potter in November is Goblet of Fire, with a $102.3 million opening frame).

BOP's David Mumpower had stated in the movie listing for New Moon that the Dead Man's Chest spike from the first film to the second was the best comparison here. It's proven to be an uncanny model. Curse of the Black Pearl opened to $70.6 million over five days (it was a Wednesday debut). Dead Man's Chest then raised the bar all the way up to $135.6 million. Twilight earned $69.6 million over its first three days while New Moon has nestled right in that same $135 million range. Vampires are the new pirates.

As expected, reviews were abysmal for The Twilight Saga: New Moon, but if there has ever been a review-proof release, this is it. New Moon had 153 reviews counted at RottenTomatoes, and of those, only 46 were fresh, giving the teen vampire flick a rotten rating of 30%. The first film in the series received much better reviews, coming in at 49% fresh, which has to make one wonder about the logic of replacing the original director, Catherine Hardwicke, with Chris Weitz for the sequel. Weitz had most recently run what could have been a huge franchise into the ground with The Golden Compass. Despite a $205 million production budget, The Golden Compass earned only $70 million at the domestic box office. One logical guess as to why Weitz was chosen is that he and his brother, Paul, co-directed the huge teen hit American Pie (Chris was uncredited for DGA purposes). American Pie turned out to be Summit Entertainment's first big success as a production house (Universal distributed) and here they are working with Chris Weitz again.

The Twilight series is being distributed domestically by Summit Entertainment, and is also one of the production companies behind the film. Summit started distributing movies in 2007, but has been involved in producing movies since the mid-1990's. Since the last Twilight hit a year ago, the studio has struggled to find success, releasing several unsuccessful films between Twilights.

The first of these, the sci-fi flick Push, opened to $10 million in February of this year, and earned $31.8 million from domestic sales against a budget of $38 million. While a disappointment, Push starred Dakota Fanning, which may have helped the young star get involved in New Moon. Next was Knowing with Nic Cage (excuse the pun). Knowing was a $50 million effort from Alex Proyas (Dark City), and was moderately successful, earning $74 million at the domestic box office in March of 2009. It was more successful overseas; however, Summit has a tendency to sell international rights, even with New Moon. Bandslam, another teen film, was their next release, this time aimed at the High School Musical set. Despite good reviews (80% fresh at RottenTomatoes), Bandslam flopped for Summit, earning only $5 million. Sorority Row, the god-awful horror flick that was out in September, was another of Summit's releases prior to New Moon. Sorority Row earned only $12 million at the domestic box office, but at least the studio only spent $12.5 million to produce that trash. The most disastrous project for them was Astro Boy, which cost a stiff $65 million but has earned only $18.2 million so far. Of course, most of the expenses on that film were incurred by Warner Bros. and the Weinsteins.

Upcoming films for the studio obviously include The Twilight Saga: Eclipse, the third film in the series, Remember Me, a romantic drama starring the Twilight series' Robert Pattison, Furry Vengeance, a family comedy with Brendan Fraser, Letters to Juliet, another romantic drama with Mamma Mia!'s Amanda Seyfried, and finally Red, a comic-based thriller starring Bruce Willis.

Not to be outdone, our second place finisher is also finding breakout success. Second place goes to The Blind Side, Sandra Bullock's sports drama. After such a huge opening for New Moon, I wondered if there would be room at the box office table for The Blind Side, but it seems to have worked as excellent counter-programming to the more female targeted vampire flick. The Blind Side earned a very impressive $34.5 million from 3,110 venues. It had a solid venue average of $11,096. This is now Sandra Bullock's second big hit of 2009, following this summer's surprise hit The Proposal, which earned a whopping $164 million domestically, and another $150 million overseas, where American comedies don't often play well. The Blind Side benefited from being the only real new release for adults, as teens were covered with New Moon, and kids with Planet 51. It got decent reviews, with notices promoting Bullock's strong performance. At RottenTomatoes, 86 reviews were counted, and of those, 60 were positive, leading to a 70% fresh rating. Unlike New Moon, we could see some decent legs going forward for The Blind Side, but at this point, Warner Bros.' $55 million effort looks like it will end up as a big win for both the studio and Sandra Bullock.

Finishing third this weekend is last weekend's big winner, 2012. Considering the size of the openings for New Moon and The Blind Side, one might think 2012 could drop by as much as 65% this weekend, but it isn't the case. Still the main choice for adult males, 2012 did about what we expected, earning $26.5 million from 3,408 venues. It drops by 59%, but I think in this environment, Sony is going to be quite happy with the dip as the disaster epic heads into the Thanksgiving weekend. 2012 has already earned $108.2 million at the domestic box office, with an additional $160 million from overseas grosses.

New release Planet 51 finds itself in fourth place, as it tries to overcome an iffy-at-best marketing campaign. Planet 51 earned $12.6 million from 3,035 venues, and had a so-so venue average of $4,152. Planet 51 was the worst reviewed film of the three openers – yes, lower than New Moon – as it garnered an ugly 19% fresh rating at RottenTomatoes. This $50 million Sony production is not likely to recoup its production budget.

Fifth spot goes to Disney's A Christmas Carol. The Jim Carrey 3-D flick earned $12.2 million this weekend and was off 45%. This may sound like devastating news for the $200 million production; however, I see its grosses jumping up again over the Thanksgiving frame, and then staying solid until Christmas. So far, A Christmas Carol has grossed $79.8 million.

Sixth goes to Precious, as Lionsgate moves the venue count from 174 last weekend to 629 this weekend. The move to the higher screen count worked: last weekend, Precious earned $5.9 million from 174 screens; this weekend Precious earns $11 million from 629 venues, an increase of 87%. Its venue average moves to $17,500. The $10 million production has now accrued $21.4 million, and has a lot of earning still to come.

The box office falls off the cliff as we get to the lower rungs of the top ten. The Men Who Stare at Goats finishes seventh with a gross of only $2.8 million. That gives the George Clooney flick a weekend-to-weekend drop of 53% and a total so far of $27.6 million. It won't be a disaster for Overture Films, who picked it up for $5 million.

Eighth goes to Couples Retreat, which earned $2 million and dropped 53%. The comedy crossed the $100 mark last weekend and has a running total of $105 million. Ninth is Universal's The Fourth Kind, which earned $1.7 million and drops 62%. It has a total of $23.3 million. Tenth is Law Abiding Citizen, which in its sixth weekend earns $1.6 million. It drops 57%, and has a cumulative total so far of $70 million.

Overall, the box office is simply huge, thanks to a very strong top six films. The top 12 this year earned a staggering $248.6 million, which makes this weekend the second biggest in history, behind only July 18, 2008 (the weekend The Dark Knight opened), and ahead of the weekend of July 7, 2006, when Pirates of the Caribbean: Dead Man's Chest opened. Last year's pre-Thanksgiving/Twilight weekend brought in a top 12 of $156.7 million. Next weekend brings four more wide releases. They include the expansion of Wes Anderson's Fantastic Mr. Fox, Ninja Assassin, Old Dogs with John Travolta and Robin Williams, and the much anticipated The Road, with Viggo Mortensen and Robert Duvall.