New Moon Box Office Update
By David Mumpower and Kim Hollis
November 20, 2009
BoxOfficeProphets.com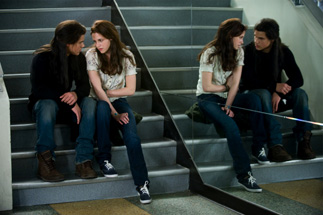 ---
A year-old film finished in second place on Thursday. That news alone should go a long way in telling you how big the Twilight Saga phenomenon has been. Of course, if Twilight's $1.3 million (and we're talking about the first film in the series, in case it's not clear) isn't enough to impress you, we can talk about the sequel's numbers as well.

New Moon shattered the record for midnight sneaks, with an almost incomprehensible $26.3 million. This period, from midnight to 6 a.m. alone, would be the 95th largest single day at the box office, slotting it between the Pixar releases Up and Monsters, Inc. Stating the obvious, The Dark Knight's single day record of $67.2 million is in jeopardy. At a minimum, Transformers: Revenge of the Fallen's $62 million, the largest single day of box office in 2009, seems likely to fall.

Putting this number into context is difficult, but we do have a recent point of comparison from July's release of Harry Potter and the Half-Blood Prince. The sixth Potter film was the previous record holder for revenue gained from midnight sneaks at $22.2 million. It went on to have an additional $36 million on the rest of its opening Wednesday, giving it a grand total of $58.2 million, the fourth-largest single day of box office of all-time, and second biggest of 2009. Comparing the weekends is less useful since the Potter sequel (as well as Transformers 2) opened on Wednesdays.

Nonetheless, what we can say for certain is that the Twilight brand has grown to the point that it made 73% of Twilight's first day in a single batch of showings. Along the way, it also propelled a single showing of the first film to its best single day of box office since January 3, 2009, its 44th day out of 134 in theaters (including yesterday).

How big has Twilight gotten? Consider this. The film series it has emulated, Harry Potter, has never had a film open higher than $102.3 million. Even if we adjust for inflation, the largest debut would be Harry Potter and the Sorcerer's Stone's $115.9 million, converted for 2009 ticket pricing. New Moon is poised to match if not scorch that total, depending on how front-loaded it is. The first film was heavily weighted toward the Friday, of course, with a sub-2.0 multiplier against a $36 million debut. We're not expecting a similar performance here, as we think Twilight has evolved from a passionate niche of diehard fans into a genuine cultural phenomenon. The books have sold 85 million copies in only four years, and have spent almost three years combined as #1 best sellers. The franchise is now bearing the box office fruits of that passion. Whether the fans are on Team Edward or Team Jacob is irrelevant. Both teams are massive.