Top Chef Las Vegas Recap
By Jason Lee
November 20, 2009
BoxOfficeProphets.com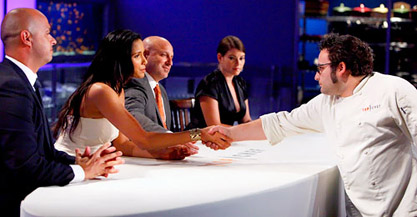 ---
One, two, three, four, let's shove Eli out the door! Five, six, seven, eight, Jenn, put good food on your plate!

It's the pre-finale episode of Top Chef: Las Vegas and I'm nervous, praying that Jennifer finally steps up her game. As Tom has mentioned more than a couple of times in the past few episodes, she started this season incredibly strong, but for whatever reason (emotional fatigue, mental exhaustion, etc.) she has stumbled her way through the last bunch of challenges. This is not how I like to see Jennifer. She was so fiery when we met her, but that flame has dwindled down to that of a matchstick light. If there was ever a time to bring it, it would be now.

With the way Kevin, Michael and Bryan are cooking, they feel like locks for the finale. The last spot will either go to Jennifer or our munchkin Eli. Eli says that he wants to win Top Chef on behalf of his mentor, Season 4 third-runner-up Richard Blais. Jenn says that she feels like the pressure is on her, since she started strong but has lacked focus lately.

The five remaining chefs enter the Top Chef kitchen and we see Padma standing next to a very short man (you picked a bad time to wear those heels, Padma). This is apparently Gavin Kaysen, who was not only a James Beard winner for Rising New Chef, but also represented the United States at the Bocuse D'Or, which is a cooking competition that basically acts as the culinary world's version of the Olympics. I gather that it's an extreme honor to be able to participate in the Bocuse D'Or.

Gavin and Padma chatter about the ballantine that he cooked at the competition – a ballantine being a dish that has a protein inside of a protein inside of a protein. Gavin's ballantine took him four months to figure out . . . but our chefs have 90 minutes to produce their own. GO!

The chefs scurry about, having more time than usual for their Quickfire, but also a much more complicated challenge. Michael and Bryan immediately begin planning very intricate dishes and Kevin remarks that he finds their dishes risky due to the time constraint.

The chefs finish up and what we see are five dishes of greater complexity than I've almost ever seen on Top Chef. This is a long ways away from going to a vending machine with $5 and making a dish out of what you can buy (which we did in Season 1).

Eli has made a bacon-crusted breakfast sausage with a six-minute egg in the center. Michael has done a poultry terrine, with chicken, turkey bacon and a mousseline (a sauce with beaten egg whites). Bryan has a rack of lamb with merguez sausage (basically a Mediterranean sausage) wrapped in caul fat. Kevin presents what he describes as a "cliché Southern dish" with fried catfish, scallop and shrimp.

Meanwhile, Jennifer seems to have pulled herself together. She serves a beautiful looking calamari steak with scallops, salmon, shitake and shiso with a cold rice noodle salad. Gavin asks her why she chose to do seafood and she responds by saying that seafood is her strength. As Padma walks away, she says to Jennifer, "Welcome back." Jennifer beams. And so do I.

Gavin takes a moment to provide his thoughts to the chefs. He found Kevin's catfish to be overcooked and the breading to be dried out. Kevin disagrees privately but holds his tongue. Bryan's lamb tenderloin was risky but he pulled it off. He liked Eli's concept. He thought Jennifer's calamari would be tough but found it very successful. Finally, he contends that Michael didn't make an actual balantine, and thus, didn't deliver what they were looking for.

Michael greatly takes offense at this charge, contending that they were never asked to make a balantine. He says that had he truly been asked, he would have made a balantine. And his balantine would have been just as good as the one that Gavin made at the Bocuse D'Or.

I'll say one thing, Michael surely doesn't lack for confidence. And if you're wondering why, given this behavior, I haven't dubbed him "Pompous Michael," it's because Michael, unlike Pompous Mike, has the skills to back-up his boasting.

In any case, Gavin is about to announce the winner of the challenge. We know Michael and Kevin are out . . . I totally have my fingers crossed that Jennifer brings this one home, simply because she was innovative enough to make a successful seafood balantine.

AND SHE DOES!!! JENNIFER WINS THE QUICKFIRE!!! She looks so happy. She says that it feels good since she hasn't won a Quickfire in many, many episodes. She says it gives her a boost but she still needs to stay focused (amen, sister).
For the Elimination Challenge, the cheftestants will have to endure their own version of the Bocuse D'Or. They will have to put together a presentation platter of one protein (either lamb or salmon) and two knock-out garnishes. They will have to create intricate dishes that show off a variety of techniques and methods. The cheftestants are appropriately stunned. This is a HUGE challenge.

And to make matters worse, they will be cooking for 12 judges, including representatives to the official American Advisory Board of the Bocuse D'Or. This will include chef Thomas Keller, the only chef ever to have two restaurants with three Michelin Stars. Again, the cheftestants are floored. Kevin says that Thomas Keller changed his life. Michael calls him the most famous American chef in the world.

This is an incredible challenge. In past years, the pre-finale episode has had the season's best Elimination Challenge. In Season 3, they were cooking for the French Culinary Institute in New York. In Season 4, the chefs cooked for the past three Top Chef winners. Last year, they had the brilliant Last Supper challenge. The producers of Top Chef have created another winner this year.

Oh and by the way, Jennifer gets a huge advantage for having won the Quickfire. She gets an additional 30 minutes to cook. Jennifer is thrilled, she says that she's a slower cook than the other four chefs and that this will definitely help her.

The chefs head to Whole Foods to shop, but most don't really have an idea of what they're going to make. They get home and all of them sit down in front of their TV to watch a DVD of the previous year's Bocuse D'Or competition – well, all but Michael. He goes straight to bed.

Which is too bad...he misses a crazy moment when Kevin, pondering how to cook his lamb, confesses to his housemates that he would like to sous-vide his lamb (basically, slow cooking it in a plastic bag immersed in a warm water bath) but has no idea how to do it. He probes Bryan as to the best temperature and length of time to sous-vide his meat. It's crazy. Rule #1 of Top Chef is "Don't try to use a technique that you're not familiar with." This sort of thing totally got Carla in trouble during last year's finale. It's stunning that Kevin would take this sort of risk.

And of course, Bryan takes the opportunity to observe that while he might be willing to help Kevin out and advise him on sous-vide techniques, his brother Michael would not have. Ah, so mean but so true.

The next day, the chefs head into the kitchen to get started on their Bocuse D'Or. Everyone seems uber-focused, and the kitchen is eerily quiet. Clearly, the chefs are all daunted by the task in front of them...everyone except for Michael, that is. He notes that he's competed in culinary competitions before and always did quite well.

The chefs cook and cook and cook. Jennifer is nervous about cooking for Thomas Keller – she just wants to be able to show her full ability to him. Bryan is focused on getting a good braise on his meat, as this technique usually takes 10 hours. Kevin has his fingers crossed that he's picked the appropriate cooking technique (sous-vide) for his dish. Michael remarks that Kevin never does amazing food, saying that he cooks like Kevin does on his days off.

* I'm going to take a moment to note that both of the Voltaggio brothers tend to go out of their way (Michael especially) to knock Kevin's cooking. David Mumpower here at BOP thinks that this has to do with the producers of Top Chef setting up for a Michael-Kevin finale. I'm not so sure. I think this might simply be the result of three super talented chefs competing with drastically different styles – in this case, down-home cooking versus more innovative techniques. It's in the vein of Marcel vs. Ilan, Hung vs. Kasey, and even Stefan vs. Carla in a way.

In any case, head judge (and show producer) Tom Colicchio enters the kitchen with Jerome Bocuse, for whom the competition is named. He gives them another surprise: the winner of the challenge will get $30,000. The chefs all act surprised and they all discuss the myriad of ways that they could use the extra money, but I think at this point, they're all pressured-out. Nothing else Tom could add will increase their intensity levels. They're already fighting for a spot in the finale and for the respect of the American Advisory Board of the Bocuse D'Or. That's enough.

Before we know it, the cheftestants begin presenting their dishes. Kevin goes first with a lamb loin poached in lamb fat and olive oil. It's paired with some cherry-glazed golden beets and a baked asparagus with sunchoke cream. It's not the prettiest dish you've ever seen, but it apparently tastes quite good. Tom loves the incorporation of the swiss chard and the overall lightness of the dish. Paul Bocuse, however, notes that for the time he was given, Kevin turned out a pretty elementary dish.

Michael is next and he brings out a large platter with small, tiny dishes. To me, I don't see an entrée plus two garnishes. I really see three hors d'oeuvres. In any case, Michael says that his menu is Mediterranean-inspired and serves a cauliflower and chickpea cake, salmon sous-vide with crab, and something else with tzatziki. The diners remark that his dish is pretty but lacks flavor. Tom doesn't think the ingredients are Mediterranean at all. Another diner finds a fishbone in his dish. Wow, sounds like Michael has had his first bad dish of the season. What a time for that.

Bryan goes next and he's so discombobulated that he has to have Jennifer help him out. I scream at the television, "NO, JENNIFER! WORRY ABOUT YOUR OWN DISH!!" vowing that if spending her time helping Bryan gets her sent home, I will never forgive her. Bryan, with Jennifer's help, gets his dish out, even as he notes mistakes. He's not happy. The diners get a crusted loin of lamb stuffed with tenderloin crusted with parsley. He also has a crépinette (a small, flattened sausage) with shank. Lastly, he has an orzo pasta with gratin, which is his play on macaroni and cheese. Bryan gets compliments on his plating, but gets knocked hard for undercooking his lamb.

Eli carves his meat tableside with a lamb sausage wrapped around three different loins – this is the second time this episode he has made a sausage, having done so in the Quickfire. He also has a carrot puree with yogurt foam, as well as a tomato and pepper marmalade on a caper berry over a crouton. No one enjoys the lamb – it is extremely undercooked, leaving most of the diners to feel the raw fat on the meat as they chew.

Lastly, we have Jennifer, who uses every minute of her extra time in the kitchen. She says that her salmon is 98% there, but not 100%. She serves a lightly poached salmon with caviar and mushrooms, a shrimp flan with a cold salad of snap pees and truffles, and celery root with shitake mushrooms. Some of the diners have undercooked salmon and others have perfectly cooked salmon. The men criticize her vision for being too simplistic with Tom saying that it's not fully thought-out, while the women seem to like it – Padma says that it's the most interesting visually and another woman says that she had the more impressive platter than the other cheftestants. Kind of a mixed bag.

The chefs come back out for one final round of applause and Tom drops the final bomb: the winner will also get to compete for a spot to cook on the US team at the Bocuse D'Or. The cheftestants all proclaim an eagerness to take part on the team, but frankly, I think they're all shellshocked. We didn't have any AMAZING dishes. Most everyone had some serious mistakes. I think frankly that this challenge called for the chefs to come up with some extremely complex dishes, and as a result, most of them tripped up somewhere along the way. This is understandable, given that they only had 12 hours between the announcement of the challenge and dinner service. Still, it makes for a slightly underwhelming TV experience. I wanted to see fireworks and all I got was a pretty bonfire.

The cheftestants settle into the Stew Room but I predict that Padma will call all five chefs out and not just the top two or three. I can't imagine that the judges will want to give any chef a hint about which four will be going onto the finale in Napa Valley.

And I'm right, Padma invites all five to come before Judges Table. Each one has criticisms leveled at them.

- Michael's ingredients of cauliflower and caviar were not Mediterranean. There was a bone in one of his pieces of fish. Parts of his dish were great but it overall lacked direction.
- Bryan's lamb was underdone. With more time, it might have been a totally different dish (i.e. it wasn't well executed at all)
- Kevin's dish was very simple, not demonstrating many culinary skills. It was too bare given the amount of time he had to cook
- Jennifer didn't cut her fish well, with certain pieces thicker than others, which led to uneven cooking
- Eli under cooked his lamb sausage, leaving big pieces of fat in it.

The five chefs head back to the Stew Room with no idea as to how anything turned out. Meanwhile, the judges go over the nitty-gritty.

Gail loved the influences of Eli's dish, especially his sauces but Padma points out that it was the worst lamb dish of the night. Jerome says that it's hard to see the big picture with an important component (his sausage) wasn't right. Gail liked Jennifer's garnishes and the salmon she ate was cooked well, but the salmon was inconsistent as a whole across all the diners. Tom points out the uneven cutting again.

Tom found Kevin's dish to be well executed but simplistic. Jerome says that in the actual Bocuse D'Or competition, his dish would have been dismissed immediately, though he also notes that because he was the only one who correctly cooked his dish, he should place ahead of his fellow chefs.

With Michael, Tom says that he demonstrated tons of technique and put in a lot of work. Padma says that his techniques in the past hasn't resulted in a loss of flavor, but this time it did. Gail said that his protein was perfect but his garnish was weak. Tom says that Bryan's dish is on the bottom for him because of the total lack of execution. Gail agrees, saying that Bryan did more than others, but didn't do it right.

At this point, my boyfriend predicts that Eli will go home. I'm not so sure. I think that Eli is clearly not at the caliber of the other four chefs, but I have seen in the past that Tom Colicchio rules over the judges with an iron fist – if he has decided that Bryan will go home, then he will.

Which would be a stunning result.

The five chefs come back out and they look terrified. Jerome has the pleasure of announcing the winner and I predict Kevin, simply because he made fewer mistakes than his competitors. And yes, it's Kevin. I agree with the judgment - the right person won – though this outcome HAS to worry the contestants. If Kevin can beat the four of them when he's using a new cooking technique and puts out mediocre food, then they have little reason to believe that anyone other than him will take home this title in two weeks.

Kevin heads back into the Stew Room and the remaining four chefs have to sweat it out, waiting to hear who goes home. Tom says that it's hard to see anyone go home at this point, but each dish had problems. Eli had a solid concept. Jennifer had great flavor, albeit with uneven cooking. Bryan reached high but his lamb was undercooked. Michael didn't demonstrate the level of proficiency that they're used to.

And Padma asks Eli to pack his knives. Whew. That was the most tense Judges Table decision that I've experienced all season. Eli shakes hands with the judges, remarking to the camera that he's just happy that he's made it this far. He says that the people who beat him are fantastic chefs (and they are). Tom congratulates the remaining three chefs and they head into the Stew Room to celebrate with Kevin.

So now we know which four chefs will be competing in the finale in Napa Valley. Here are a few thoughts on our final contenders for this year's title.

Kevin: I think almost all viewers have to agree that Kevin is the favorite for the title. He's won more Elimination Challenges than any other chef this season and proven episode-after-episode that he's a thoughtful, creative cook. It's tough, however, to maintain one's momentum in the finale after the chefs take a bit of a break: out of five seasons of Top Chef, only twice has the chef that won the most Elimination Challenges gone on to win the title (Ilan in Season 2 and Stephanie in Season 4). Odds of winning: 50%.

Michael: I feel quite certain that the only chef that can pull the upset here and de-throne Kevin is Michael. He is, without a doubt, the most innovative, daring and ambitious chef of the four. If he is able to execute his vision, I think he's got a real shot at the title. Key stat for him: confident chefs do well (Harold, Hung, Stephanie) but confident I-have-something-to-prove chefs do not (Tiffani, Marcel, Lisa). Odds of winning: 30%.

Bryan: Bryan is clearly a talented, imaginative chef, but despite his early string of Elimination Challenge wins, he has largely been overshadowed by his brother in recent challenges. He has the ability to win, but I think it's going to take some big mistakes by Kevin and Michael to pave the way. Scary stat: only one Top Chef winner in five seasons has won the title without winning a single Quickfire Challenge (Ilan in Season 2). Odds of winning: 15%.

Jennifer: As you guys know, Jennifer is the chef that I'm rooting for. When we first met her, she was tough, confident, and no-nonsense in the kitchen. I love that in a woman. She's struggled badly in the last couple of episodes, we have little reason to believe that she'll regain her form for the finale, and even if she does, there's little reason to hope that she'll match the outstanding level of Kevin and Michael. Only one woman has ever won Top Chef and I don't think we're looking at Female Winner #2. Odds of winning: 5%.