Box Office - Decade at a Glance: September - December 2006
By Michael Lynderey
November 18, 2009
BoxOfficeProphets.com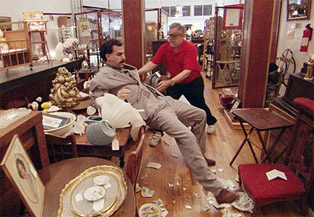 ---
September

A typically overcrowded line-up awaited September 2006. First, since Labor Day '05 headlined a very respectable opening on the part of Jason Statham's Transporter 2, Lionsgate Films craftily programmed yet another Statham actioneer, Crank, into the same weekend in 2006. But the performance was not repeated - Crank opened with $10 million to the Transporter 2's $16 million, and finished with $27 million to T2's $43 million. Still, for its often very entertaining combination of kinetic action, crude comedy, and violence, Crank got itself a big fanbase on video, and a sequel, to boot. The weekend's other films were even less impressive - basketball film Crossover ($7 million total) and The Wicker Man ($23 million), yet another PG-13 horror remake (I know I sound like a broken record with this PG-13 horror stuff, but I work with what the material I'm given). The Wicker film, as you may recall (or hopefully, you don't) contained the now infamous moment when Nicolas Cage proudly dons a bear suit - and indeed, it was that very moment that inspired me to finally realize that a bear suit scene was just about the only thing missing from Cage's masterful earlier film, Con Air. Anyway, September 8th gave us three more non-winners: Tony Jaa's martial arts-fest The Protector ($12 million total), Ben Affleck's try for an Oscar nod, Hollywoodland ($14 million), and The Covenant ($23 million), which was yet another PG-13 hor...

But at least it wasn't a remake of anything. September 15th provided no rescue from this dead zone - giving us Zach Braff's follow-up to Garden State (The Last Kiss, $11 million), Brian DePalma's tackling of The Black Dahlia case ($22 million), another inspirational sports movie (Gridiron Gang, $38 million), and CGI baseball (Everyone's Hero, which was co-directed by Christopher Reeve and took in $14 million). Braff looked to be on the road to big-screen stardom after Garden State, but the box office of the Last Kiss and later The Ex put a block in that road (too bad, because Last Kiss was a fairly effective drama). Dahlia, on the other hand, was the very talented DePalma's last wide release to date, and I hope it is not the last. As for Gridiron, it was yet another middle-of-the-road entry in the frankly very confusing career of one Dwayne Johnson; trying to figure out just how big of a star he is based on his filmography is like a puzzle that's almost impossible to sort out.

The last two weeks of September upped the ante considerably. First, Jackass: Number Two opened its gallery of violent shenanigans on the 22nd, taking in a $29 million weekend and an incredibly impressive $72 million total (this to the first film's $64 million). I couldn't tell you why they haven't made a third one yet, but you know what they say about gift horses (Jackass 2 was also the last time we saw Johnny Knoxville on the big screen, and if anyone was wondering where he went - I do not know). Not much to report on for the rest of the weekend - just a pricey WWI film with James Franco, Flyboys ($13 million total), an Oscar early-starter that wasn't (All the King's Men, $7 million), and the not-necessary to explain Jet Li's Fearless ($24 million). It's the 29th that delivered some hits - yet another CGI thing about woodland animals, Open Season, finished with a powerful $84 million, while Ashton Kutcher's team-up with Kevin Costner, Coast Guard-themed The Guardian, actually completed its run with a pretty decent $55 million. As previously noted, Kutcher has starred in a respectable hit for almost every single year since 2003, something many may not realize; as for Costner, he's mostly spent the decade playing second-banana, and I'd say he makes a fine character actor. Finally, the weekend also saw the release of School for Scoundrels ($17 million total), ostensibly a vehicle for Napoleon Dynamite's Jon Heder but really another chance for more delicious misanthropy courtesy of Billy Bob Thornton; and the Queen ($56 million), which headlined that eventually Oscar-winning performance by Helen Mirren (her winning was something that was generally accepted even before the movie came out, thus making said Oscar race very boring).

October

While Martin Scorsese's The Departed easily dominated the month, most of October 2006 played out like a cruel joke on any film that dared enter its gates - especially horror sequels. First, let's dispense with the also-rans - movies like the Dane Cook/Jessica Simpson vehicle Employee of the Month ($28 million total), which gave Cook his first film starring role; the John Cena action mish-mash, The Marine ($18 million); the decidedly pro-horse Flicka ($20 million); and the ultimately unsuccessful, awkwardly thriller-ish Robin Williams political comedy Man of the Year ($37 million) - the one where he plays the first comedian President.

With those out of the way, we can focus on the real meat of the month. It's needless to say that crime drama The Departed, Scorsese's third team-up with Leonardo DiCaprio, was the true break-out of the Oscar race - it opened with $26 million, finished at $132 million, and eventually won not only Best Picture, but also Best Director, an award about 40 years in the making for Scorsese. Next, Christopher Nolan's vaguely supernatural drama, The Prestige, did well for itself and stars Christian Bale and Hugh Jackman, opening with $14 million and totaling at $53 million.

In general, October 2006 maintained an uneasy balance between exploitation films and Oscary dramas (as many Octobers often do). The Oscar films, for their part, were plentiful but generally ignored. Outside of The Departed, they were led by the likes of Sofia Coppola's opulent historical epic Marie-Antoinette ($15 million total), with Kirsten Dunst in the title role, the South African-set Apartheid-era thriller Catch a Fire ($4 million), the ultimately somewhat pointless international menagerie Babel ($34 million), and Flags of our Fathers ($33 million), the first of Clint Eastwood's double-bill of films about Iwo Jima. Following through on his very Oscary Mystic River (2003) and Million Dollar Baby (2004), Eastwood set out to make two films about the Iwo Jima battle - one from the American point of view, and one from the Japanese. While the Japanese version, Letters from Iwo Jima, received more critical praise upon its limited release two months later, it was the American version that performed better at the box office, although presumably still under expectations.

Now for my favorite part - the horror movies. October 2006 played out as sort of an all-stars of the biggest names in 2000s horror. After all, we had not only the requisite Saw movie, but also sequels to two of the most influential horror films of the decade - The Texas Chainsaw Massacre (2003), which inspired not only the torture porn genre, but also the unstoppable remake wave, and The Grudge (2004), the one that co-signed the PG-13 horror bill that The Ring proposed in 2002. And after enduring several years where these movies' unfortunate influence dominated the horror genre, come October 2006, it was payback time.

Our first victim, on October 6th, was The Texas Chainsaw Massacre: The Beginning. If we forget about just how disgusting it was, this one was actually kind of fun, and R. Lee Ermey delivered his usually entertaining bit of scene-chewing villainy. But that didn't stop the box office from fighting back, this time - after an $18 million opening, this one dropped, dropped, dropped, ending up with a mild $39 million to the first film's $80 million. At the time, it looked like that was the end of the Chainsaw pictures, but recent rumblings suggest that may no longer be the case... (gee, don'tcha just hate recent rumblings sometimes?)

Next up, on the 13th, was The Grudge 2, which brought back Sarah Michelle Gellar (briefly) and assigned Amber Tamblyn to the dutiful task of investigating the ghosties flailing around in the haunted house down there in Japan. The first movie was both unapologetically repetitive and a shockingly high grosser ($110 million!), but only one of those descriptions applied to the sequel, which opened with $20 million and then dropped off the face of the Earth, Chainsaw 2-style, finishing with $39 million (yup, that accursed number again). That was the end of the series' theatrical life, although The Grudge 3 was released this year... directly-to-home video, and thus out of my jurisdiction.

While these numbers were clearly near-death blows to the franchises themselves, they didn't stop the three subgenres they invented from continuing to litter theaters even after these sequels were long forgotten. Indeed, October 27th gave us Saw III, which certainly showed that particular franchise as alive and well, though it was the last Saw film to deliver really high-end numbers (finishing with $80 million to the second film's $87 million, while Saw IV dropped down to $63 million). Aside from easily being the most disgusting and repugnant entry in the series, Saw III was also the one where John Saw (Tobin Bell) had his big on-screen death, although the character has lived a remarkably healthy life in flashbacks ever since. It's amazing what good box office will do for your life expectancy.

November

November began with a shocking upset, and one of the year's biggest surprises: Borat! (I will not list the entire subtitle), a crude and rude mockumentary, rode its increasingly gargantuan buzz to a surprise opening - $26 million, in around 800 theaters only, at that - and eventually totaled at $128 million, a figure unimaginable to anyone just a few months before its release. Borat officially launched Sacha Baron Cohen as a master vulgarian, and one who has so far almost entirely preferred to avoid conventional film roles. While Borat was definitely targeting a different audience, things didn't look very bright for the two kid-aimed movies of November 3rd - Flushed Away and The Santa Clause 3: the Escape Clause. Flushed was a piece of sewer-set stop motion animation, and frankly performed as best as that description would allow - $18 million opening, $64 million total. Tim Allen's Clause 3 actually didn't finish with that bad a total, now that I think about it - $84 million - but that was a step down from the first film's $144 million and the second's $139 million. It got the worst reviews of the entire series, to boot, and I think it's just about safe to say that the franchise is over (but I don't want to tempt fate, so I won't say it).

Next, November 10th delivered what turned out to be a dull, September-style weekend. Russell Crowe and Ridley Scott vacationed on the French countryside (A Good Year - $7 million total), Christian Bale raged (Harsh Times, $3 million), and Sarah Michelle Gellar headlined yet, yet, yet another PG-13 ghost movie (The Return, $7 million), her last appearance in a live-action wide theatrical release to date. Standing above this single-digit pack was Will Ferrell in Stranger than Fiction - a pretty clever little comedy, and a good performance by the man himself, but this suffered from the Sandler/Carrey syndrome - the inability of comic actors to attract mass audiences in more serious roles, no matter how good they are. So a $40 million total it was.

November 17th was where all the action was - the week that ended up lording over the rest of the month. First, penguin-themed Happy Feet broke out to a strong $41 million opening and reached a staggering $197 million total. While Happy Feet was more or less just marking time between CGI hits, the weekend's other movie, James Bond's Casino Royale, was a significant chapter in the emerging Great Reboot of Hollywood. While the James Bond movies were already known for changing lead actors, Casino Royale was different primarily because it was perceived as different - the series' knack for comedy being replaced with a much more intense, serious affair, the film playing out like an origin story (a sure sign of a reboot) rather than simply a continuation, and the more cerebral Pierce Brosnan being replaced with the muscular and cheerless-seeming Daniel Craig. Critics and audiences alike were ecstatic at these developments, and the film opened with $40 million before finishing at $167 million. Brosnan's Die Another Day had grossed $160 million only four years before, so I'm a little puzzled at exactly what replacing actors and styles accomplished, at least box office wise. Still, if it makes people happy...

Like most Novembers, the latter half of the month offered scant treats, giving us only Darren Aronofsky's off-puttingly weird The Fountain ($10 million), Emilio Estevez's ensemble drama Bobby ($11 million), and comedies that ranged from vaguely to totally unsuccessful (Jack Black's Tenacious D: in the Pick of Destiny, with an $8 million total, Dax Shepard's Let's go to Prison, with $4 million, and the really bad Deck the Halls, at $35 million - a film that made me nostalgically long for the days of Elf, The Polar Express, and Bad Santa). The month was finished off with a decent hit, Denzel Washington's slightly nutty time travel action film Deja Vu, which performed like yet another typically Denzelesque thriller - $20 million opening, $64 million total. Now that's consistency.

December

While we didn't forget the (box office) past, December '06 sentenced us to repeat it, anyway. Just as in December 2004, 2006's last month came with no pre-packaged special effects blockbuster, and so, in the search for holiday entertainment, mass audiences were forced to turn to a Ben Stiller comedy of questionable quality. After all, Stiller's Meet the Fockers opened on Wednesday, December 22, 2004 and eventually grossed $279 million, a total that makes my jaw drop every time I see it; and in 2006, this all happened again - Stiller's Night at the Museum opened on December 22, 2006 (a Friday this time), pulling in an initially moderate $30 million weekend before embarking on a long and highly lucrative trek way up to $250 million. In retrospect, it was pretty easy to see how this happened - Night was a totally inoffensive PG family movie that could potentially attract a wide demographic; it headlined a major star and engineered cameos by some name actors, and it had an element of the magical and otherworldly, something that naturally fits with the season, and a factor that probably also helped the Lord of the Rings films triumph so thoroughly around the same frame.

Speaking of major stars - December is, in fact, a good time for them, and that also showed with Will Smith's latest, The Pursuit of Happyness. An oddly-titled drama that started out depressing and ended up thoroughly inspirational, it was a perfect fit for the season, and the presence of Smith's son in a prominent role rounded out the potential demographic appeal. After a $26 million opening, Pursuit climbed all the way to $162 million, giving Smith another step up his 2002-2008 chain of $100 million movies (and an Oscar nod, too). Next in the big star department was Broadway-based drama Dreamgirls, which teamed Beyonce Knowles with Eddie Murphy and Jamie Foxx, launched Jennifer Hudson into film prominence, and legged its way up to $103 million; perhaps more notably, after three big musical failures in a row (Phantom of the Opera, Rent and the Producers), Dreamgirls helped keep the genre alive for the second half of the decade. And while big stars are important, they couldn't lift violent drama the Blood Diamond (Leonardo DiCaprio, Jennifer Connelly - $57 million total), bubbly romantic concoction The Holiday (Cameron Diaz, Jude Law, Kate Winslet, Jack Black - $63 million) and near-three hour CIA drama The Good Shepherd (Matt Damon, Angelina Jolie - $59 million) out of mid-level grosses. Nancy Meyers' The Holiday followed up her very entertaining, and thoroughly leggy, Something's Gotta Give, but audience reception just wasn't as strong this time; Diamond and Shepherd, on the other hand, both had the same problem - mixed reviews and a too serious subject matter in a season yearning for something lighter. And the one thing I remember best about Shepherd is a line from Anne Thompson's review of it on Ebert & Roeper: "I think people want her [Angelina Jolie] to be sexy, and maybe even have sex with somebody, and that does not happen here".

The rest of the month was almost preternaturally busy - perhaps more movies in wide release than in any other December this decade. Mel Gibson's initially uncommercial-seeming epic Apocalypto pulled in a decent $50 million, Sylvester Stallone made a surprisingly strong comeback with Rocky Balboa ($70 million total), and the Matthew McConaughey-Matthew Fox drama We Are Marshall did okay, with $43 million. Charlotte's Web, another adaptation of that old pig book, opened low but finished with $82 million (compared to the 1973 version's... $2 million). The Nativity Story failed to repeat the success of the Passion, taking in only $37 million. Fantasy epic Eragon overcame bad reviews to finish with $75 million. And DVD four-for-the-price-of-one bins were eternally grateful for the presence of National Lampoon's Van Wilder: The Rise of Taj ($4 million total) and vaguely torture porn-ish Turistas ($7 million). A few awards contenders marginally opened in December before expanding in January - movies like Guillermo Del Toro's excellent fantasy Pan's Labyrinth ($37 million total), the unusual animated film Arthur and the Invisibles ($15 million), and the perhaps overpraised dystopian thriller Children of Men ($35 million), which seems to be growing a big cult fanbase (even as I write these words).

And finally, since 2006 had offered more horror remakes than any other previous year in the entire recorded history of mankind (that's really true, by the way), it was entirely appropriate that we would finish off the year with another one. Black Christmas, a redo of the effectively creepy 1974 film, opened smack dab on Christmas Day but failed to entice anyone in particular, finishing with $16 million (the original had actually opened in October - go figure). Predictably, this version replaced everything that worked in the original film with dollops of excess, overplotting, and directorial overkill.

That kinda makes it an absolutely perfect summary of the cinematic year it was closing, doesn't it?