Box Office - Decade at a Glance: May - August 2006
By Michael Lynderey
November 17, 2009
BoxOfficeProphets.com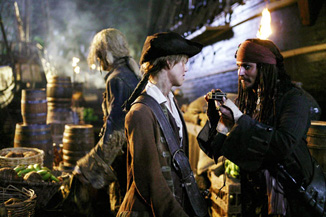 ---
May

The saga of summer 2006 basically consisted of one movie after another entering the blockbuster ring, disappointing on most levels, and leaving with its tail behind its legs (but as always, there is one staggering exception). May's first movie certainly followed that blueprint: Mission: Impossible 3, the highly-anticipated (I think) follow-up to one of 2000's biggest films, opened with $47 million and followed with a generally disappointing $134 million total - all despite good reviews, J.J. Abrams' slick refurbishing of the series, and the all-too-briefly villainous presence of then-recent Oscar winner Philip Seymour Hoffman. While these numbers were often blamed on public dissatisfaction with star Tom Cruise - whose last $100 million starring role to date was this - I suspect the raison d'failure here had more to do with the so-so reception that Mission: Impossible 2 got, and the too long six year distance between sequels. In any case, MI3's numbers must have seemed awfully enviable to May 12th's designated blockbuster, overturned boat-set disaster movie remake Poseidon. While the plusses here included a decent cast (led by Kurt Russell), some nifty-looking special effects, and direction by expert helmsman Wolfgang Petersen, the movie was firmly thrashed by critics, and never recovered. After a $22 million opening, Poseidon finished with only $60 million - a number that stands in stark and depressing contrast to the $160 million budget.

May 19th picked up the pace a little, with the release of one of the year's most anticipated movies. Dan Brown's novel The Da Vinci Code had spent the previous few years ascending to the literary throne as a much-cheesier companion to fellow book blockbuster Harry Potter, and so it was only a matter of time until it got its requisite screen adaptation - and one directed by Ron Howard and starring Tom Hanks, no less. Clearly, this combination could result in an unstoppable box office cocktail, and initially, this was the case - Da Vinci opened with a $28 million first day and $77 million weekend, but eventually dropped off for a total gross of "only" $217 million. Da Vinci could have been a much bigger film - could have won the summer, maybe - but the movie itself turned out to be sort of ridiculous, in a way that was evidently more obvious than it was in book form, and that cost it. The same weekend also had room for another hit CGI concoction, Over the Edge, which trampled over April's similar The Wild to the tune of a $38 million opening and $155 million total.

While the first few weeks underwhelmed, May's end threw out one solid blockbuster with X-Men: The Last Stand, which opened with a startling $102 million (to the last film's $85 million) and finished with $234 million, making it the highest grossing film in the series - something even the incredible frontloading of that opening weekend couldn't stop. Considering the fairly weak slate of summer blockbusters, X-Men 3 is easily my favorite of the bunch, what with its lean and efficient storytelling and consistent sense of summertime excitement. This one usually gets trashed on the Internet, though, so I know I'm in the minority here. OK with me.

May also slipped in some also-rans - like An American Haunting ($16 million total), another PG-13 ghost story, wrestler Kane's brutal horror film, See No Evil ($15 million), as well as Hoot ($8 million), a generally unwatched kids' book adaptation, and the oddly-titled Goal! The Dream Begins ($4 million), which has thus far somehow managed to inspire not one but two sequels. And finally, Lindsay Lohan's Just My Luck was supposed to branch her out into Kate Hudson/Reese Witherspoon territory as a romantic comedy lead for adults - but finished with a surprisingly mild $17 million. This was the clear beginning of Lohan's downfall at the box office, something that would be even more sharply illustrated in the summer of 2007.

June

June 2006 started with a neat little hit, maybe to make up for May misbehavior. The Break-Up, Vince Vaughn's team-up with Jennifer Aniston, opened to $39 million and finished with a solid $118 million. Vaughn and Aniston were at the peak of their stardom here, and even an over-long, only intermittently funny vehicle like this one couldn't hide that fact. Speaking of stardom, the next weekend, June 9th, gave us another star vehicle for Pixar animation - Cars, generally cited as one of their weakest titles (at least that's what my Pixar-loving friend says), opened with a very Pixaresque $60 million and finished with $244 million, keeping their '00s streak of hits alive (though they sat out 2000, 2002 and 2005). The same period also saw yet another horror remake, the particularly dull, devil-themed The Omen, capitalize on the whole June 6, 2006 thing (yawn) to get itself a positively satanic first day of $12 million, leading to a $54 million total. With this film's release, some mysterious supervillain's quest to remake every single notable post-1968 horror film took one step closer to fruition. But at least the box office was low enough to apparently block a redo of the pulpily entertaining sequel, Damien: Omen II.

The 16th came in with more of a mixed bag of titles, led by some undergrossing sequels: Garfield: A Take of Two Kitties (gee, it was really called that, wasn't it?) finished with $28 million to the first film's strong $75 million, and The Fast and The Furious: Tokyo Drift put a dent in the series, finishing with a franchise-low of $62 million (and while the movie may have been the series' weakest, its first 10 minutes were probably the summer's most entertaining). Also on hand was the soapy and only occasionally effective time travel melodrama The Lake House ($52 million total), which gave Keanu Reeves and Sandra Bullock a minor hit. But the award for weekend's worst movie goes to Nacho Libre, Jared and Jerusha Hess' follow-up to Napoleon Dynamite; Nacho was that nearly unwatchable farce that cast Jack Black as a Mexican lucha libre (wrestler) to the tune of a $28 million opening and an unforgivably leggy total of $80 million. This was not one of the proudest days of 2000s box office, that's for sure.

June 23rd went back to the designated blockbuster rollout, giving Adam Sandler another strong performer with the overlong, crude (in that typically Sandlerian way), and somewhat depressing Click, which opened to $40 million and nevertheless finished with $137 million. Almost no actor was as consistent as Sandler this decade (Will Smith's movies wobbled around a bit more). Next, and also out that day, was Tyrese' star vehicle Waist Deep ($23 million total), but as the information in the brackets would indicate, it wasn't much seen.

June 30th was another case of upturned expectations, as female-appealing comedy The Devil Wears Prada broke out, while fanboy-anticipated superhero film Superman Returns disappointed. To its benefit, Prada had gushing reviews, high awareness, and the heavily-praised, Oscar-nominated performance of one Meryl Streep, and so it opened with $27 million and finished with a searing $124 million. This was the movie that really began Streep's reign as a box office star during the second half of the decade, and helped co-star Anne Hathaway, too. Brian Singer's Superman Returns, on the other hand, aimed to resurrect the franchise that died a little-seen death with 1987's Superman IV: the Quest for Peace. Part reboot, part sequel, Superman ended up disappointing on most levels - with a $270 million budget, it opened with $52 million and finished with exactly $200 million - not a bad case of legs, actually. While this number wasn't far from Batman Begins' $205 million just a year before it, the difference was in the reception: while Batman reignited fan passions everywhere, Superman received a generic shrug, with a distinct lack of enthusiasm about the whole thing - the film was (correctly, I'd say) perceived as overlong, dowdy, and all three leads - Brandon Routh (Clark Kent), Kate Bosworth (Lois Lane) and even Kevin Spacey (Lex Luthor) - were often branded as miscast. It's hard to peg down where this franchise is quite at today, but I've heard rumblings of yet another reboot. Indeed, this may be the series' ultimate fate - to be redone time and again, until they finally get it right.

July

The box office summary of July 2006 is almost absurd to look at, with one ridiculously over-grossing movie towering over a few very minor hits. As hinted before, Pirates of the Caribbean: Dead Man's Chest was the big winner of summer '06. After the first film became a massive word-of-mouth hit in July 2003, finishing with $305 million and re-establishing Johnny Depp as an audience favorite, the stage was set for the sequel to go ga-ga at the box office: namely, a $135 million opening and that remarkably un-frontloaded $423 million total. Pirates broke the opening weekend record (held for four long years by Spider-Man) but once again, and even more so than its predecessor, nixed its occasionally very entertaining sense of adventure with a brutal overlength - not to mention overplotting, overacting, and overdirecting - something most audiences apparently did not mind.

Pirates easily won the summer, not to mention the entire year. In ruling the box office with such an iron hand, it seemed to almost drain away the competition, and indeed no other July movie would cross $100 million (this was the only July in the entire decade to feature only one $100 million-grossing release). There were some noble tries, though - You, Me, and Dupree, yet another spousal dysfunction comedy, took its star power (Kate Hudson, Owen Wilson, Matt Dillon) to a $21 million opening and eventual $75 million total; the delightful CGI concoction Monster House took in $73 million; the TV adaptation Miami Vice, July 28th's designated blockbuster, mustered up only $63 million, despite direction by Michael Mann and star turns from Jamie Foxx and Colin Farrell; and finally, Little Miss Sunshine, a Sideways-type, vaguely-indie comedy, took its genuinely entertaining self to an eventual $59 million total (and an Oscar for Best Supporting Actor Alan Arkin).

The rest of the month's fairly busy output was divided between surprise successes (relative to expectations, that is) and misfires. Trashy teen movie John Tucker Must Die, for example, broke out to a strong-for-the-genre $41 million, and Little Man, the latest opus from the Wayans Bros., somehow ended up as another one of their inexplicable hits, totaling $58 million (that was the one where Marlon Wayans' head was digitally inserted onto a baby's body - I'll leave that one there). The flops were led by M. Night Shyamalan's confusing Lady in the Water, marketed as a "fairy tale" and led by newly-minted audience favorite Paul Giamatti; in typical Shyamalan style, it started out well before degenerating into a mythical morass. The box office played out more or less like the movie itself - starting out with an OK $18 million before dropping, big time, to a $42 million total - down much from The Village (2004)'s $114 million. It was a clear indication that Shyamalan's name had lost its automatic $100 million guarantee. And finally, Warner Bros.' animated adventure The Ant Bully continued the trend of occasional CGI disappointments, finishing with only $28 million.

July's leftovers were Clerks II ($24 million total) and Uma Thurman's superhero comedy My Super-Ex-Girlfriend ($22 million), but since those were fairly little movies, I won't pick on 'em. Besides, Clerks II was pretty good.

August

2006's August joined 2004 and 2005's versions of the month in being home to only one $100 million grosser. As in 2004, that was the movie that started off the month: the absurdly-titled Talladega Nights: the Ballad of Ricky Bobby exploded to a $47 million opening (higher than expected), eventually finishing with a strong $148 million. As an almost prototypical Will Ferrell comedy (one of his team-ups with John C. Reilly), Talladega made up for occasionally dull bits with some often very funny scenes, and capitalized on its premise - car racing - to turn out a huge demographic of NASCAR fans.

The August 4th weekend had another surprise hit, as CGI's The Barnyard: The Original Party Animals recruited barn enthusiasts everywhere to give itself a $15 million opening and an almost unbelievably leggy $72 million total. At this point in the summer, CGI films had crowded the marketplace, but for whatever inexplicable reason, this one broke out. August had three more decent hits: dance film Step Up ($20 million opening, $65 million total) was another successful entry in the urban music pantheon, and launched star Channing Tatum; Invincible ($52 million total) correctly cast Mark Wahlberg as a comeback-ready football player; and Oliver Stone's take on 9/11, World Trade Center, largely avoided the expected controversy (or at least I think it did) and finished with a respectable $70 million.

Like most Augusts, this one was littered with little movies. You had failed children's comedies, like Tim Allen's superhero spoof Zoom, with its shockingly low $11 million total, and the apparently not quite long-awaited adaptation of How to Eat Fried Worms, which finished at $13 million. You had your raunchy comedies, like the Justin Long-led Accepted, with that not bad $38 million total, or Broken Lizard's Beerfest, with a Lizard-high number of $19 million. There were the curiosities, like Outkast's musical period piece Idlewild ($12 million), Edward Norton's supernatural historical drama The Illusionist ($39 million), the PG-13 Asian horror movie remake Pulse ($20 million), and Robin Williams' excellent performance in the dark drama The Night Listener ($7 million). And finally, August was home to Hilary Duff's thus far last starring role in a wide theatrical release, the distinctly awful Material Girls, which finished with $11 million; that means that, in 2006, Duff's box office came in third in the teen queen sweepstakes, losing to Bynes at #1 and then Lohan at #2.

But of course, there's just one more film, and it's one I wanted to save for last. Before the month began, one movie in particular was on everyone's mind - or so it seemed. It was a fairly ordinary looking thriller indeed, until some people realized exactly how deliciously and unironically pulpy its title sounded. And they were right, because this movie was called Snakes on a Plane. The hype, buzz, sweat, and tears grew, and so this particular bit of pulp fiction would have to become one of the summer's biggest films. Right?

Snakes on a Plane opened on August 18th, following a half-empty midnight screening (at least the one I attended) to a $6 million first day, a $15 million weekend, and a distinctly inglorious $34 million total. Months of Internet buzz and apparent audience anticipation of this Samuel L. Jackson-led comic thriller had turned out to be red herrings, the invisible garments of a particularly malnourished emperor. The movie itself was just OK, albeit occasionally amusing, but I have to believe it can claim some historical significance as the absolutely most definitive example of underground Internet buzz at its most irrelevant, at least box office wise. And that must put the movie in some history book, something the box office could never have done anyway.

So let's hear Samuel L. Jackson say it just one last time. "Enough is enough! I have had it with these..."