Box Office - Decade at a Glance: January - April 2006
By Michael Lynderey
November 16, 2009
BoxOfficeProphets.com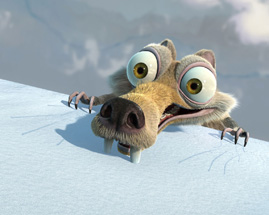 ---
A busy spring, a summer teaming with failure, and a fall season that turned out to be considerably more pretentious than usual. What does all that sound like? It sounds like we have indeed firmly entered the second half of the decade here, that's what.

January

2006 began uncertainly, as the winter season's hordes of Oscar dramas continued their assault on innocent filmgoers, while horrors of a different kind unleashed their own little ambush. First, and following the tradition established by the previous year's White Noise, Eli Roth's European torture adventure, Hostel, opened on the year's first weekend and generated uncommonly strong numbers - $19 million opening, $47 million total. The torture porn genre personified by Hostel was at its peak of popularity at this point - just a few months after Saw II cynically cut up the merrily ghoulish Halloween spirit - but as a trend, it didn't have the shelf life that the PG-13 ghost and remake pictures did (those two are still among us now, while the torture films have mostly been weeded out of the mainstream).

Moving on - the month's two biggest hits came with sequels. Underworld: Evolution was another entry into the tough chick-action horror parade also exemplified by Resident Evil, and pulled in the series' highest numbers, opening with $26 million and finishing with $62 million. The other follow-up, Big Momma's House 2, gave Martin Lawrence a surprisingly solid hit, with a $27 million first weekend and a $70 million finish. It was another example, after Are We There Yet?, Kangaroo Jack, and Snow Dogs, of a totally non-descript children's-aimed release pulling in staggeringly high numbers in January. Still, good for Lawrence.

The rest of the month offered a few choice films. Nanny McPhee was a nice little fantasy - the one with the warty Emma Thompson performance - and broke out to a $47 million total. Queen Latifah had a modest performer with Last Holiday, an effective comedy that finished with $38 million. And Glory Road, a '60s-set sports drama, finished with $42 million - not bad, but not up to typical Uplifting Sports Numbers. In the worse for wear department, there was absurd fratboy comedy Grandma's Boy ($6 million total), along with not one but two disappointing James Franco vehicles (Annapolis, at $17 million, and Tristan & Isolde, at $14 million). I'd say that Tristan put the final nail in the coffin of the historical drama subgenre, but that already pretty much happened in 2005, or maybe even in 2004. Elsewhere, auteur Uwe Boll, possibly this decade's answer to Steven Spielberg, delivered BloodRayne, his third wide release, and received the expected box office result - somewhere between $2 million and $3 million (they're still counting the numbers, I think).

February

February '06 got rolling with When a Stranger Calls, a somewhat dull combination of the horror remake and PG-13 thriller subgenres. No doubt that the original film fell apart after the terrific first 15 minutes, but that's no real excuse to remake it, is it? Anyway, this one played out as most such films do, opening with $21 million and totaling at a more-than-acceptable $47 million. Next, February 10th brought out a whole menagerie of releases, all of which did at least fairly well. There was animated children's book adaptation Curious George ($58 million total), Harrison Ford's return to thriller form, Firewall ($48 million, a frankly meh result), and Final Destination 3 ($54 million), the third entry in the only horror series that spanned the entire decade (exactly from 2000 to 2009), and the highest grossing one at the time. The prize for the weekend's most horrifying release, however, went to Steve Martin and his faux French accent in The Pink Panther, a particularly unwholesome franchise reboot that nevertheless pulled in a staggering $82 million (after a $20 million opening). How and why this occurred, I do not know. It's the kind of nasty business you really don't want to look into.

Another surprise breakout hit came on February 17th, when dog-rescue pic Eight Below virtually replicated The Pink Panther's performance, belying its mild $20 million opening with legs that added up to an $81 million finish - the highest total for star Paul Walker, outside of those Fast and Furious movies, that is. This one got decent reviews, but the only plausible explanation for its success is that mantra I bring up in pretty much every year write-up: if you put a lot of cute, fuzzy, furry, woolly, adorable animals in your film's trailer, on the poster, and presumably, in the movie itself, said film is going to do very, very well at the box office. Call it the luck of the mammal. The weekend's remaining net worth was divided between Julianne Moore-Samuel L. Jackson team-up Freedomland ($12 million total) and the groanable shenanigans of Date Movie ($48 million). Up until that point, spoofs hadn't really seen the light of day in the 2000s outside of Not Another Teen Movie and the three Scary Movie films, but Date Movie heralded the arrival of the bad spoof trend that would last until late into 2008. No need to thank it.

February '06 finished off by emulating February '05, with the weekend divided between a hit Tyler Perry movie (Madea's Family Reunion) and two also-rans (Doogal and Running Scared). Doogal was some animated thing that even I can't tell you much about, but Running Scared was an intriguing little thriller, with an effective Paul Walker performance (it's strange that the financial success of Eight Below and the positive notices for Running Scared didn't really resurrect Walker's career). As for Madea's Family Reunion, Tyler Perry's directorial debut, it was a confirmation of what the success of Diary of a Mad Black Woman in 2005 had suggested - that Perry's stage audiences would follow him to the movies, sometimes to the tune of exceptional box office numbers. And putting Madea in the forefront only upped the gross, to a $63 million total from the previous year's $50 million. Lionsgate Films had a franchise on their hands here.

March

Almost every weekend of March 2006 played out a similar scenario - a high-profile title with $100 million potential is released, but receives only mixed notices and peters out before getting to the three digit mark (all except for Ice Age 2, of course). First, after a few years where March started off with some big movies, the first weekend of March '06 slowed down the pace considerably, with a mild Bruce Willis thriller (16 Blocks, $36 million total), a weird an' wacky Milla Jovovich sci-fi extravaganza (Ultraviolet, $18 million), and Aquamarine ($18 million), which combined girl power, tweens (including Emma Roberts and singer JoJo), mermaids (long-haired starlet Sara Paxton), and some lovely Australian scenery, to no particular box office avail.

March 10th doled out another Tim Allen-Disney team-up, The Shaggy Dog ($61 million), as well as a particularly critically-maligned Sarah Jessica Parker-Matthew McConaughey romantic comedy (Failure to Launch, $88 million), and just one more horror remake, The Hills Have Eyes, which did pretty well for itself with $41 million. That latter film stands as one of many 2006 horror hits (the year saw the wide release of no less than 29 horror films, up a little from 28 in 2005), and as yet another entry in the sadly prolific torture porn subgenre (the original film already had plenty of potential for cruelty, and so the remake didn't skimp on that potential). Next, not much need be said about the Tim Allen film (though I do hear that Robert Downey, Jr. was funny in it), but Failure to Launch ought to be noted as an absolutely prototypical McConaughey hit, and its success should more than explain why he keeps appearing in them (it was also a strong career boost to Sarah Jessica Parker, who in the last few years fully made the transition from television back to film).

March 17th saw the release of one of the spring's most anticipated fanboy movies - V for Vendetta, Alan Moore's dystopian U.K.-set nightmare, with an English-accented Natalie Portman fighting off a parade of mean-spirited British character actors. While generally well received by critics, the movie opened with $25 million and finished at only $70 million - a disappointment considering some expectations. As with From Hell before it and Watchmen three years later, a Moore property failed to find wide acceptance. There wasn't much out to challenge V - just Jason Reitman's interesting satire, Thank You for Smoking ($24 million total), and the cross-dressing-themed Amanda Bynes vehicle, She's the Man ($33 million). It's odd that Bynes sat out live-action films for three years before this, especially considering that her film What a Girl Wants delivered fairly satisfactory numbers in 2003 - but as we shall soon see, in 2006, she found herself besting the box office of prolific rivals Lindsay Lohan and Hilary Duff.

The designated hitter for March 24th was another in a long series of Denzel Washington thrillers - the edgy, Spike Lee-directed Inside Man, which teamed Washington with perpetually rising star Clive Owen and frequent box office champ Jodie Foster. The gross was a little higher than most of Denzel's output - $28 million opening, $88 million total - and while Lee brought his typically magnetic style to the picture, Inside Man wasn't really as good as your usual Washington thriller - too much stalling, leading up to an unsatisfactory conclusion. But that's just me.

Speaking of stalling, March ended with a franchise that's entirely consisted of postponing a resolution that never comes - see, I've sat through both Basic Instinct movies, and I still can't tell if Sharon Stone really killed all those people. Really, it seems likely, but then... Anyway, with a total gross of $5 million, it doesn't look like many people were curious enough to attend Basic Instinct 2 to find out. It wasn't the only movie out on March 31st, of course - there was that whole other unnecessary sequel, Ice Age: The Meltdown, which delivered a blazing CGI gross of $195 million (up from the first one's $176 million). You also had urban-set ATL ($21 million total), horror movie homage Slither ($7 million), the self-explanatorily titled Larry the Cable Guy: Health Inspector ($15 million), and a mild PG-13 video games-will-kill-ya excursion, Stay Alive ($23 million). Ice Age, by the way, was also the entire season's only $100 million movie - slow couple of months, t'was.

April

April '06 began with a very mixed bag indeed. There was that nice little Antonio Banderas urban dance movie, Take the Lead ($34 million), as well as a much-ignored comedy (Mo'Nique vehicle Phat Girlz, $7 million), a twisty crime thriller (Lucky Number Slevin, $22 million), and one of Jennifer Aniston's Sundance-esque dramas, Friends with Money ($13 million). However, it was The Benchwarmers that came out on top, opening with $19 million and finishing with a strong $59 million. A baseball comedy starring David Spade, Jon Heder, and Rob Schneider, this one demonstrated the box office potency of Adam Sandler's Happy Madison brand (not that anyone really asked for such a demonstration). Another hit comedy menaced theaters on the 14th, when Scary Movie 4 opened to a shocking $40 million but totaled to an even more terrifying $90 million - meaning that, at the time, it was the highest opening film not to reach $100 million. Clearly, after this, the franchise was still potent, so it's hard to say why yet another sequel was never made - maybe the sea of lame spoofs to follow drowned out potential demand for more. Or maybe it was because the movie's funniest scene featured Anna Faris lovingly bathing poor old Cloris Leachman in her own urine. It is hard to pick between the two reasons.

The rest of the month didn't offer anything as big as Scary Movie, but over-long, incomprehensible video game adaptation Silent Hill did pull in a solid $46 million, and the Robin Williams-led road trip comedy RV, at a $71 million total, gave him a very respectable grosser - a number to remind us of his days as a '90s comedy mega-star, even if the quality of the picture didn't. There's a simple explanation for this one's unbridled success: family movies - movies about families, that is - always do very well, especially the kids-aimed PG kind, and this one was no exception.

April actually wasn't a bad month - even the lower grossers were interesting, like the political satire American Dreamz ($7 million total), with Hugh Grant impersonating Simon Cowell, the critically-praised drama Akeelah and the Bee ($18 million), and the first American wide release film to deal with the 9/11 attacks, United 93 ($31 million). I'm a bit less enthusiastic about teen gymnastics-fest Stick It ($26 million), the confusing Michael Douglas thriller The Sentinel ($36 million), and the animated animals-in-the-city adventure The Wild, which finished with only $37 million - notable as one of the first big CGI movies to fail at the box office. But the moment when the gleam would wear off CGI had to come sometime, and April 2006 seems like a perfectly reasonable time for exactly such an occasion.