Weekend Wrap-Up
2012 Storms Box Office; Christmas Carol, Precious Strong
By John Hamann
November 15, 2009
BoxOfficeProphets.com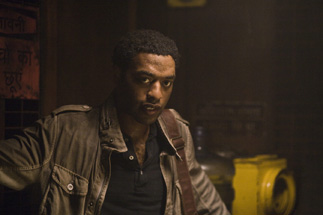 ---
Roland Emmerich's 2012 stormed the box office this weekend, as the two and a half hour event pic from Sony rolled out to 3,404 venues. 2012 was a huge gamble for Sony, as the disaster flick carried a $200 million production price tag, with a huge marketing cost coming on top of that. That wasn't the only interesting thing happening at movie theaters this weekend. Pirate Radio with Philip Seymour Hoffman opened, and Lionsgate expanded Precious to 174 screens after earning $1.9 million from only 18 screens last weekend. We also had a very important weekend for Disney, as A Christmas Carol needed a very solid hold this weekend to keep momentum going towards the holidays.

Our number one film of the weekend is Roland Emmerich's 2012, the extremely expensive disaster flick from Sony. It looks like the $200 million gamble for Sony is going to pay off, as 2012 opened to a very impressive $65 million from 3,404 venues. Tracking was predicting an opening between $55 and $60 million, so to out-gross forecasts over the opening frame is a huge win for the studio. The debut lands 2012 as one of the top seven openers ever for the month of November, coming in behind three Harry Potter films ($88.4-102.4 million opening), The Incredibles ($70.5 million opening), Twilight ($69.6 million opening), and Quantum of Solace ($67.5 million opening). Opening this big now is huge, as it should play well leading up to Thanksgiving, as it could be boys' choice next weekend versus Twilight: New Moon, and will still be the only real event film over the turkey-day holiday.

Since this was a Roland Emmerich flick, even if 2012 had opened below $50 million, it still wasn't going to be a disaster for Sony, as Emmerich's films tend to do twice as much business overseas as they do domestically. Going back all the way to 1994's Stargate, the international trend has held for Roland Emmerich. Stargate earned about $71.5 million domestically, out-earning its $55 million budget stateside, before going on to earn another $125 million on foreign shores. Next for Emmerich was the 1996 flick Independence Day, and as awful as it was, it made huge money both domestically and overseas for Fox. Independence Day earned over $300 million in North America, and over $500 million overseas, despite costing Fox only $75 million to produce. 1998's Godzilla was next and was a further step down in terms of film quality for Emmerich, but, still made big money. Godzilla cost Sony $125 million to make, and earned $136 million domestically and $240 million away from North America. After Godzilla, Emmerich made The Patriot with Mel Gibson, and had his first film that was more successful in North America than overseas. The Patriot earned $113 million at home, and $101 million overseas for Sony, against a budget of $110 million. After The Patriot, Emmerich took four years off, and came back with the disaster epic The Day After Tomorrow. The Dennis Quaid flick earned a very strong $186 million domestically, but almost doubled that internationally, with the film taking in $358 million overseas. Then, in 2008, Emmerich laid his biggest egg to date, 10,000 B.C., but even that one made money after counting foreign grosses. 10,000 B.C. earned only $95 million domestically, but took in another $174 million (!) from foreign grosses, against a budget of $105 million. Usually when we think big budgets and epic blockbusters, filmmakers like Michael Bay, George Lucas and Steven Spielberg come to mind, but I think we need to add Roland Emmerich to that list, like him or not.

What's not to like about Emmerich? He makes awful films, and 2012 was no exception. At RottenTomatoes, 171 reviewers chimed in on 2012, and only 65 liked it enough to give it a thumbs up, resulting in a 38% fresh rating, and "top critics" liked it even less, as it scored a 23% fresh rating with that group. This is not new from this director, as other results include a 9% fresh rating for 10,000 B.C., a 45% fresh rating for The Day After Tomorrow, a 62% fresh rating for The Patriot, a 26% fresh rating for Godzilla, a 61% fresh rating for Independence Day, and a 45% rating for Stargate. If you read reviews for each of these films, the running, constant theme is something along the lines of "visually impressive, but hideous storyline". Emmerich could be James Cameron, but the scripts behind all of his films tends to suck. With 2012, at least critics said that every penny was on the screen, and with the Emmerich brand, you knew what you were getting into, even before you put your money down for a ticket.

Moving forward, 2012 should drop 50% plus next weekend, but then has the potential to level off somewhat over the Thanksgiving weekend. Emmerich's films in the past have earned an open to domestic finish of about 3.1, so barring disaster, this should finish in the upper $180 millions, if not crack the $200 million barrier. It should then earn another $350 million plus overseas for Sony, and finish with at least a half a billion worldwide.

Finishing second this weekend is Disney's A Christmas Carol, the 3-D motion-capture event film from director Robert Zemeckis. Last weekend in this column I played down the low opening of $30.1 million, insisting that A Christmas Carol was an opposite to 2012, which opened for long-term legs instead of opening weekend glory. The second weekend for A Christmas Carol was going to be telling – a big drop would have killed it, and a small drop would have set it up for the long haul. A small drop it got, as the $200 million Jim Carrey flick earned $22.3 million in its second weekend, with a fantastic drop of only 26%. The Polar Express, Zemeckis's last Christmas film that used the motion capture technology, opened to $23.3 million, and dropped a slightly worse 33% in its second frame to $15.7 million. The Polar Express went on to earn $162.8 million over its first run. If A Christmas Carol continues to play like The Polar Express, the Disney flick could end up earning as much as $200 million; however, the next two weekends will be key. It will need another strong hold next weekend, and then to pop up by 25% over the Thanksgiving frame. So far, A Christmas Carol has earned $63.3 million, and has a long way to go to match that production budget of $200 million, but at least now there is a glimmer of hope that it will make it there.

Third spot this weekend goes to sophomore The Men Who Stare at Goats, which did very well last weekend opening in third to $12.7 million. The second weekend for the George Clooney comedy was not as successful, as Goats dropped 51% this weekend, earning $6.2 million. The drop was expected, as there aren't too many people outside of the Clooney fanbase who are going to do walk-up business for this one. Goats is a black military comedy, and would not have widespread appeal. For Overture Films, this was a $5 million pickup, so they have easily made their money back already, as this one has grossed $23.4 million so far.

We have a big surprise in fourth this weekend as the Lionsgate drama Precious made the top five despite being out to only 174 venues. The Oprah Winfrey-produced Precious earned a remarkable $6.1 million from those 174 theatres, giving this one an out of this world venue average of $35,000. We shouldn't be all that surprised as last weekend, Precious made the top 12 despite being on only 18 venues, earning $1.9 million. If you're looking for an early bet for awards season, I would put my money on Precious (and Up), as this one has already earned $8.9 million despite being out to so few screens.

In fifth, Michael Jackson and This Is It ran out of some serious steam this weekend, as the concert rehearsal movie drops from a solid second last weekend to a disappointing fifth this weekend. This Is It earned only $5.1 million and was off a huge 61% compared to its second weekend gross. Sure, Sony dropped 400 venues from the run, but the result never should have been this big. Note to studios: be very careful when you talk about limited engagements. This Is It has now earned $67.2 million domestically, and climbs past the $200 million mark worldwide.

The Fourth Kind struggled in sixth place, earning $x.xx million. The horror flick dropped 61% compared to its $12.2 million debut, and now has a running total of $20.6 million.

Seventh goes to Couples Retreat, as a really bad movie finds a way to earn $100 million. The Vince Vaughn flick earned another $4.3 million and dropped 31%. It now has a total of $102.1 million.

Eighth is Paranormal Activity, the once unstoppable force that has dwindled in the last two weekends. In this frame, Paranormal Activity earned $4.2 million and dropped 49%. It also managed to cross the $100 million mark and has a running total of $103.8 million.

Ninth goes to Overture Films' other title in the top ten, Law Abiding Citizen. Now in its fifth weekend of release, the Jamie Foxx film earned $3.9 million and dropped 35%. The $50 million film has now earned $67.3 million.

In tenth is The Box, the Cameron Diaz flick that opened in sixth spot last weekend. It got crushed in its second weekend, earning only $3.2 million, and dropping 58%. It has a poor running total of only $13.2 million.

Finishing outside of the top ten is Pirate Radio, which will be a disappointment for Focus Features. The Philip Seymour Hoffman flick finished the weekend with a gross of only $2.9 million from 882 venues. The $50 million film earned about $28 million from overseas grosses earlier in the year, but won't be able to make up the difference stateside.

Overall this weekend, things are pretty much flat at the box office compared to last year. In 2008, Quantum of Solace opened, and had an opening weekend that was quite similar to that of 2012, coming in at $67.5 million. The top 12 films last year earned $137.7 million, which was again quite similar to this year's take of $130.3 million. Next weekend will be interesting, as Twilight: New Moon hits theatres along with The Blind Side with Sandra Bullock, the animated Planet 51, Bad Lieutenant: Port of Call New Orleans with Nic Cage, and the expansion of Precious. Check back next weekend to see how things fall out.