Friday Box Office Analysis
By Tim Briody
November 14, 2009
BoxOfficeProphets.com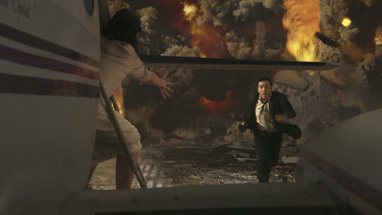 ---
[tm:3967_]2012[/tm]

The Everything Must Go; No, Really, Everything Is Going disaster flick earned $23.7 million on Friday. To call this anything other than excellent is to be mistaken. It's been quite a while since something that asks you to check your brain at the door has hit theaters and audiences were obviously hungry for it. Good thing there hadn't been a hurricane, earthquake, flood, volcano eruption or other natural disaster in the recent past. Even a mediocre weekend multiplier of around 2.6 would still mean a stellar weekend of $61.6 million.

Precious

After an astounding per screen average last weekend in just 18 theaters, Precious expands to 174 and is rewarded with $1.9 million on Friday, good for third place on the weekend. That's still a incredibly solid per screen average and becomes something to watch as it expands into further release over the next few weeks. It should come in with a weekend of $6.3 million.

Notable Holdovers

The Good: A Christmas Carol down 37% from last Friday to $5.6 million. This seems high, but it did have a 3.3 multiplier last weekend and days like Saturday is where this thing is going to shine for the next few weeks. A second weekend of $19.7 million should be in the works here.

The Bad: The Men Who Stare At Goats is off 59% from a week ago to $1.9 million. Whether it's the odd title or the concept or whatever, more proof that Clooney is still a huge star but that doesn't mean audiences will see anything he puts out. Call it $5.6 million.

The Ugly: [tm:4988_]The Fourth Kind[/tm] and [tm:3950_]The Box[/tm], down 65% and 61% respectively, with only the general failure of [tm:4965_]Pirate Radio[/tm] keeping The Box in the top ten for a second weekend.

Two milestones of note, one yesterday and one today: [tm:4977_]Paranormal Activity[/tm] crossed $100 million with another $1.5 million on Friday and [tm:4712_]Couples Retreat[/tm] will reach that total today.