Amazing Race 15: Episode 7
By Daron Aldridge
November 11, 2009
BoxOfficeProphets.com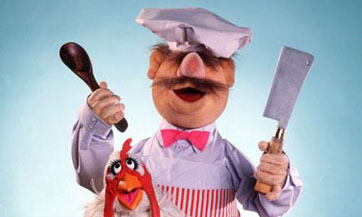 ---
This is the worst thing I have ever done in my life. – Meghan using extreme, absolute declarations about the return of the 'needle in the haystack' Roadblock.

The only all-female team on the race quit last week. Good thing for them, because the return of an infamous Roadblock is on tap.

Before we can get to said challenge, the teams have to get out of Amsterdam. First out of the gate are brothers Sam and Dan at 9:33 p.m. They are told to head to Stockholm, Sweden and then take a train and a ferry to an amusement park.

Sam and Dan say they tasted first place and are pleased. They don't even acknowledge their now defunct alliance partners, the aforementioned Tiffany and Maria. I guess they served their purpose for the brothers. I think for Sam and Dan, that alliance could be summed up by the joke, "If you and me are being chased by a bear, I don't have to outrun the bear. I just have to outrun you." The bear of the race devoured the girls last week on a windy Holland golf course, so the guys' strategy worked.

Meghan and Cheyne leave at 9:48 p.m. We finally get a look at their relationship. They have been dating for four and half years. Cheyne says that marriage is definitely in their future and how well they have run the race proves their compatibility.

Next up are the Globetrotters who leave at 10:32 p.m. Because they were close to elimination in Dubai, Flight Time and Big Easy say they are still going to have a good time with the race but they are here to win it and that is their goal. It's Flight Time's birthday, so they are determined to get him a first place finish for his birthday. We avoided any hash and marijuana stereotypes last week during the leg in Amsterdam but Flight Time trots out another one – the ubiquitous red-light district. Apparently, he had another birthday present in mind and even an excuse of "we were using the Internet" for why they would be there. These guys are living their claim of just enjoying the race and having a good time with it. Even at their worst performance with the dreaded locked briefcase, they were pretty light-hearted about it. Next, Gary and Matt leave at 11:08 p.m.

The brothers get to the airport followed shortly by Meghan and Cheyne. There are two flights at 6:55 a.m. and 9:25 a.m., so this is the first time in a couple legs where the teams aren't potentially traveling together.

Brian and Ericka leave at 1:38 a.m. Brian foolishly reminds us that they walked a couple of miles in wooden shoes because they ignored the bike instructions on the last leg. Thanks for the recap, buddy, but you might want to remind us of the good choices you made on the race. They explain that the personal reason they are on the race is to show her family that they are a good team because her mother has issue with her daughter marrying a white guy. I think calling out your mother-in-law's problem with your skin color is not the best way to overcome that obstacle.

The brothers, Meghan and Cheyne, and the Globetrotters are on the first flight. That's a tough break for the others.

They land in Sweden and make a mad dash to buy the tickets on the train. The brothers and Meghan and Cheyne get on the train with only one minute left. The Globetrotters are left waiting for the next one, which they board as Sam and Dan and Meghan and Cheyne are now on the ferry.

At the amusement park, one member of the team gets on Frit Fall (the Swedish version of Six Flags' Superman Tower of Power) and has only 15 seconds at the top to spot a yellow and red arrow pointing them to the next clue before plummeting back to the ground.

Cheyne and Sam get aboard the ride and work together to find the arrow. It appears the brothers aren't too capable of proceeding in the race without the security blanket of another team there to help them.

Almost every season, the blatant product placement of the Travelocity Roaming Gnome rears it pointy hat-wearing head. And this is that episode for season 15. The teams have to play a midway game of ring toss and win a gnome that they must carry with them until they check in; thus ensuring continual super-liminal advertising. Hold on, I am feeling an overwhelming urge to book a vacation, I think I'll visit Travelocity.com. All right, I'm back.

The brothers and Cheyne and Meghan easily ring a gnome and are heading to a detour. Phil gives us a history lesson that Sweden has two notable historical figures – Alfred Nobel (the guy who invented dynamite and ironically has a peace prize named after him) and the Vikings (which for some reason Phil describes as great crusaders...I think that might be whitewashing the Vikings' history a bit). For Nobel Dynamite, the teams have to build a sandbag wall of a certain height and then detonate dynamite to get their clue. For Viking alphabet, they must decode a message using the stones marked with that alphabet and find a certain Viking for their clue.

If I am on the race, there is not a snowball's chance in the Dubai desert that I would pass up the opportunity make something explode but that's just me and my long-dormant pre-adolescent destructive streak. Both of these first two teams apparently have the same inclinations as they head off to Nobel Dynamite.

Flight has to do the Frit Fall because of a height restriction of 6'4". Big Easy with mocking anger suggests that they should just put in the clue that Big Easy can't do this one because he is the only one over that max height. Flight Time finds it easily and they get their gnome. They decide to go blow some stuff up too.

The second flight lands but the teams quickly get separated on the train as Gary and Matt are left on the platform when Ericka and Brian's train takes off.

On their way to the Nobel Detour, Flight and Easy decide to name their gnome. This conversation has little relevance other than the fact that it allows the producers to give more screen time to the Travelocity mascot. I wonder if they feel dirty about this continual shilling. It doesn't compare to the half dozen product placements that occur in a single episode of The Biggest Loser but it is still undeniable.

Now Brian and Ericka are on the ferry and Gary and Matt are on the train. At the amusement park, Ericka does the ride because of Brian's fear of heights. Then she quickly wins the ring toss. Gary and Matt are only a short time behind them as they finish up the ride and game also. Both head to the Nobel option. I kind of pity the poor schlub actors that were all decked out in full Viking gear just waiting for someone to arrive. It doesn't look like it'll happen today, guys. Back to pretend pillaging it is for you.

The order remains the same as the teams arrive at Nobel Dynamite. All three teams from the first flight are there and shoveling and scooping dirt into bags for the bunker. The brothers employ the hands-as-shovel method which is working for them but Meghan can't get Cheyne to actually listen to her about her suggestions. I guess since the producers treated us to footage of Cheyne declaring his marriage inclinations, then it is time to also highlight this formerly low-key couple's mounting tension.

Brian and Ericka and Matt and Gary are trying to get to the Detour but with little luck. Mr. and Miss America wisely pay a cab they can follow but the father and son duo decide to rely upon their map and Gary completely butchering of the Swedish towns listed. I think the Swedish chef is more articulate than Gary at this point. Needless to say, they are officially lost.

Sam and Dan are the first to blow up their dynamite and retrieve their clue. We are given a glimpse that they are now heading to a farm that was the site of "one of the most notorious" tasks in the show's history. We were already expecting this thanks to last week's preview. The Globetrotters are done next and despite the ongoing bickering, Meghan and Cheyne finish up as well. Meghan laments their lack of teamwork and how Cheyne was ignoring her during the task. I glad I am not in that car and we aren't treated too much more of this.

Brian and Ericka get to the Nobel task and Ericka explains that she doesn't care about getting dirty but just wants to win. Of course, we are then shown a clip of her complaining that the dirt will mess up her manicure. Gary and Matt finally ask someone for guidance and are pointed in the right direction.

Sam and Dan pull up to the farm and they begin racing toward the clue box. Phil gives us a trip down memory lane and explains that the last time this challenge was done it took sisters Lena and Kristy 10 hours and over 100 unrolled hay bales with no luck in finding the clue. Obviously, they were eliminated. For a leg of the race that has remained consistent in rankings, this challenge could be a nice shake up.

Sam is the chosen one for the gay brothers and Dan morphs into Canaan at the top of a waterslide by yelling, yelling and then yelling some more at Sam. Then, in all his wisdom, he tells Sam about this task taking a team on an earlier season more than eight hours. Tony Robbins, watch out. There's a new motivational speaker in town.

Cheyne and Meghan arrive but Meghan is getting no affirmation or input about who should do this Roadblock from Cheyne. In fact, he is mute during her reading of the clue and direct questions of who should do it. While it seems a bit passive-aggressive of him, he explains that she had taken the lead this leg, so he was going to let her make the decision. Let me understand his rationale a little better. Her taking lead and making decisions for the team is okay now but not when Cheyne completely ignored her sandbag building tactic. Nope, it still doesn't make sense but nice try, Cheyne.

While Sam is yelling to be left alone in response to Dan's yelling, Meghan actually asks for Cheyne to talk her through it with encouragement. He obliges, so maybe he wasn't giving her the silent treatment. The Globetrotters show up and Big Easy dives right in to get through this for Flight's birthday. All three are working hard to make it through as many bales as possible.

Cut to Brian and Ericka who are almost done with the Detour when Matt and Gary show up. Kaboom! And the married couple is now heading to the Roadblock with Matt and Gary breezing through the Detour also. They made up some ground from their misadventures earlier in the car.

If the only things this farm needed to grow crops were anger, frustration and hostility, then it would be the most fertile land in all of Sweden. Sam responds to Dan's incessant screaming with a couple pixilated middle fingers and Meghan declares, "This is the worst thing I have ever done in my life." This quote so aptly sums up this task, of course, that the producers slap it down as the title of this episode.

This task is also showing how these teams operate under extreme competitive pressure. The brothers are not faring too well but the Globetrotters are still very casual and despite being sweaty and out of breath, Big Easy is still cutting up and joking with Flight Time. The karma of positive reinforcement pays off as Big Easy finds the flag and is the first to complete the Roadblock. The farm is the pit stop also, so they just have to find Phil, which they do as team number one. For their added bonus for toting around the ridiculous gnome all day and as a nice birthday present, they win a trip from the unofficial sponsor of this episode (which I refuse to name-check again).

The competitive animosity toward the Globetrotters by Dan and Sam is expressed again with an "I freaking hate Big Easy." I think they just hate competition but this is a race, so buck up boys and focus on winning and not on whining. The final two teams show up with Brian and Gary doing the Roadblock. As Brian points out, a ton of the work has already been done by the previous teams, so it might actually work in their favor being one of the later teams to start.

Cheyne is still cheering Meghan on and Brian finally interjects Dan high volume nagging with a "Daniel, it is a lot harder than it looks." The light bulb finally comes on for Dan and he does a 180 degree turn on his approach.

Meghan is the next one to find the flag and pulls a fast one on Cheyne with a decent acting job of her acting like she was quitting and then running past him waving the flag. They are team number two.

Despite being the last team to start this leg, Brian and Ericka make up some ground as he finds the next flag and they are checked in as team number three.

Now is the time for more and more footage of unrolling hay over and over. Finally, Sam finds a flag. They dart to the pit stop and Dan breaks down about being an obnoxious, loud idiot to Sam during the challenge.

Cut back to the field and Gary is still going at it. He explains that he wasn't going to quit the task because that would be quitting on the race. My assumption at this point is that this will be a non-elimination round because I don't imagine the producers letting this continue to go on if Gary and Matt were going to be eliminated anyway. I mean, Phil is right there and could have easily walked over to tell them the bad news.

Gary finds a flag after more than two hours and 45 minutes and they are checked in as team number five, which means they are not eliminated and have a special Speed Bump they have to perform in the next leg. I hope it's as simple as the "make soup" one Tiffany and Maria had early in the race.

So we started the episode with five teams and even though we end with the same number of teams, Sam and Dan have fallen from first to fourth. Next week, it appears that the competition between the brothers and the Globetrotters reaches a pinnacle with a possible physical tussle as they race through a challenge.